What Makes Nancy Spungen So Great: A Handwritten List By Sid Vicious
1978 was a defining year for Sid Vicious and Nancy Spungen. On September 18, the lovers took calls on New York cable's The Efrom Allen Show. Viewers were invited to "CALL 473-5386 TO SPEAK TO THE PUNK OF YOUR CHOICE" . On October 12, 1978 Spungen was dead. She'd been stabbed. The prime suspect in what looked like a suspicious death was Vicious, aka John Ritchie.
In 1978, Sid Vicious listed Nancy's "great" qualities. For someone who demanded anarchy in the UK, Sidney was surprisingly good at putting things in order.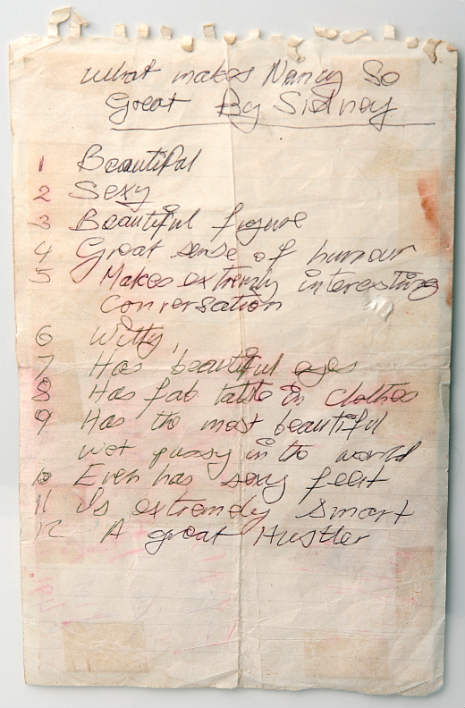 "What Makes Nancy So Great By Sidney"
1 Beautiful
2 Sexy
3 Beautiful figure
4 Great sense of humour
5 Makes extremely interesting conversation
6 Witty
7 Has beautiful eyes
8 Has fab taste in clothes
9 Has the most beautiful wet pussy in the world
10 Even has sexy feet
11 Is extremely smart
12 A great Hustler