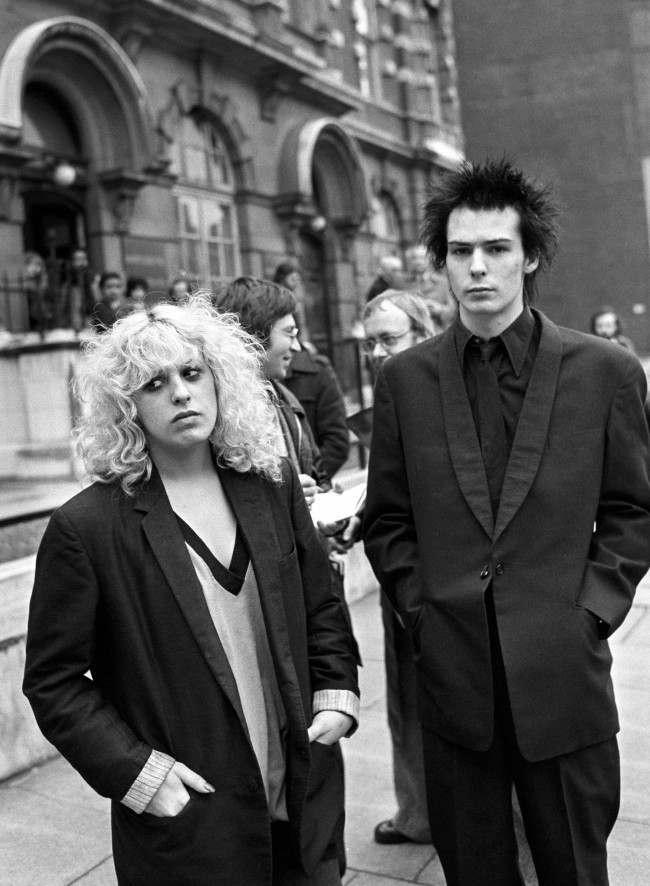 ON September 18, 1978, Sid Vicious and Nancy Spungun appeared on New York cable Tv show The Efrom Allen Show. Also on the panel taking calls from the great unwashed were, Stiv Bators of the Dead Boys, and Cynthia Ross of the B Girls.
Viewers were invited to "CALL 473-5386 TO SPEAK TO THE PUNK OF YOUR CHOICE".
Photo above: Vicious and Spungen outside Marylebone Magistrates court after being charged possessing the drug methamphetamine – 08/02/1978.
Spungen seems to idolise her man, telling one caller who calls him "derivative":
"He's as original as you get! He's not derivative of anything."
On October 12, 1978  Spungen was dead. She'd been stabbed. The prime suspect in what looked like a suspicious death was Vicious, aka John Ritchie.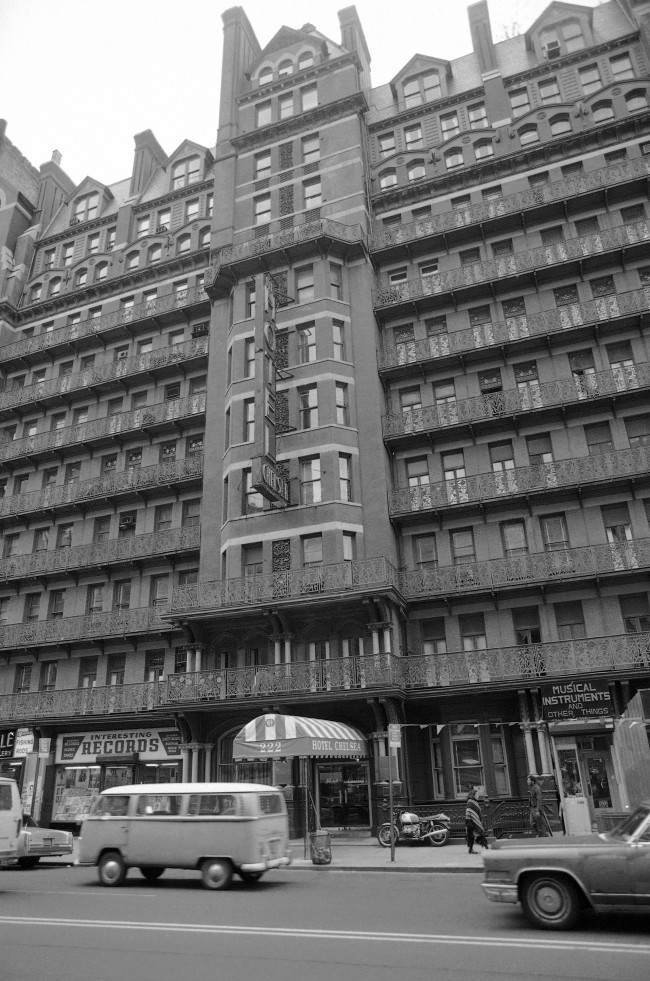 Photo: The Chelsea Hotel on 23rd Street in New York City is shown, Oct. 18, 1978, site of Nancy Spungen's murder. Her boyfriend Sid Vicious of the punk rock band the Sex Pistols has been arrested and charged with the murder.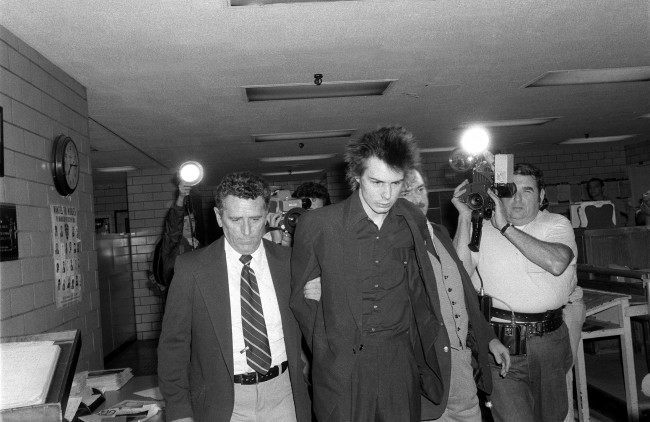 Photo: New York police escort British punk rock musician Sid Vicious, or John Simon Ritchie, former bass guitarist of the Sex Pistols, shortly before he was charged with murder in the stabbing death of his girlfriend, Nancy Laura Spungen, at New York's Chelsea Hotel, Oct. 13, 1978.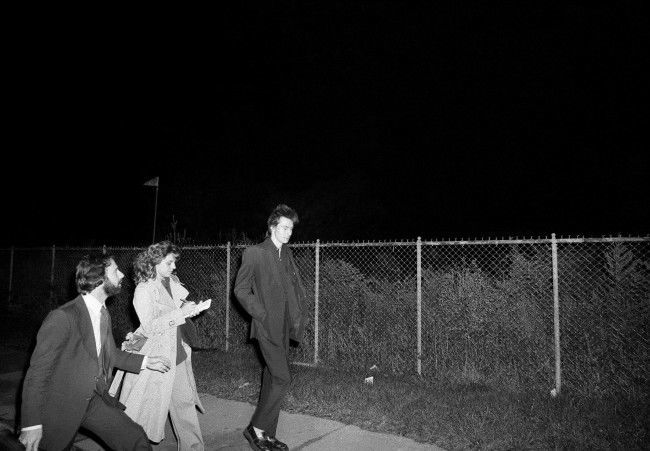 Photo: John Simon Ritchie walks from Rikers Island prison in New York, Oct. 16, 1978 after being released on $50,000 bail. Police  charged Ritchie with second-degree murder in connection with the death of his girlfriend, Nancy Spungen.
On February 2 , while out on bail, Vicious died of a drugs overdose. His mother told us:
"He knew the smack was pure and strong and took a lot less than usual."
But it was enough to kill him: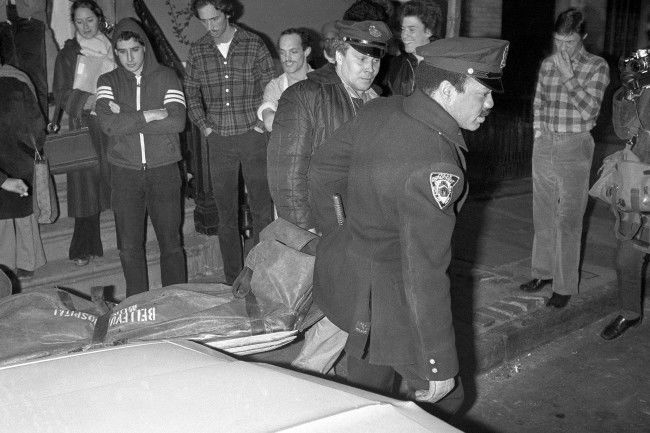 Photo: New York City police carry the body of punk rock star Sid Vicious from apartment in the Greenwich Village section of New York, Feb. 2, 1979.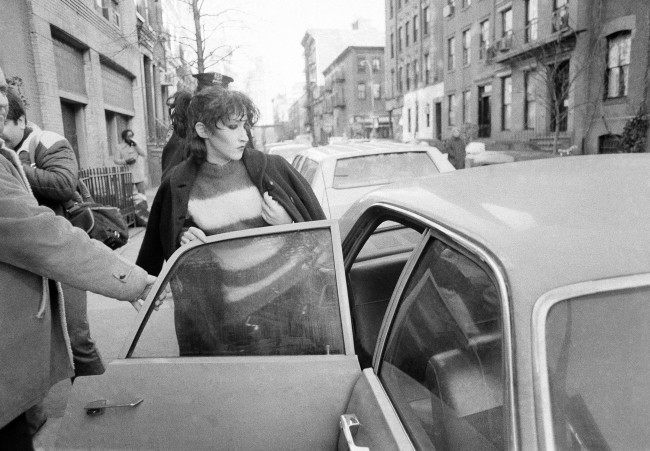 Photo: Michelle Robinson leaves her apartment in New York, Feb. 2, 1979 after the body of punk rock star musician Sid Vicious was found in her apartment.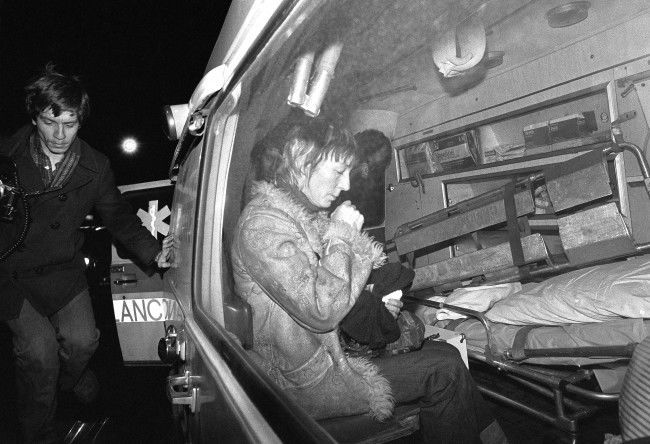 Photo: Anne Beverley, mother of the late punk rock star Sid Vicious, sits in ambulance outside the Sixth Precinct police station in New York, Feb. 2, 1979. Police said her son apparently died of a heroin overdose taken the night before at a party given to celebrate his release from prison. 
Now the phone-in show: