Dear Joni: Teen Life Magazine (Feb 1963)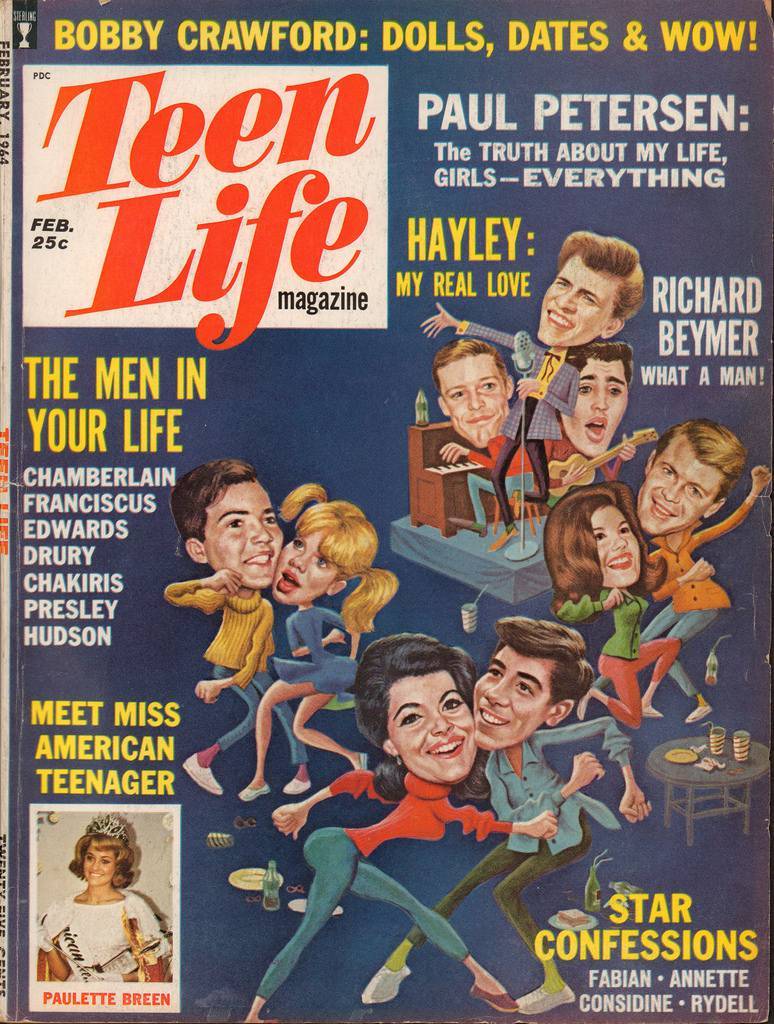 Well, it would be exactly one year before The Beatles appeared on Ed Sullivan and the teen scene would change overnight. But here we are in 1963, steeped in the most milquetoast crooners imaginable; music definitely was in need of a shot in the arm (not unlike today, I think).
Anyway, I've scanned a number of pages from this magazine for you to look through. I've only transcribed the "Dear Joni" section because I think it is a must-read. Enjoy!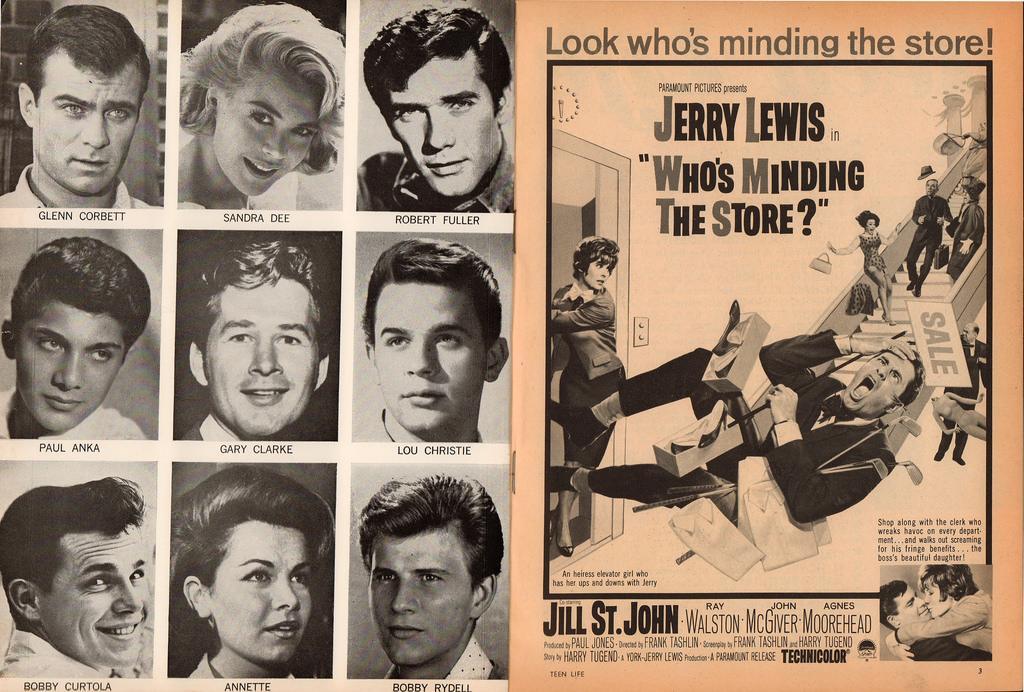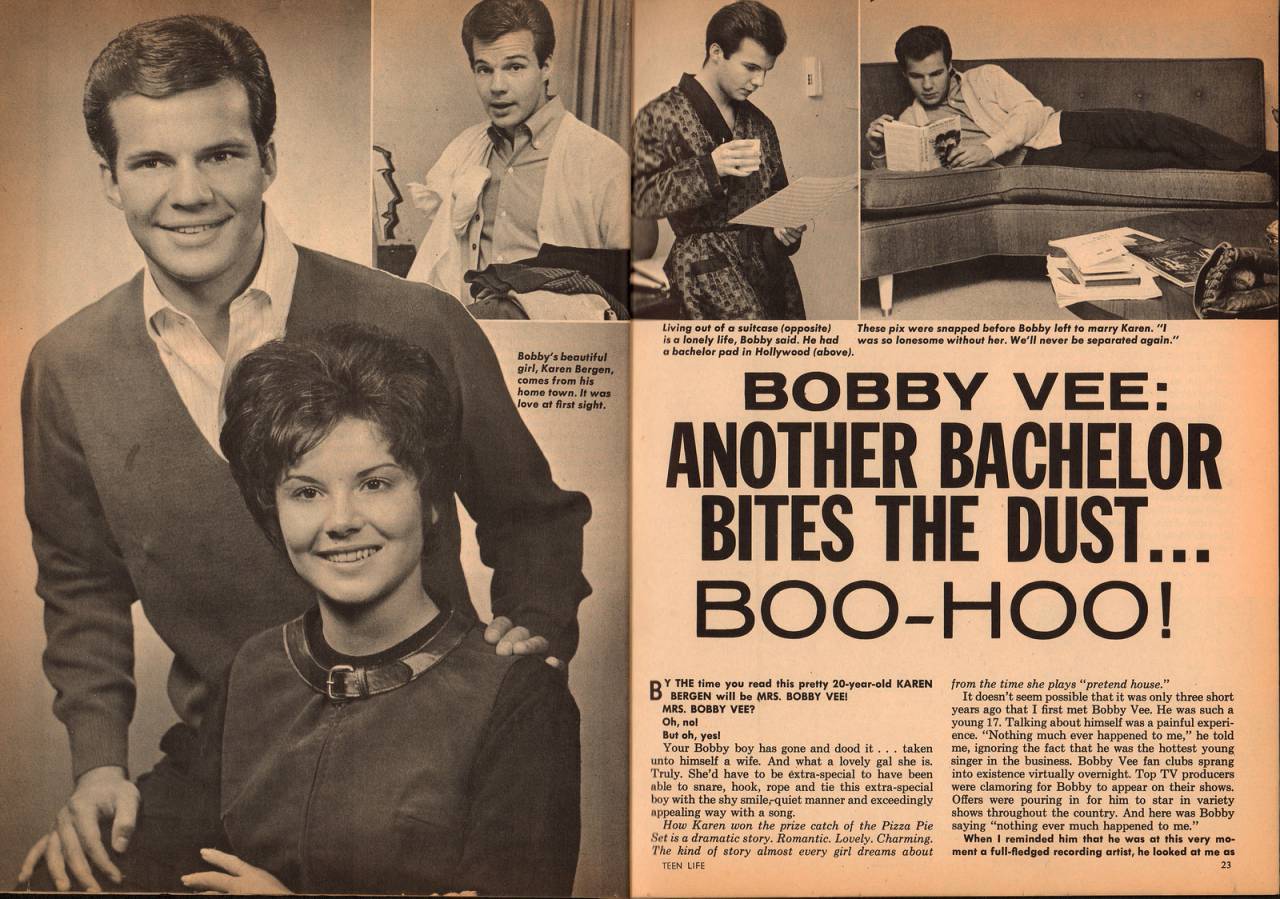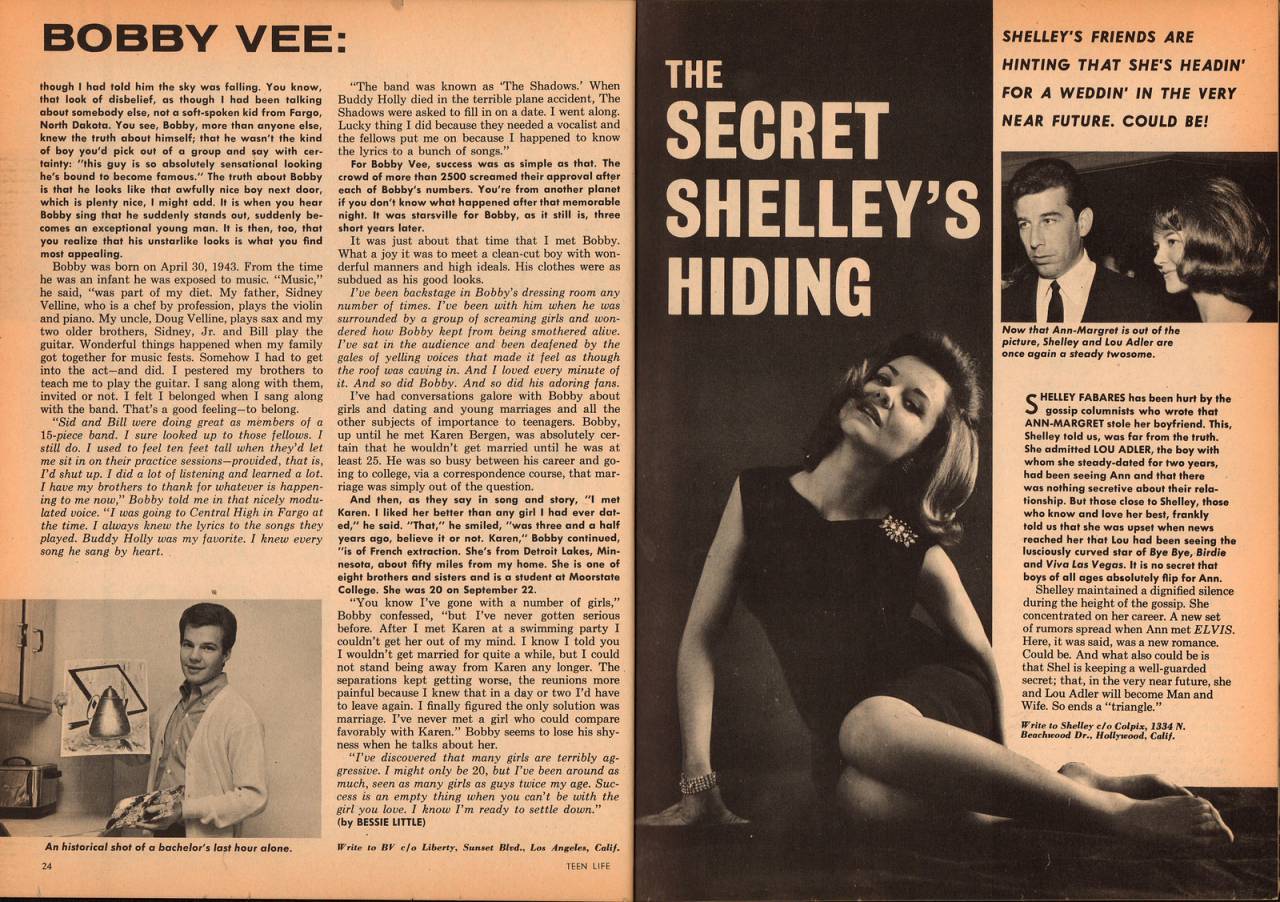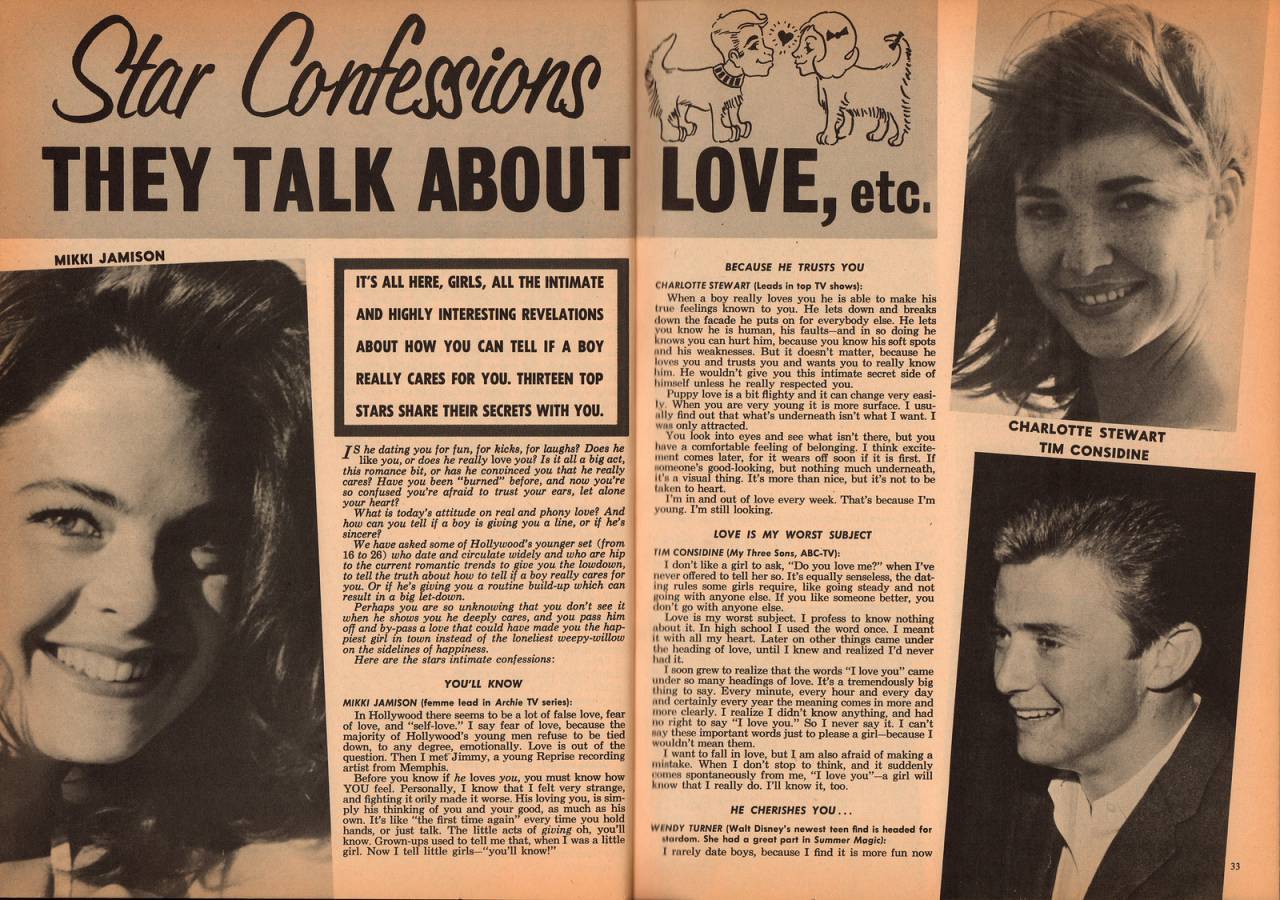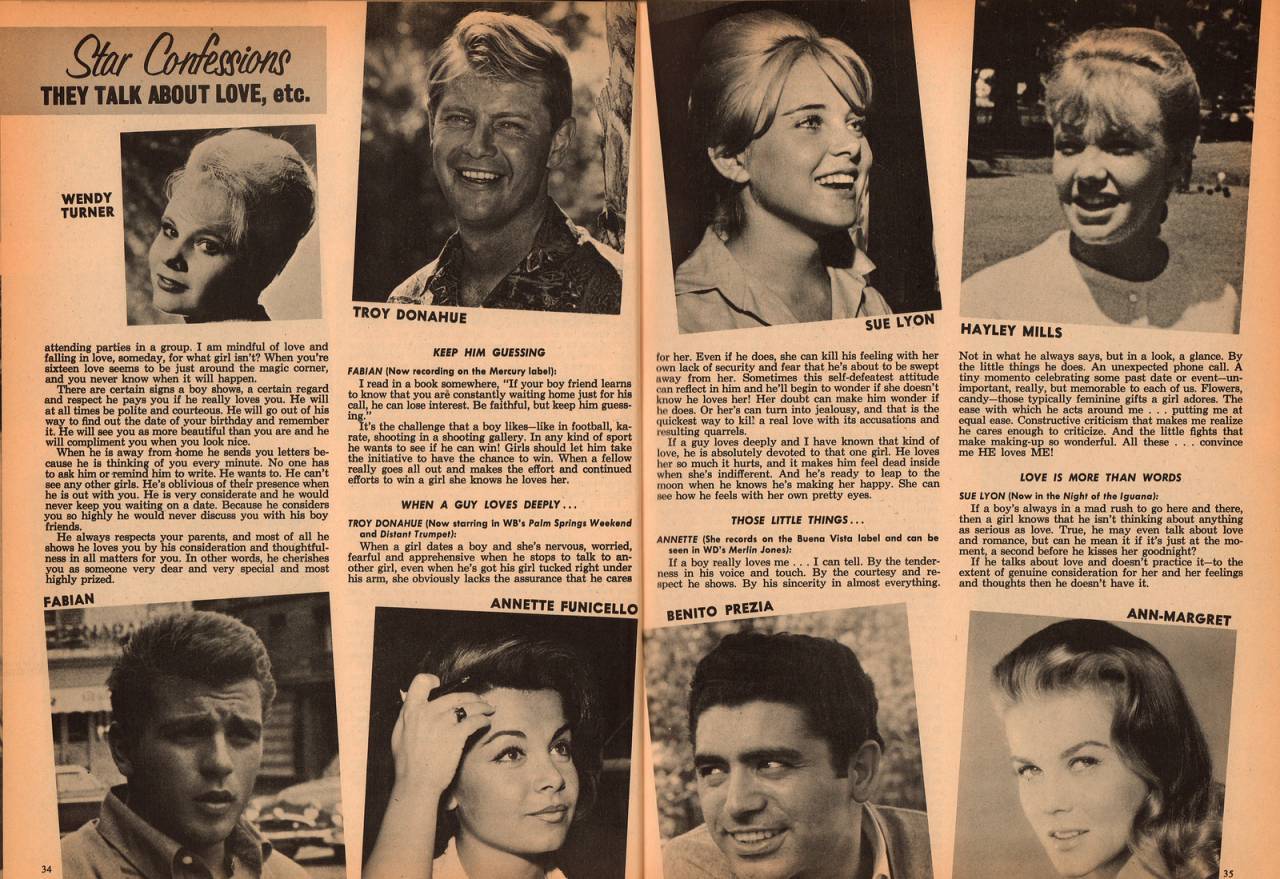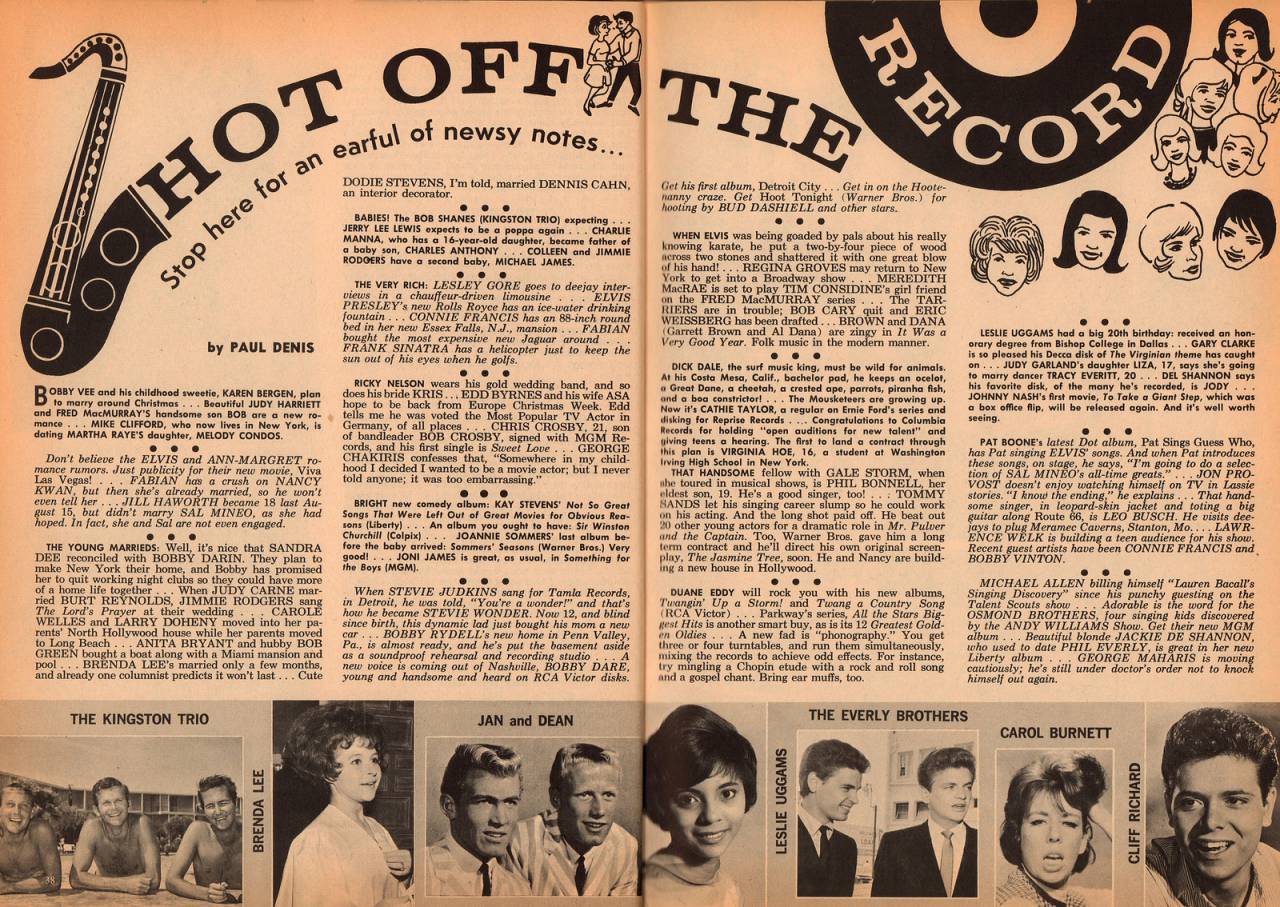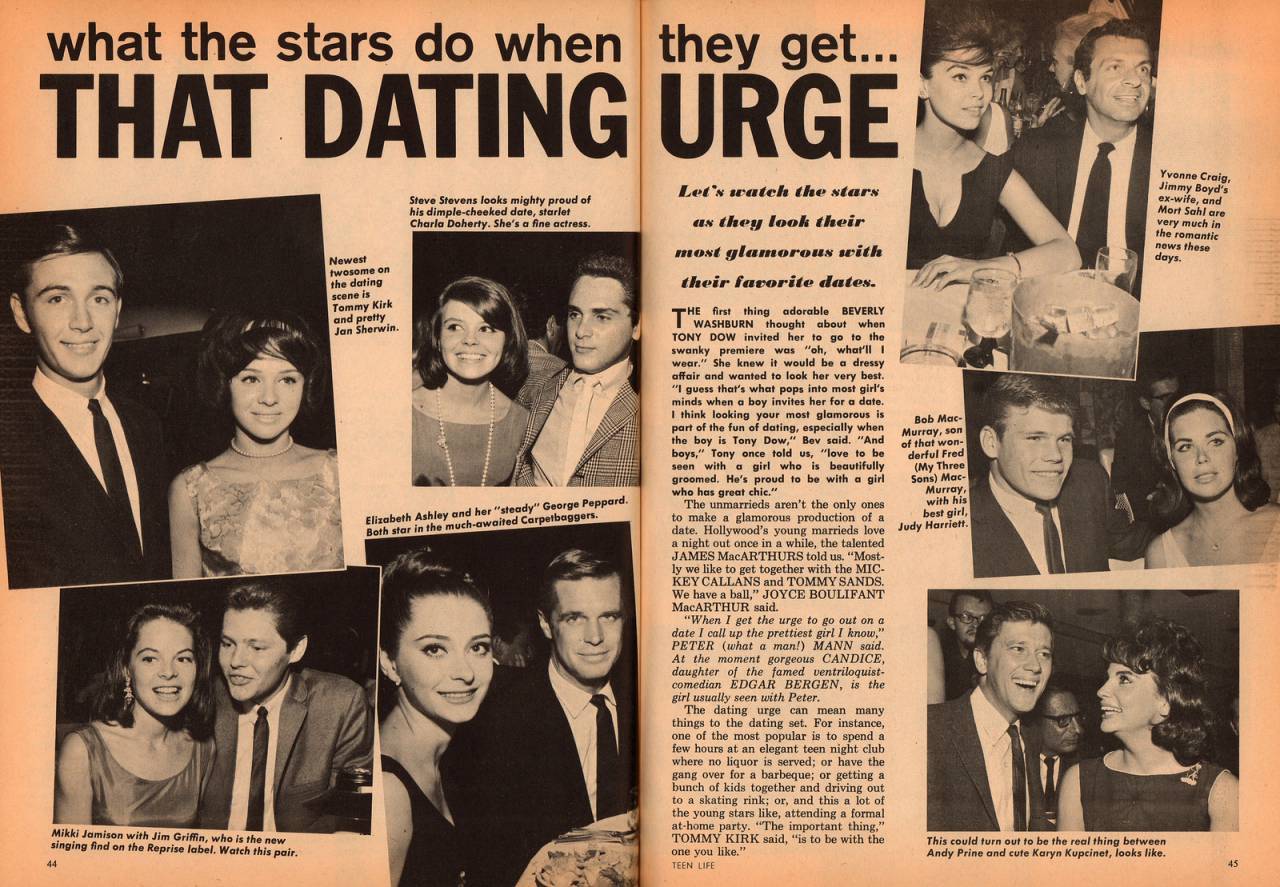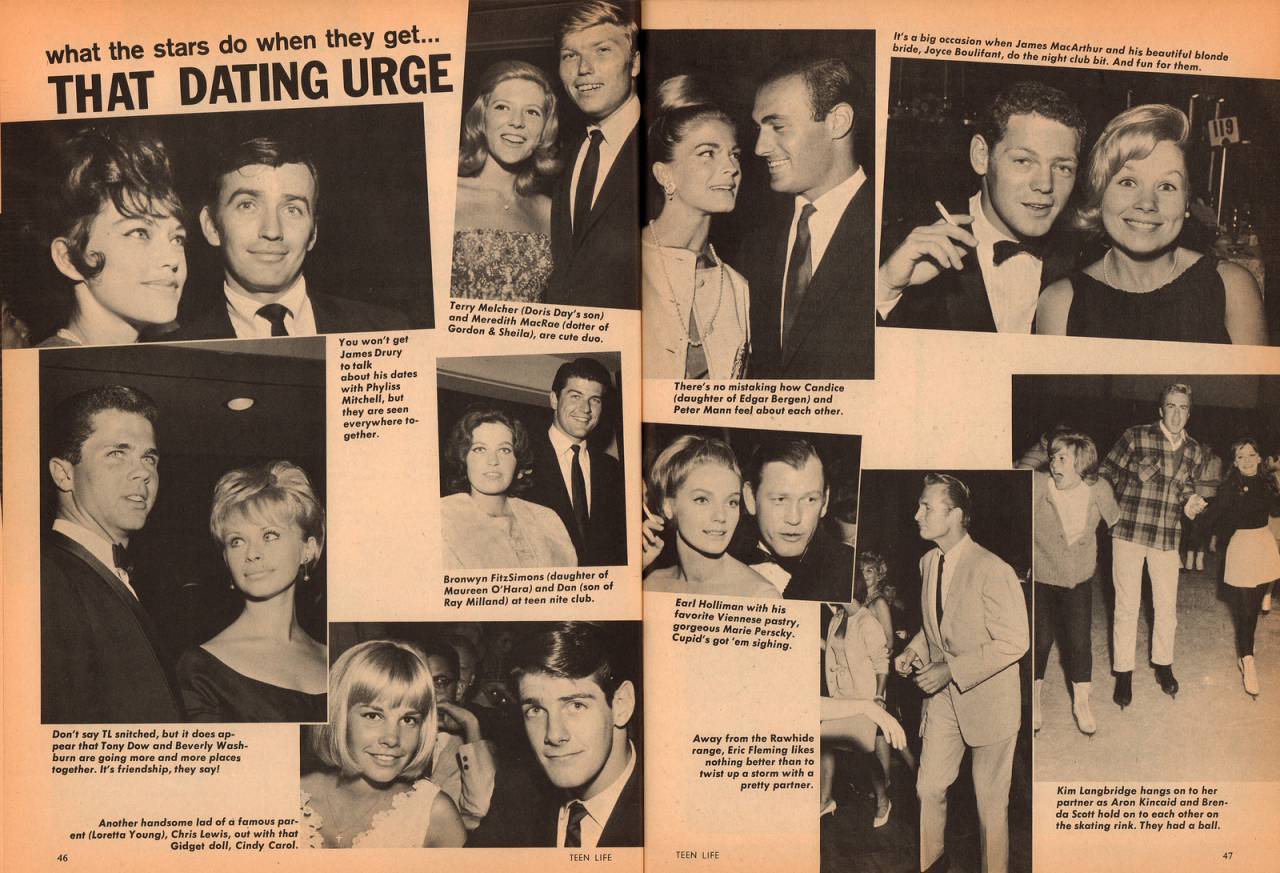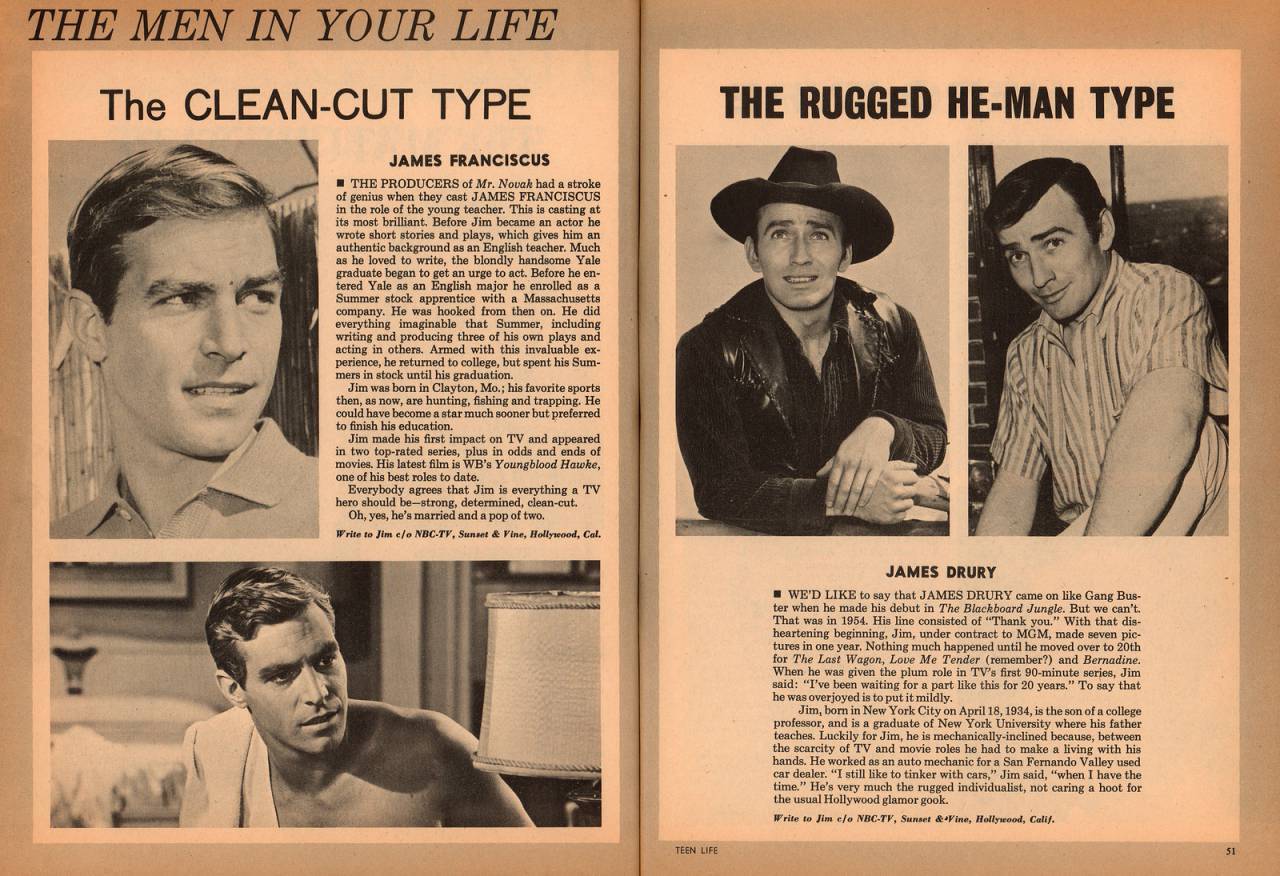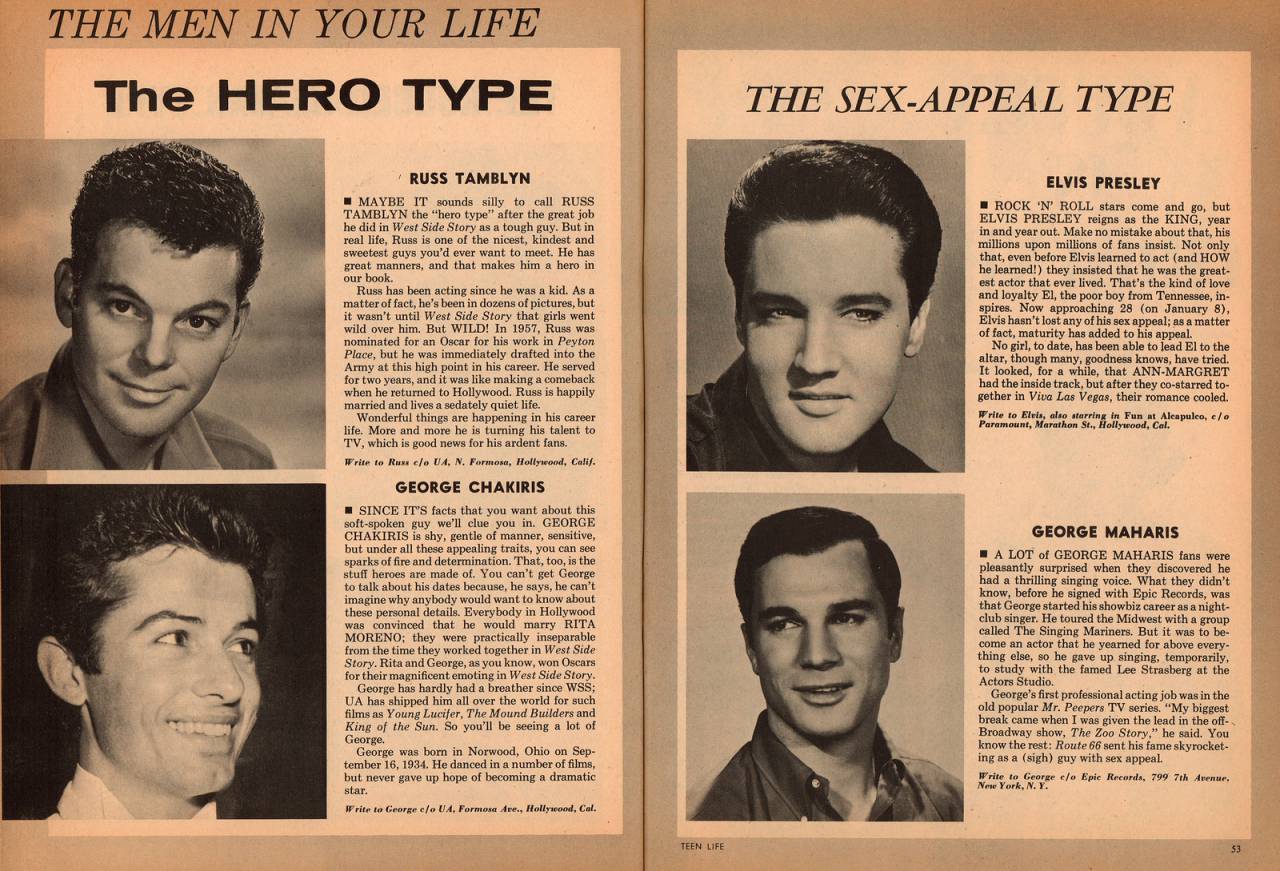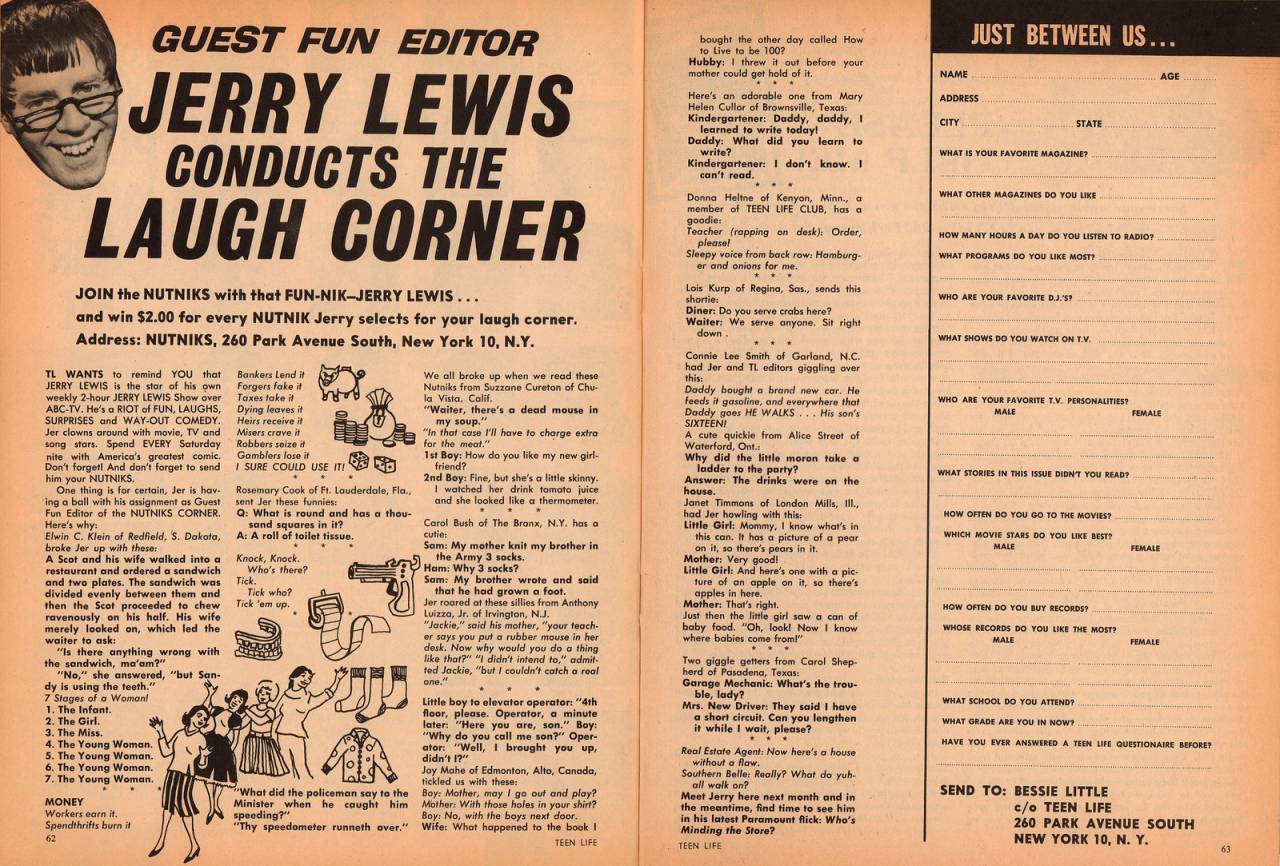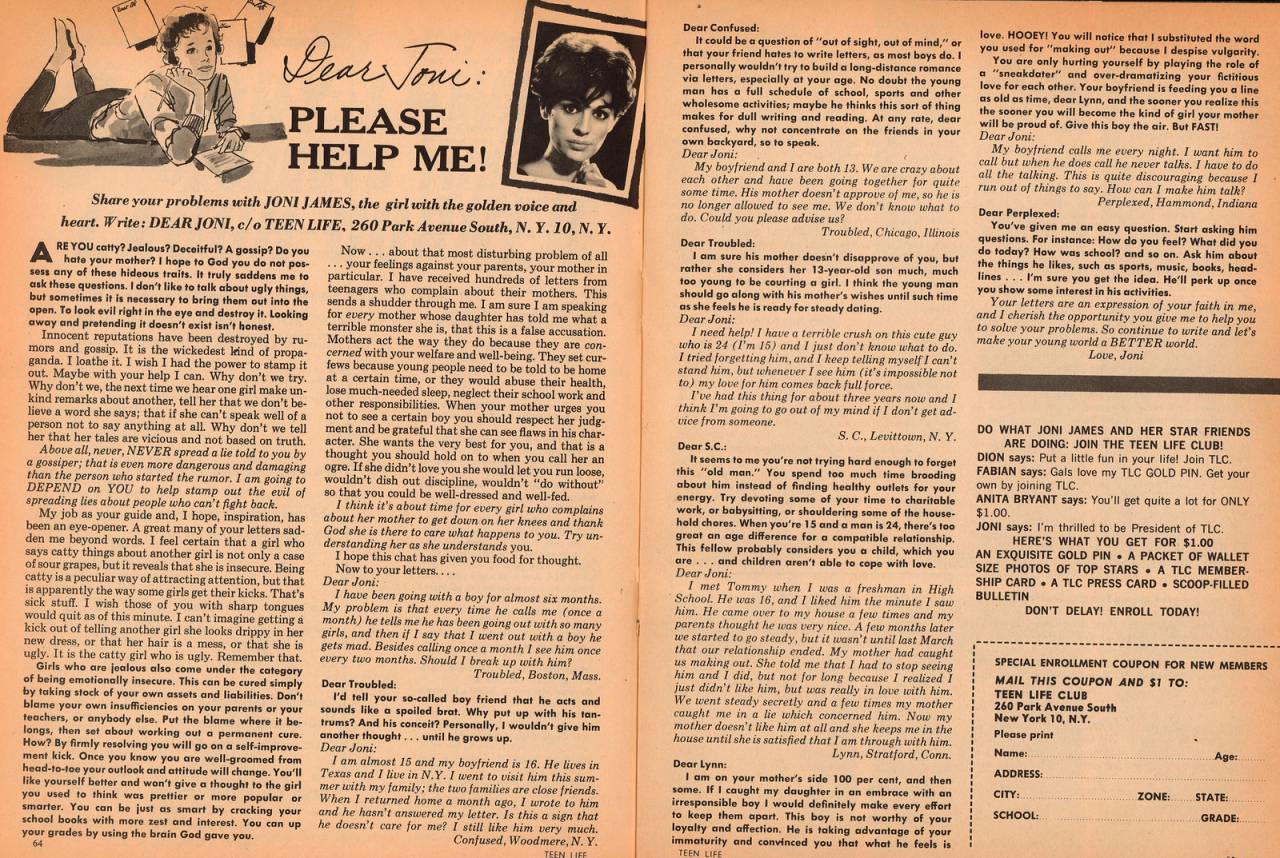 Transcript:
Are you catty? Jealous? Deceitful? A gossip? Do you hate your mother? I hope to God you do not pos­sess any of these hideous traits. It truly saddens me to ask these questions. I don't like to talk about ugly things, but sometimes it is necessary to bring them out into the open. To look evil right in the eye and destroy it. Looking away and pretending it doesn't exist isn't honest.

Innocent reputations have been destroyed by ru­mors and gossip. It is the wickedest kind of propa­ganda. I loathe it. I wish I had the power to stamp it out. Maybe with your help I can. Why don't we try. Why don't we, the next time we hear one girl make un­kind remarks about another, tell her that we don't be­lieve a word she says; that if she can't speak well of a person not to say anything at all. Why don't we tell her that her tales are vicious and not based on truth.

Above all, never, NEVER spread a lie told to you by a gossiper; that is even more dangerous and damaging than the person who started the rumor. I am going to DEPEND on YOU to help stamp out the evil of spreading lies about people who can't fight back.

My job as your guide and, I hope, inspiration, has been an eye-opener. A great many of your letters sad­den me beyond words. I feel certain that a girl who says catty things about another girl is not only a case of sour grapes, but it reveals that she is insecure. Being catty is a peculiar way of attracting attention, but that is apparently the way some girls get their kicks. That's sick stuff. I wish those of you with sharp tongues would quit as of this minute. I can't imagine getting a kick out of telling another girl she looks drippy in her new dress, or that her hair is a mess, or that she is ugly. It is the catty girl who is ugly. Remember that.

Girls who are jealous also come under the category of being emotionally insecure. This can be cured simply by taking stock of your own assets and liabilities. Don't blame your own insufficiencies on your parents or your teachers, or anybody else. Put the blame where it be­longs, then set about working out a permanent cure. How? By firmly resolving you will go on a self-improve­ment kick. Once you know you are well-groomed from head-to-toe your outlook and attitude will change. You'll like yourself better and won't give a thought to the girl you used to think was prettier or more popular or smarter. You can be just as smart by cracking your school books with more zest and interest. You can up your grades by using the brain God gave you.

Now . . . about that most disturbing problem of all … your feelings against your parents, your mother in particular. I have received hundreds of letters from teenagers who complain about their mothers. This sends a shudder through me. I am sure I am speaking for every mother whose daughter has told me what a terrible monster she is, that this is a false accusation. Mothers act the way they do because they are con­cerned with your welfare and well-being. They set cur­fews because young people need to be told to be home at a certain time, or they would abuse their health, lose much-needed sleep, neglect their school work and other responsibilities. When your mother urges you not to see a certain boy you should respect her judg­ment and be grateful that she can see flaws in his char­acter. She wants the very best for you, and that is a thought you should hold on to when you call her an ogre. If she didn't love you she would let you run loose, wouldn't dish out discipline, wouldn't "do without" so that you could be well-dressed and well-fed.

I think it's about time for every girl who complains about her mother to get down on her knees and thank God she is there to care what happens to you. Try un­derstanding her as she understands you.

I hope this chat has given you food for thought.

Now to your letters…

Dear Joni:
I have been going with a boy for almost six months. My problem is that every time he calls me (once a month) he tells me he has been going out with so many girls, and then if I say that I went out with a boy he gets mad. Besides calling once a month I see him once every two months. Should I break up with him?
– Troubled, Boston, Mass.

Dear Troubled:

I'd tell your so-called boy friend that he acts and sounds like a spoiled brat. Why put up with his tan­trums? And his conceit? Personally, I wouldn't give him another thought. .. until he grows up.

Dear Joni:
I am almost 15 and my boyfriend is 16. He lives in Texas and I live in N.Y. I went to visit him this sum­mer with my family; the two families are close friends. When I returned home a month ago, I wrote to him and he hasn't answered my letter. Is this a sign that he doesn't care for me? I still like him very much.
Confused, Woodmere, N. Y.

Dear Confused:

It could be a question of "out of sight, out of mind," or that your friend hates to write letters, as most boys do. I personally wouldn't try to build a long-distance romance via letters, especially at your age. No doubt the young man has a full schedule of school, sports and other wholesome activities; maybe he thinks this sort of thing makes for dull writing and reading. At any rate, dear confused, why not concentrate on the friends in your own backyard, so to speak.

Dear Joni:
My boyfriend and I are both 13. We are crazy about each other and have been going together for quite some time. His mother doesn't approve of me, so he is no longer allowed to see me. We don't know what to do. Could you please advise us?
Troubled, Chicago, Illinois

Dear Troubled:

I am sure his mother doesn't disapprove of you, but rather she considers her 13-year-old son much, much too young to be courting a girl. I think the young man should go along with his mother's wishes until such time as she feels he is ready for steady dating.

Dear Joni:
I need help! I have a terrible crush on this cute guy who is 24 (I'm 15) and I just don't know what to do. I tried forgetting him, and I keep telling myself I can't stand him, but whenever I see him (it's impossible not to) my love for him comes back full force.
I've had this thing for about three years now and I think I'm going to go out of my mind if I don't get ad­vice from someone.
S. C, Levittown, N. Y.

Dear S.C.:

It seems to me you're not trying hard enough to forget this "old man." You spend too much time brooding about him instead of finding healthy outlets for your energy. Try devoting some of your time to charitable work, or babysitting, or shouldering some of the house­hold chores. When you're 15 and a man is 24, there's too great an age difference for a compatible relationship. This fellow probably considers you a child, which you are . . . and children aren't able to cope with love.

Dear Joni:
I met Tommy when I was a freshman in High School. He was 16, and I liked him the minute I saw him. He came over to my house a few times and my parents thought he was very nice. A few months later we started to go steady, but it wasn't until last March that our relationship ended. My mother had caught us making out. She told me that I had to stop seeing him and I did, but not for long because I realized I just didn't like him, but was really in love with him. We went steady secretly and a few times my mother caught me in a lie which concerned him. Now my mother doesn't like him at all and she keeps me in the house until she is satisfied that I am through with him.
Lynn, Stratford, Conn.

Dear Lynn:

I am on your mother's side 100 per cent, and then some. If I caught my daughter in an embrace with an irresponsible boy I would definitely make every effort to keep them apart. This boy is not worthy of your loyalty and affection. He is taking advantage of your immaturity and convinced you that what he feels is TEEN LIFE love. HOOEY! You will notice that I substituted the word you used for "making out" because I despise vulgarity.

You are only hurting yourself by playing the role of a "sneakdater" and over-dramatizing your fictitious love for each other. Your boyfriend is feeding you a line as old as time, dear Lynn, and the sooner you realize this the sooner you will become the kind of girl your mother will be proud of. Give this boy the air. But FAST!

Dear Joni:
My boyfriend calls me every night. I want him to call but when he does call he never talks. I have to do all the talking. This is quite discouraging because I run out of things to say. How can I make him talk?

Perplexed, Hammond, Indiana

Dear Perplexed:

You've given me an easy question. Start asking him questions. For instance: How do you feel? What did you do today? How was school? and so on. Ask him about the things he likes, such as sports, music, books, head­lines . . . I'm sure you get the idea. He'll perk up once you show some interest in his activities.

Your letters are an expression of your faith in me, and I cherish the opportunity you give me to help you to solve your problems. So continue to write and let's make your young world a BETTER world.

Love, Joni