'When Punk Planet started, I remember when we got to issue five and it was like, "Oh my God! We've made it five issues, that's incredible!"

– Daniel Sinker, founder of Punk Planet magazine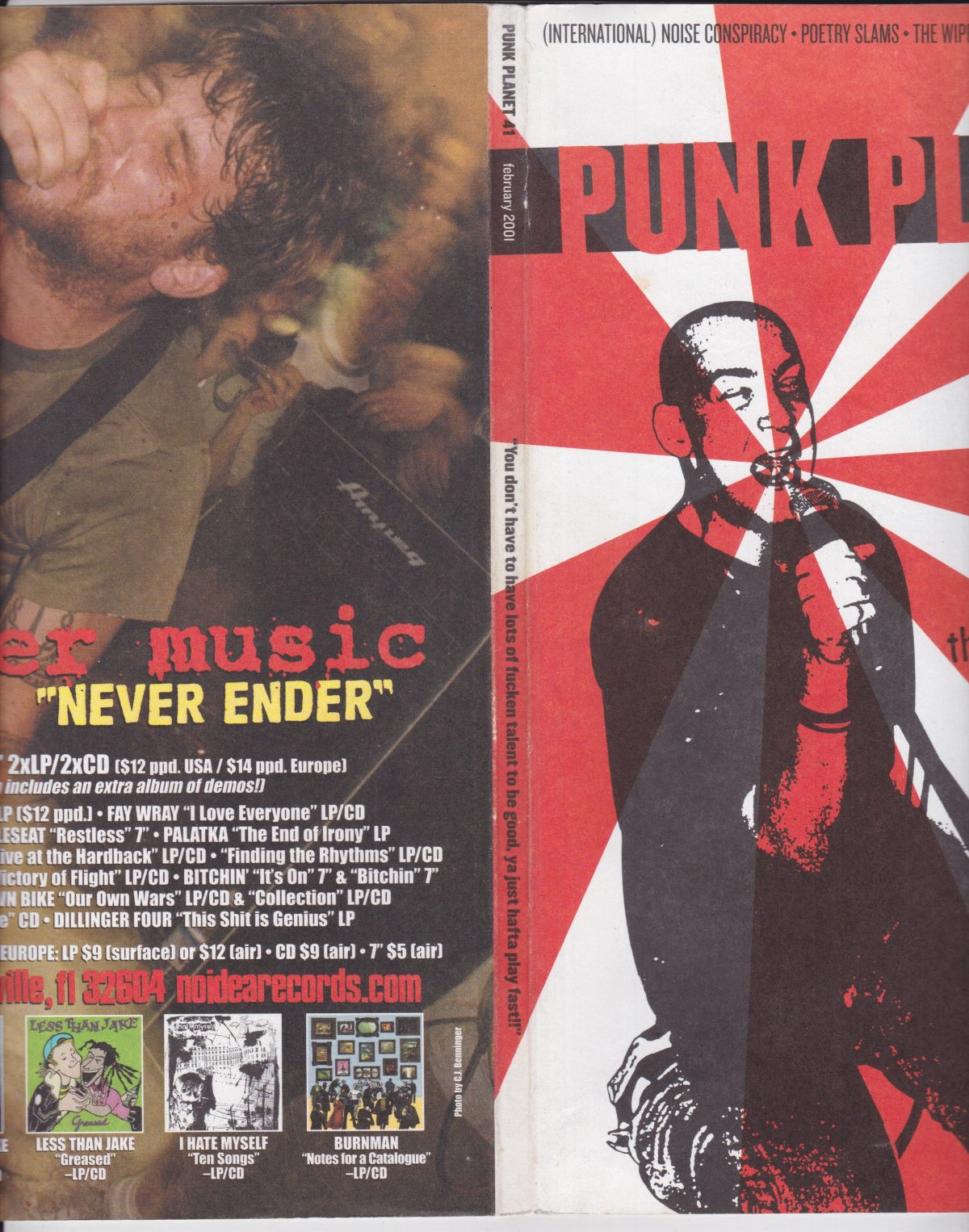 The entire archive of Punk Planet magazine is now online at the Internet Archive. Punk Planet (1994-2007) ran for 80 issues with an impressive 16,000 bi-monthly print run – not too shabby for a punk zine compiled in Chicago, Illinois, based on a culture that for many existed only as as punk rock music and was epitomised with The Ramones and the Sex Pistols, two bands that erupted into the mainstream in the mid-1970s and, as the BBC outs it,"provided an inspiration to people who realised you did not need to be able to play an instrument to be in a band – you just had to have something to say." But Punk preceded those bands by decades, lived on and thrived. In addition to covering music, Punk Planet also reported on visual arts and a wide variety of progressive issues — including media criticism, feminism, and labor issues. as Kyle Ryan puts it in 1002 article on the magazine's demise, Punk Planet "treated punk rock as an idea, not a sound."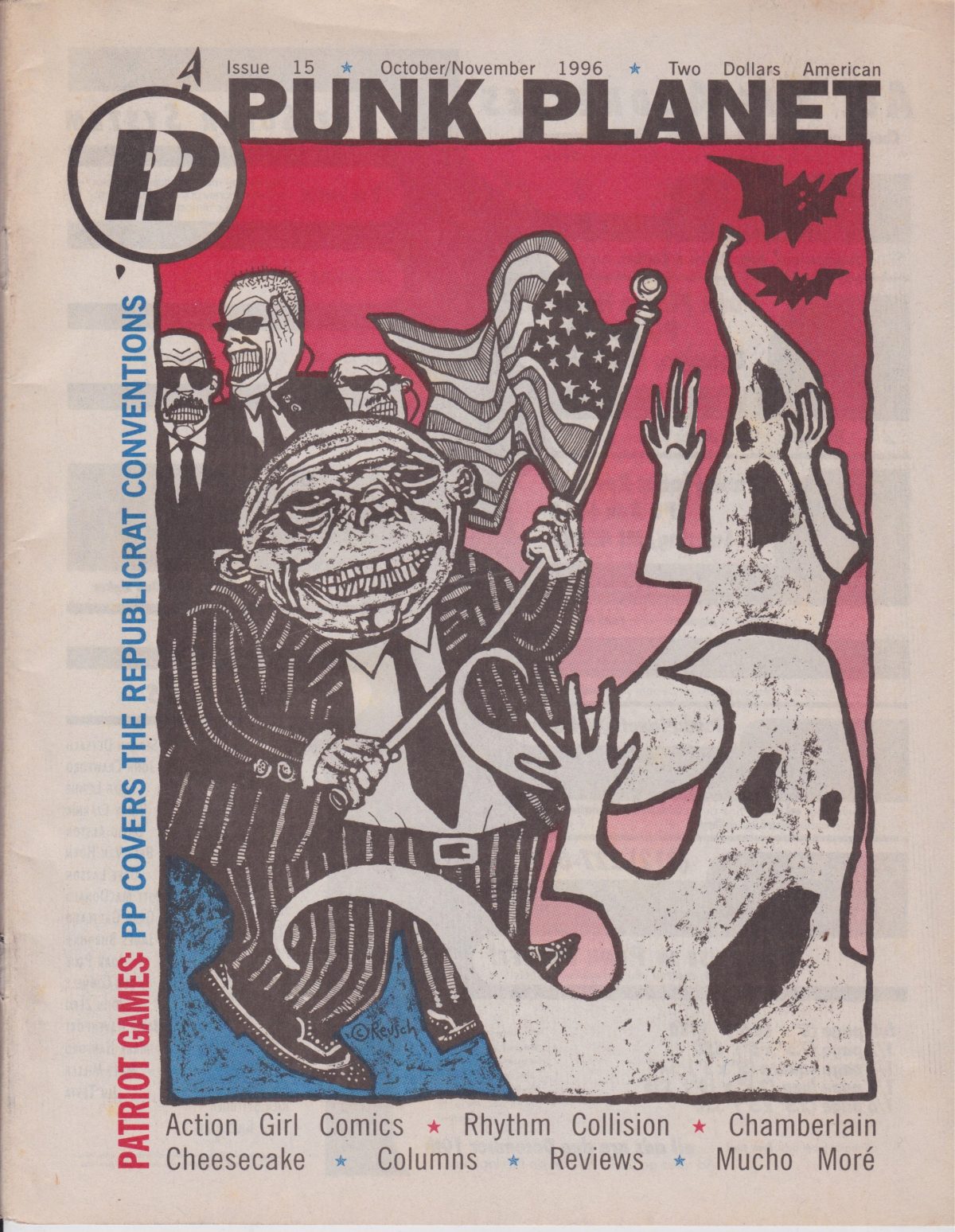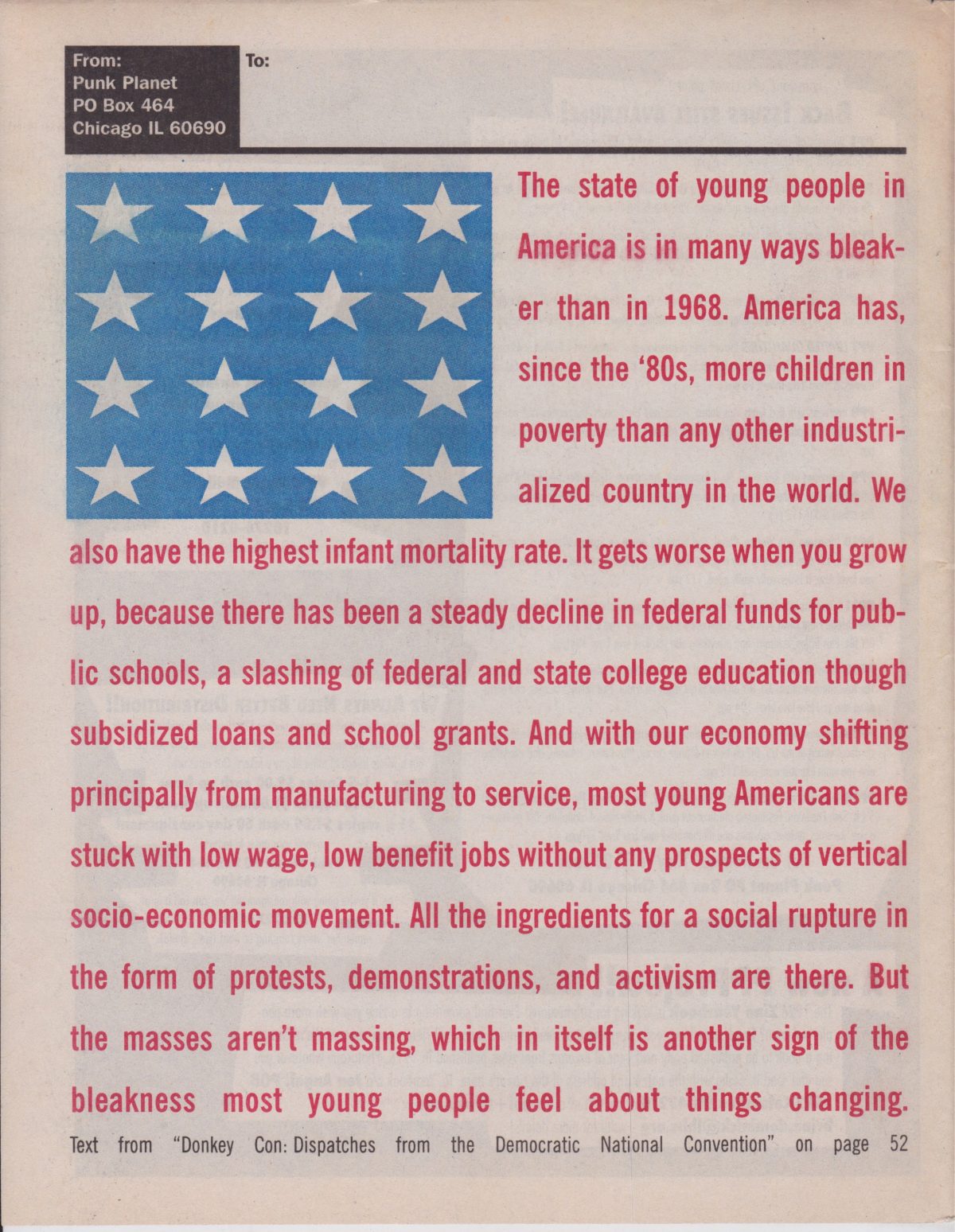 The valedictory editorial told readers that Punk Planet had "covered every aspect of the financially independent, emotionally autonomous, free culture we refer to as 'the underground'."
We've come to the impossible decision to stop printing, having sounded all the alarms and re-envisioned all the systems we can. Benefit shows are no longer enough to make up for bad distribution deals, disappearing advertisers, and a decreasing audience of subscribers.

As to the latter two points, we could blame the Internet. It makes editorial content-and bands-easy to find, for free. (We're sure our fellow indie labels, those still standing, can attest to the difficulties created in the last few years). We can blame educational and media systems that value magazines focused on consumerism over engaged dissent. And we can blame the popular but mistaken belief that punk died several years ago.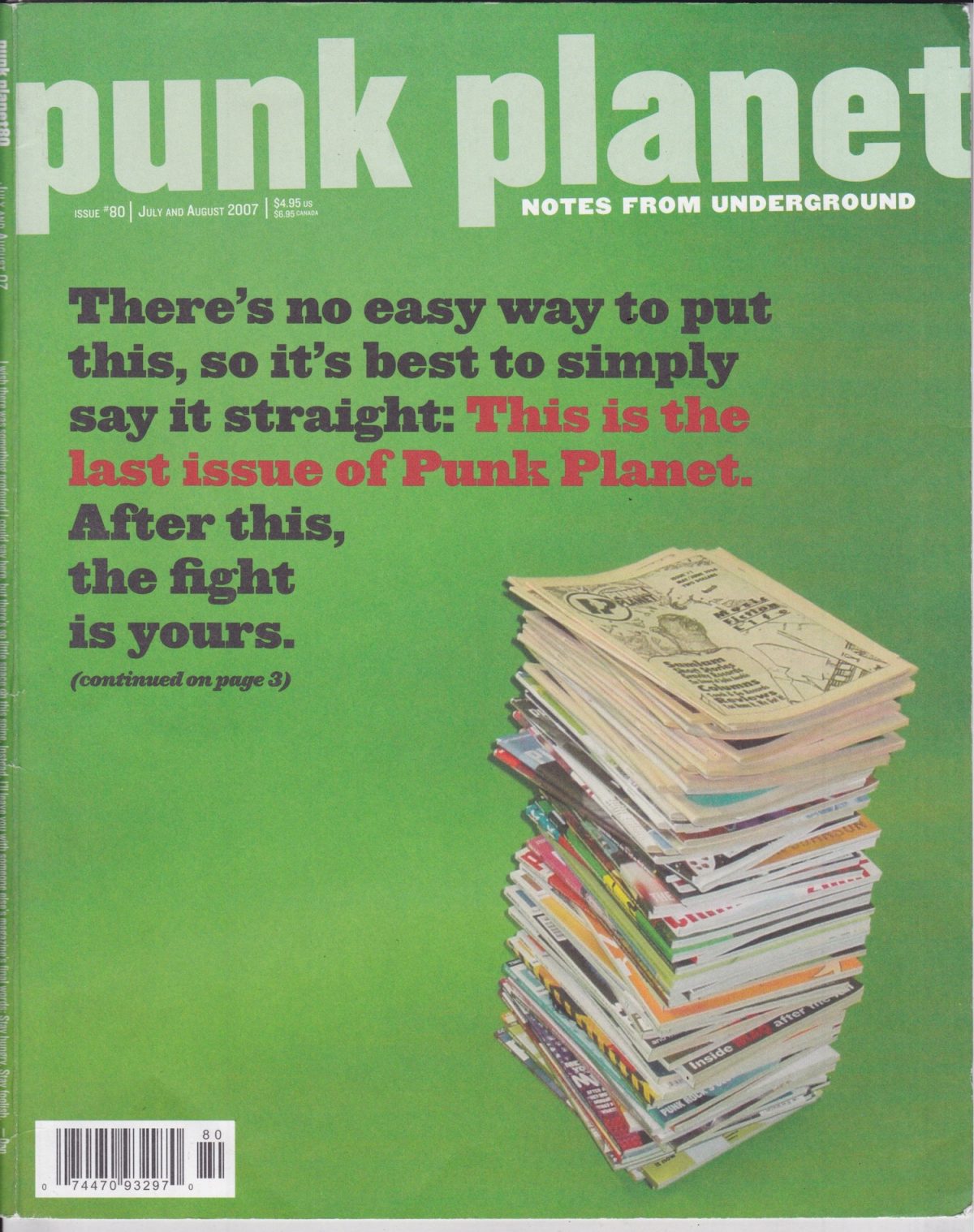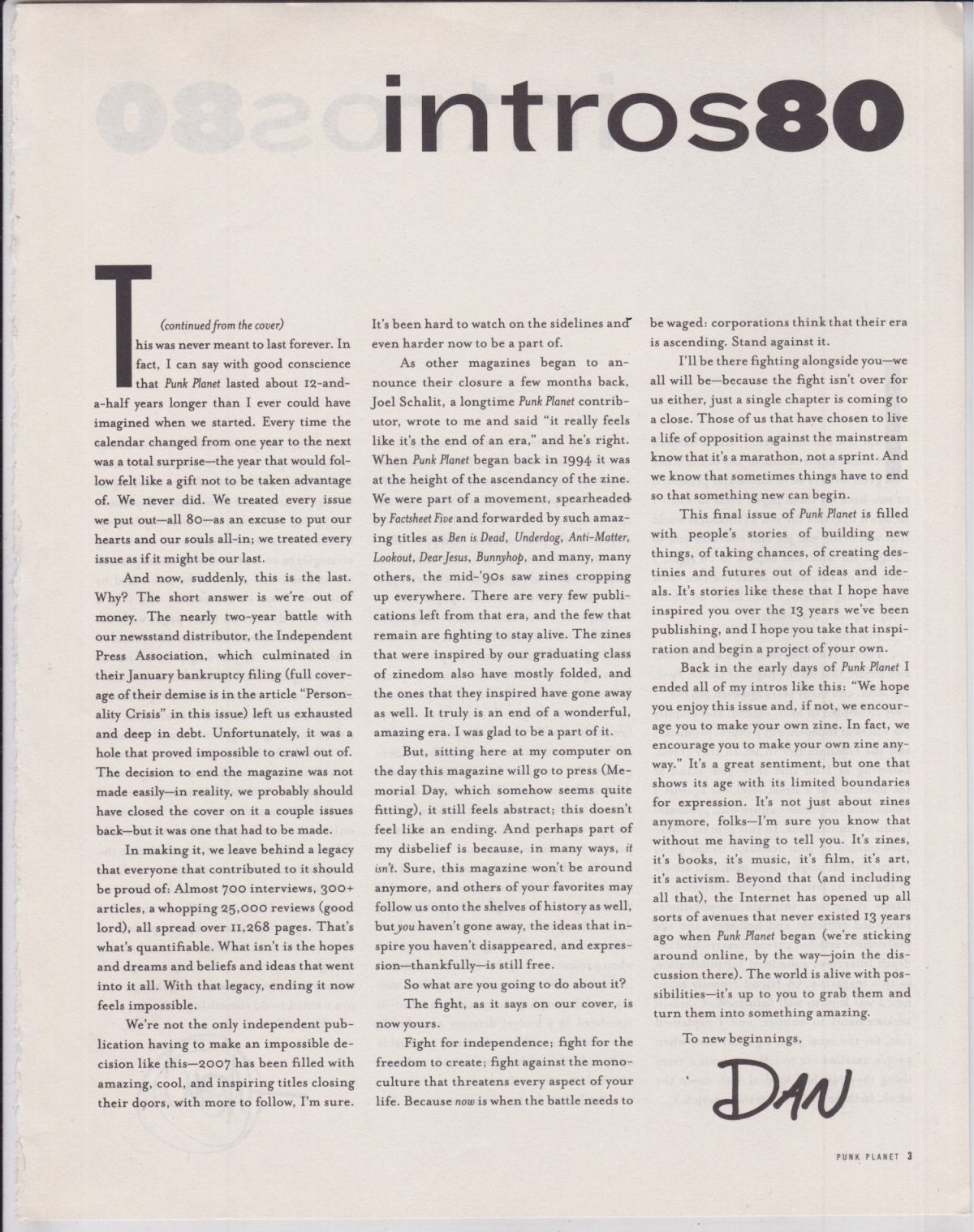 Founder Daniel Sinker explained more in an interview with the AV Club:
When Punk Planet started, I remember when we got to issue five and it was like, "Oh my God! We've made it five issues, that's incredible!" I think one thing that's been a constant at Punk Planet is actually never really thinking particularly far into the future. It's always been this thing that's like, "Oh my God, I can't believe we've made it another issue! Let's try another!"
And the end?
As the end kind of came into focus, we started looking beyond the simple answer–which is we were killed by distributors that went bankrupt–and started looking at the larger issues that were also affecting us. Things like, "Hey, wow, record labels are going under because no one is paying for music!" And, "Hey, look at this, people are going to these Internet sites because people can pick up a record review the same day the record came out!"
Wikipedia has more:
The most notable features in Punk Planet were the interviews and album reviews. The interviews generally ran two or three pages, and tended to focus on the motivations of the artist (or organizer, activist, or whoever) being interviewed. Punk Planet aimed to be more inclusive than the well-known zine Maximum Rock and Roll, and tried to review nearly all the records it received, so long as the record label wasn't owned or partially owned by a major label. This led to a review section typically longer than thirty pages, covering a variety of musical styles. Although much of the music thus reviewed was, expectedly, aggressive rock, the reviews also covered country, folk, hip-hop, indie rock, and other genres. The Punk Planet reviews section also encompassed independently released comics, zines, and DVDs.

A number of poor distribution deals and the collapse of the Independent Press Association resulted in mounting debts for the editors. As a result, issue 80 was shipped with a cover reading: "This is the final issue of Punk Planet, after this the fight is yours." Subsidiary business Punk Planet books remains in business.
Catch up with Daniel Sinker on his site.
And now let's hark back to highlights from Issue 1: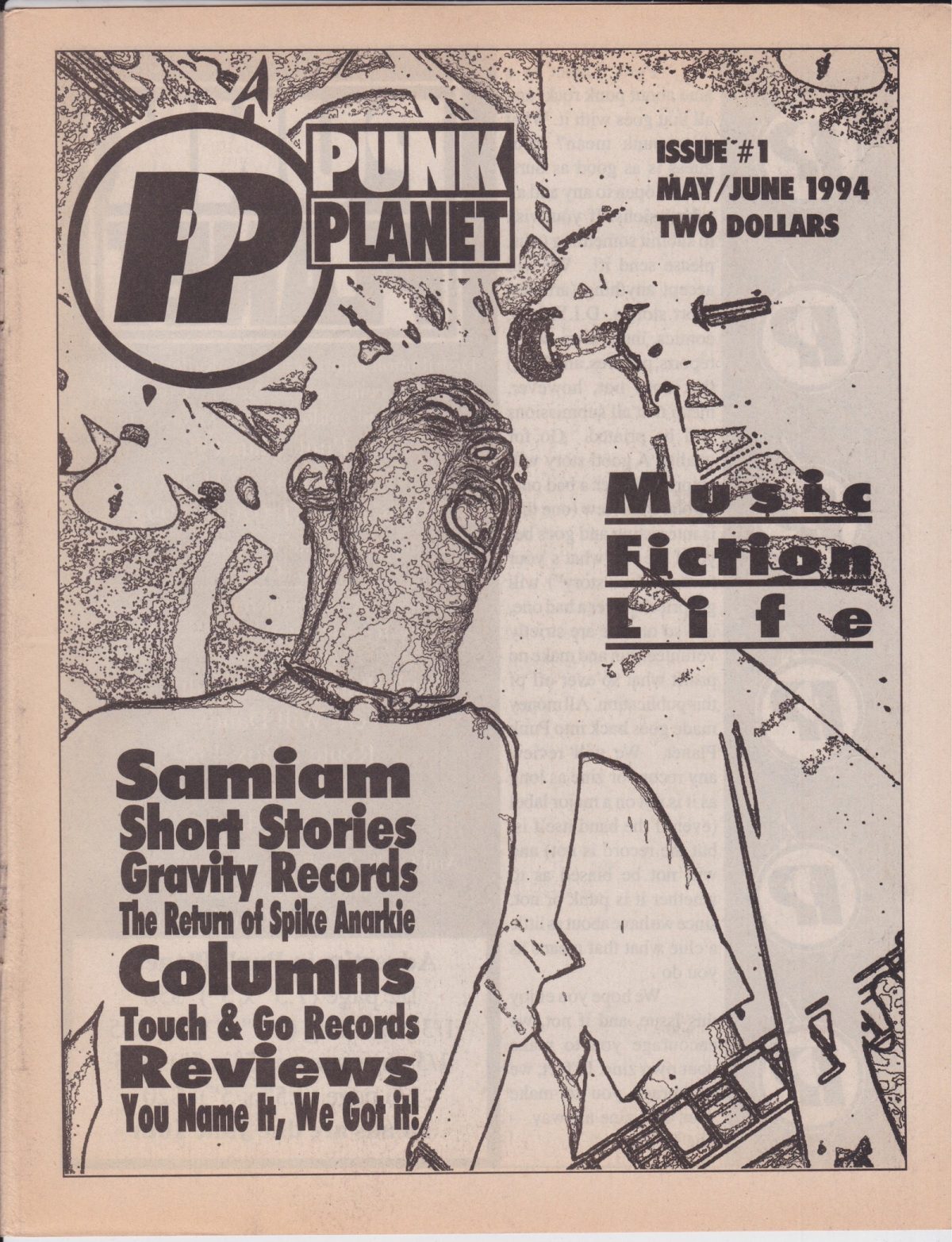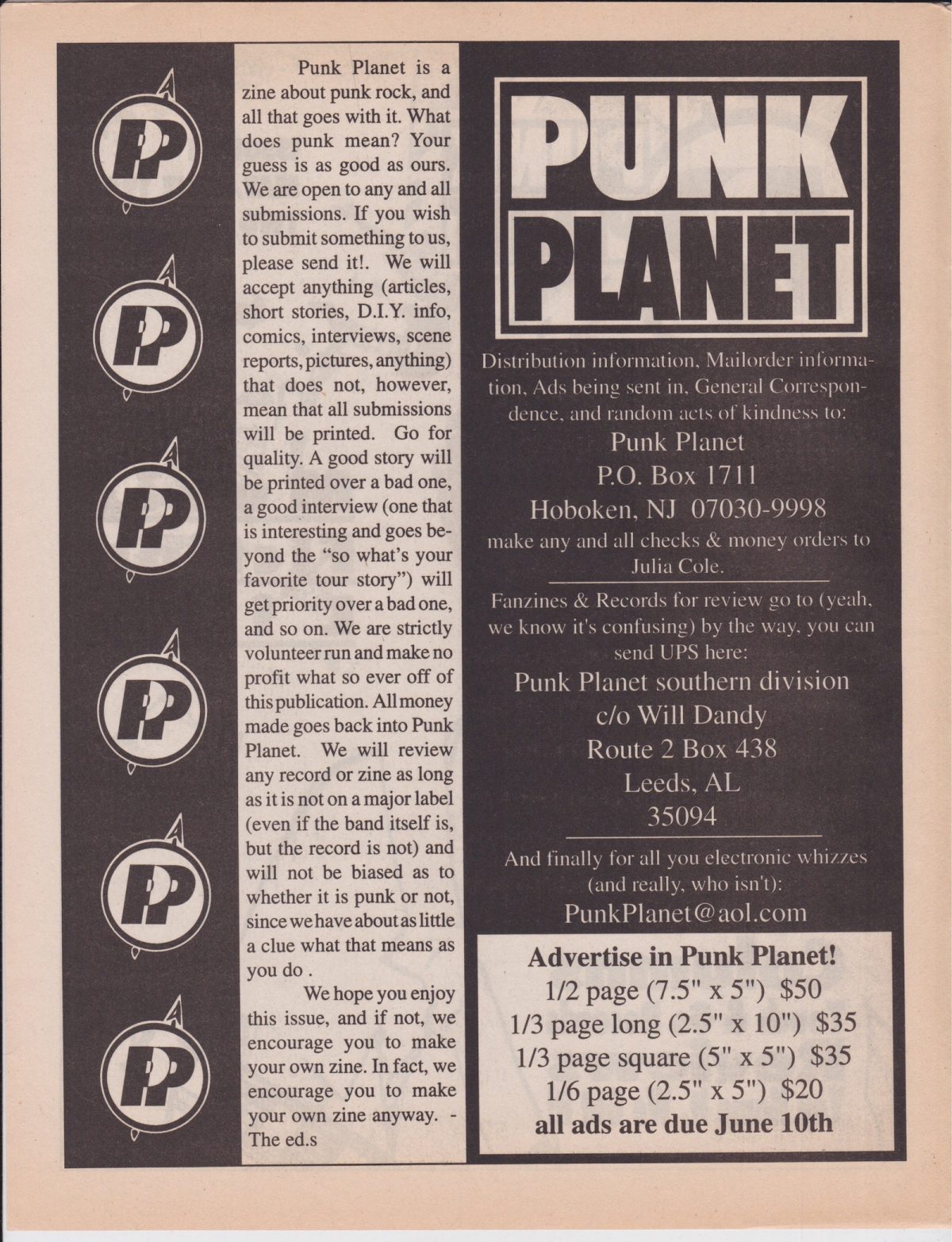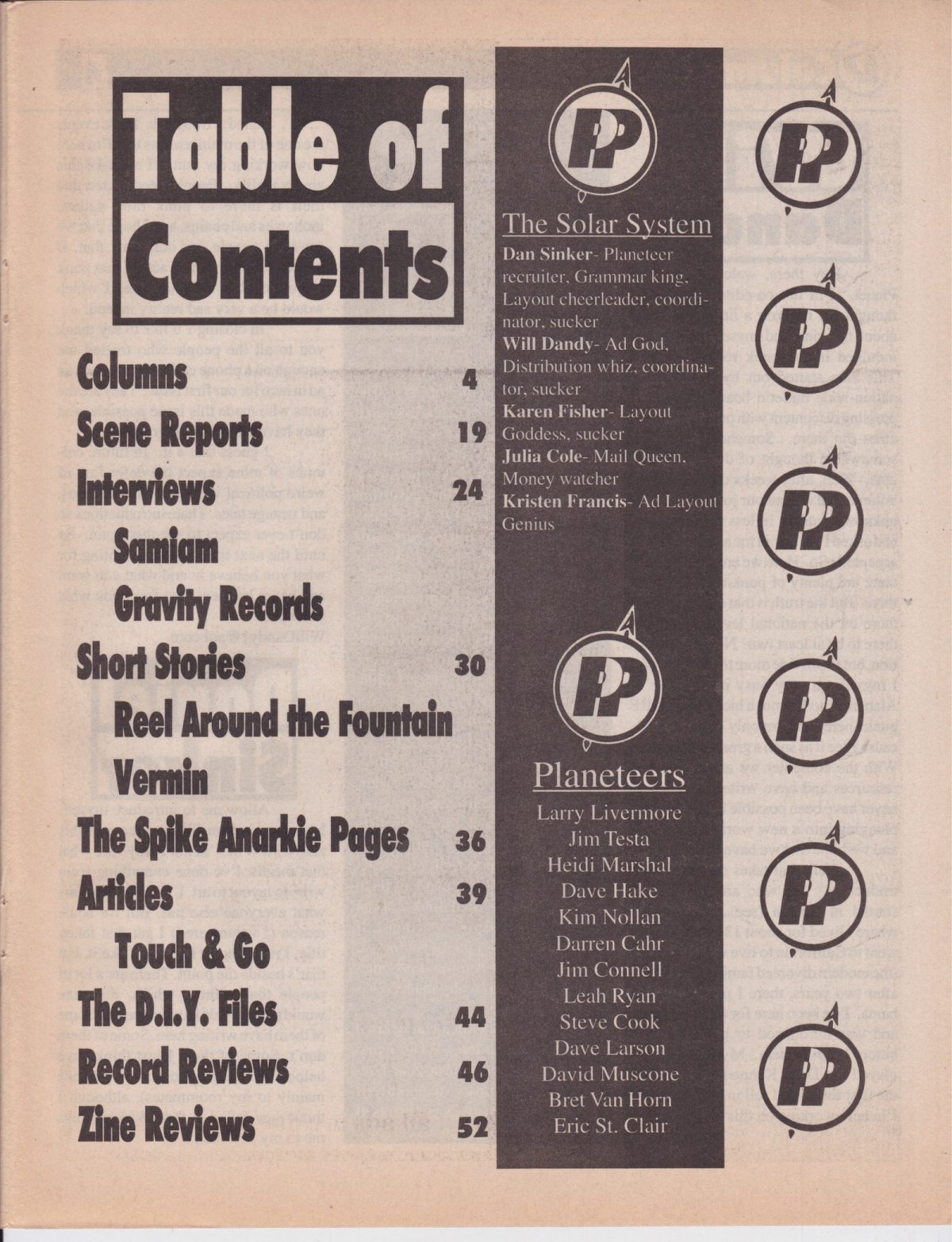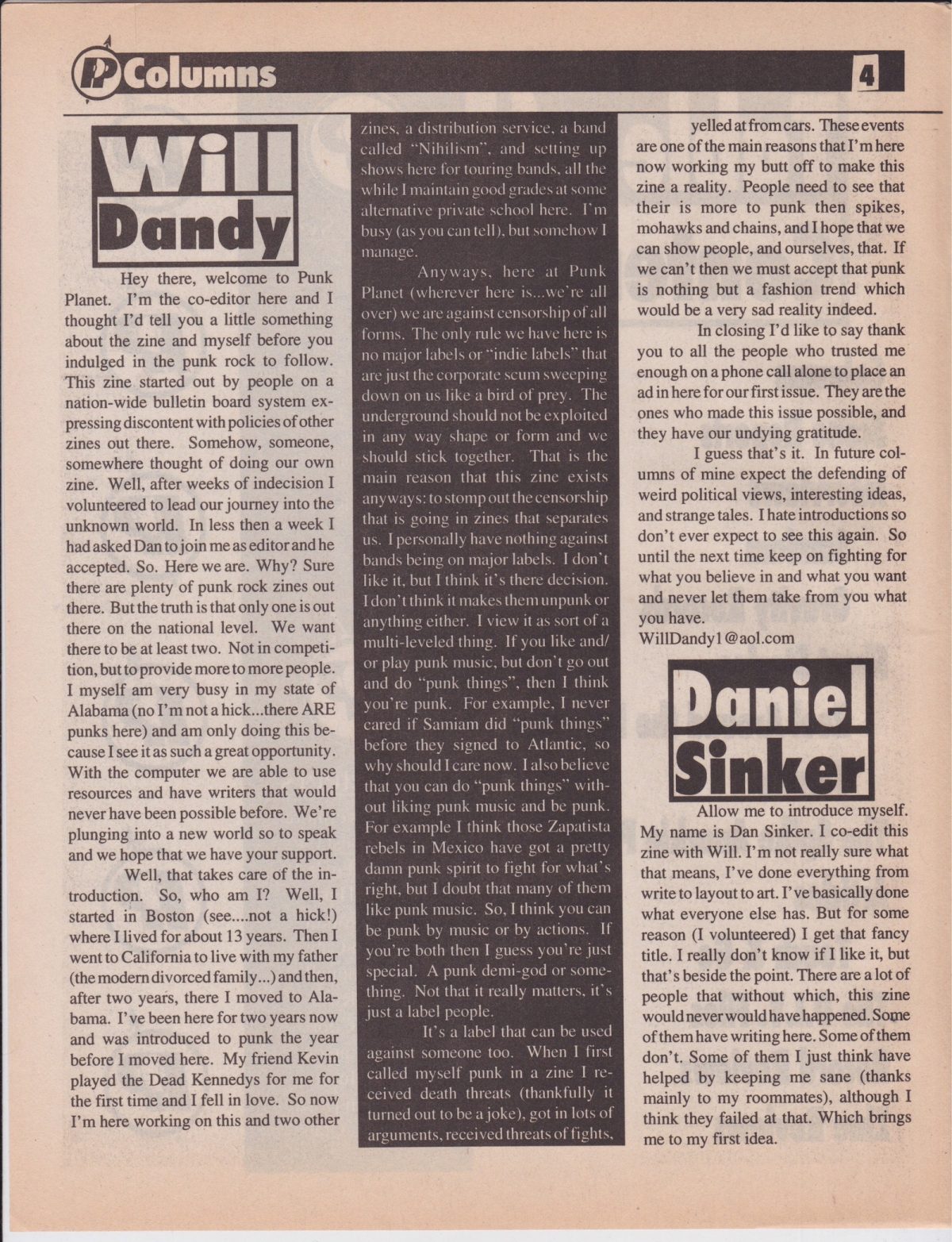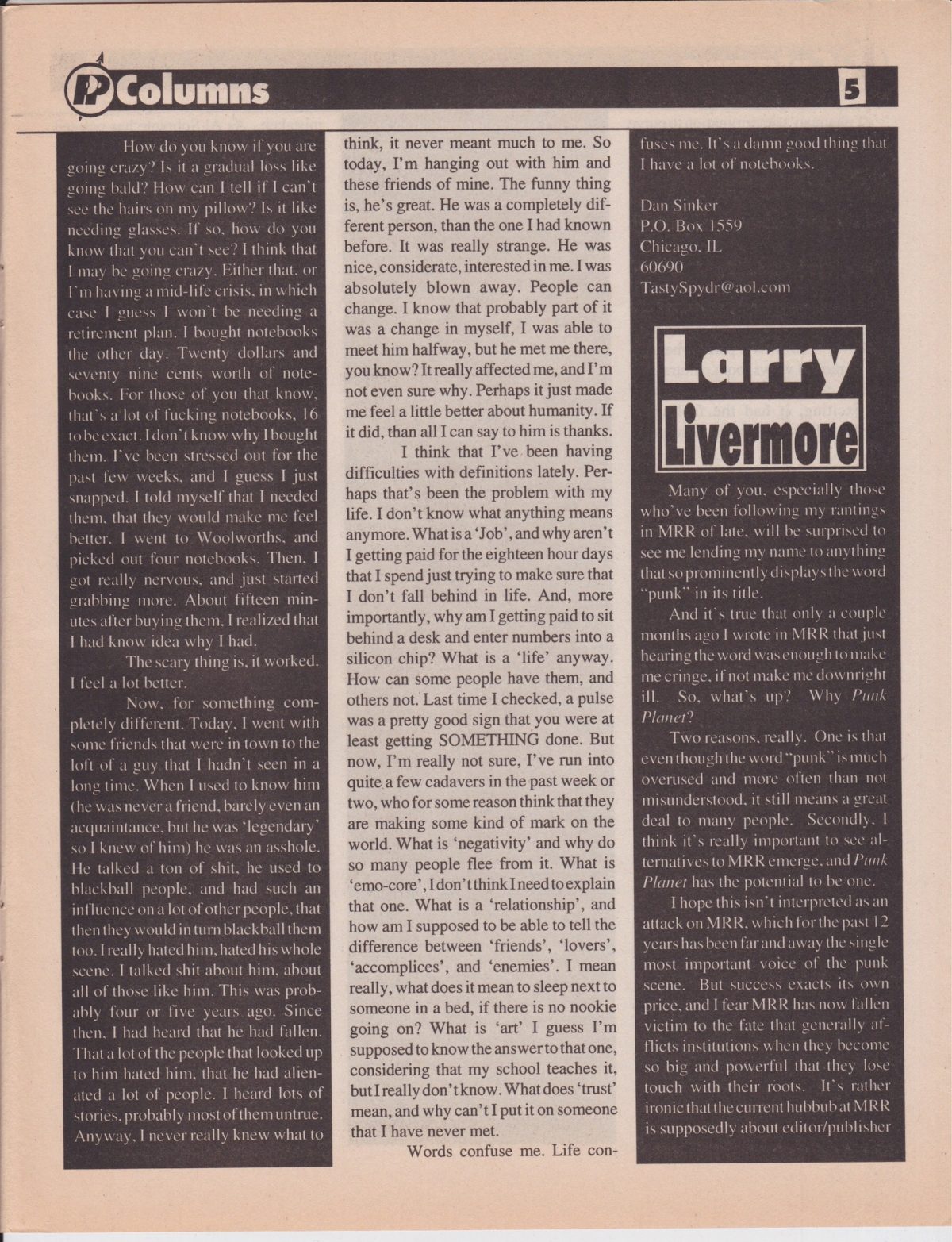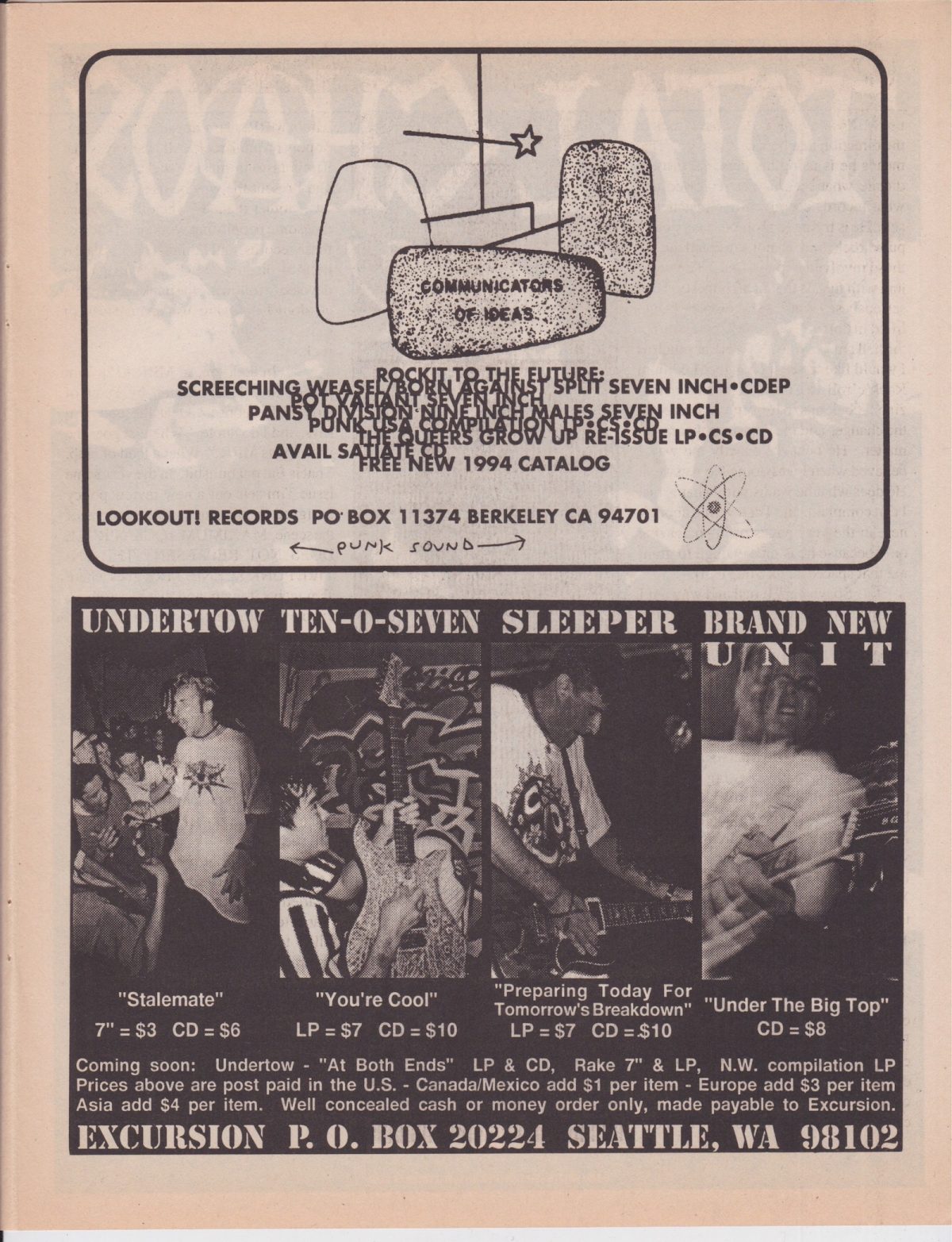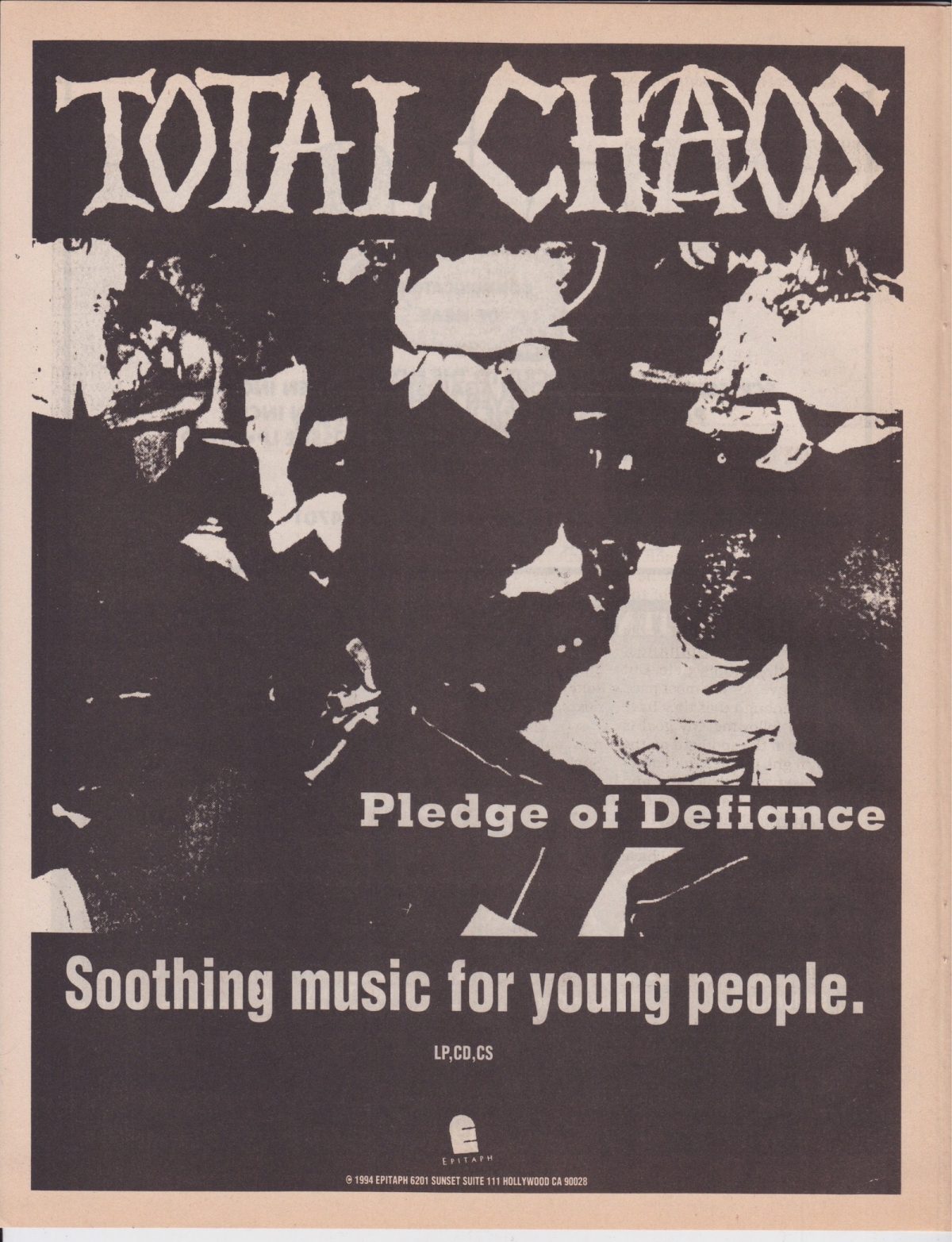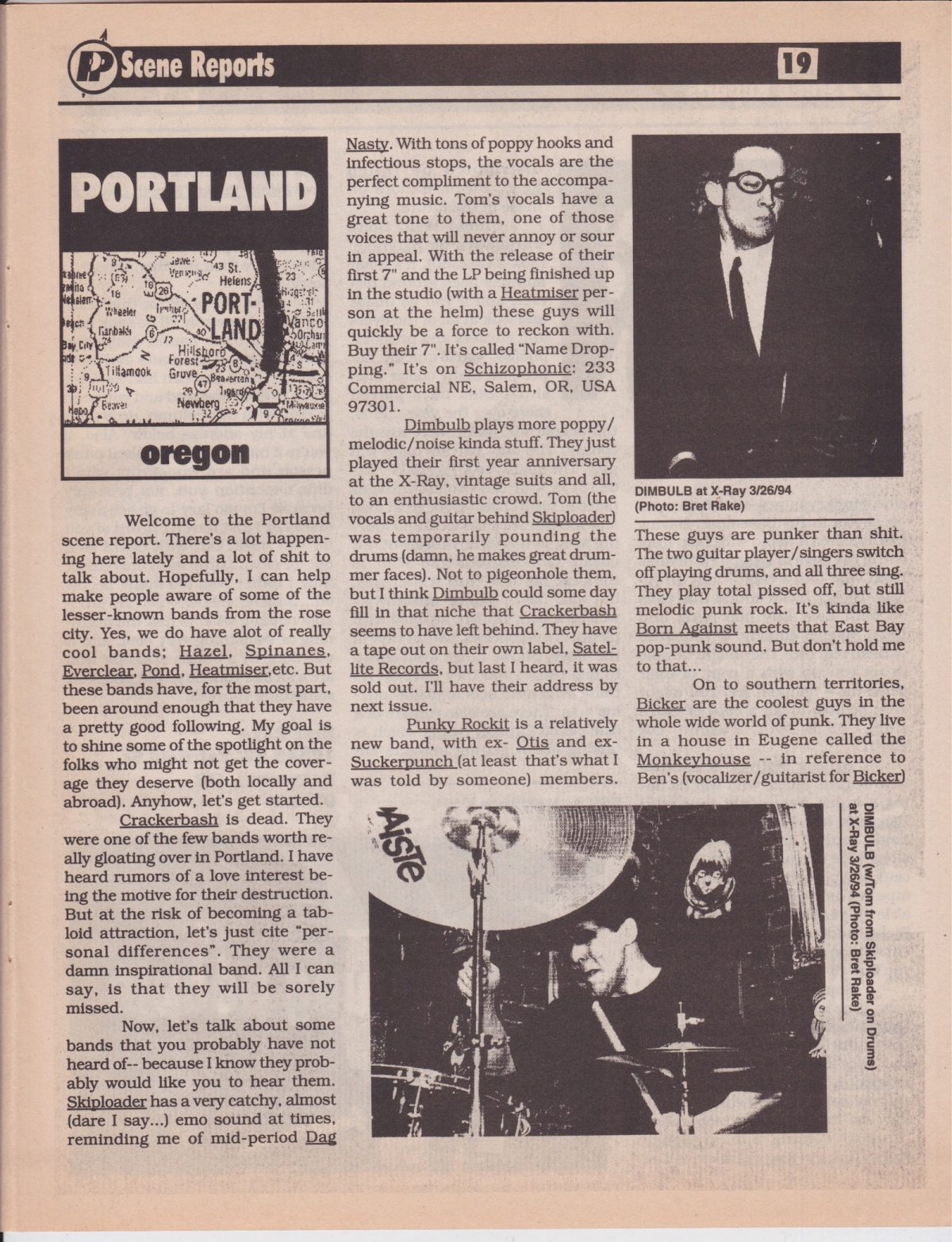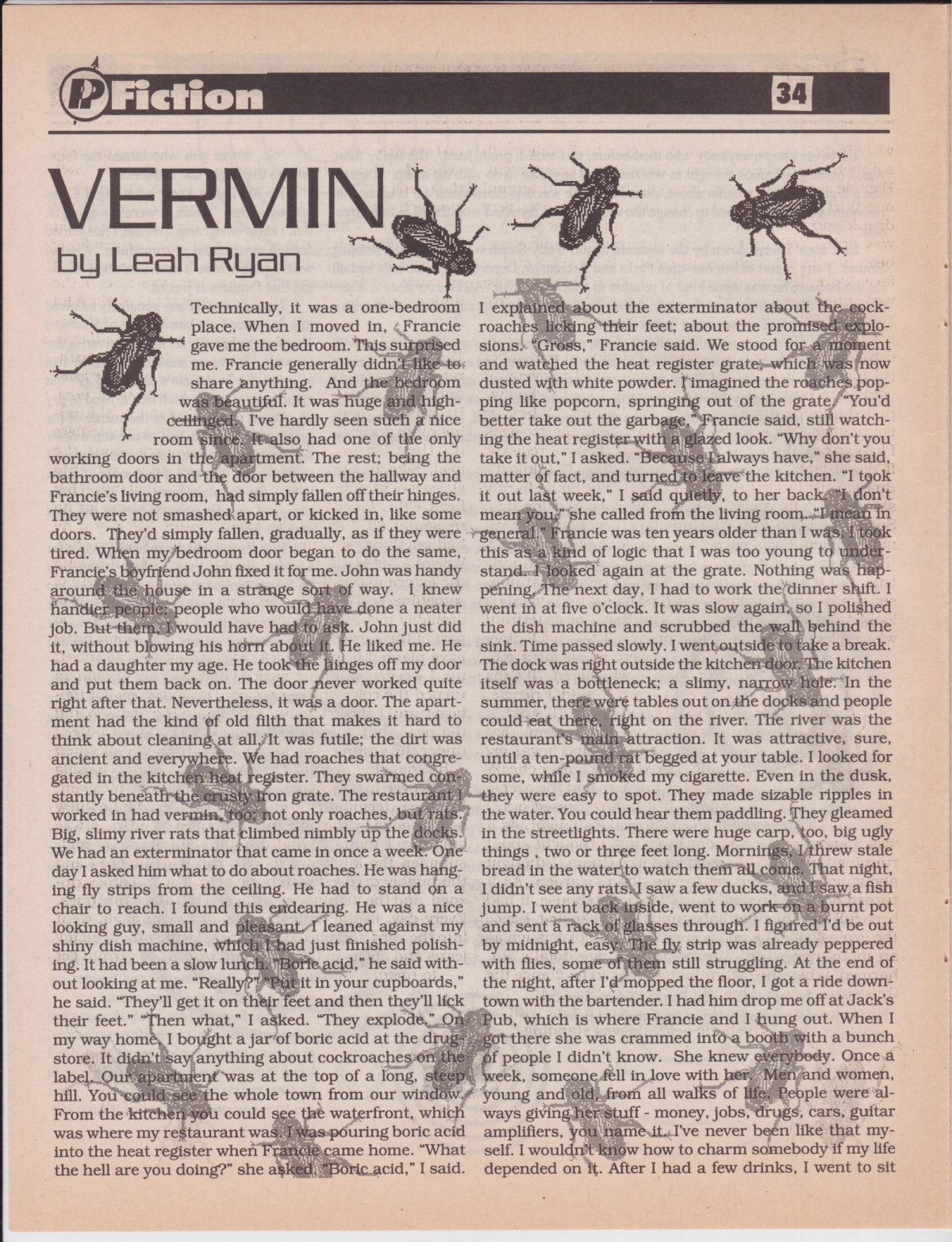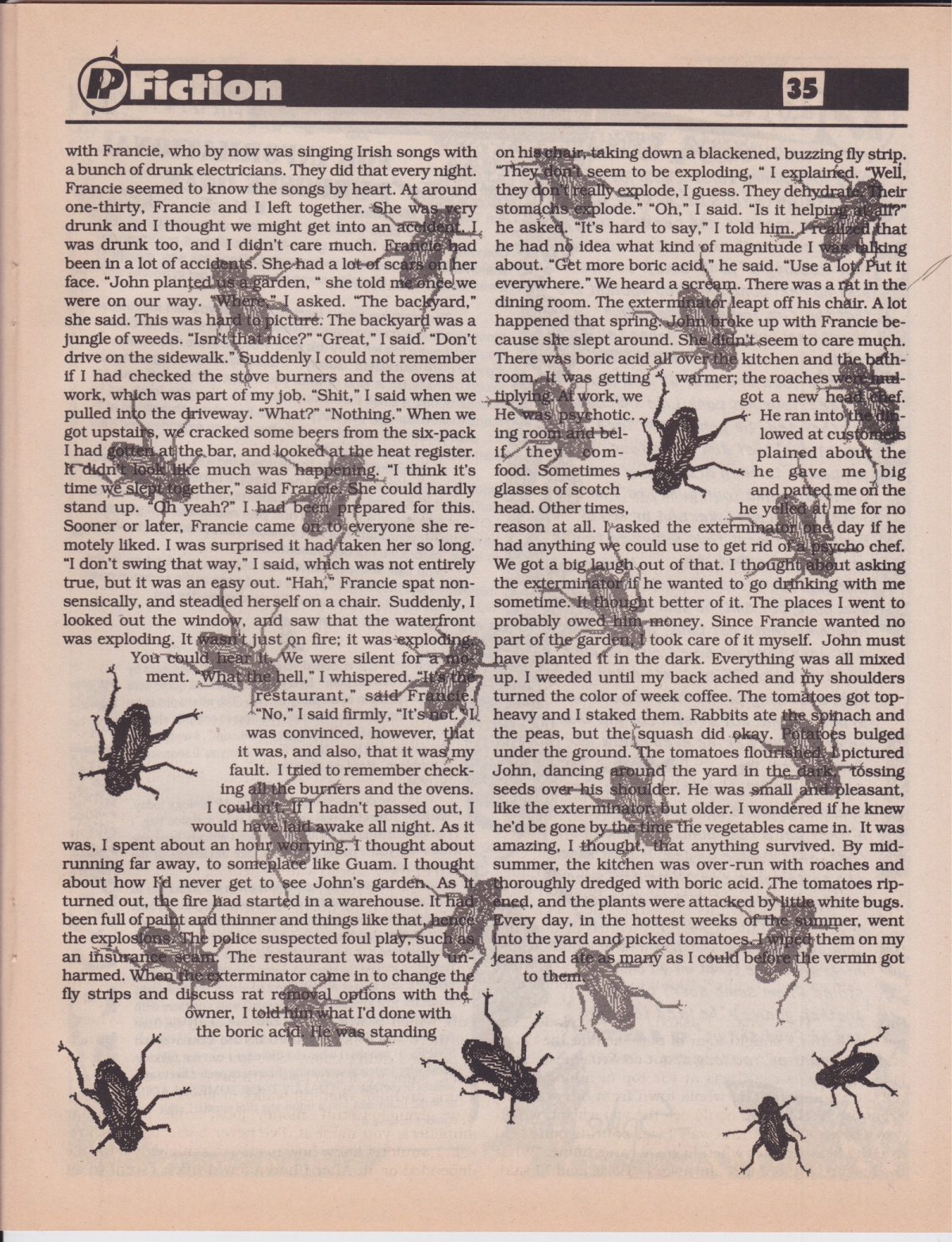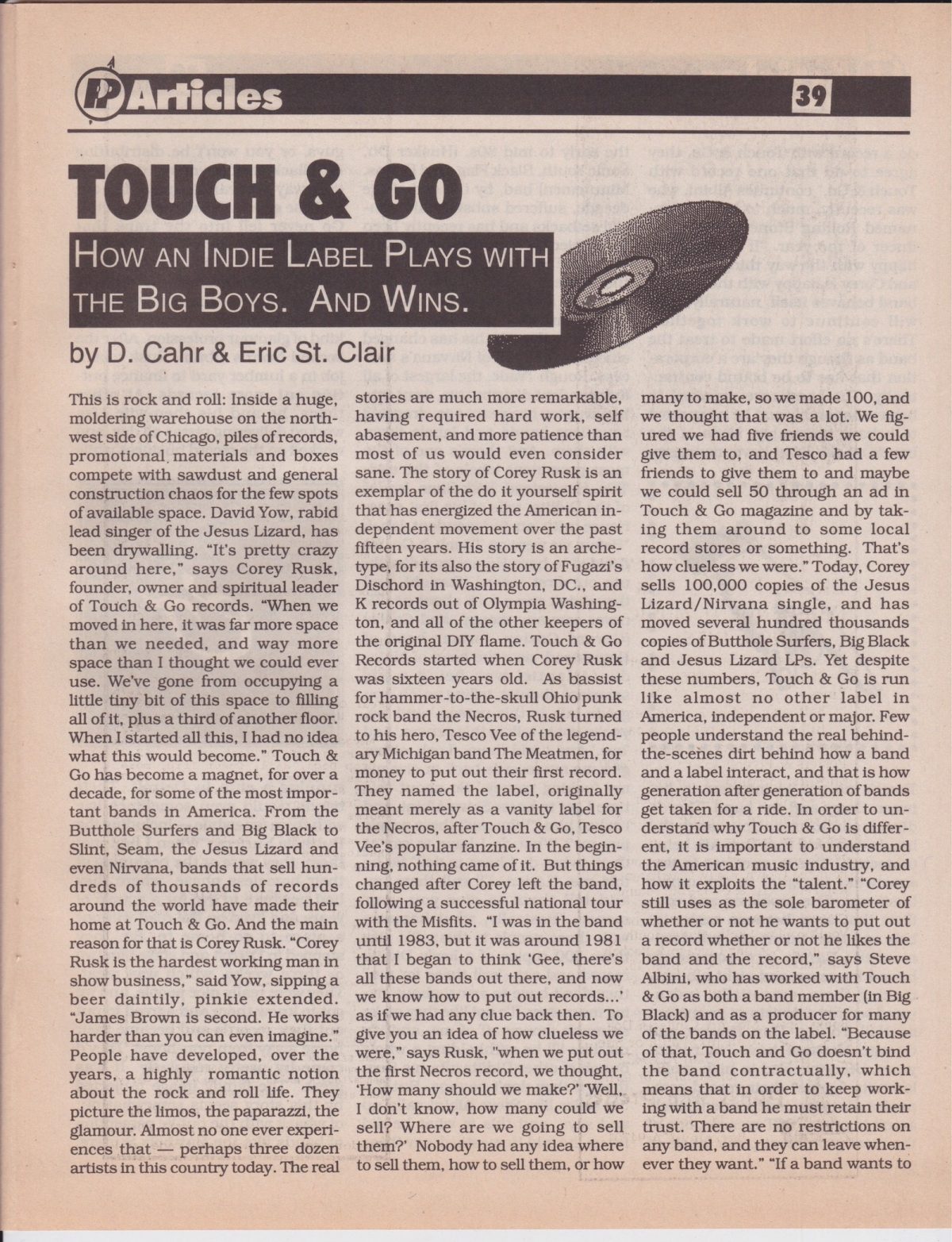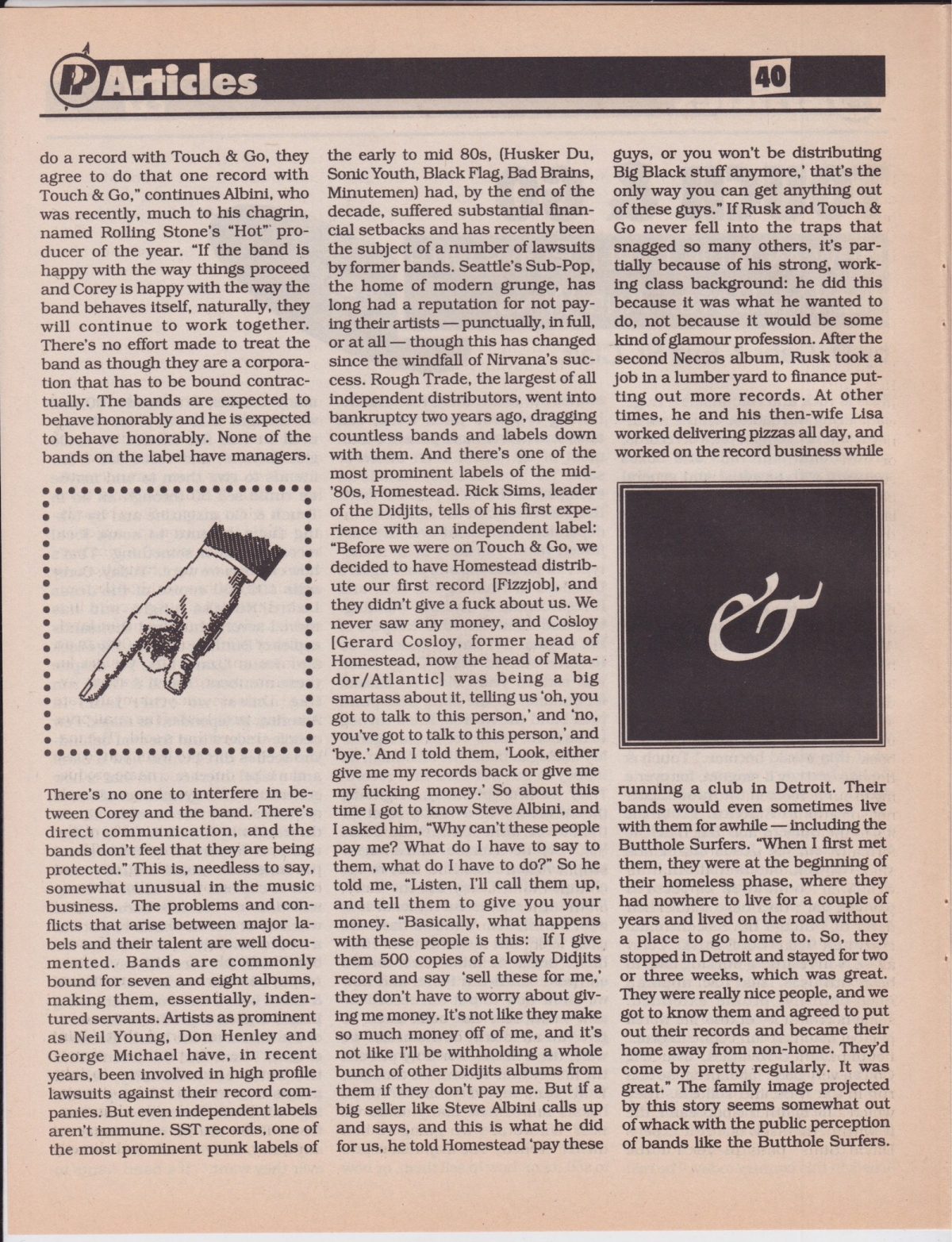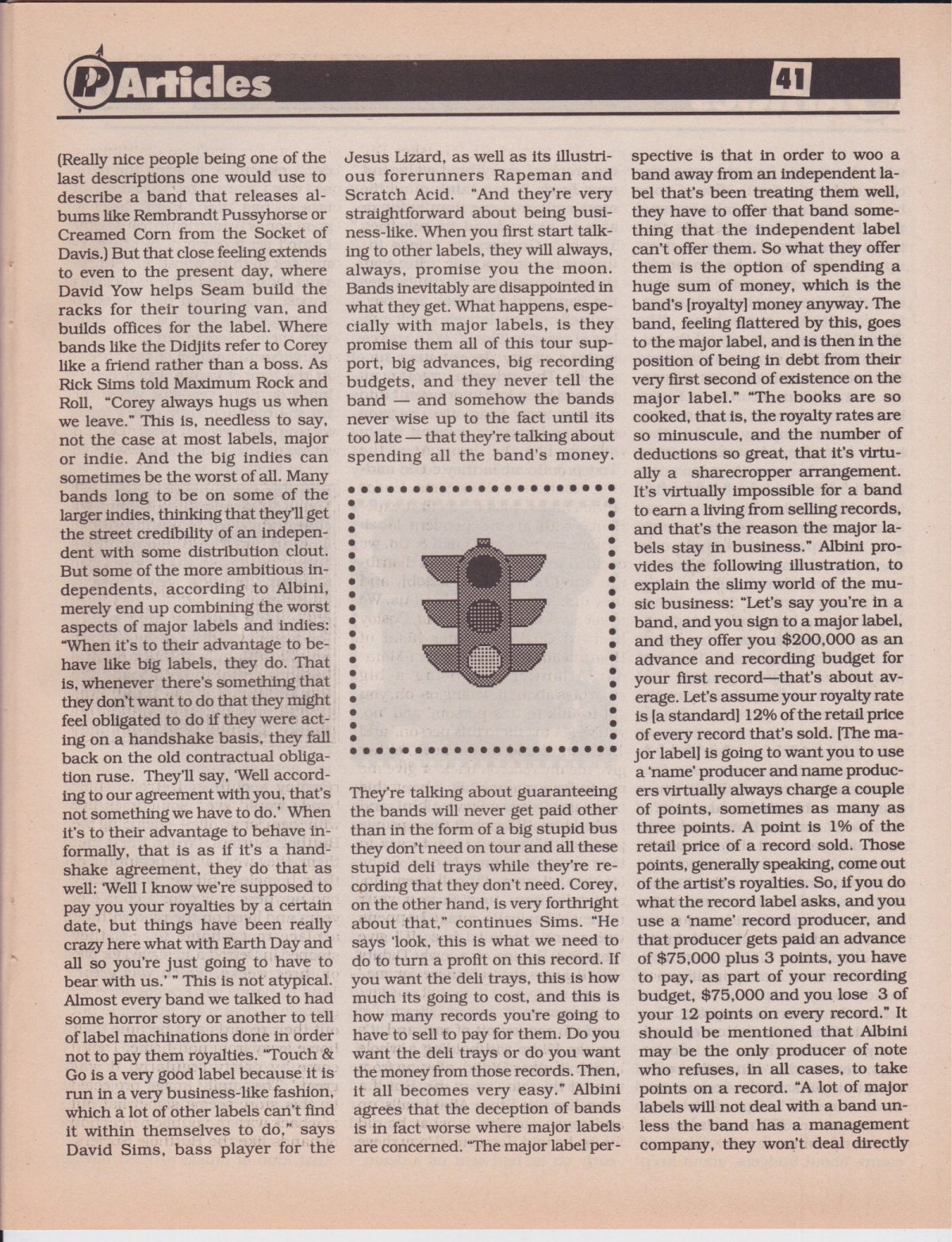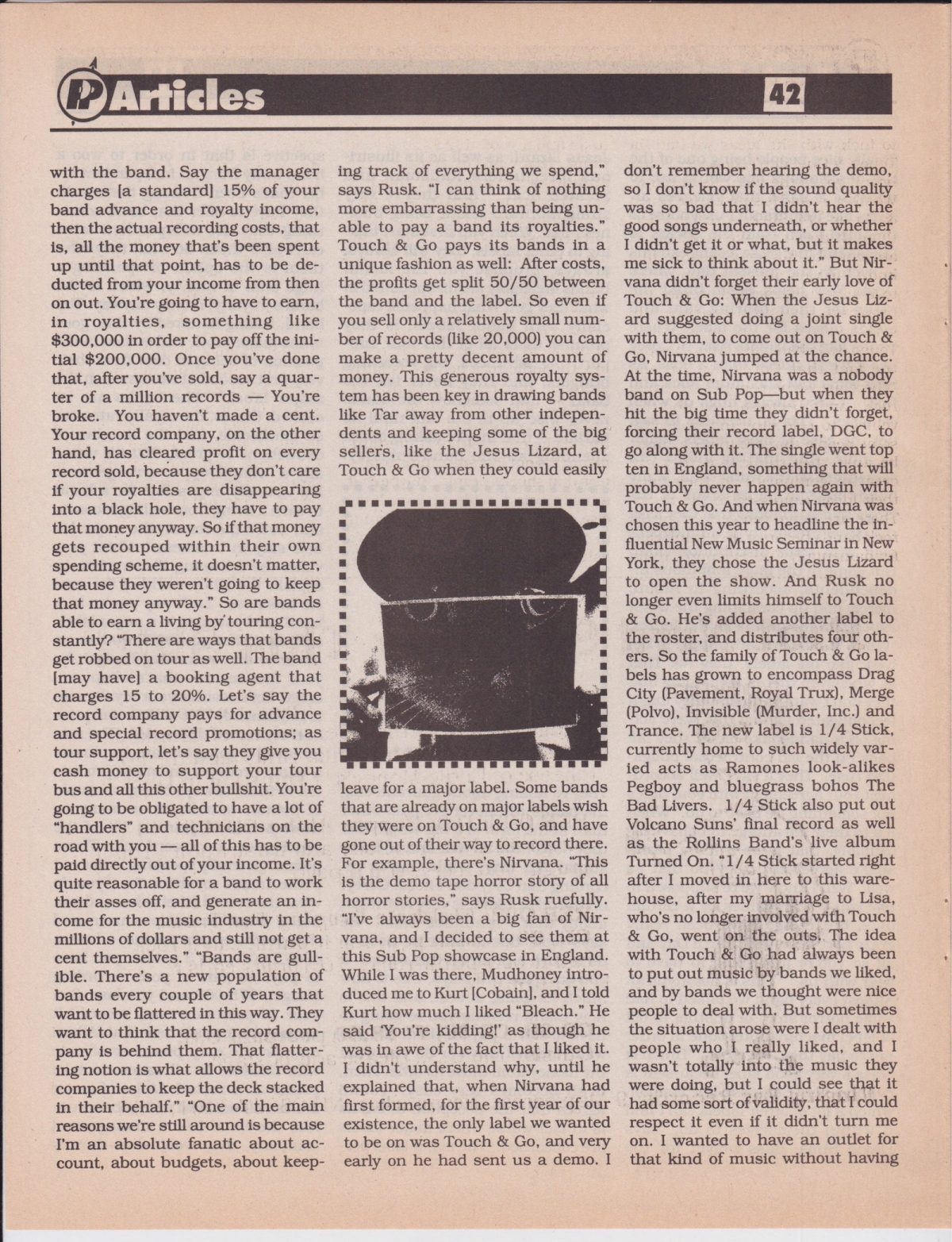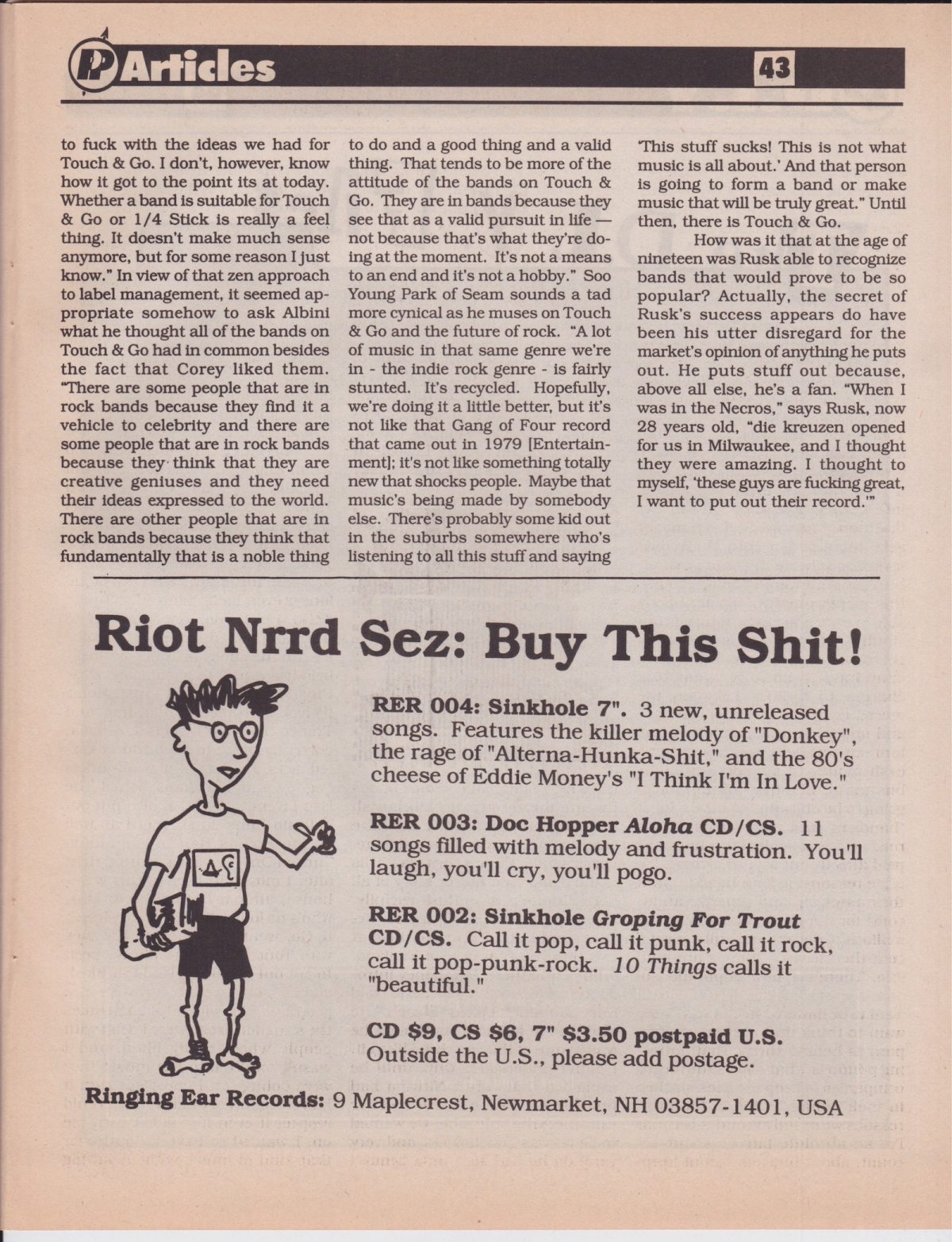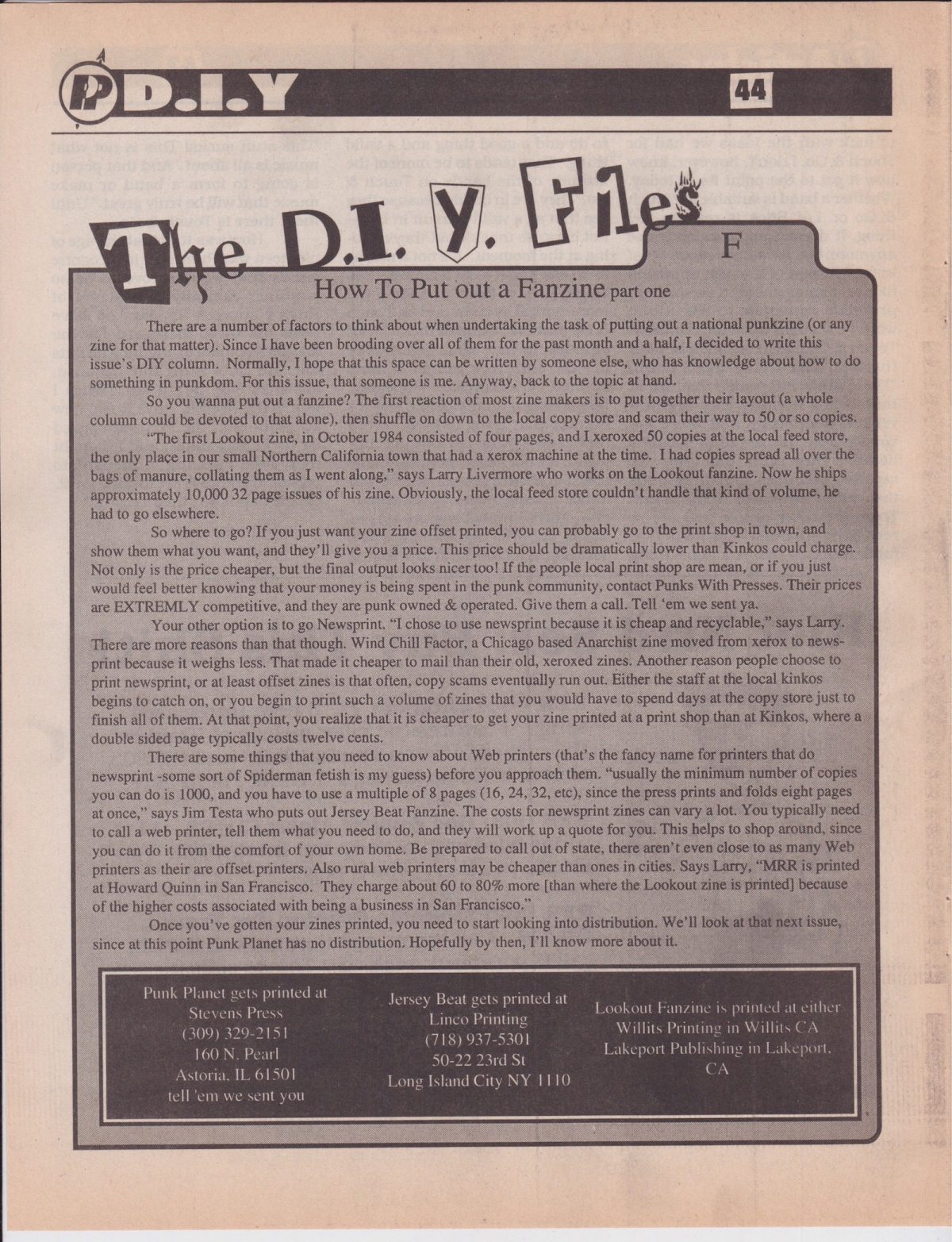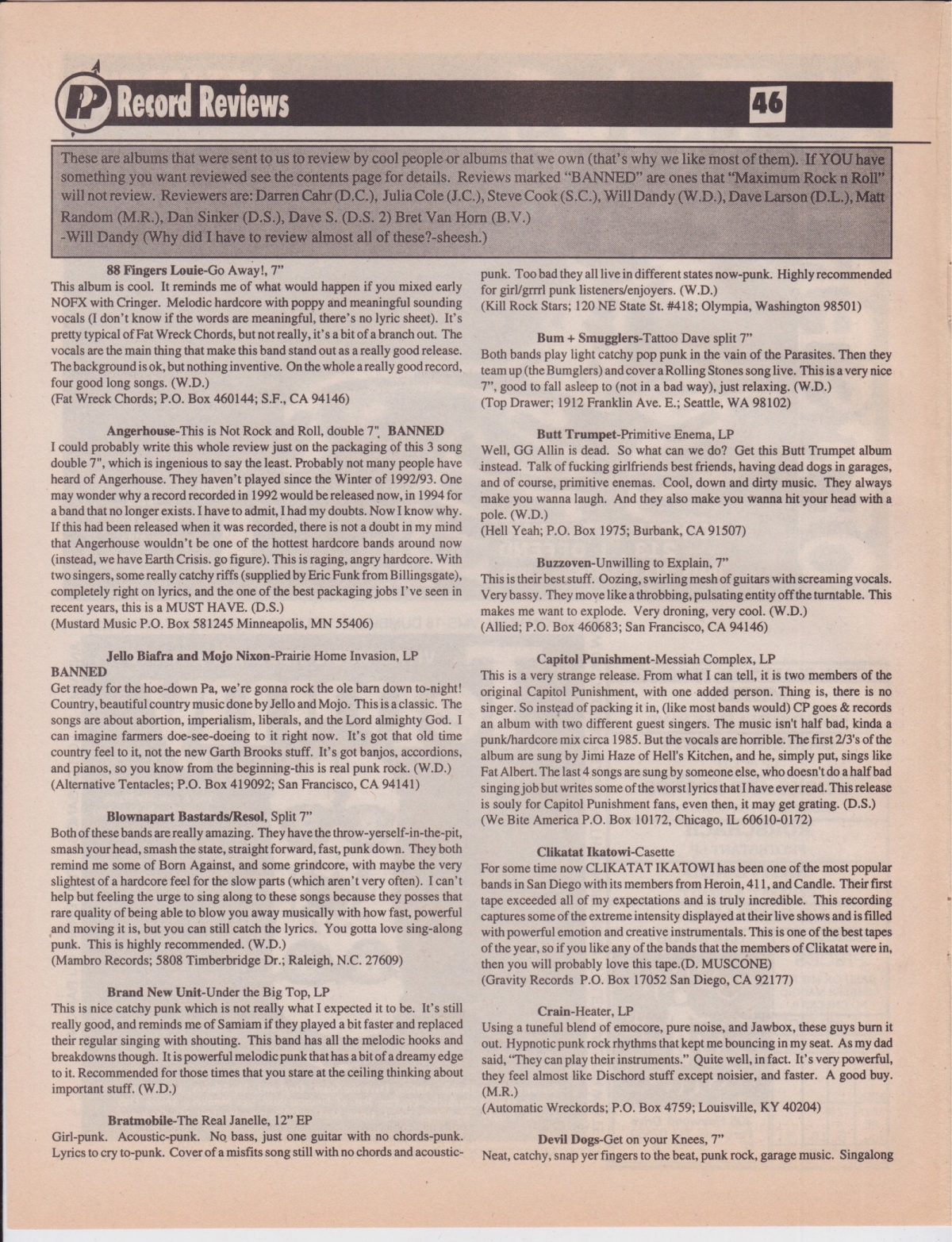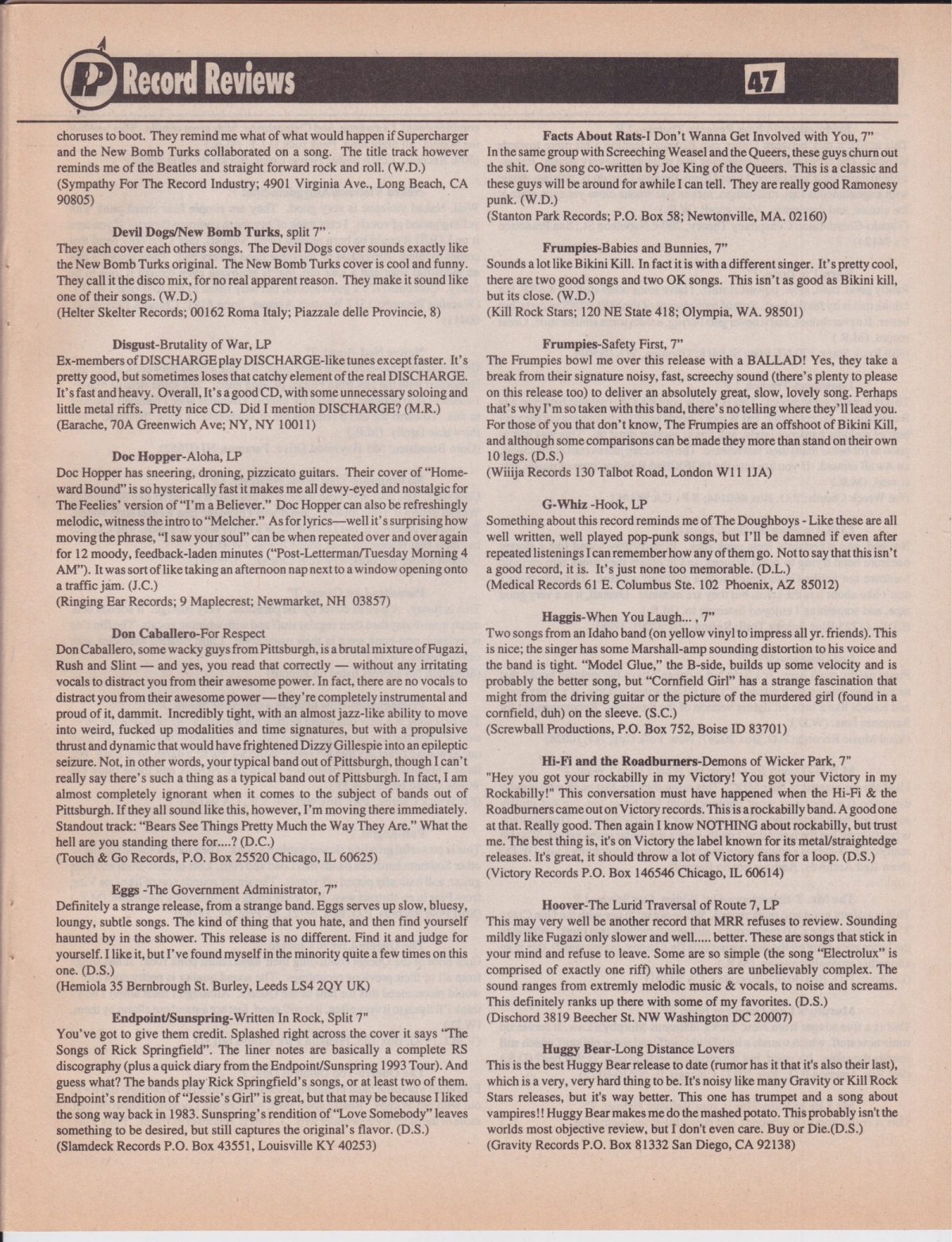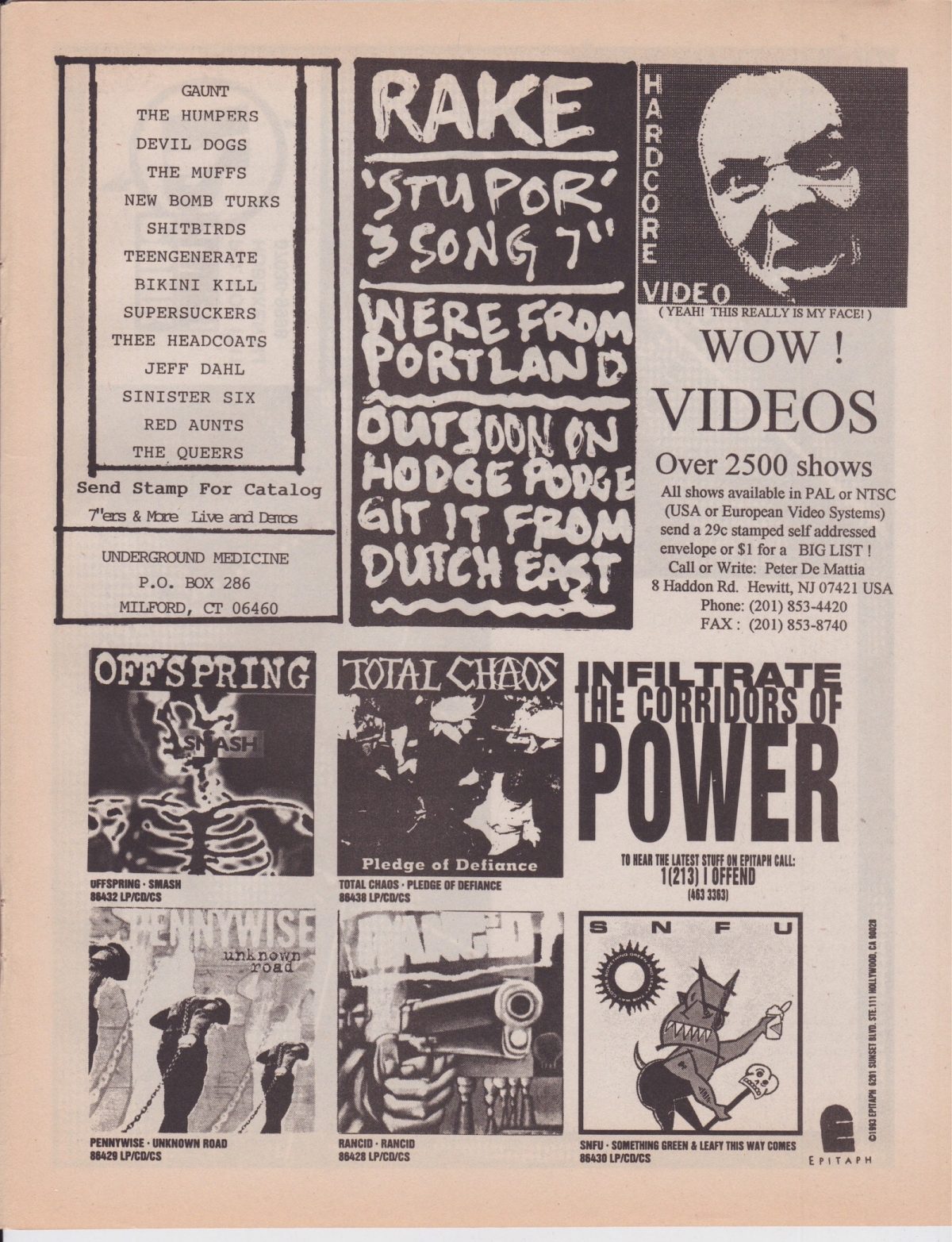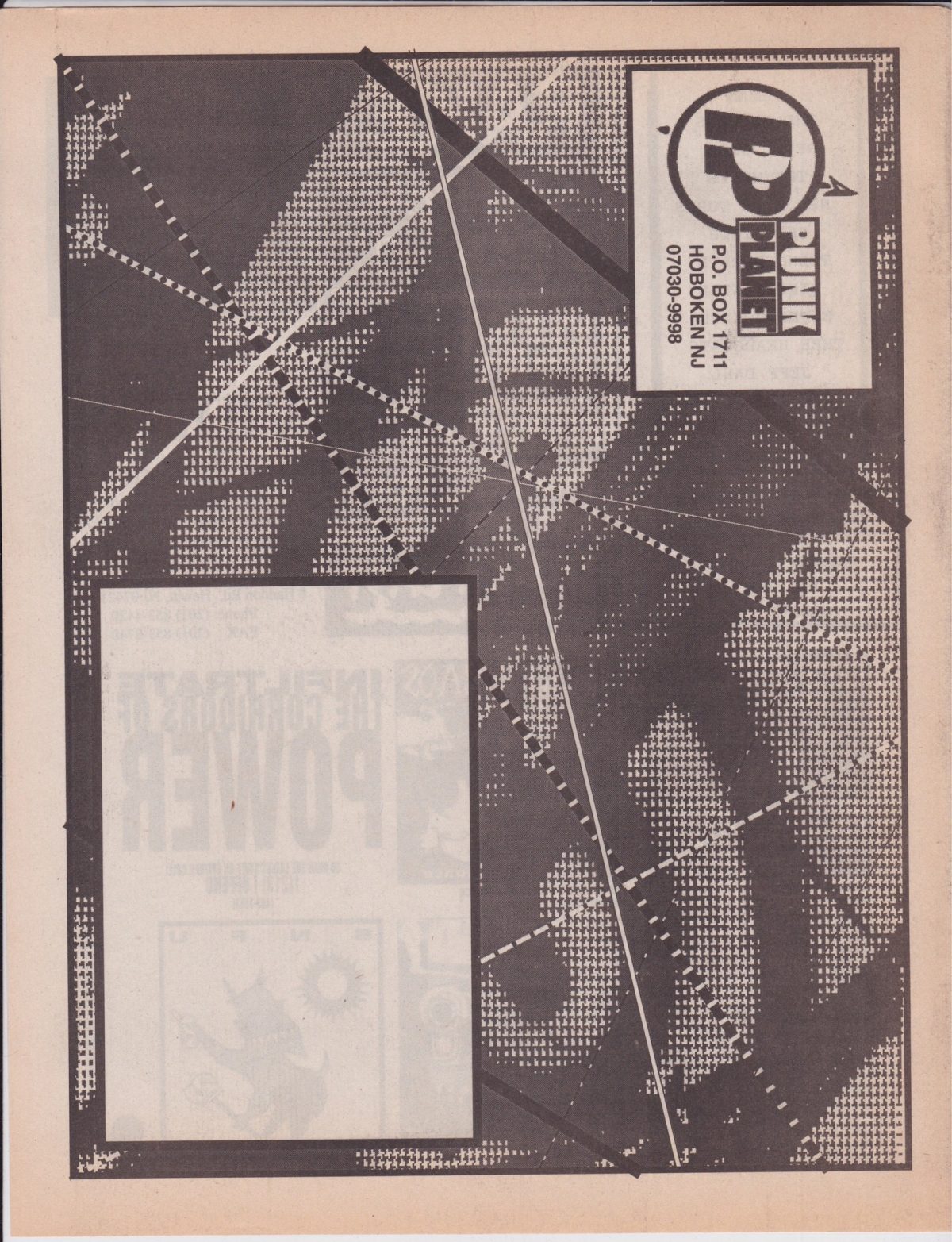 Via: Internet Archive