Perhaps the best part of a yearbook is awards section spotlighting the students voted "most likely to succeed", "best dressed", "most handsome", etc.  They're especially interesting to look back on forty years later.  We can take note of what passed for "best looking" in those days, and enjoy the fashions, haircuts, and other nostalgic goodies that come from these popularity contest portions of every American yearbook.
We'll stick to "couples" in this round – male and female students from the 1970s who somehow managed to get voted in for some manner of "best" or "most" award.  The last names have been removed – but otherwise untouched.  Let's have a look…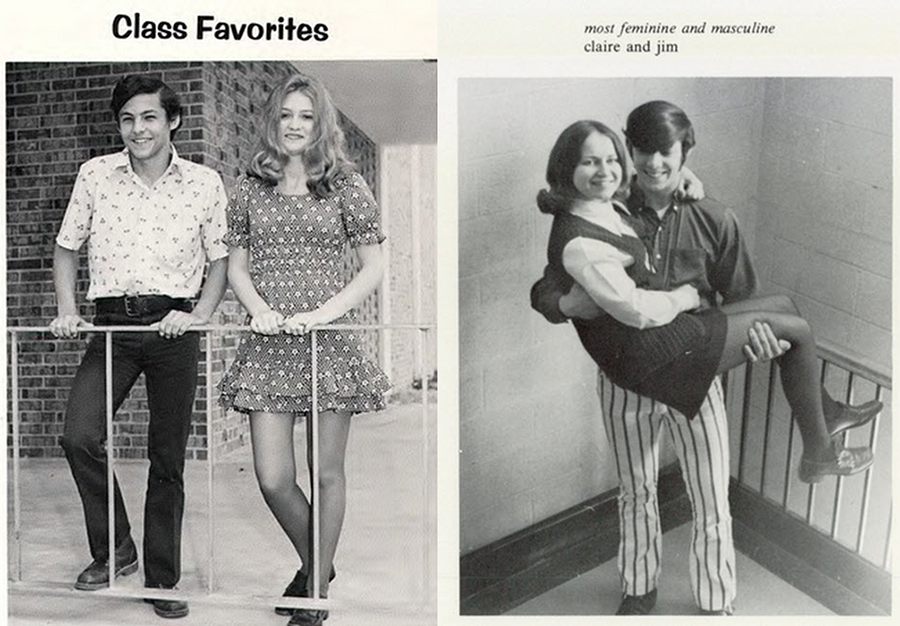 Somehow I don't think the "most masculine" or "most feminine" awards would fly in today's yearbooks.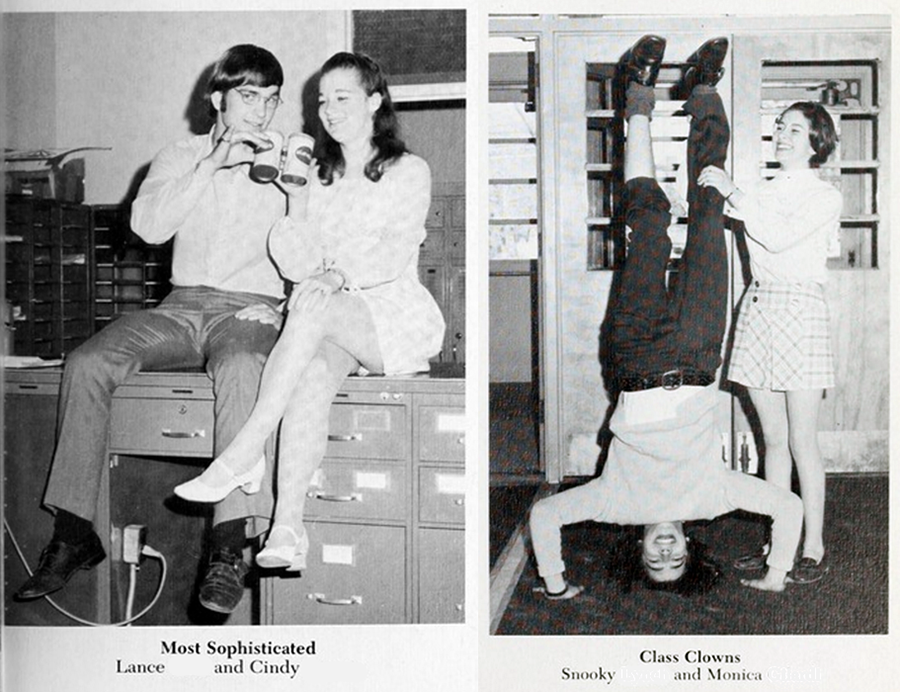 With a name like "Snooky" how could you end up as anything but winner of the Class Clown award.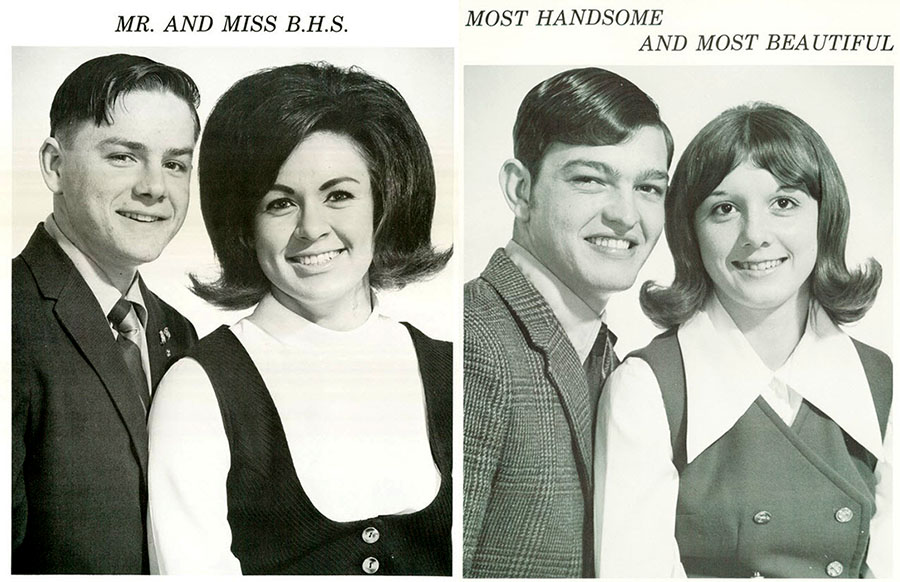 These are from a 1970 yearbook.  All I can say is, "My, how times have changed."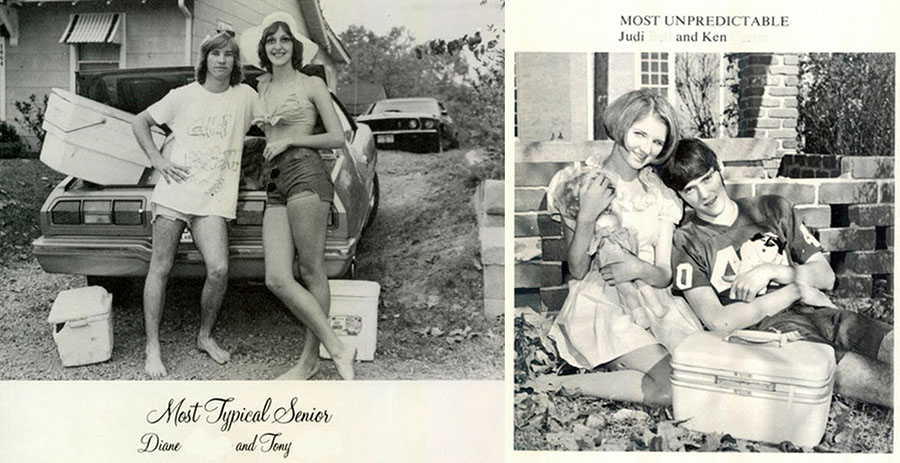 What does "Most Typical Senior" mean?  From the picture, I presume it's an award for the students who partied, got drunk and screwed the most often.  And what's up with unpredictable Judi and Ken?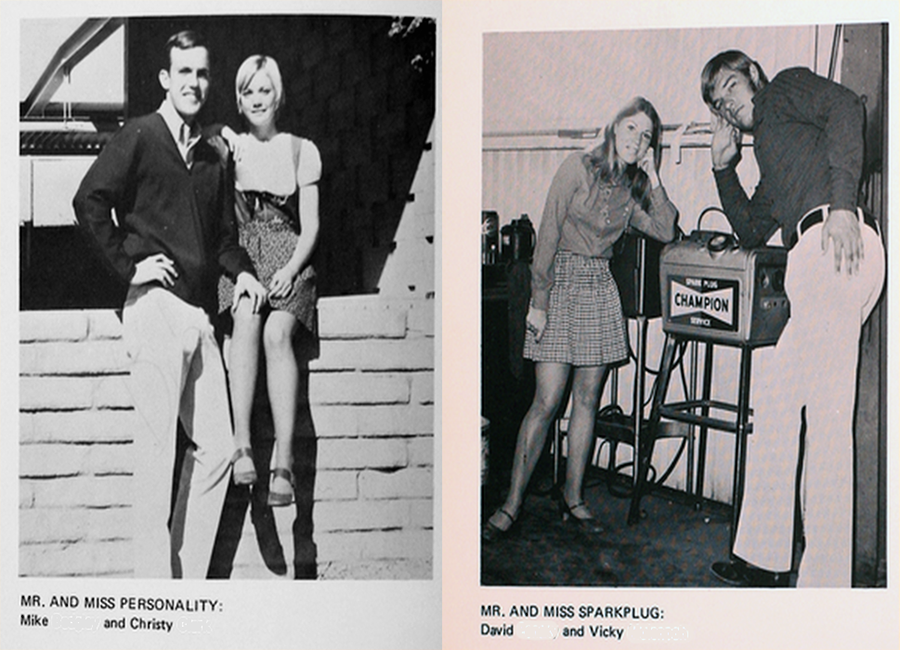 Mr. Personality, Mike, clearly is making his move, not giving a damn whether there's a camera pointed at him.  And kudos to Vicky for the Miss Sparkplug honor.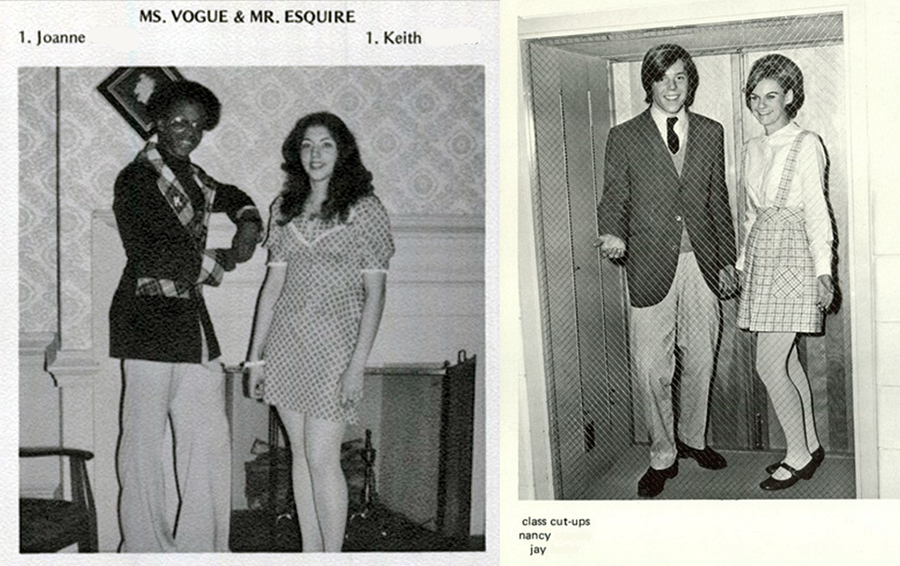 Keith definitely earned the title of Mr. Esquire.  I'd much rather receive that award than the "class cut-ups" distinction won by Nancy and Jay.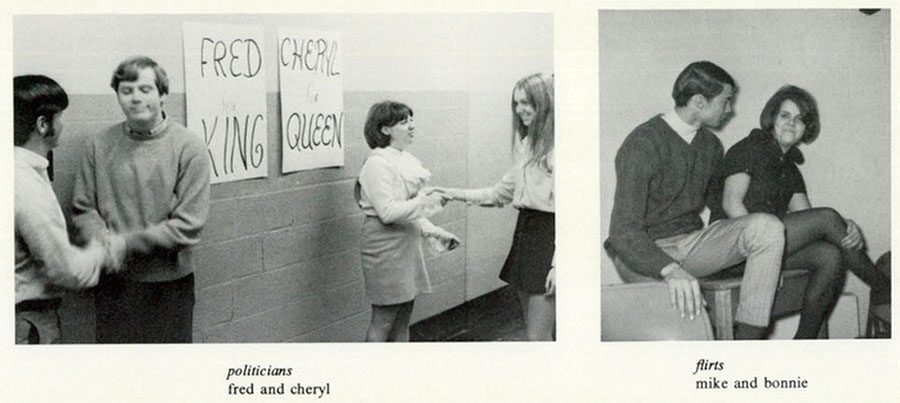 Which trait will get you farther in life: The political flair of Fred and Cheryl or the knack for flirtation of Mike and Bonnie?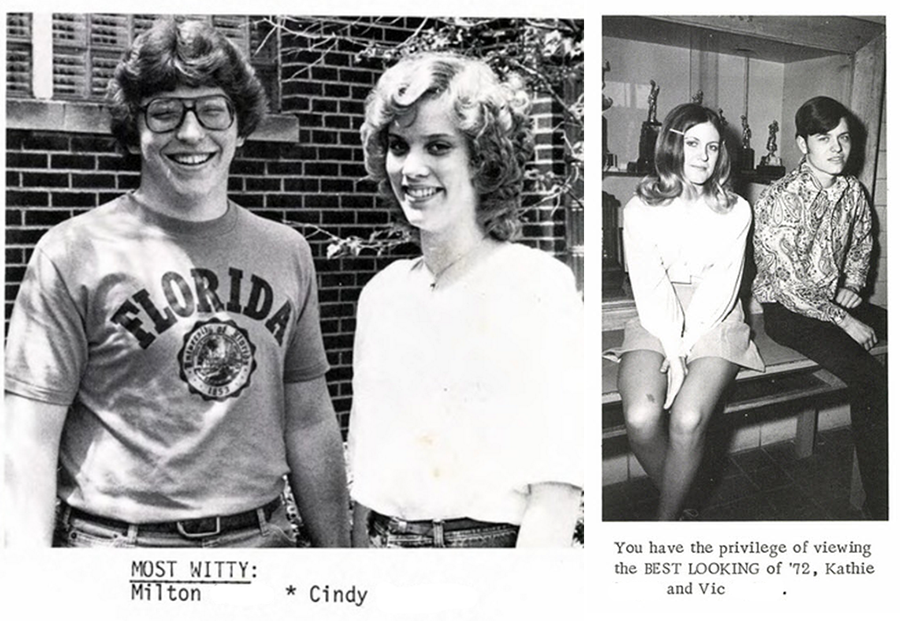 Milton does look like he'd be a riot.  Vic, best looking guy in 1972, wears his best paisley shirt for the occasion.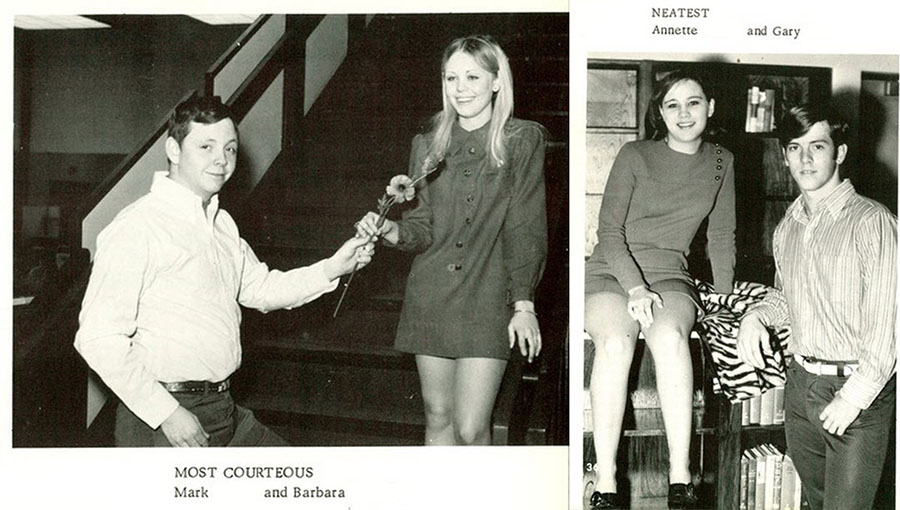 Do you think courteous Mark made any headway with Barbara? I think not.  No amount of courtesy is going to put poor Mark ahead of Gary.
David won for "wittiest boy", but that's only because there wasn't a "most annoying prick" award at the time.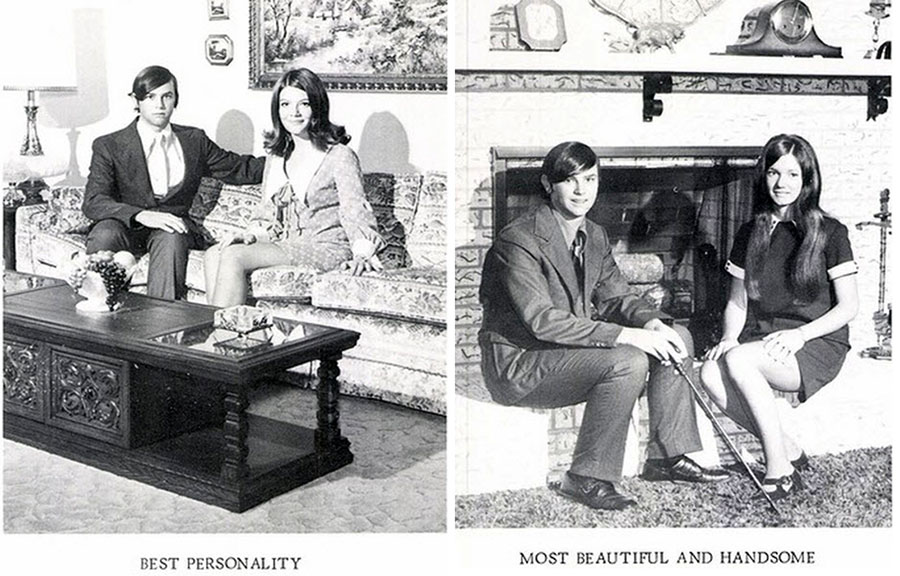 Wait – what?  That's the same boy winning both awards.  This fella' with the slicked hair really had a banner year.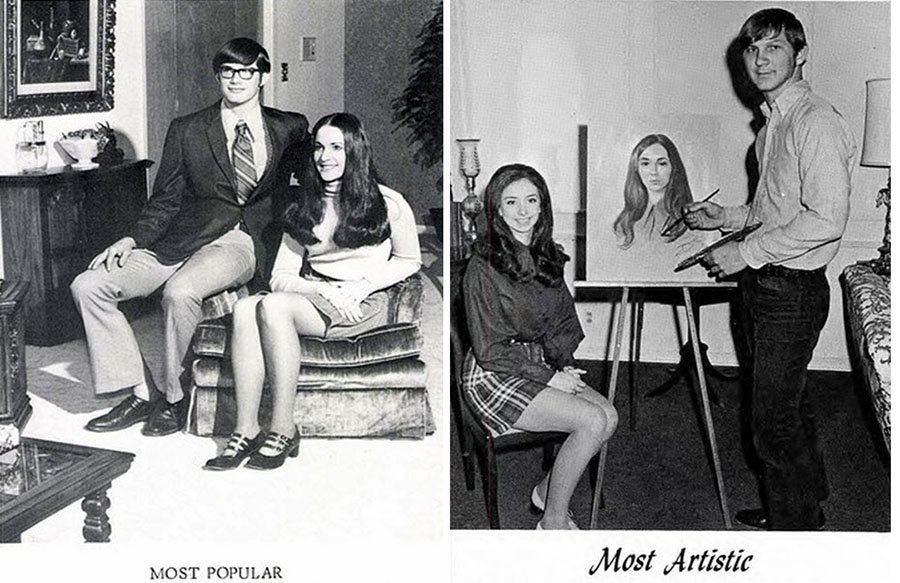 I'll bet anything Mr. Most Artistic later asked his model to pose nude.  The only question is whether she agreed- it was the seventies, so the odds were in his favor.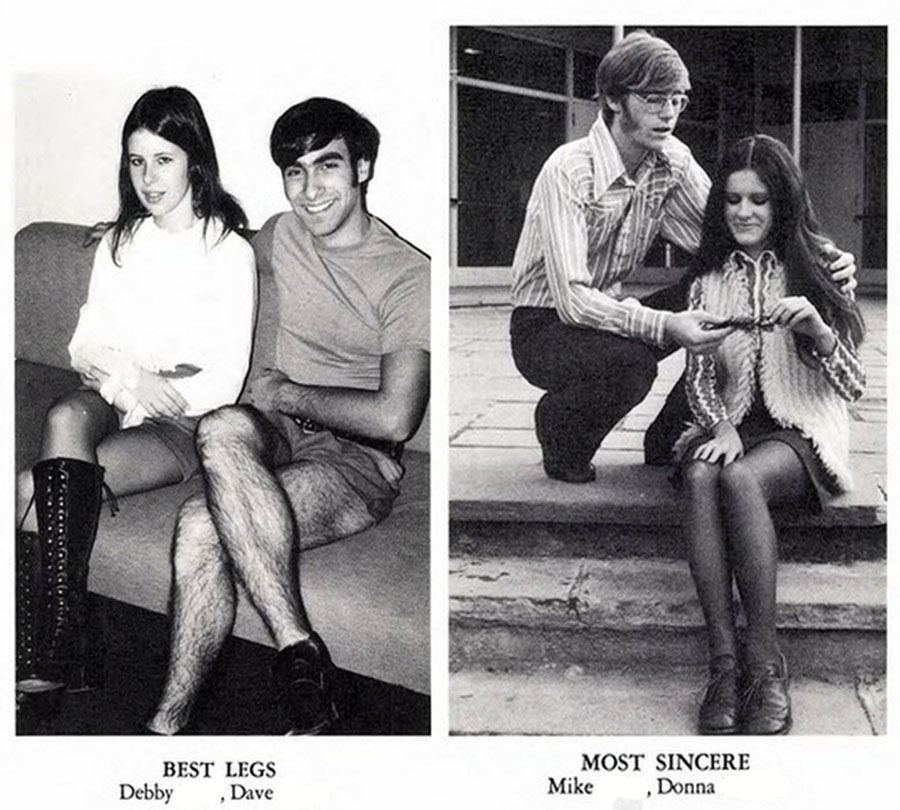 Dave's Sasquatch legs are horrifying!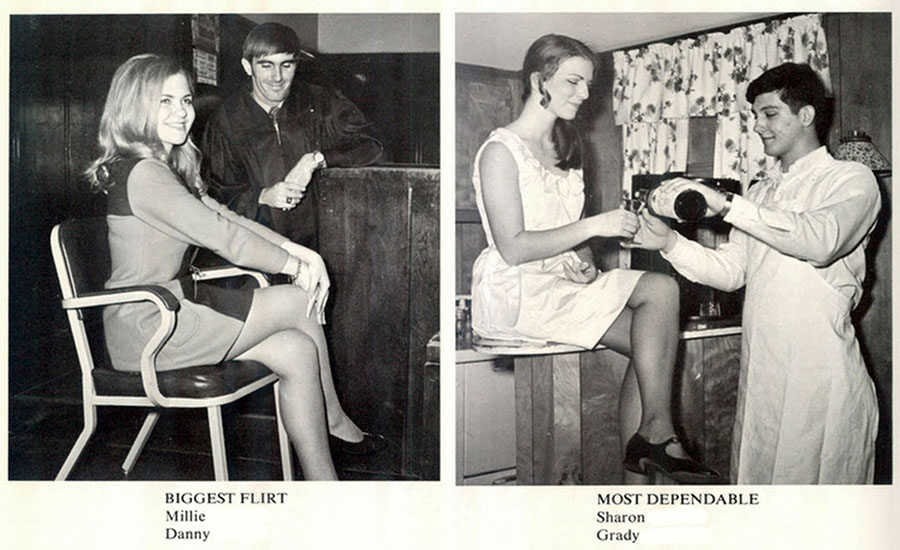 Don't you just know Millie ran that school.  Also, I don't think Most Dependable would be allowed to pour alcohol in a yearbook these days (God we've gotten so sensitive and prudish).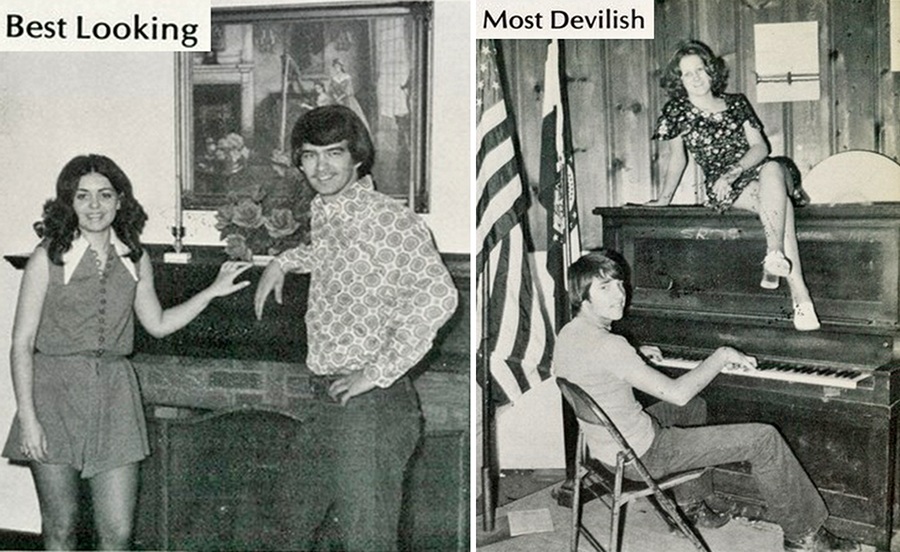 Speaking of "prudish" – do you think current yearbooks contain awards for "most devilish"?  I'm thinking no.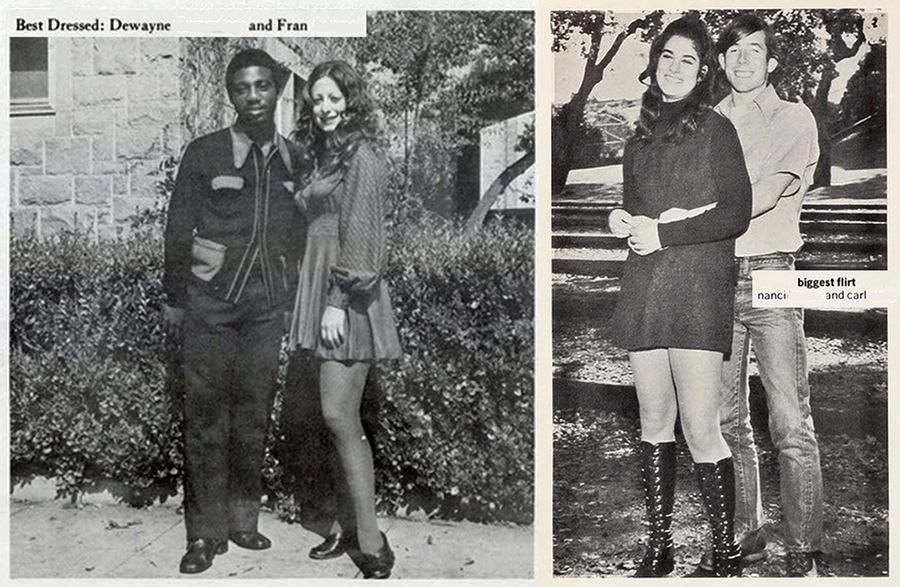 You're damn straight Dewayne was the best dressed.  Was there ever any debate?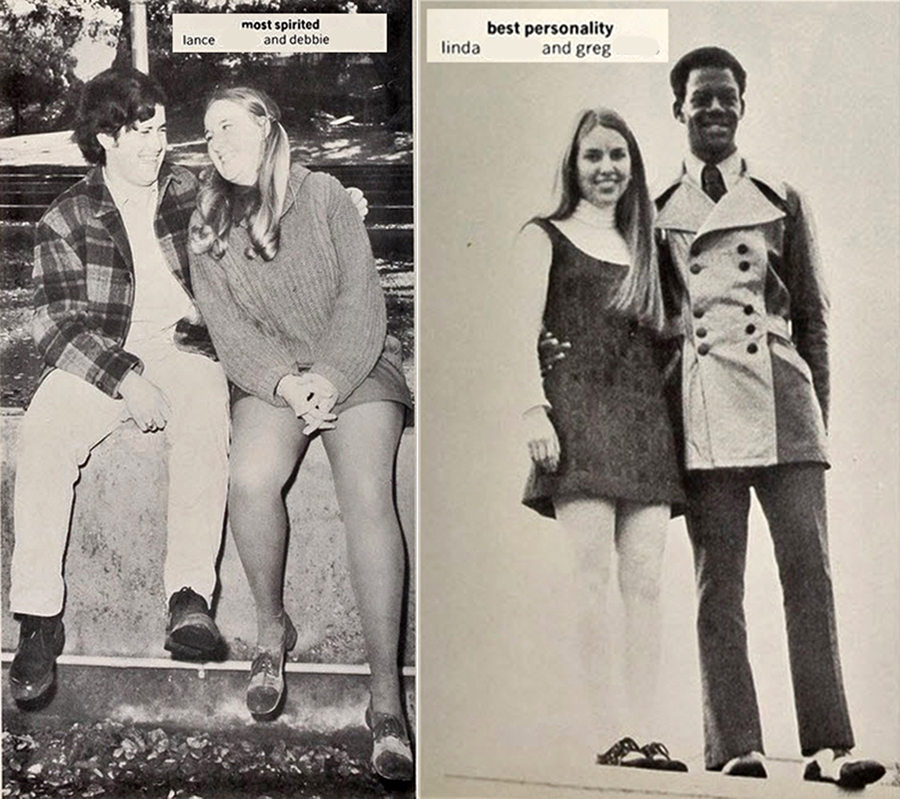 Little did they realize that "most spirited" Lance and Debbie were just high all the time.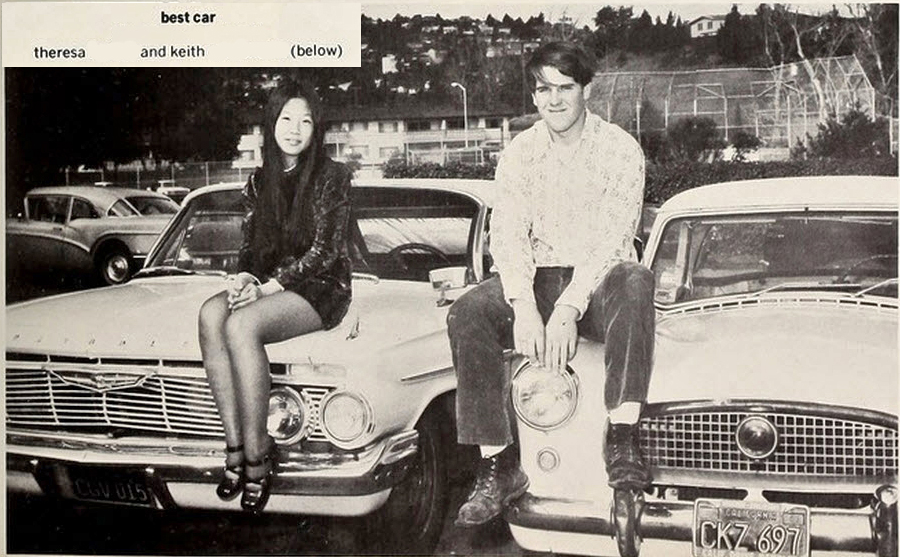 This may as well have been the "Richest Parents" award.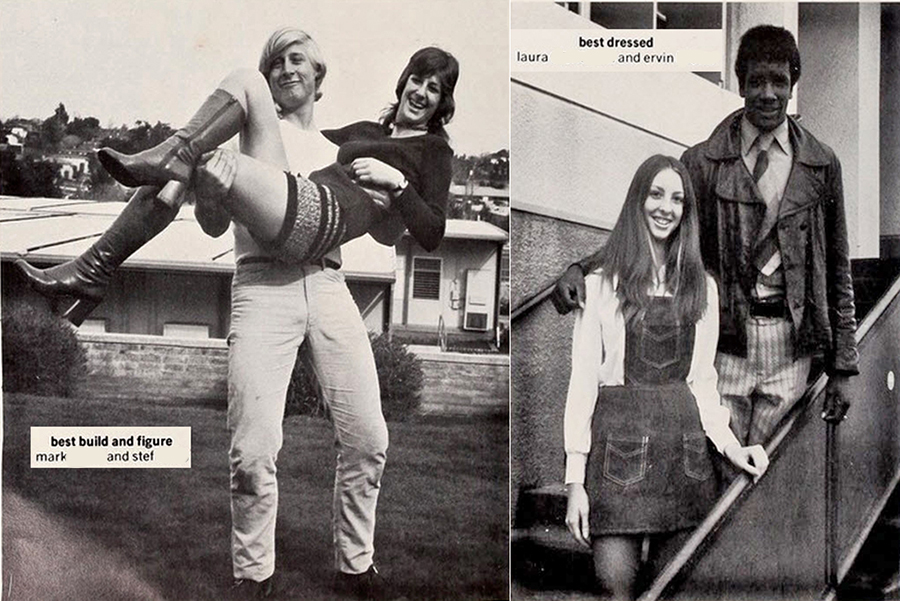 Yet another African American takes home the "best dressed" prize.  It was almost unfair.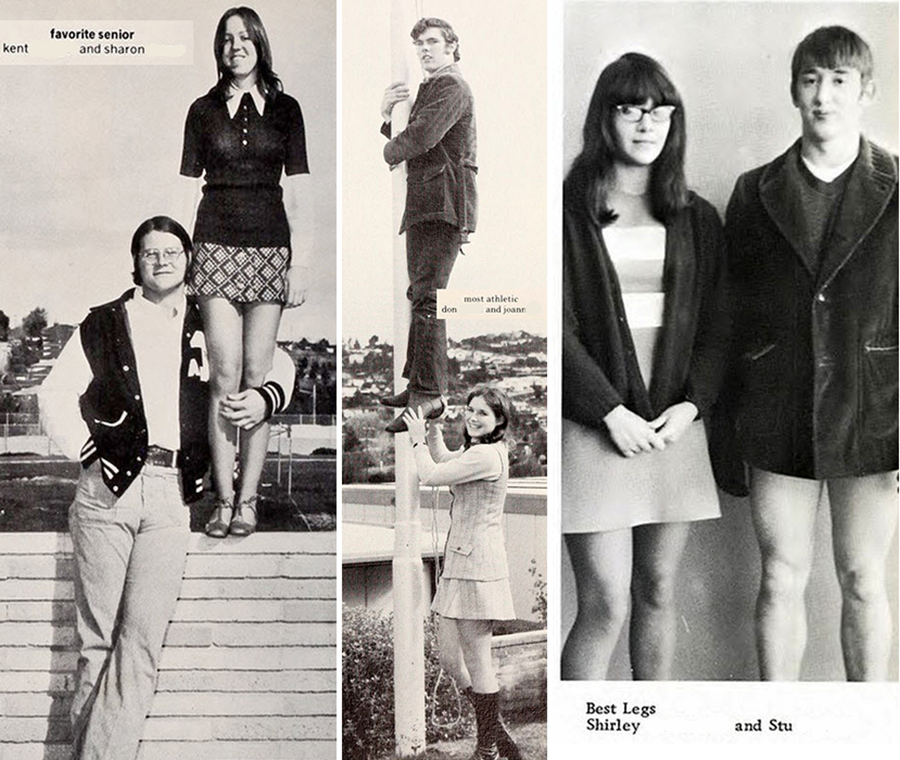 Don't look now, but Stu isn't wearing any pants.. and the verdict is still out whether he's wearing anything at all waist-down under that coat!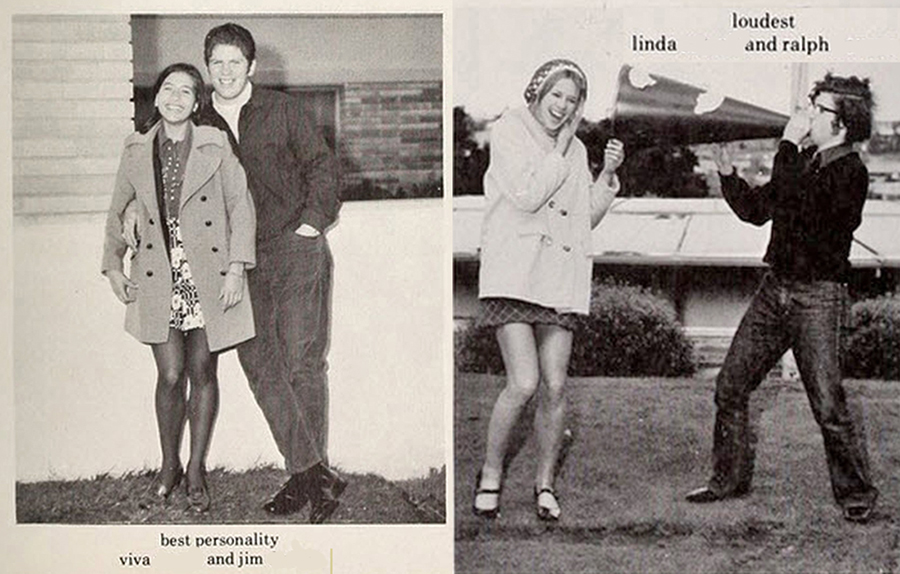 Sad to report that Linda is now hearing impaired.  Thanks a lot, Ralph.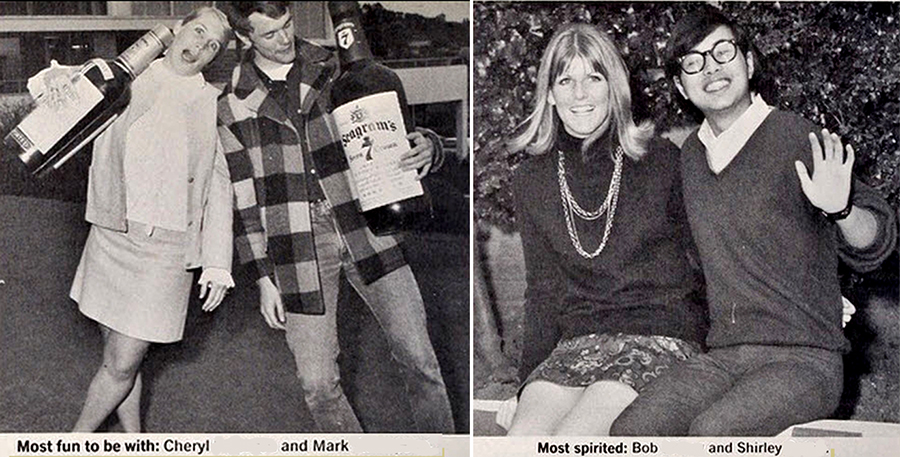 "Most fun to be with" – i.e. "Most often drunk off their ass".  File this under "not appearing in today's yearbooks" category.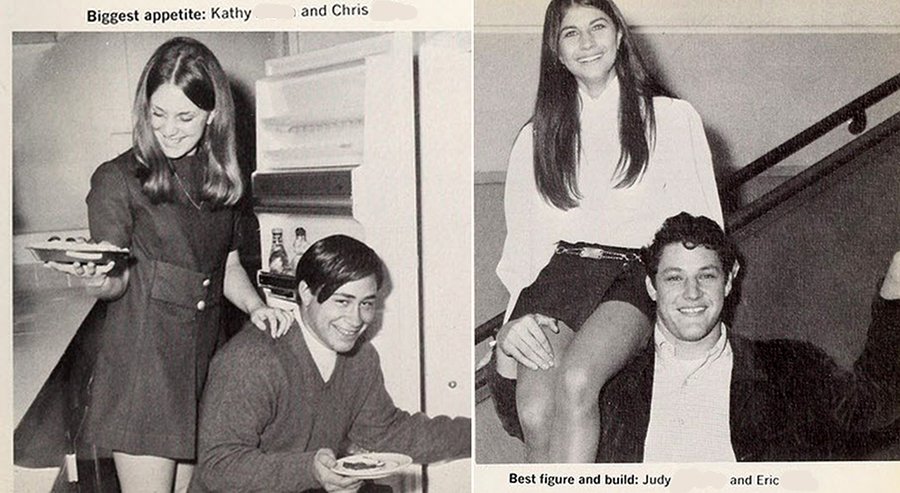 "Biggest Appetite" is an odd award to have… and I'm guessing it wasn't a source of pride for the girls that won.  It's also interesting to note that nearly every yearbook had categories like "best figure", "best legs", "best looking", "best build", etc. – a tendency that is not near as prevalent in today's yearbooks.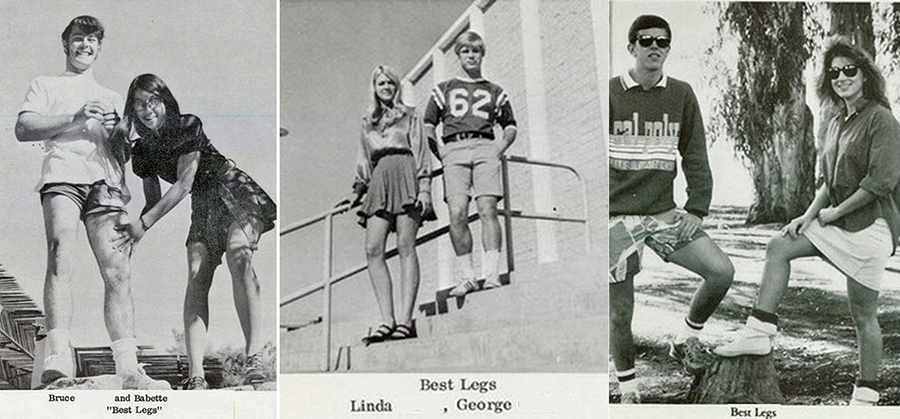 More "best legs" winners from various yearbooks.  The one on the right is from the 1980s (as if you couldn't tell).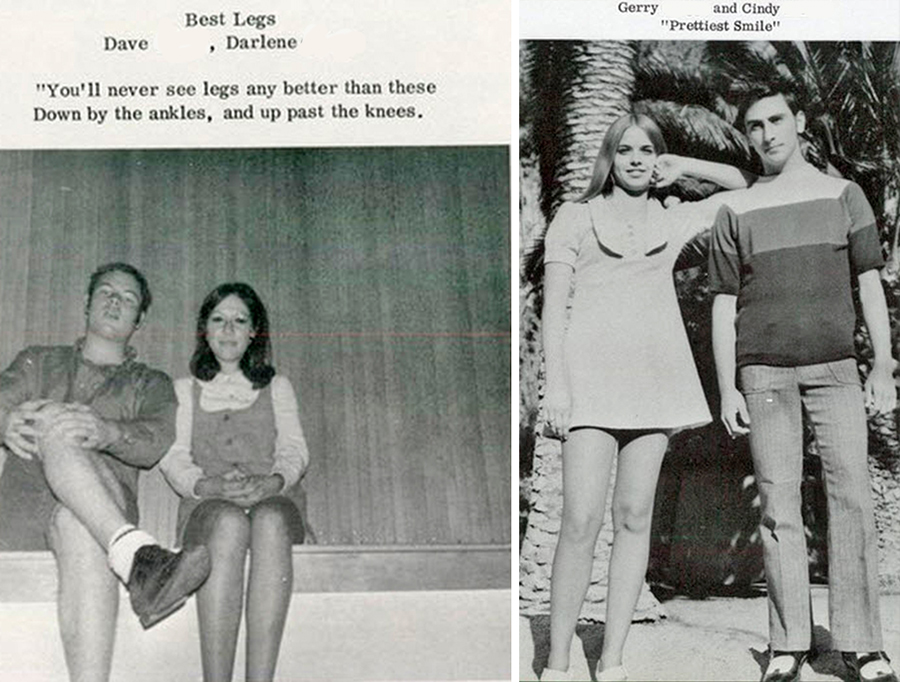 Yet another "best legs" finalist… and Gerry, who couldn't even muster a smile for his "best smile" award photo.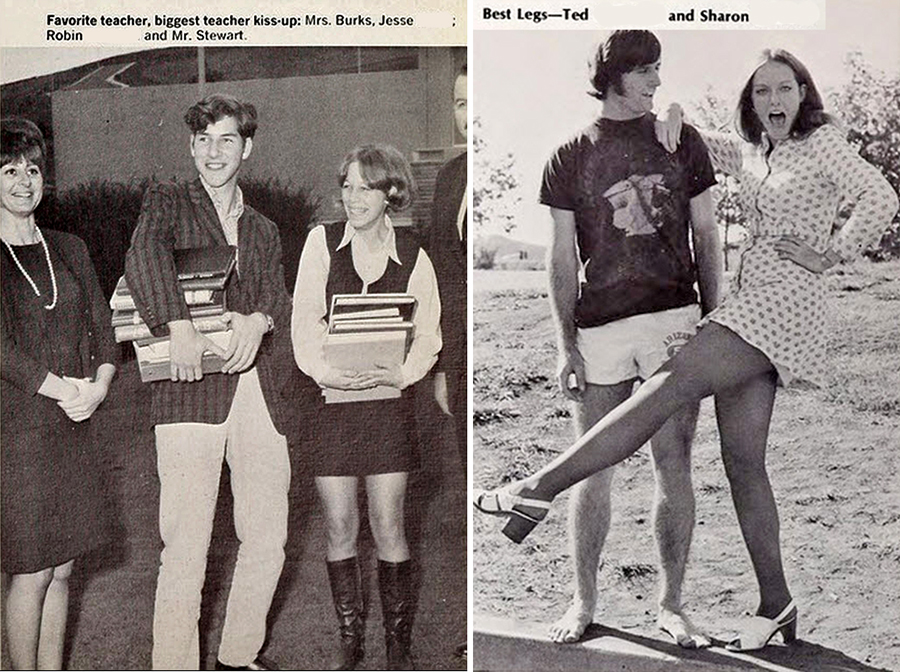 How many times do you think the paths crossed between "biggest teacher kiss up" Jesse and "best legs" Sharon?  I'm thinking somewhere close to never.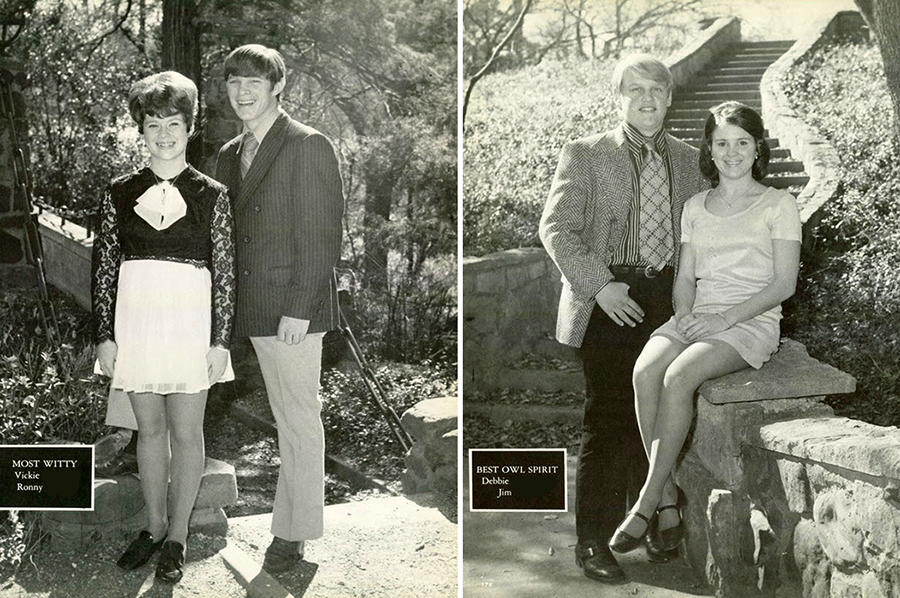 "Best Owl Spirit" – bestowed on students who hunt at night with great stealth using only their long talons.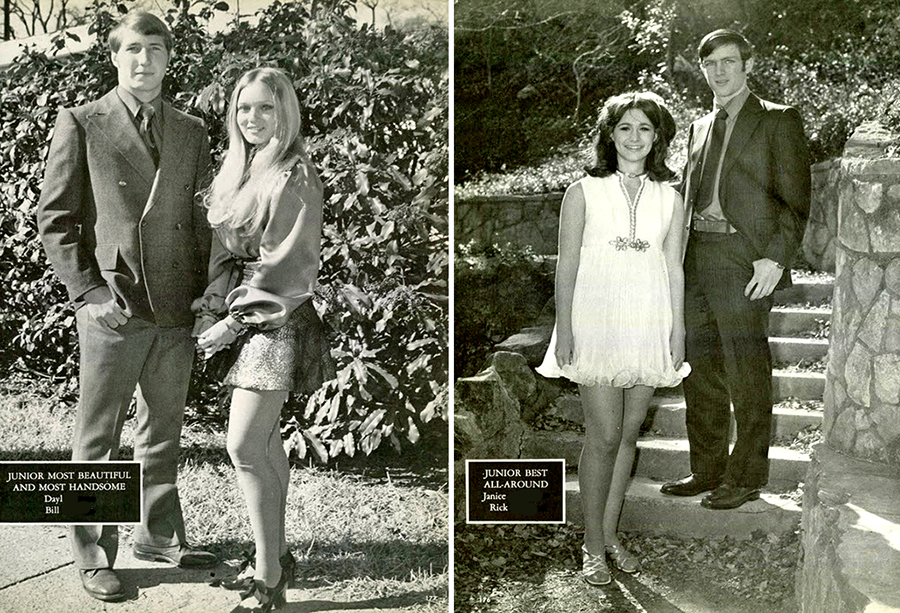 Is it just me, or do the girl winners of "most beautiful" look much more attractive than their male counterparts? The girls are stunning and the guys are, well, a little "meh".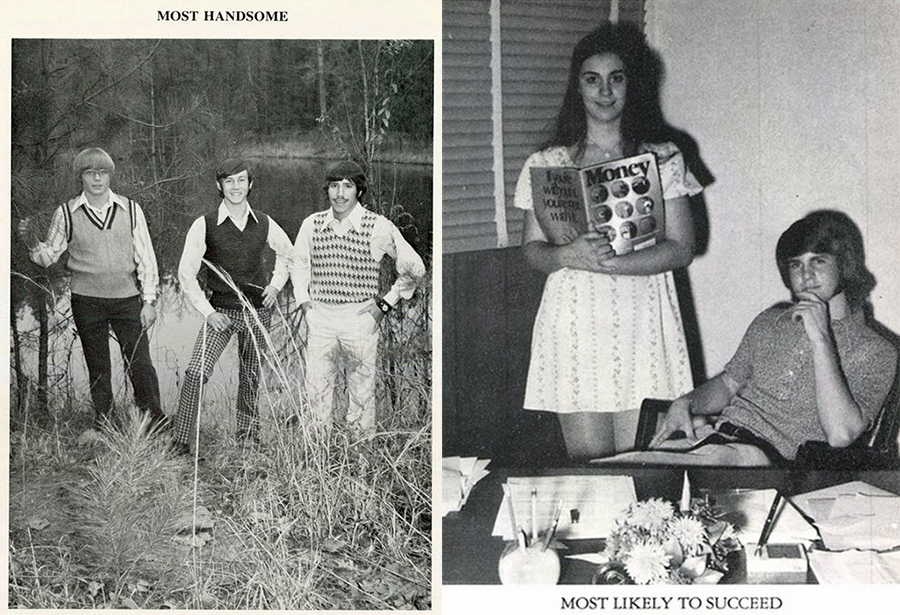 I think this 1975 group of "most handsome" fellows more than proves my previous point.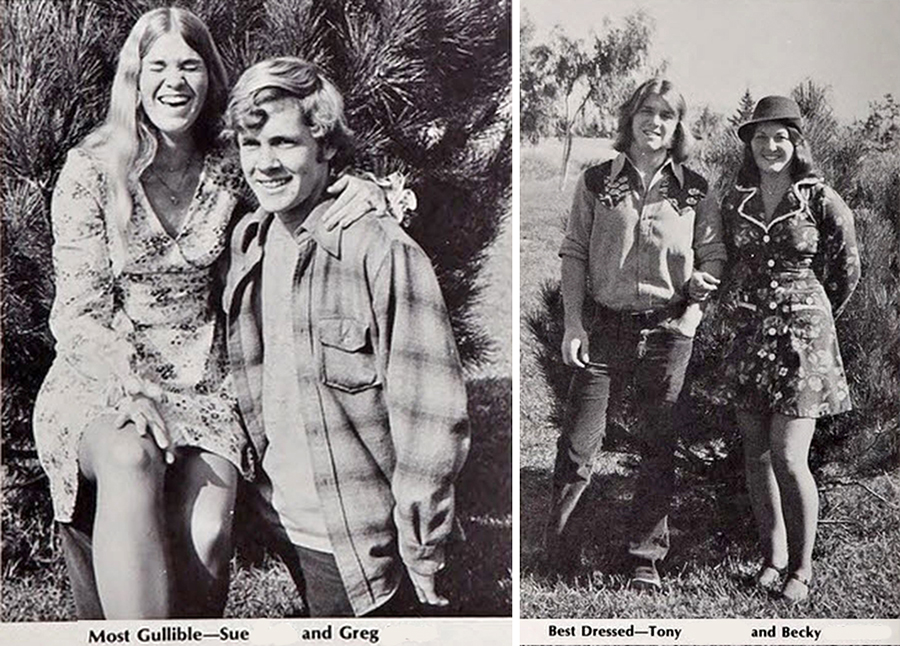 "Most Gullible"?  What an incredibly awful award. This school basically gave out a "most trusting and stupid" award.