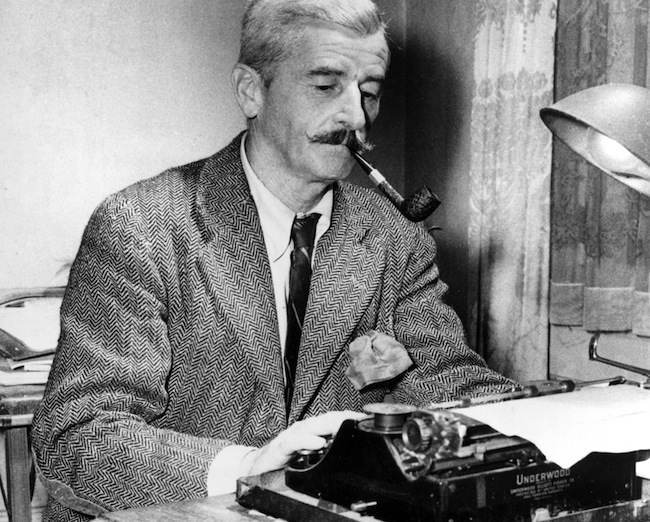 IN 1987, the US Postal Service produced a stamp to honour William Faulkner. Before he was a man of letters, Faulkner was delivering letters. Between 1921 to 1924, he worked as the University of Mississippi's postmaster. He didn't enjoy it. This is, reportedly, his resignation letter:
October, 1924

As long as I live under the capitalistic system, I expect to have my life influenced by the demands of moneyed people. But I will be damned if I propose to be at the beck and call of every itinerant scoundrel who has two cents to invest in a postage stamp.

This, sir, is my resignation.

(Signed by Faulkner)
If not delivering post, then what would be his best job? In 1956, the told the Paris Review's Jean Stein:
The writer's only responsibility is to his art. He will be completely ruthless if he is a good one. He has a dream. It anguishes him so much he must get rid of it. He has no peace until then. Everything goes by the board: honor, pride, decency, security, happiness, all, to get the book written. If a writer has to rob his mother, he will not hesitate….
JS: "Then what would be the best environment for a writer?"
If you mean me, the best job that was ever offered to me was to become a landlord in a brothel. In my opinion it's the perfect milieu for an artist to work in. It gives him perfect economic freedom; he's free of fear and hunger; he has a roof over his head and nothing whatever to do except keep a few simple accounts and to go once every month and pay off the local police. The place is quiet during the morning hours, which is the best time of the day to work. There's enough social life in the evening, if he wishes to participate, to keep him from being bored…. My own experience has been that the tools I need for my trade are paper, tobacco, food, and a little whiskey.
Most writers I know work in their pyjamas til noon.
Photo: American novelist William Faulkner works at his Underwood typewriter in his study at his Rowan Oaks home near Oxford, Miss., in Nov. 1950.