"I thought the reason was that jazz means freedom"
– Duke Ellington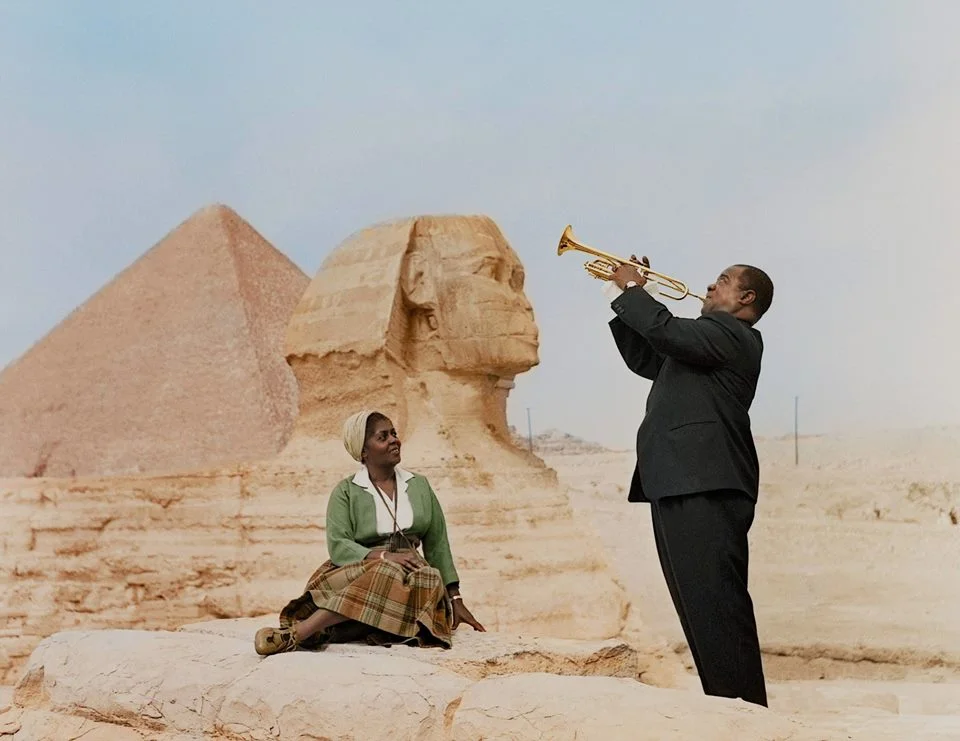 All art aspires to the  condition of music. And if music is a source of sustenance for the soul maybe it can foster harmony and dispel fear. Music might even make your enemies think your walk-on music is the sound of freedom and they're on the wrong side.
In 1956, the US State Department created the Jazz Ambassadors program, hiring American jazz musicians such as Louis Armstrong, Dizzy Gillespie, Benny Goodman, and Duke Ellington to be "ambassadors" for the United States overseas. Part of President Eisenhower's "cultural presentations program", created in the hope that "mistrust based on falsehoods will give way to international understanding based on truth", the Jazz Ambassadors would force light through the cracks of Soviet communism, and prove that America was not a country of haves and have nots riven by racial tension, but a progressive bastion of positive freedoms to do.
The Soviets would love it. "I was 10 when I first heard jazz on the radio over the Voice of America and I loved the music," said Russian Slava Antanov, a teenager in the 1950s. "We would try to imitate what we heard. Listening to the 'forbidden music' was very risky then." As the cool kids in Stalingrad listened to bootleg records recorded on old X-Rays, one propaganda slogan told the proletariat: "Today he plays jazz, tomorrow he'll betray his country."
But the USSR had an alternative view of America. To the communists, the US was a country committed to regressive, negative freedom from things that upset and disturbed deep-rooted inequalities. The country's Tass news agency told the people all about slavery, police brutality, Rosa Parks, racial discrimination, Jim Crow segregation, Emmet Till's murder and the poison of inequality based on confected notions of genetic hierarchy ordained by god. More than 20 million Russians had died as a result of German delusions of racial superiority. Soviet music lovers would enjoy the show. But would they swallow the message?
Those Soviets might dig your horn, but in America non-white children needed armed police to reach the library at Little Rock's Central High School in Arkansas. Komsomolskaya Pravda, the newspaper of the communist youth organization in the USSR, watched the mayhem as nine black students walked to their newly de-segregated classes, opposed by the Governor of Arkansas, Orval Faubus, who sent state soldiers to the school to stop them. "Troops Advance Against Children!" the headline screamed. Soviet daily Izvestia, reported, "right now, behind the facade of the so-called 'American democracy,' a tragedy is unfolding which cannot but arouse ire and indignation in the heart of every honest man."
The patrons of Governor Faubus … who dream of nooses and dynamite for persons with different-colored skins, advocates of hooliganism who throw rocks at defenseless Negro children – these gentlemen have the audacity to talk about "democracy" and speak as supporters of "freedom." In fact it is impossible to imagine a greater insult to democracy and freedom than an American diplomat's speech from the tribunal of the U.S. General Assembly, a speech in which Washington was pictured as the "champion" of the rights of the Hungarian people.
"Maybe we could have built a new tank for the cost of this tour, but you can't get as much goodwill out of a tank as you can out of Dizzy Gillespie's band," opined one American diplomat. "My knees started to shake and I wondered if I would make it to school," said Elizabeth Eckford, one of the Little Rock students. "The crowd moved closer. Somebody started yelling 'Drag her over to this tree! Let's take care of that ******."
US Information Agency director, Theodore Streibert, had hailed the tour in 1954: "Our job is to tell the world who we are, what we stand for and what we believe in." But what did America stand for? What did America believe in?
Adam Clayton Powell Jr, a congressman from Harlem, asked Dizzy to make the trip. The Washington DC wonks offered him a pre-tour briefing. "I've had 300 years of briefing. I know what they've done to us," said Gillespie. "I sort've liked the idea of representing America, but I wasn't going over there to apologise for the racist policies of America." When Louis Armstrong played at Chilhowee Park, in Knoxville, Tennessee, in February 1957, white supremacists detonated a bomb.
They knew, of course. But what could music do? If it could change the USSR, could it also change the USA?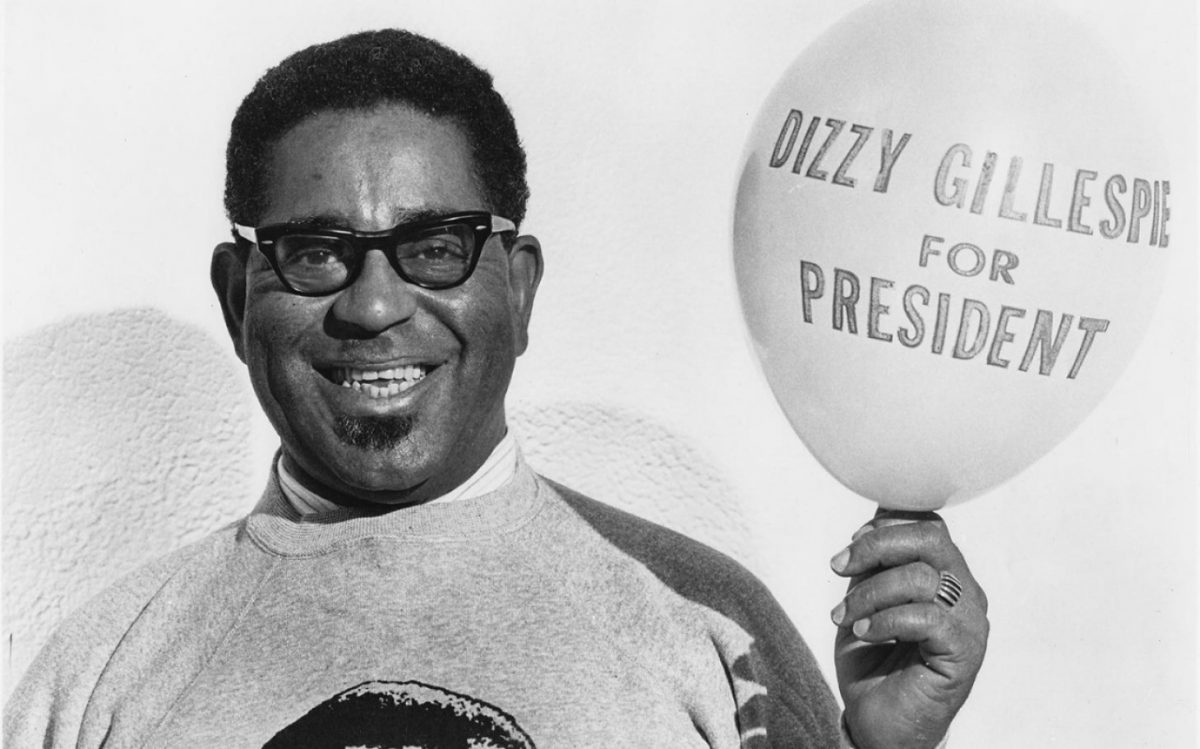 Dizzy heard the call, running for president in 1964 on an antiwar and civil rights platform. He promised that if he were elected, the White House would be renamed the Blues House, and he would have a cabinet composed of Duke Ellington (Secretary of State), Miles Davis (Director of the CIA), Max Roach (Secretary of Defense), Charles Mingus (Secretary of Peace), Ray Charles (Librarian of Congress), Louis Armstrong (Secretary of Agriculture), Mary Lou Williams (Ambassador to the Vatican), Thelonious Monk (Travelling Ambassador) and Malcolm X (Attorney General). He said his running mate would be the entertainer Phyllis Diller.
Gillespie pledged to provide housing and hospital care for all those who needed it and to withdraw American troops from the Vietnam War.  Gillespie said that his campaign was not just a publicity stunt but was intended "to take advantage of the votes and publicity I'd receive and to promote change". He needed a bigger trumpet. America elected incumbent Democratic United States President Lyndon B. Johnson.
The Jazz Ambassadors debut tour began in March 1956 and lasted for ten weeks. Gillespie and his big band took the sound of the decadent West to Iran, Pakistan, Lebanon, Turkey, Yugoslavia, and Greece.
A few years later, when Louis Armstrong arrived in the Congo as part of a tour through Africa, drummers and dancers paraded him through the streets on a throne. When he played in Katanga Province, a truce was called in a long-standing civil war, so combatants on both sides could go see him play."
The Cold War only ended in 1991. Music doubtless played a part. Jazz was the sound of freedom. But in 1957, another American musician, Little Richard, a performer at the famed twelfth Cavalcade of Jazz held at Wrigley Field in Los Angeles in 1956, delivered the line that broke everything: "A wop bop a loo bop a lop bom bom!"
Lead Image: Louis Armstrong and his wife Lucille Wilson at the Pyramids of Giza, Egypt 1961. Handout image (colourized).