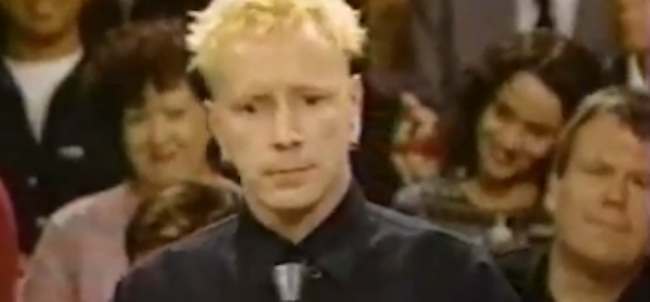 BEFORE eating kangaroo anus on I'm A Celebrity…Get Me Out of Here!, chewing off politicos on Question Time and smacking his cops at butter, John Lyndon appeared on Judge Judy. It was October 1997 when Lydon appeared before the TV Beak known in her lounge as Judy Sheindlin. Robert Williams was suing the former Sex Pistol and Public Image Ltd frontman for breach of contract and assault and battery.
Virgin Records produced a press release in defence of their act:
Williams filed criminal battery charges against Lydon. The charges were immediately dismissed when police investigators determined that Williams' case was completely unfounded. A subsequent civil suit was filed by Williams in small claims court claiming damages of $5,000 in lost wages and "civil battery."

Upon learning of the ongoing dispute between Lydon and Williams, the staff of "Judge Judy" recently approached Lydon's representatives and offered to adjudicate. When Gardner called Lydon to inform him of Judge Judy's offer, Lydon accepted immediately, exclaiming, "I love this country!"
The Las Vegas Sun followed up:
Lights, camera, legal action! There's a thin line between entertainment and jurisprudence in America — well, frankly, a thin line would be nice; thanks to "The People's Court," O.J. and so on, there's no line at all. The gavel pit deepened again this week as John Lydon — you remember him from your safety-pin-through-the-head daze as Sex Pistol Johnny Rotten — taped an episode of the syndicated show "Judge Judy." He was being sued for $5,000 by a fired drummer. "Judge Judy's" reps offered to hear the case. "I love this country," Lydon said by way of accepting. On Tuesday, although he halted the proceedings by loudly blowing his nose, Lydon prevailed. "Now I'm going to get on with my life," he said afterward. "We're going after the real killers." The episode should air in about a month. Asked for his opinion of America's court system, Lydon sounded an appropriately melancholy note. "I think it's sad if it's become entertainment," he said, before turning philosophical: "But that's progress." Indeed — justice is swerved!
This site has some background. Lydon planned to your his Virgin Records album, Psycho's Path:
Although being a real "solo" record John was keen to tour 'Psycho's Path' with a proper live band.

An unconventional band to say the least 'Psycho's Path live' consisted of a drummer and two keyboard players, plus the one and only Mr John Lydon! The line-up was recruited from largely unknown musicians, but included John's brother Martin; plus moral and protective support in the shape of John "Rambo" Stevens.

The line-up originally included drummer Robert Williams – but as you may have saw on Judge Judy – Williams left the band in the lurch at the beginning of the tour, and was quickly replaced.
The best thing about the album and the tour was the court case. Here it is: