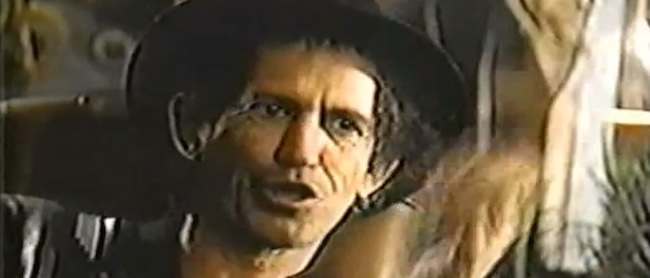 HUNTER S. Thompson met Keith Richards for an interview. The trick with all interviews is to make them interesting. Wayne Ewing filmed the meeting. He writes:
"What's Keith's room number," asked Hunter.

"Suite 1017," I said "But we have to go to Jane's (his manager) room first and she will take us to Keith. He won't open the door for anyone. Jane has to get us in. That's the plan"

"Fuck your plans," said the Beast who had just replaced the Nervous Fan of Keith Richards that had been with me in the car. "We're going to Keith's room."

"We've got to go to Jane's first," I insisted..

"Fuck You. We're going straight to Keith's," growled the Beast.

The pigs began to squeal as the elevator opened on the tenth floor. A few squeamish guests opened their doors to investigate the horrible noise, and closed them very quickly when Hunter brandished the sparking cattle prod. At the large double doors of Suite 1017 Hunter turned up the pigs' volume and hit the cattle prod's siren, screaming "Keith, Keith Come out," and damned if he didn't.

Keith seemed overjoyed to meet his hero, and Hunter was beside, under and over himself with glee as well…
And then it kind of happened:
The interview itself was, like most of Hunter's interviews, quite disappointing. You can begin to see why it took me so many years to shoot and piece together enough material with Hunter to make intelligible films – Breakfast with Hunter & the work-in-progress Breakfast with Hunter: Vol. Two. Old television interviews with Hunter like these abound on the internet, except this one has Keith.

At 4am we stopped shooting, and I urged the crew from Denver to wrap as quickly as possible. Rather than splitting asap as you expect, Keith hung around while we wrapped, sitting on the couch in the kitchen, not wanting to leave the inner sanctum of Gonzo quite yet. Hunter clearly wanted to get the Denver crew out so he could have more private time with Keith, who by now had fallen asleep on the couch, looking exactly like the famous 1972 Annie Leibovitz shot of him splayed out in a chair. As the crew endlessly wrapped cables, an unconscious Keith began to slide off the couch onto the floor.
This was never going to be a masterpiece: