Ever ride the New York City subway system in the 1970s? If you did, the fact you're reading this suggests you survived the experience.
In 1978 alone, there were nine murders on the subway. By 1979, the Subway featured 250 incidents of recorded crime every week.
New York had a poor reputation based on hard statistics. This is from the St. Petersburg Times, Apr 13, 1977: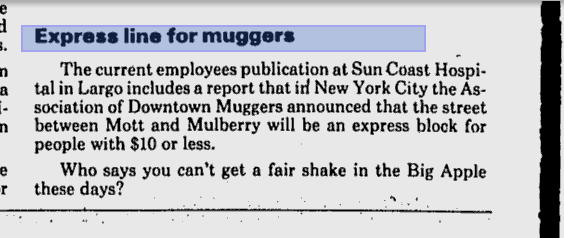 Animal NY has more on what New York was like back then:
The 1970s also were a period of gloom and doom for the city. Frank Serpico exposed a completely corrupt police force in 1971. A financial crisis in 1975 crippled the city. As a result, the police force was drastically reduced. Crime rates skyrocketed. The Lexington Avenue Express was known as the "Muggers Express."Teenaged prostitutes roamed the city en masse. From 1976-1977, serial killer David Berkowitz terrorized an entire city. To make matters worse, there was a 25-hour blackout right in the middle of the manhunt for the Son of Sam. Plus, all that rayon clothing must've meant some overwhelming body odor.
Something had to be done. Mayor Ed Koch ordered a uniformed cop to ride every train that ran between 6 p.m. to 2 a.m. But would that be enough on the Number 4 IRT Lexington Avenue line, aka "The Muggers' Express"? The line went through some of the roughest areas of The Bronx and Brooklyn.

In The Wheels That Drove New York: A History of the New York City Transit System
, Roger P. Roess and Gene Sansone recall how the surging crime inspired Curtis Silwa, a night manager at a Bronx McDonald's, to form the Magnificent 13, later renamed The Guardian Angels.
'Through our non-violent resistance we intend on spreading the message of unity and good will for our fellow man,' the first press release for the Magnificent 13 declared.
In 1979, the M13 picketed a Times Square theatre showing The Warriors. Silwa said the movie made violence glamorous. The kids, he reasoned, would copy the actors and go crazy.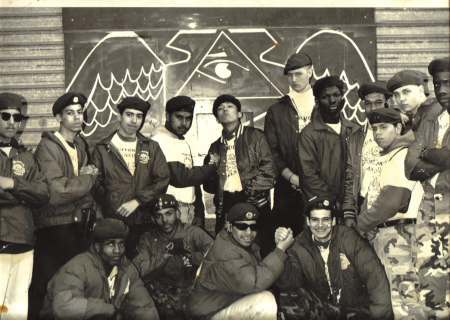 They didn't. And New York cleaned up its act. Then the hipsters moved in and things really went downhill…