"The problem in the past has been the man turning us against one another. We have been unable to see the truth, because we have been fighting for ten square feet of ground, our turf, our little piece of turf. That's crap, brothers! The turf is ours by right, because it's our turn. All we have to do is keep up the general truce. We take over one borough at a time. Secure our territory… secure our turf… because it's all our turf!" – The "One and Only" Cyrus, The Warriors (1979)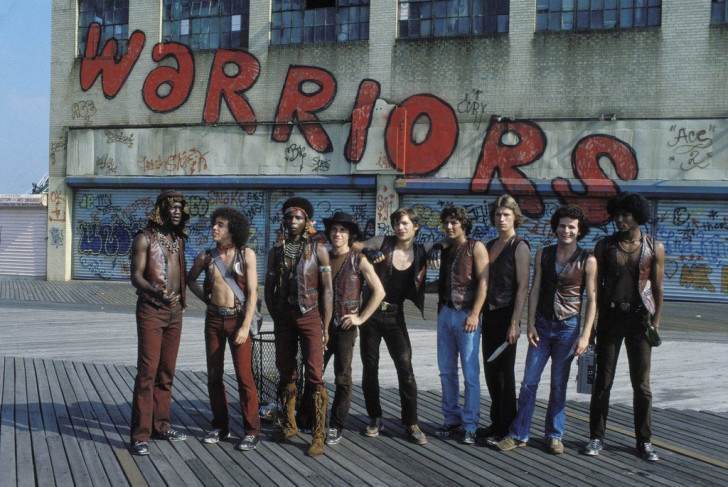 Walter Hill's The Warriors (1979) was fun, hard and very much of its time. As our own John Kenneth Muir writes:
Well, if you recall, the mid-1970s was not really a terrific time for big cities in America, specifically NYC. Much of the metropolitan infrastructure had fallen into disrepair and neglect, and there was a growing sense of disenfranchisement, politically-speaking.

Alarmingly, crime rates were sky high and trending higher.
Poverty was also an enormous problem because of economic stagnation and high unemployment (Carter's age of malaise and America's "crisis of confidence.") New York City teetered dangerously near bankruptcy in 1975, and President Ford famously refused to bail it out. This task was left to the Teachers' Union and, utilizing pension funds, it rose to the challenge…to the tune of a then-whopping 150 million dollars.
Then, in July of 1977, a city-wide power outage shone another light on the social unrest burdening the great city. During a 25-hour period of black outs, there was a city-wide outbreak of looting and crime, and over 3,000 men and women were arrested. Prisons virtually overflowed…
Of course, every generation likes to think they invented youth rebellion:
On Sept. 13, 2015, the cast of The Warriors eponymous gang once again took the subway to Coney Island. "These subways are different than they were in 1978," said Michael Beck, who starred as Swan, the gang's leader.
"I just love being here with all the fans. I see kids coming here, eight years old, and I go 'How do you even know about this movie,'" Beck told Rolling Stone.

"Basically, this is a social club for Coney Island," one attendee said. "We started it for the youth though, because of all the gang violence that was happening in our town and what not. We tried to get all the youth to join us instead of joining real gangs."
Kids love it. And now the family-friendly Warriors and their enemies are yours to take home in Lego and plastic:
The film was all just a terrific story, of course. But there were real gangs that gave the movie an edge, picking up on a New Yorker's anxieties. After all, the movie was loosely based on Sol Yurick 1965's book of the same name.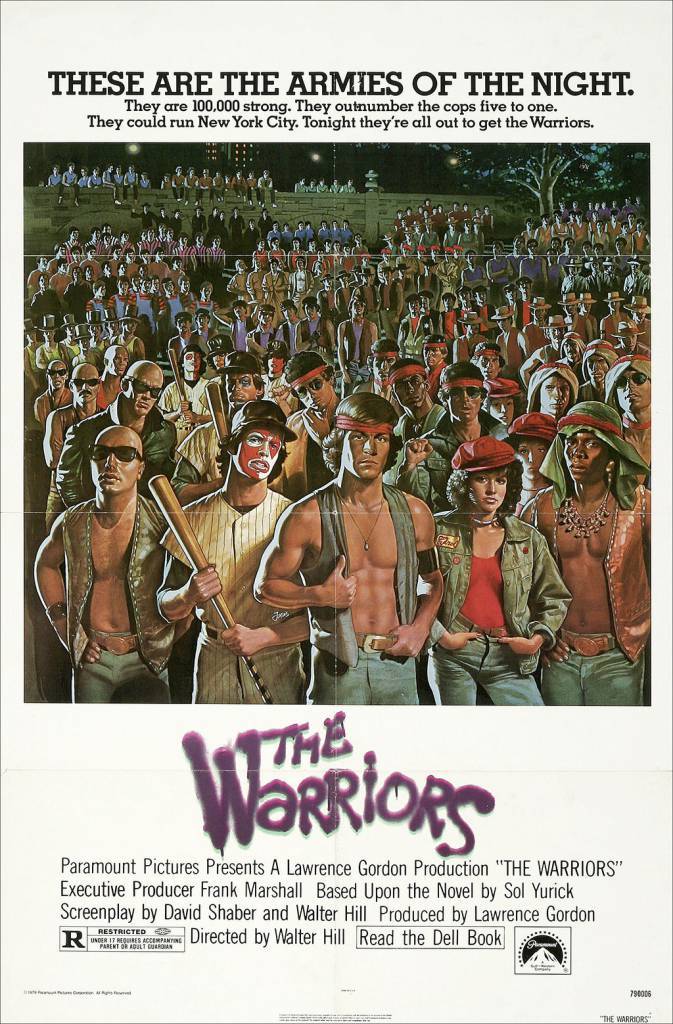 The Warrior Movie blog notes:
Yurick interviewed many New York gang members and observed their activities. He found that some gangs stretched back generations. There were gangs in New York of every ethnic type ranging from those that are very small to those that have several hundred members. He interviewed gang members but was fed stories they thought he wanted to hear so he hired a beat up panel truck, punched holes in the sides and spied/eavesdropped on gangs to get their rythym of English (ganglish) and body motions. Yurick also researched the route the gang was to take in his novel and walked the tunnel from 96th on West Side to 110th to see if he would get spotted. The book took three weeks to write, after this research.
On August 1, 1974 The New York Times revealed its map of the city's 'youth gangs':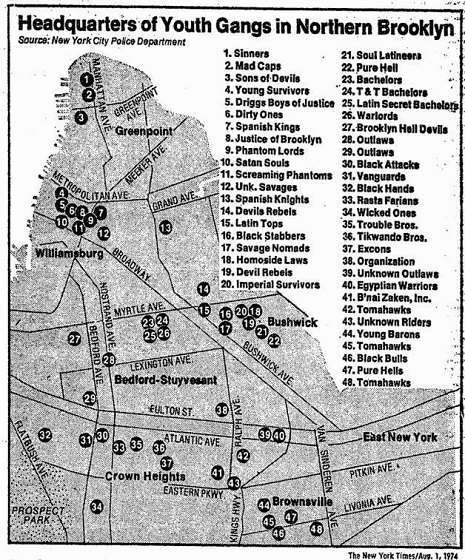 The great Bowery Boys blog has more:
Gang activity was so especially vicious at this time — particularly gang-vs-gang violence — that Luis Garten Acosta, the founder of El Puente youth outreach program, called northern Brooklyn 'the killing fields' in 1981.

I dug a little further to find some specific incidents which involved some of these gangs.  I've put numbers by the gangs so you can find their dedicated turf on the map above:

— September 16, 1972 — A gang altercation among the members of the Young Barons (44) resulted in the death of one young man and another whose nose was cut off. 

— August 21, 1973 — Several members of the Devils Rebels (19) were walking around Bushwick when they were accosted by the Screaming Phantoms (11).  Two boys associated with the Devils Rebels were stabbed and killed.  Police report "the Screaming Phantoms operated out of the Williamsburg area and had been 'way out of their area' at the scene of yesterday's gang fight."

— February 25, 1974 — The Times reports on the extortion schemes of various northern Brooklyn gangs, mentioning the Outlaws (28,29), the Tomahawks (48), the Jolly Stompers (not listed) and B'Nai Zaken (41).

— October 12, 1973 — Several gangs have been cast as extras in a new film called The Education of Sonny Carson, including the Tomahawks (48), Pure Hell (22) and the Unknown Riders (43).
The Education of Sonny Carson was a 1974 production featuring 'A Youngster's 1st Steps Into Joining A Brooklyn Street Gang'.
Reality and fantasy are merged in New York gang culture. The Warriors is stylised and more than a little nuts. And so were the real gangs.
The documentary Flyin' Cut Sleeves focused on the Bronx tribes. Not released until 1993, the film takes us up to the "peace meeting", a powwow at the Hoe Avenue Boys Club in 1971.
This video features The Turbans at the Hoe Avenue Truce meeting on Dec. 7, 1971.
And here's the full movie. The New Yorker reviews:
The film was directed by Henry Chalfant ("Style Wars") and Rita Fecher, who taught in the South Bronx during the late sixties and early seventies. Before hip-hop was annoying our parents or making our ringtones less (or more) corny, it was part of a community effort to keep kids out of trouble. In some ways, so were gangs. (In other ways, not so much.) After watching, read Jeff Chang's definitive account of hip-hop's South Bronx roots, "Can't Stop Won't Stop."
And there was 80 Blocks From Tiffany:
The movie description (via):
"This 1979 documentary film focuses on gangs such as the savage skulls & nomads who occupied areas of the South Bronx. Perhaps even more compelling is considering that the backdrop and social conditions in this film are a 'far cry' from the lifestyle being promoted through disco music and film. Perhaps this answers questions to why many people took preference over the funk records which arguably pathed the way for Hip Hop culture."
What now and what next?