Richard Metzger has posted the fantastic video. MTV's Watch Way USA, stars Tesco Vee of the Meatmen and Touch & Go cutting a deal with the Devil: he swaps his soul for a city break in Baltimore.
Naturally, it features the movie director John Waters.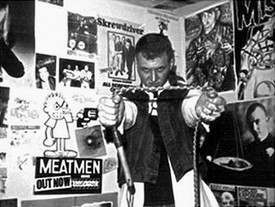 But also thank must go to YouTuber BazillionPoints, for unearthing this gem and sharing it:
Baltimore's sweaty charms, starting with a debriefing with dangerous young John Walters in his office, and swerving through a lascivious pre-Internet underbelly of strip clubs, wig stores, beer bars, thrift stores, massage parlors, and other sleazy spots. Tesco Vee is at his silver-tongued apex as counter-cultural pied piper and agent of sin.
What could go wrong?
(Language is NSFW, as you'd expect.)