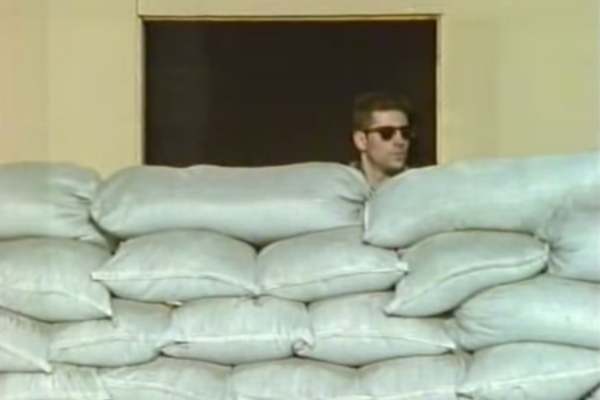 ON 20 May 1992, the BBC broadcast Inside Story, a look at British members of the PIV 'International Brigade' (or Company, or Platoon, depending on your sense of reality) based in Osijek and fighting on the Croatian side of the Balkans War. (There were fighters from many other nations in that war; including many German neo-Nazis who wanted to fight the Communists.)
Balkan Scrapbook notes:
The film features interviews with a number of foreign volunteers who fight alongside the Croats in the 'First International Company', a unit based in the eastern Slavonian town of Osijek. The unit is led by Eduardo Rózsa-Flores, a jovial journalist-turned-soldier (albeit one with a shadow-darkened past involving pre-Soviet collapse espionage, far right nationalism and blurred identities), who appears to have charmed his way into command of the foreigners despite throwing grenades like the proverbial girl and seemingly having little military aptitude.

Amongst the Britons we meet, the main character is Kit, a career soldier from the north-east who finds it hard to adjust to civvie life, especially after the death of his wife; in Croatia he finds meaning through instruction – putting a bunch of novices through a rudimentary boot camp, and then leading them on intelligence-gathering and sabotage missions behind enemy lines.

There is also Carl Finch, a mercenary for several years who had previously fought in Suriname during theBinnenlandse Oorlog conflict, as well as (by his own account) Sudan, Sri Lanka, West Africa and "a couple of other little things which I don't want to mention". As he puts it, "Croatia's backed by the West, it's been recognised by the West – it can't be wrong."

In addition there is serial killer-obsessed northern bouncer Dave, who wants to know what it feels like to kill without guilt (by the end of the film we learn that he has only half-succeeded in his goal); Roy, who claims his mother thinks he is working at Euro Disney; Andy, who claims to be absent without leave from the British Army; gun-loving Justin; and "hunting instinct" Justin. Basically, a motley collection of thrill-seekers and borderline sociopaths, mediocre people from mediocre places in mediocre times who have sought out an extraordinary situation in pursuit of the buzz of death.
Pay was as high as £100 per month.
Croatia.org has a list of the foreign-born dead: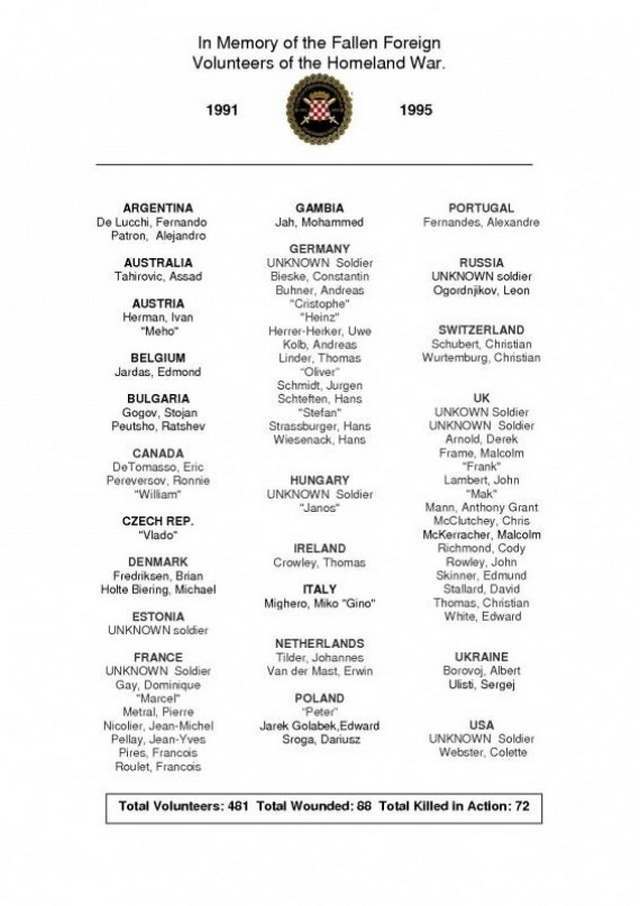 In an article headlined "Britons flock to fight in Bosnia: Thousands of ex-soldiers and 'untrained idiots and psychopaths' said to be serving as mercenaries with all three sides", the Independent newspaper wrote on February 10, 1993:
Arrangements were being made yesterday to bring home the bodies of Ted Skinner and Derek Arnold, kidnapped, tortured and shot near Travnik after fighting for the Bosnian Muslims. There are fears that their deaths – thought to take the total British dead to five – may be among the first of many.

A Foreign Office spokesman said yesterday the number of Britons serving with the Croats, Serbs and Muslims was 'substantial' but David Lord, editor of Combat and Survival and a former army officer, said the evidence suggested 'thousands'.

'The amount of mail I am receiving from British men fighting in the area is astonishing,' he said. 'Our correspondents have found large groups of men fighting in Royal Marine and Parachute Regiment berets. They have also found members of the TA, soldiers who are absent without leave and large numbers of untrained idiots and psychopaths.

'Usually when you get a war, it is comfortably far away, but this is on the doorstep, it is easy to get to and it has attracted a very large idiot element who don't know what they are letting themselves in for.'
Marcus Tanner added:
A couple of months later I saw Bob starring in a Croatian TV documentary on foreign volunteers, smiling in a ruined village in eastern Slavonia and doling out sweets to a group of ragged children.

Another of the British 'dogs of war' I ran into in Zagreb was a 16-year-old schoolboy from Biggin Hill, Kent. He sold his parents' television set when they were out shopping and bought a train ticket to Croatia, moved by dramatic accounts of Croatia's plight. Although he lacked any military training, the Croats put a gun in his hand and dispatched him to the frontline at Nustar, east Slavonia.

The thrill of killing 'Checks', as they nicknamed the Serbs, and a curious fascination with Croatia's drama-filled history is often what pulls foreign fighters in and keeps them there.

One of the more colourful 'mercenaries' I recall from the Croatian war was Shane, an Irish-born former member of the French Foreign Legion from London. He was fighting in the ranks of HOS, an extreme right-wing Croatian militia, with his friend, a former London taxi driver called Reg.

To the amazement of the waiters in Zagreb's glittering Esplanade hotel, Shane wriggled like an eel across the pile carpet in the restaurant with a grenade between his teeth, showing how he sneaked up to bunkers before throwing his bombs.
In 1992, Kirk Davies was shot dead by police in Yorkshire:
According to Croatian army records he arrived in the war-torn country on February 1 1992. There was no proper vetting procedure and he was readily accepted as a private. Soldiers like Davies are often dubbed mercenaries but in truth make little money from such a conflict – it is thought Davies would have picked up only about £35 a month. Some no doubt fight under another country's flag because they believe in the cause, but many more join simply because they enjoy war. Even the Croatian Forces Volunteers Association concedes that perhaps a quarter of the estimated 2,800 foreigners who fought in Bosnia, Croatia and Kosovo were there for selfish reasons, perhaps because they were social misfits or criminals on the run.

Gaunt, who lost part of a foot when he stepped on a landmine, says he signed up because he believed in the Croatian cause – but believes Davies' aims were not so noble. "He was just a pleasure seeker. He was supposed to be a trained soldier but he knew absolutely nothing about soldiering. He knew about [gun] calibres and the history of some military units but he often left me worrying."
The show: