Enthralled by John Foster's curious feet, we look to his vintage snapshots of creepy clowns – a joy for all you coulrophobiacs. The terrifying clown is a mainstay of horror film and fiction. Fear of masked funsters is one many of us relate to. But in the early and mid 20th Century the circus was the world's largest showbiz industry, and happy clowns were an integral part of it. Was everyone afeared? Some surely delighted in their energetic pranks.
Stripped of context, and presented in today's age when children are held sacred, the clown is a ghoulish, troubled and malevolent presence. The man in the mask is a monster hiding in plain sight.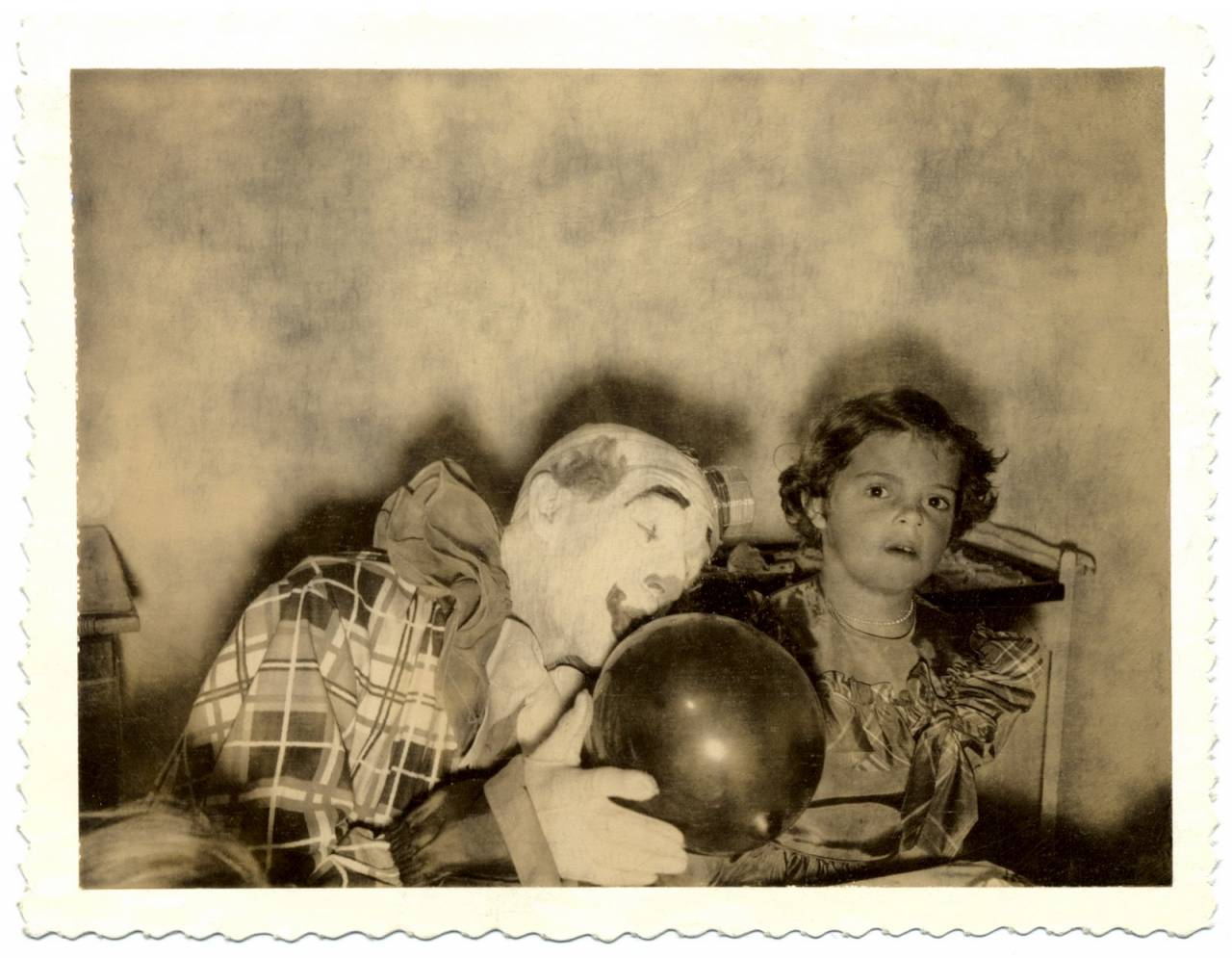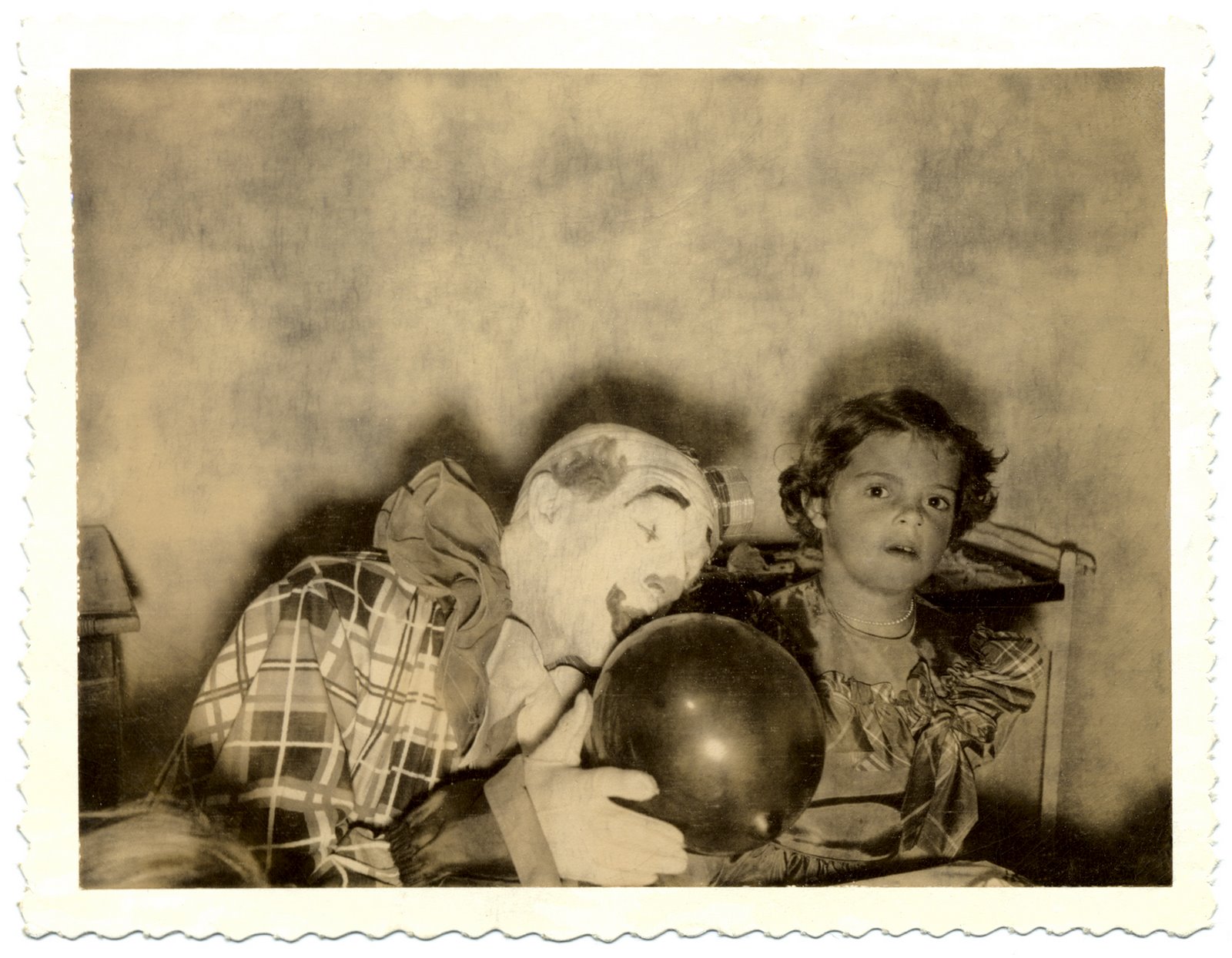 Beneath the flat and paper sky
The sun, a demon's eye,
Glowed through the air, that mask of glass;
All wand'ring sounds that pass

Seemed out of tune, as if the light
Were fiddle-strings pulled tight.
The market-square with spire and bell
Clanged out the hour in Hell;

The busy chatter of the heat
Shrilled like a parakeet;
And shuddering at the noonday light
The dust lay dead and white

As powder on a mummy's face,
Or fawned with simian grace
Round booths with many a hard bright toy
And wooden brittle joy:

The cap and bells of Time the Clown
That, jangling, whistled down
Young cherubs hidden in the guise
Of every bird that flies;

And star-bright masks for youth to wear,
Lest any dream that fare
–Bright pilgrim–past our ken, should see
Hints of Reality.

Upon the sharp-set grass, shrill-green,
Tall trees like rattles lean,
And jangle sharp and dissily;
But when night falls they sign

Till Pierrot moon steals slyly in,
His face more white than sin,
Black-masked, and with cool touch lays bare
Each cherry, plum, and pear.

Then underneath the veiled eyes
Of houses, darkness lies–
Tall houses; like a hopeless prayer
They cleave the sly dumb air.

Blind are those houses, paper-thin
Old shadows hid therein,
With sly and crazy movements creep
Like marionettes, and weep.

Tall windows show Infinity;
And, hard reality,
The candles weep and pry and dance
Like lives mocked at by Chance.

The rooms are vast as Sleep within;
When once I ventured in,
Chill Silence, like a surging sea,
Slowly enveloped me.

– Clowns Houses by Dame Edith Sitwell (1887-1964)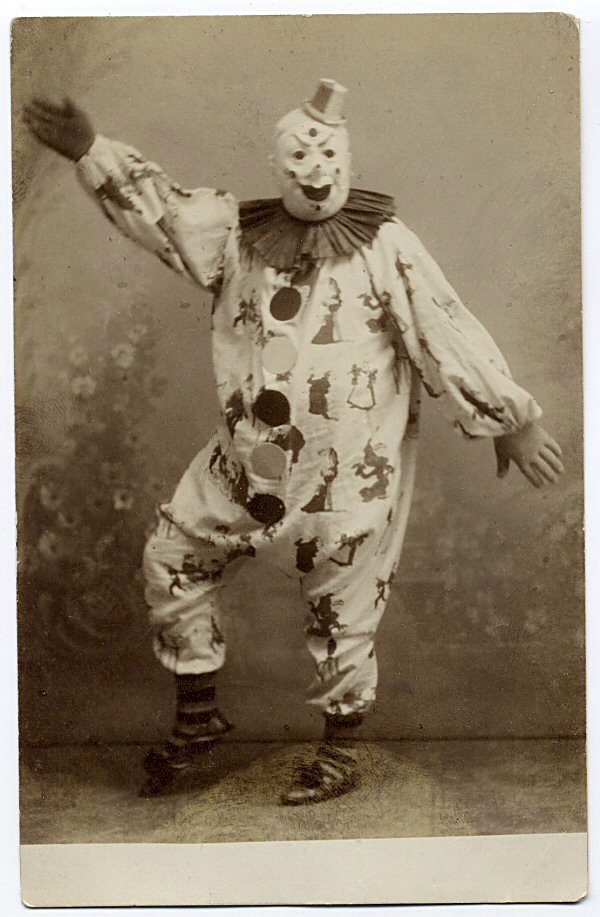 "Eddie discovered one of his childhood's great truths. Grownups are the real monsters, he thought."
― Stephen King, It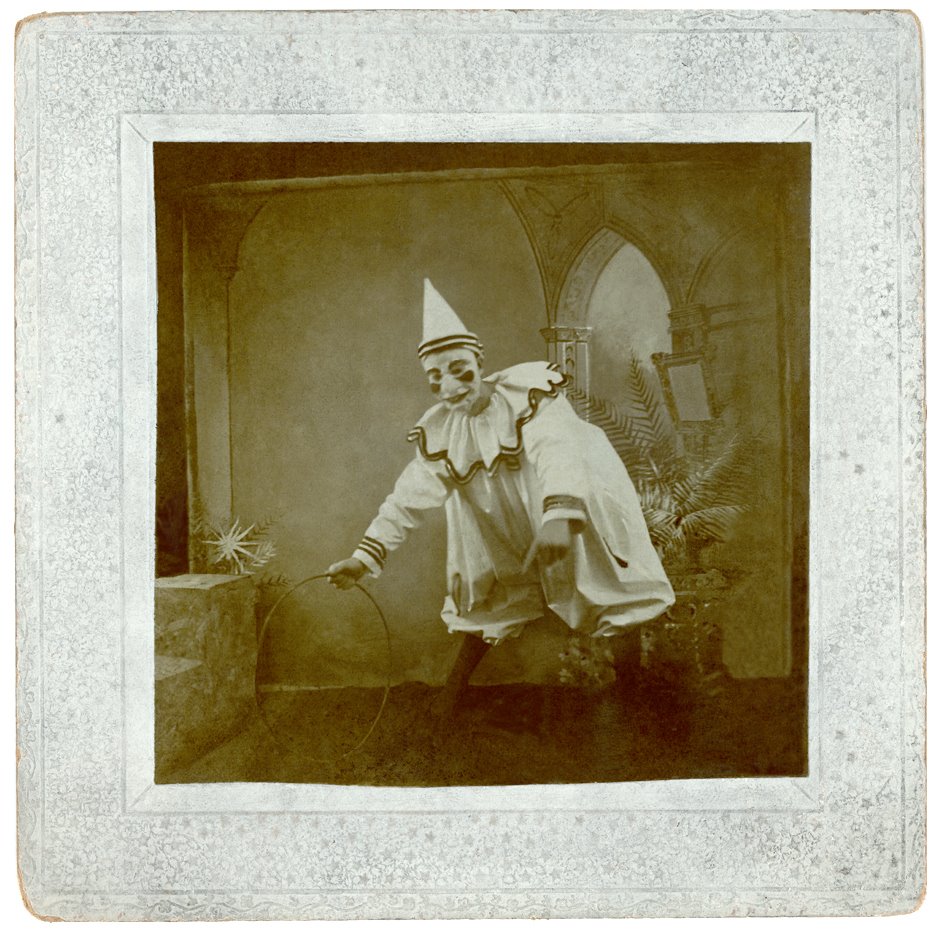 "What kind of funny?" I asked her. "Funny like a clown onstage? Or funny like a clown hanging around the entrance to a bank?"
"The bank one."
― Lemony Snicket, File Under: 13 Suspicious Incidents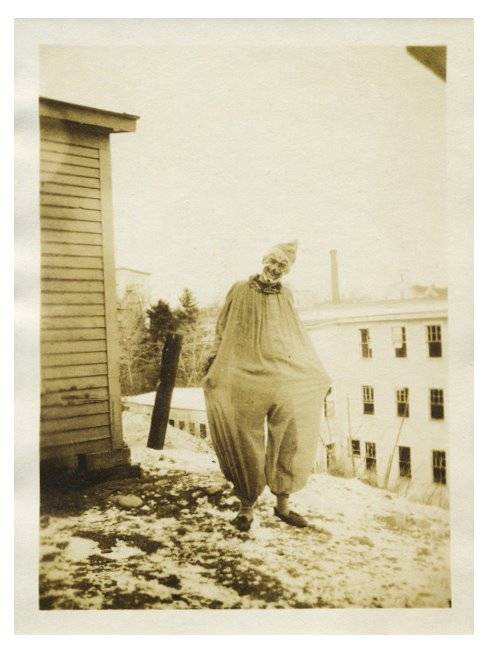 But don't let my glad expression
Give you the wrong impression
Really I'm sad, oh I'm sadder than sad
You're gone and I'm hurting so bad
Like a clown I appear to be glad (sad, sad, sad, sad) –
Smokey Robinson & the Miracles – Tears of a Clown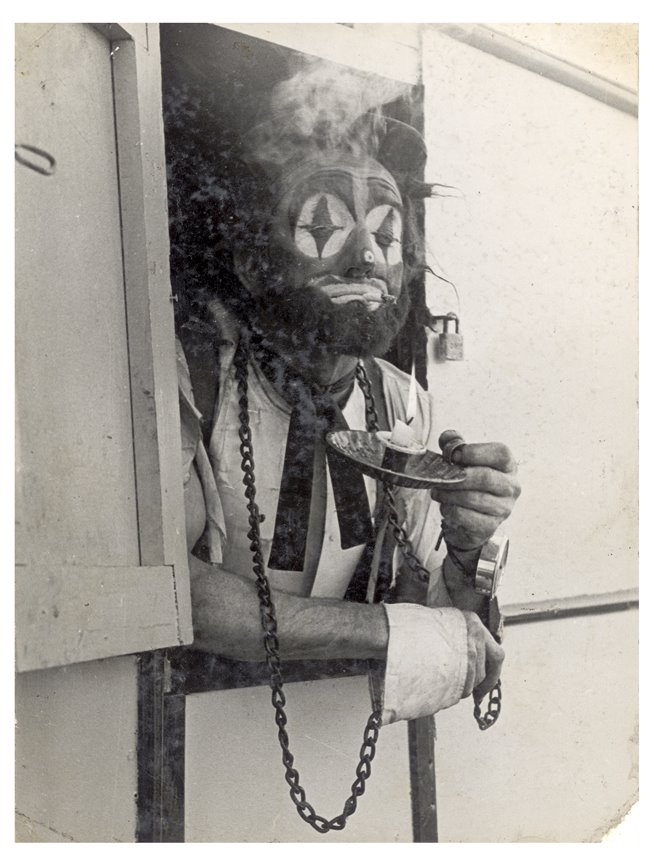 And by way or a bonus: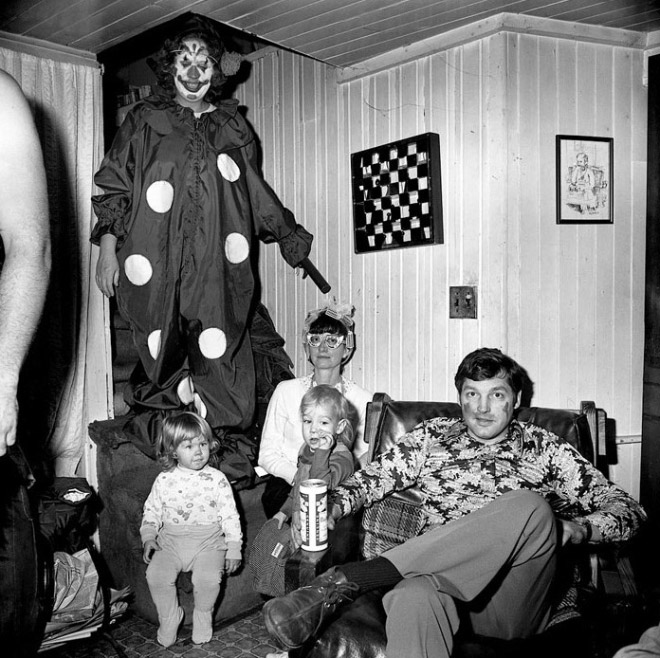 My makeup is dry and it cracks round my chin
I'm drowning my sorrows in whiskey and gin
The lion-tamer's whip doesn't crack anymore
The lions they won't fight and the tigers won't roar

La-la-la-la-la-la-la-la-la-la
So let's all drink to the death of a clown
Won't someone help me to break up this crown?
Let's all drink to the death of a clown
La-la-la-la-la-la-la-la-la-la
Let's all drink to the death of a clown
– The Kinks, Death of a Clown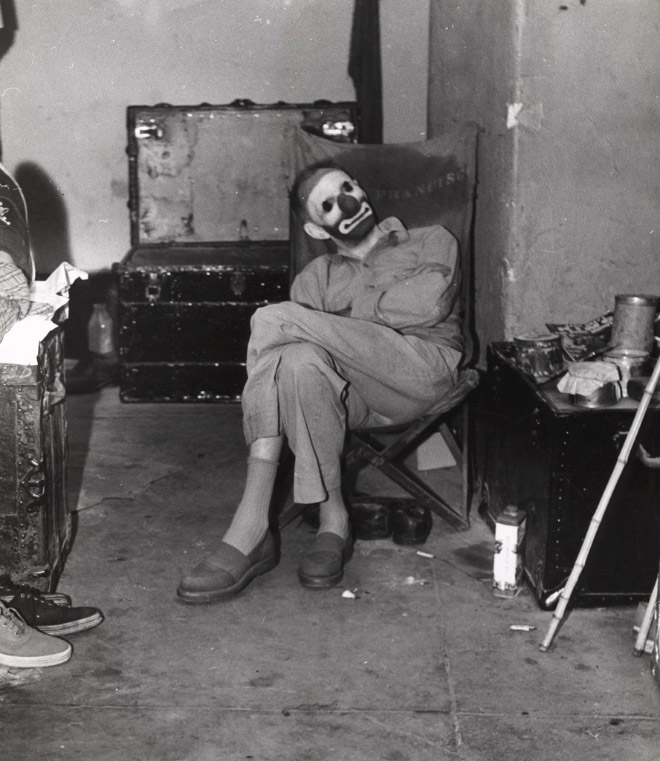 First image set copyright: John Foster/accidental mysteries.com. Images may not be reused or marketed without owner approval.