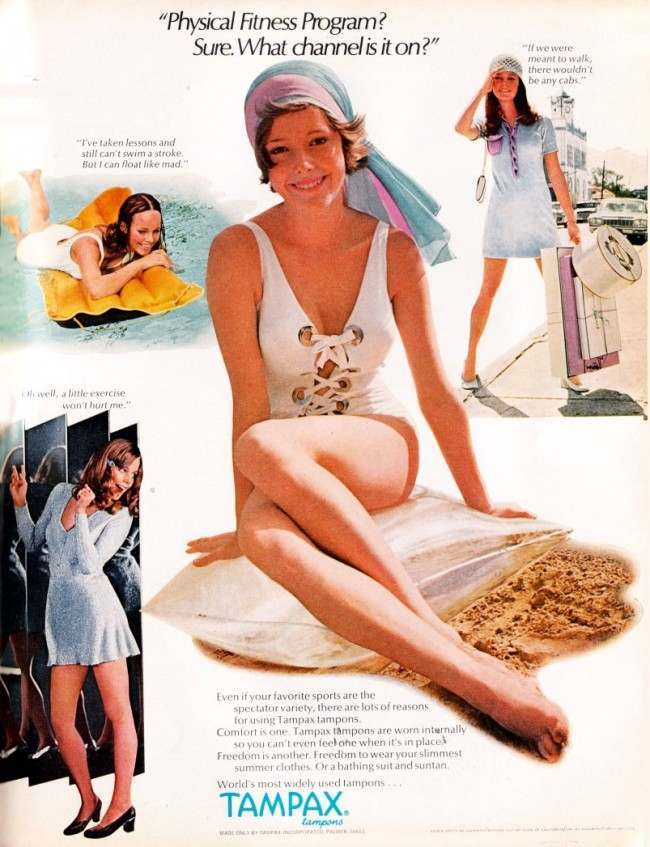 FEMININE hygiene adverts prior to the late 1960s basically depicted menstruation as a shameful curse, a sickening burden upon womankind.  By the time the Baby Boomers started needing these products en masse, a revolution in feminine hygiene was underway.  There was still a sense of shame in these adverts, but now it was all about offering new features (i.e. "It's flushable!).  While this may not be the most appealing topic you've ever read about, the advertising is still rather interesting and even a little humorous.  Take a look at a few examples.
"Gotta Get This Tampon Out Of Sight!" – Pursettes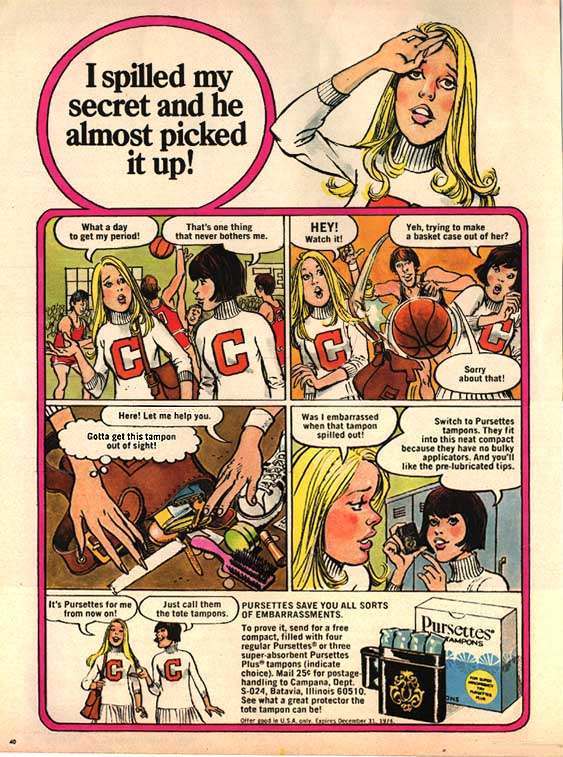 This tale of woe recounts the abominable shame experienced by a cheerleader when her purse hits the ground spilling out (gasp!) tampons.  What should she do?  Transferring to another school is such a hassle.  Luckily, her friend has Pursettes which keep her shameful secret hidden under wraps.  "Just call them the tote tampons."
"That's why so many women just like you are switching to it." – Playtex Self-Adjusting Tampons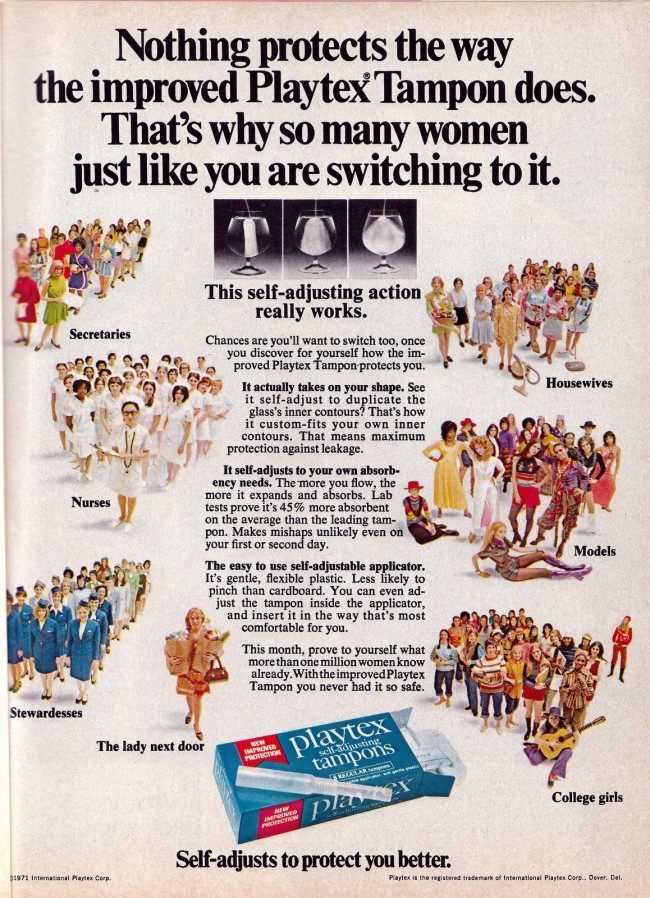 I love how this is supposed to be an empowering advertisement, yet it totally undermines itself by its list of stereotypically feminine careers.    It's attempting to illustrate that the Modern Woman has modern needs, and Playtex is just the product to keep up with the changing times.  Yet, the various groups of women they list are downright hilarious:  "Secretaries, Nurses, Stewardess, The Lady Next Door (WTF?), College Girls, Models, Housewives".  They left out waitresses and strippers.
"Dear Mother Nature: Drop Dead!" – Kotex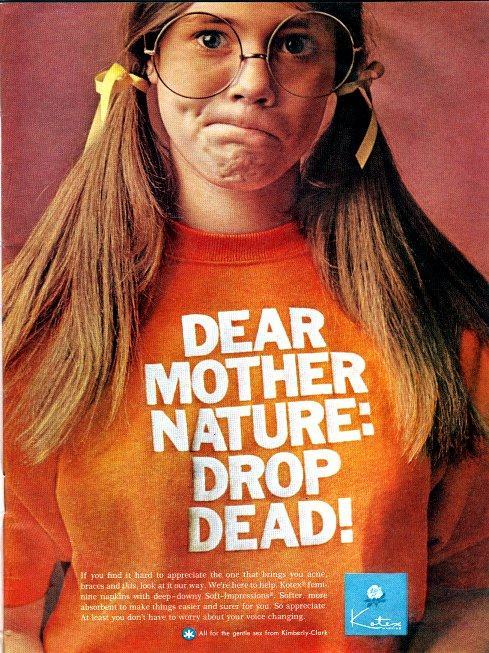 The last line reads: "At least you have to worry about your voice changing."  This is a consolation of the sorriest sort.  Nearly a lifetime of menstruation versus a month or two of crackly vocal cords…. Hmmmm – which is worse?   On a side note: the lens diameter-to-face ratio of those glasses is the largest I have ever seen.  Simply breathtaking.
"It stayed in place, even when I was jumping streams." – Stayfree Maxi Pads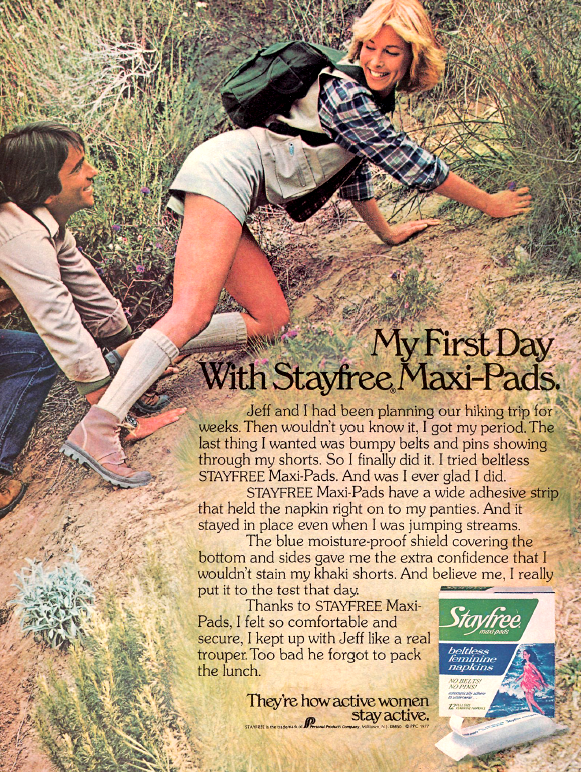 That's a bold woman – her first day with Stayfree Maxi Pads and she's sticking her ass directly in his face? Just a thought: maybe he goes up the hill first.  The ad ends with "Too bad he forgot to pack the lunch".  Maybe he didn't forget – he just lost his appetite.
"If you're old enough to pick your clothes, you're old enough to pick your sanitary napkin." – Modess
Advertisers aren't stupid.  They knew the Baby Boomers represented the largest population bubble in the history of the United States.  Subsequently, ad agencies were scrambling to produce advertising geared toward this gargantuan money pot. The Modess advert above heavily features the new hippie chic whilst highlighting how grossly antiquated the older generation is.  Do you want to buy your sanitary napkins based on the opinion of your crusty archaic mother who seems so hopelessly out of place amongst counter-culture swag?  I didn't think so.
"Whee! They're Flushable, Too!" – New Freedom Kotex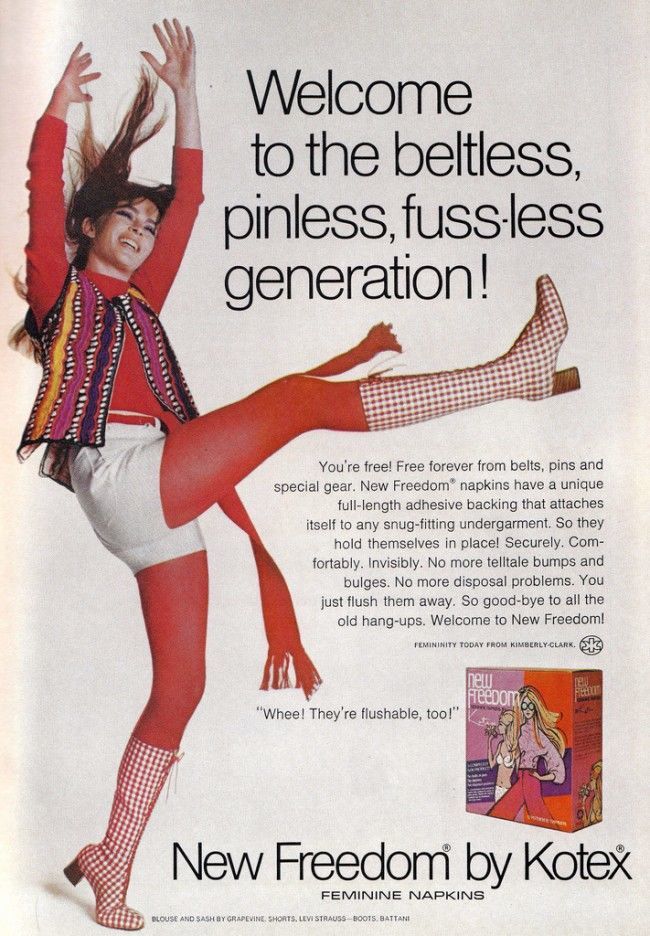 Yet another advert marketed directly to Boomer youth.  Truth be told, there actually was a lot to be excited about.  If you're familiar with the previous generations' feminine hygiene equipment, you'll know there was cause for celebration.  That stuff was a bulky mess; it had barely improved from the Paleolithic days of using rolled grass and roots.  It consisted of various rigging using straps and belts in conjunction with giant swaths of absorbent linens.  You can see why a flushable inconspicuous napkin would be a godsend.
"It's perfect for beginners like us!"Petal Soft Tampax
Petal Soft Tampax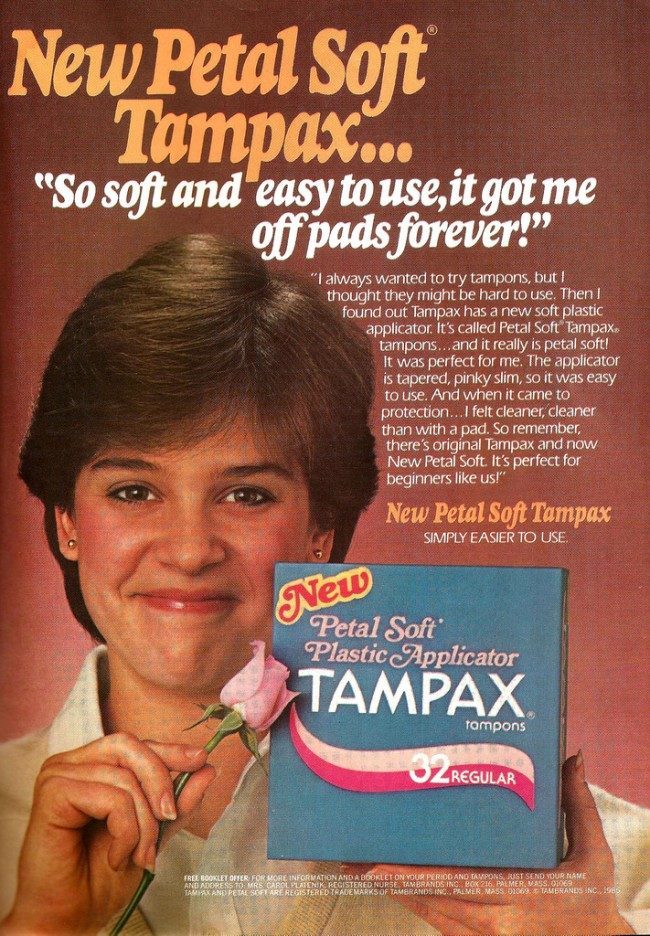 This ad comes from a 1986 issue of 16 Magazine, about a year after Tampax broke the ultimate taboo on American television: It used the word "period".  Specifically the TV ad said, "It will change the way you feel about your period."
When questioned about their startling expletive, the Tampax ad agency responded beautifully:
It's a natural evolution.  Over the past five years everyone has gotten more straightforward.  It just doesn't make sense any longer to show a woman in a long white dress, drifting through a field of wildflowers, saying something like, 'It makes me feel fresh.'
Well said.