CAN YOU GUESS which Victoria's Secret models come from 1984 and which are from recent catalogs?  I'll give you a hint:  the ones from 1984 resemble actual human females.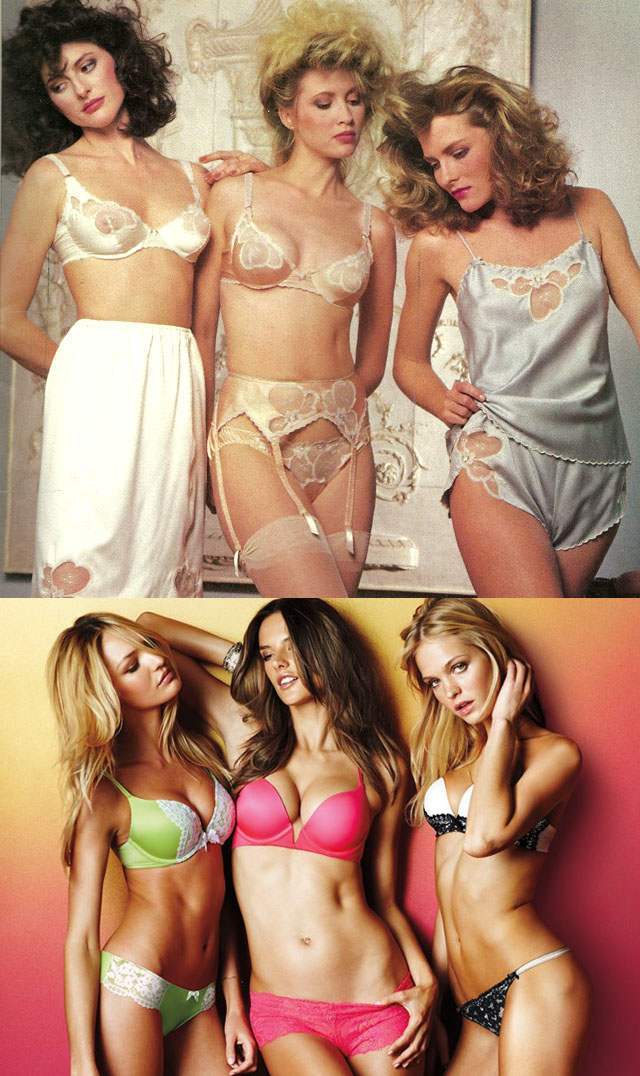 Here's another clue:  The new models look like someone accidentally left the Photoshop on all night.  Every irregularity has been buffed away, to the point where their skin looks like CGI plastic.
Figured it out yet?  This is by no means a knock on Victoria's Secret.  Their catalogs and models aren't any different than any other high end fashion retailer.  This is simply an often startling look at what a difference a few decades can make.  I'll leave it to you to be either impressed or depressed.   I won't hide where my biases lie; just ignore my snarky comments if you disagree – it's all in fun.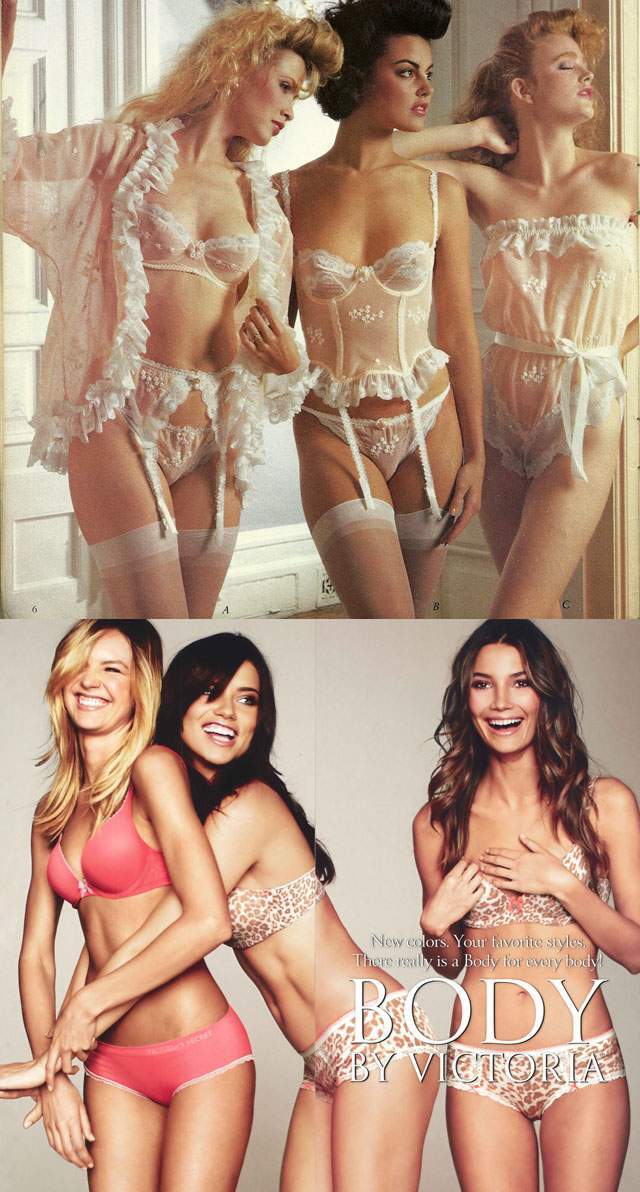 This shows you what a geezer I am: I didn't even know the frilly lingerie look was over.  Doing research for this article, I could barely find examples of the traditional frilly and ornate lace lingerie.    When did this go away?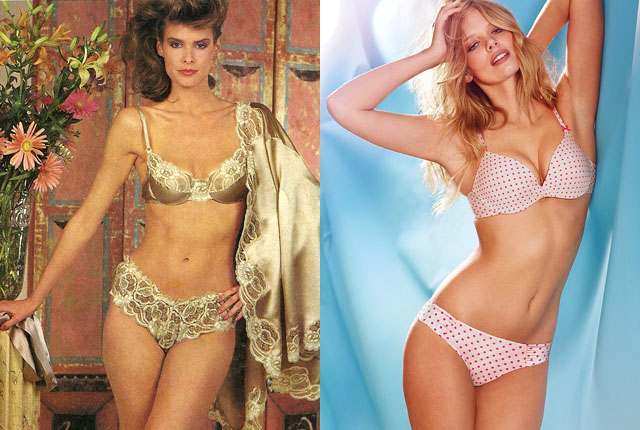 Another observation: Current VS models always have breasts of perfect dimensions with zero variability.  1984 boobs fluctuate wildly from model to model.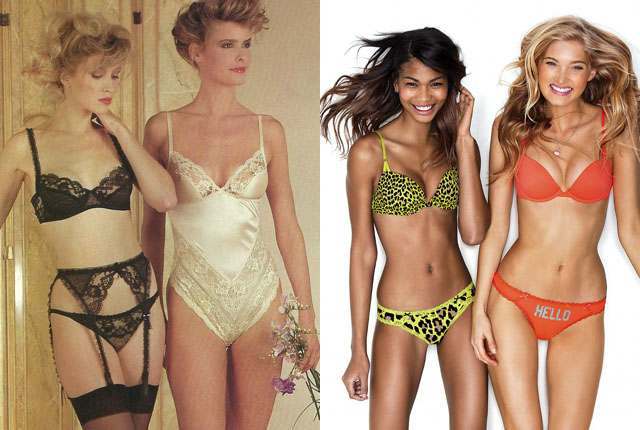 All pictures in this article have carbon based life forms (VS 1984) on the top or left, while silicon based life forms (New VS) are always pictured on the bottom or right.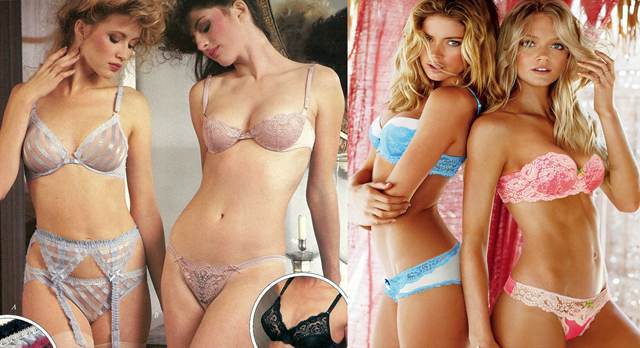 In case you're wondering, the new VS images are from 2012-13 catalogs.   So, technically this article should be called "What a Difference Approximately 28 to 29 Years Plus or Minus a Few Months Makes", but it didn't have the same ring to it.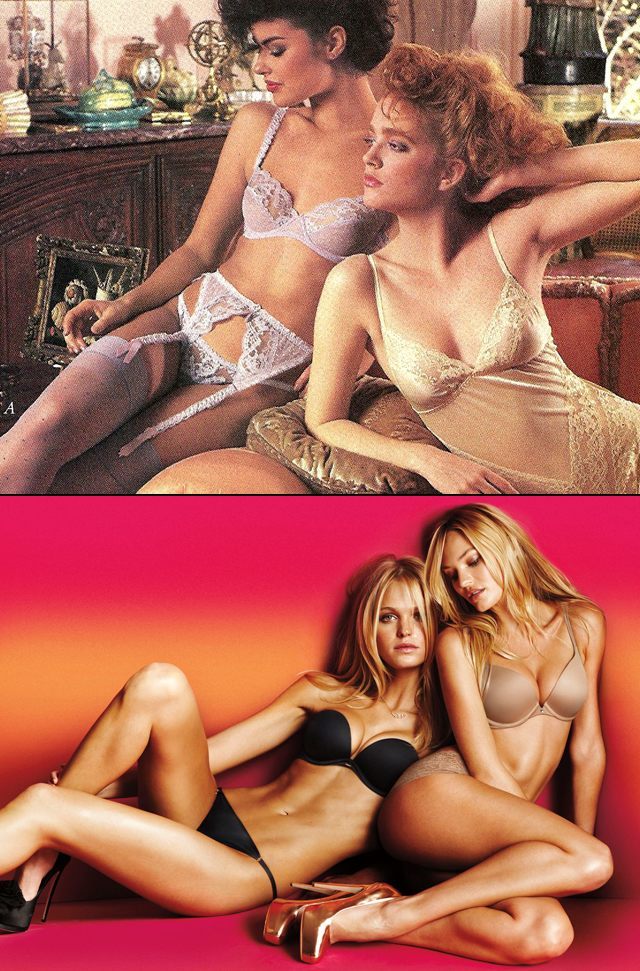 It's almost cliché to say, but these 2012 ladies don't look real.  It's like they're made of synthetic resin from a 3-D printer.
I have no doubt the 2012 models are more fit and sculpted than their earlier counterparts.  Plus, in '84 the Victoria's Secret franchise wasn't the big league modelling gig it is today.  Thus, your candidates weren't the cream of the crop.
This all may be true, but it still doesn't explain the artificiality.  We used to call it "airbrushing", but that was nothing compared to the belligerent computer enhanced rendering that takes place today.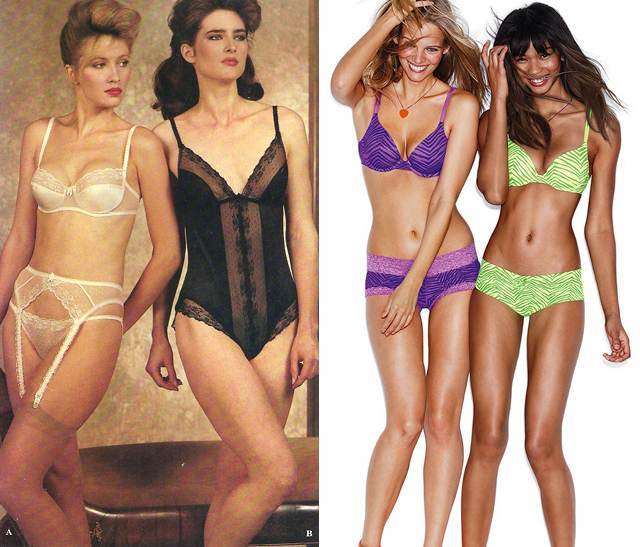 I have to admit, the 2012 models look like they're having a lot more fun.  The '84 babes look like they've been tranquilized.
That being said, since the take home message l get from the 2012 photos is "computer enhanced fakery", I can't believe or buy into the "fun".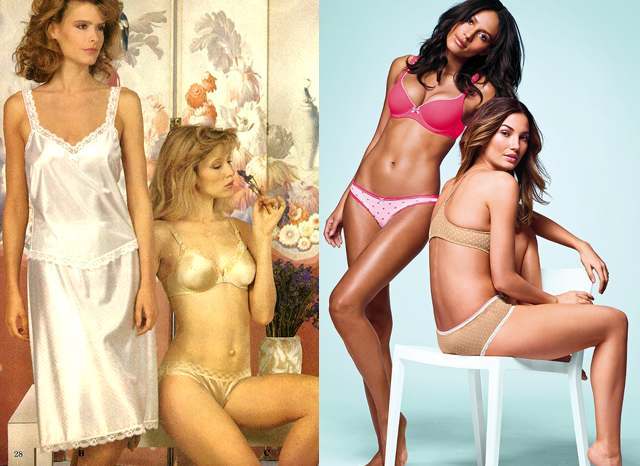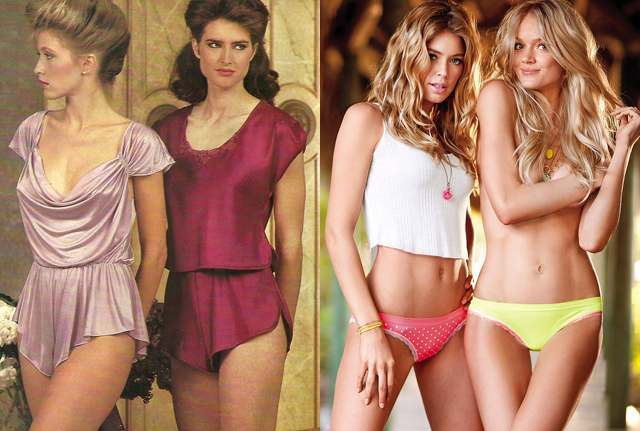 In a world where every image we encounter is digitally modified, why should Victoria's Secret be any different?  We've become accustomed to the synthetic touched-up look of models.  If VS got a wild hair up their ass and decided to go back to basics and use real film with no touch-ups, modern consumers would probably experience mini-seizures.  It would not compute.  VS would have the satisfaction of using real human models while filing for bankruptcy.
END