The joy of writing about a subject as rich as Tommy Roberts is that research turns up an apparently limitless supply of fabulous material.
Even the tangential stuff – such as this from my archive, a spread from a 1971 Sunday Times Magazine  – gets me going.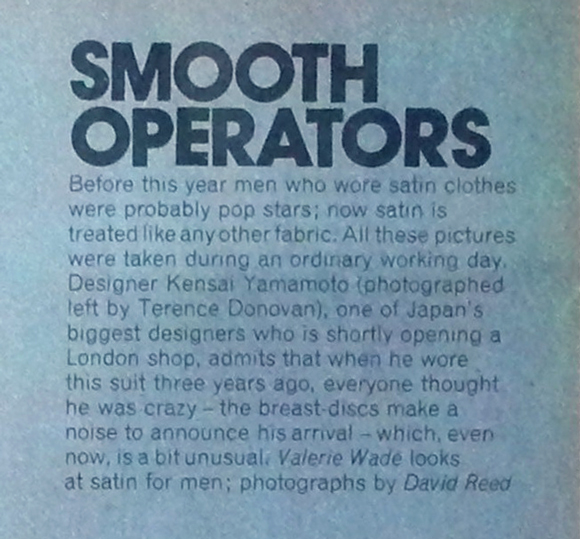 In Valerie Wade's piece, which riffs on men brave enough to wear satin clothes, Tommy is featured with John Paul, his partner in the second Mr Freedom, at 20 Kensington Church Street.
The focus is on Kansai Yamamoto, a Mr Freedom fan and customer whose first show in the UK had taken place just a few months earlier on May 12 1971 at the Great Gear Trading Co in the King's Road. This was a key point in the inauguration of Western appreciation for Japanese fashion design.
Around the time of this Sunday Times piece, the designer's clothes were stocked by Fulham store Boston 151, where David Bowie acquired a one-piece decorated with woodland creatures (and where another participant in this article, Lucky, worked).
Bowie incorporated the woodland creatures garment into the Ziggy Stardust tour stage-wear and soon commissioned the bespoke costumes from the designer which came to define his look in 72/73. Interesting to note that in the Terence Donovan portrait here, Yamamoto is wearing the raised-sole sandals which Bowie also sported on stage and in photo-shoots.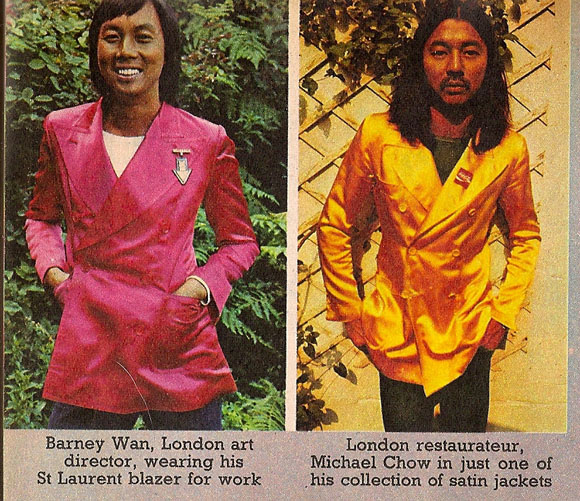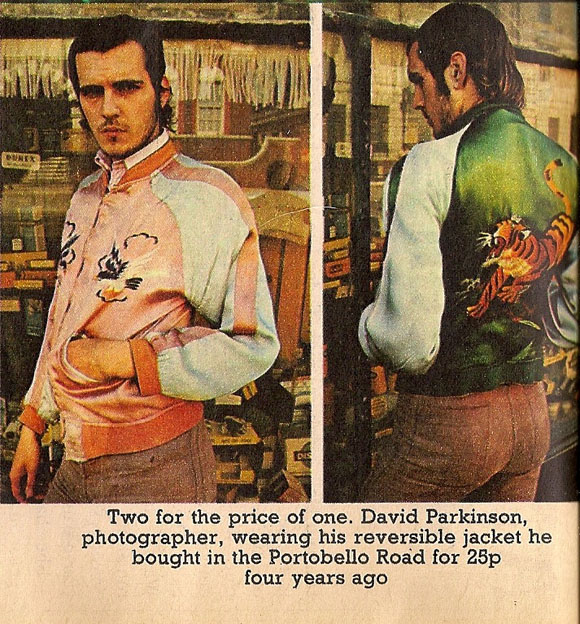 The survey of the other men-about-town includes such dandies as restaurateur Michael Chow (another Mr Freedom customer) and illustrator/English Vogue art director Barney Wan as well as the late photographer David Parkinson, who recorded the fast-paced boutique scene in London in the early 70s. Some of Parkinson's never-previously published shots of the first incarnation of Mr Freedom – at 430 King's Road – are included in my new book.
Read about Kansai Yamamoto's first British show – which coincided with the opening of Paradise Garage by Roberts' former partner Trevor Myles –  here.
Order signed copies of MR FREEDOM Tommy Roberts: British Design Hero here.