IN his introduction to Andy Secombe's book, Growing Up With The Goons, Prince Charles has declared modern comedy to be witless, smutty and cruel. He appeared bewildered by the banter of national treasure Peter Kay when they met at a charity concert. He is a man out of time.
The Prince is honorary president of the Goon Show Preservation Society, and is never slow to display his own unique brand of humour. This month, he sportingly performed the weather forecast for BBC Scotland, and leavened the somewhat somber report with a few light-hearted, off-the-cuff remarks.
Nothing new there. Indeed, as early as 1970, the new Prince of Wales was entertaining Cambridge audiences as a weather forecaster in a Trinity College revue, 'Quiet Flows The Don'.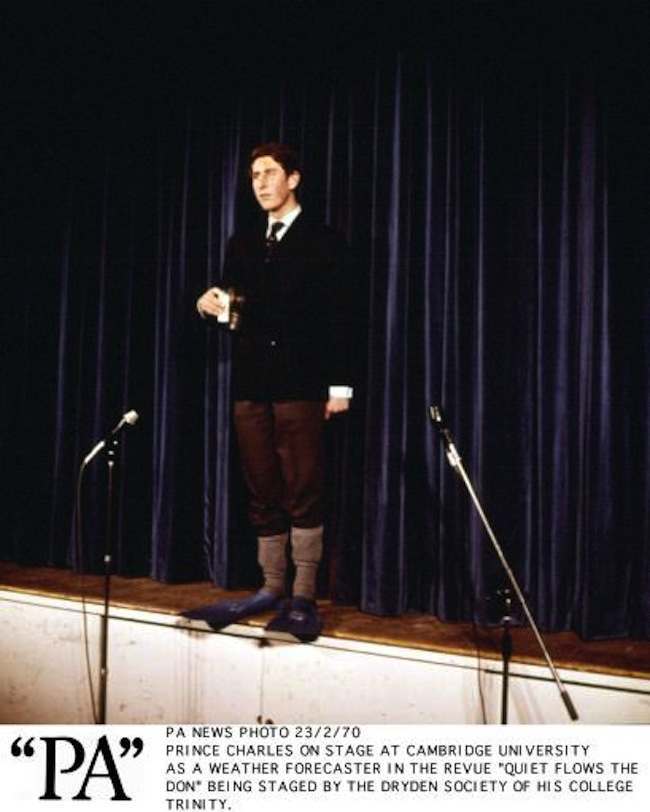 He also played an angler who catches a fish so large that it pulls him across the stage. The Prince's comical cries will live long in the memory of those fortunate enough to have seen the footage, which is sadly unavailable on the internet. But pictures give a tantalising glimpse of the action…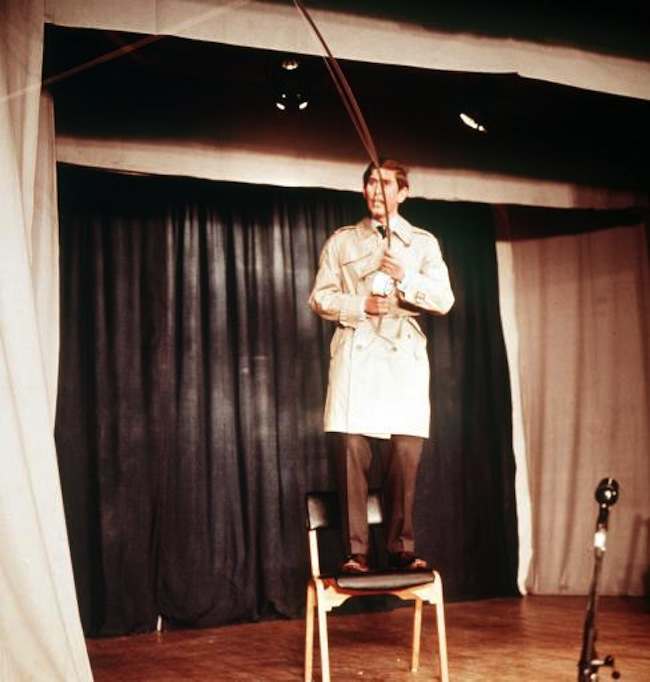 And when he wasn't fishing, he showed his versatility as a good old-fashioned song-and-dance man…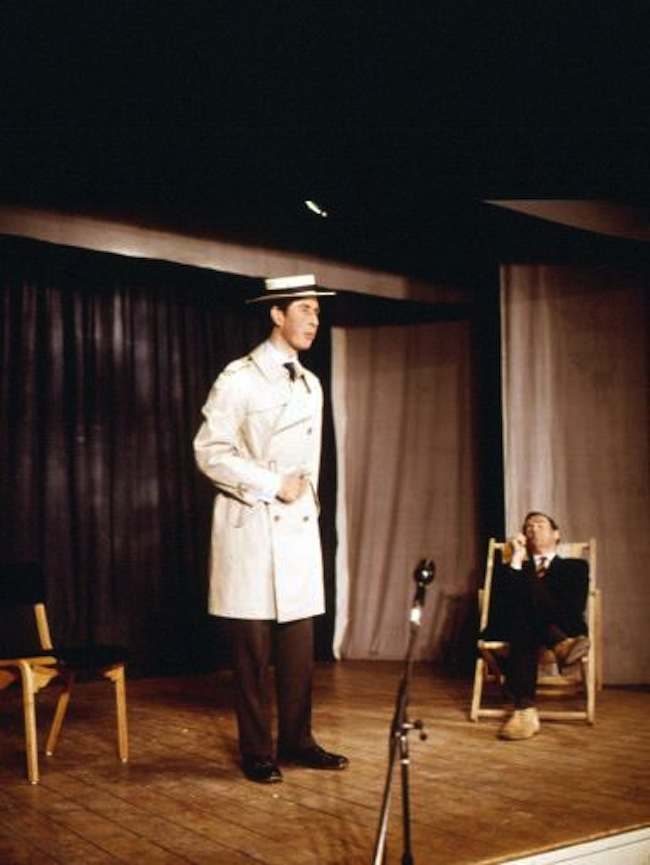 A year previously, Charles had joined the legendary Cambridge University Footlights Dramatic Club, which over the years has launched dozens of comedians, including Peter Cook, John Bird, half of Monty Python, Stephen Fry, Sacha Baron Cohen, and Armstrong & Miller.
While the Prince was studying at Cambridge, the Footlights were forbidden from making jokes about him. Instead, the Prince made jokes about other people. People such as the Cambridge bin men, whom he 'sent up' while dressed in a cap and muffler and sat in a dustbin.
The 1960s satire boom was all very well, but the madcap Goons remained Charles's true love. So much so that he has been known to give public renditions of 'Ying Tong Song' (performed here in its original version)…
Before long, the Prince was able to fully avail himself of the perks of his position, and appear with his heroes. This clip – captioned 'Silly Productions Present' and 'A H.R.H. film' – was a contribution to the Goons from the early 1970s, filmed while serving with the RAF.
From then on, he could often be found in the company of Spike and the boys…
In 1980, he took time out to publish his whimsically zany children's story for junior Goons, The Old Man of Lochnagar, and read it to the nation on Jackanory…
His support for the Goons has never wavered: he was always on hand to provide a foreword here and an accolade there. And how was His Royal Highness's patronage received by Milligan? His response to yet another personal tribute speaks volumes…
Reflecting upon his intemperate comment afterwards, Milligan faxed Charles: 'I suppose a knighthood is out of the question now?'
But he underestimated the Happy Prince, who duly arranged for the Irish citizen (Milligan refused to swear the oath of allegiance necessary to obtain a British passport) to receive a foreigners' Honorary Knighthood at the age of 82.
Midway through the ceremony Milligan suddenly asked: 'Do you know there are no dry cleaners in Peru? I thought the statistic would interest you.'
And the Prince chuckled happily.