HIROSHIMA: the bomb that ended a war: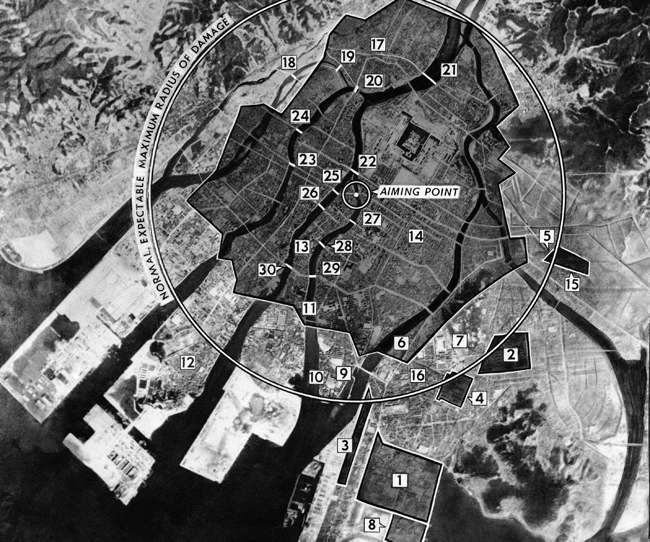 This photo-diagram, based on diagram issued by Army Air Force on August 9, 1945, locates areas damaged in Japanese homeland city of Hiroshima by first atomic bomb dropped by U.S. Army Air Forces. Large circle is drawn on diameter of 19,000 feet. Shaded areas indicate devastates sectors, according to information based on intelligence reports. Key to numbers, with percentage of total destruction where available: 1- Army Transport Base -25 percent, 2- Army Ordnance Depot,3- Army Food Depot-35 percent,4- Army Clothing Depot -85 percent, 5- E. Hiroshima RR Station -30 percent, 6- Unidentified Industry -90 percent, 7- Sumitomo Rayon Plant -25 percent, 8- Kinkwa Rayon Mill -10 percent, 9- Teikoku Textile Mill-100 percent, 10- Power Plant -?, 12- Electric RR power Station -100 percent, 13- Electric Power Generator-100 percent, 14- Telephone Company-100 percent, 15- Gas Works -100 percent, 16- Hiroshima RR Station -100 percent, 17- Unidentified RR Station-100 percent, 18- Bridge, debris loaded, intact, 19- Bridge, one-fourth missing, 20- Large bridge, shattered, intact, 21- Bridge, large hole, west side, 22- Bridge, intact, banks caved in, 23- Bridge, intact, debris covered, 24- Both bridges intact, 25- Bridge, destroyed, 26- Bridge, severely damaged, 27-Bridge destroyed, 28-Bridge, shattered, inoperative, 29- Bridge, intact, slight damage, 30- Bridge, intact, severely damaged. (AP Photo)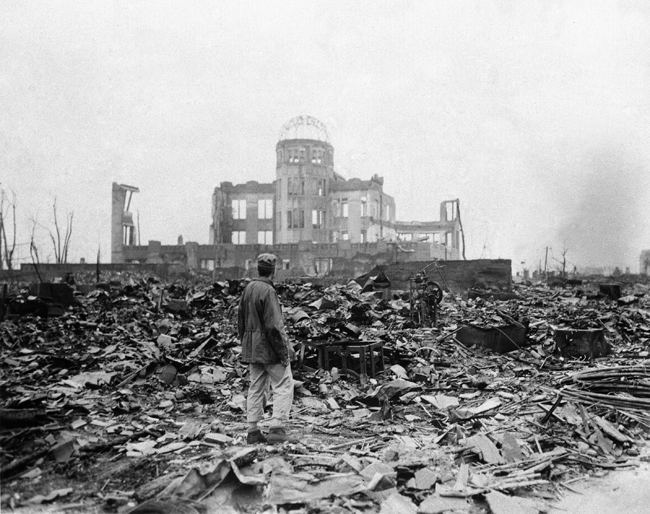 An allied correspondent stands in a sea of rubble before the shell of a building that once was a movie theater in Hiroshima Sept. 8, 1945, a month after the first atomic bomb ever used in warfare was dropped by the U.S. to hasten Japan's surrender.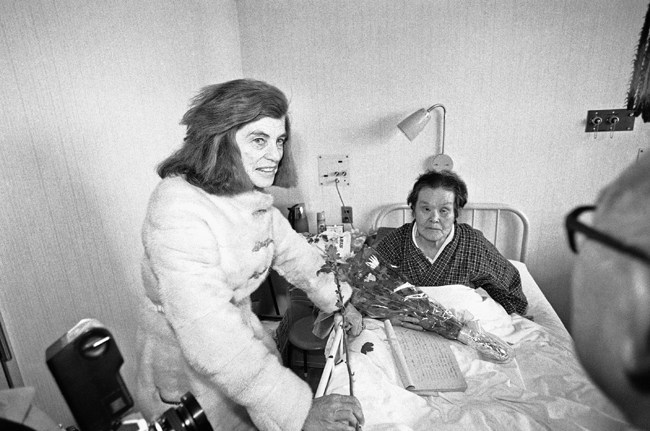 Mrs. Eunice Shriver Kennedy visit hospital for atomic bomb victims in Hiroshima, Wednesday, December 1977.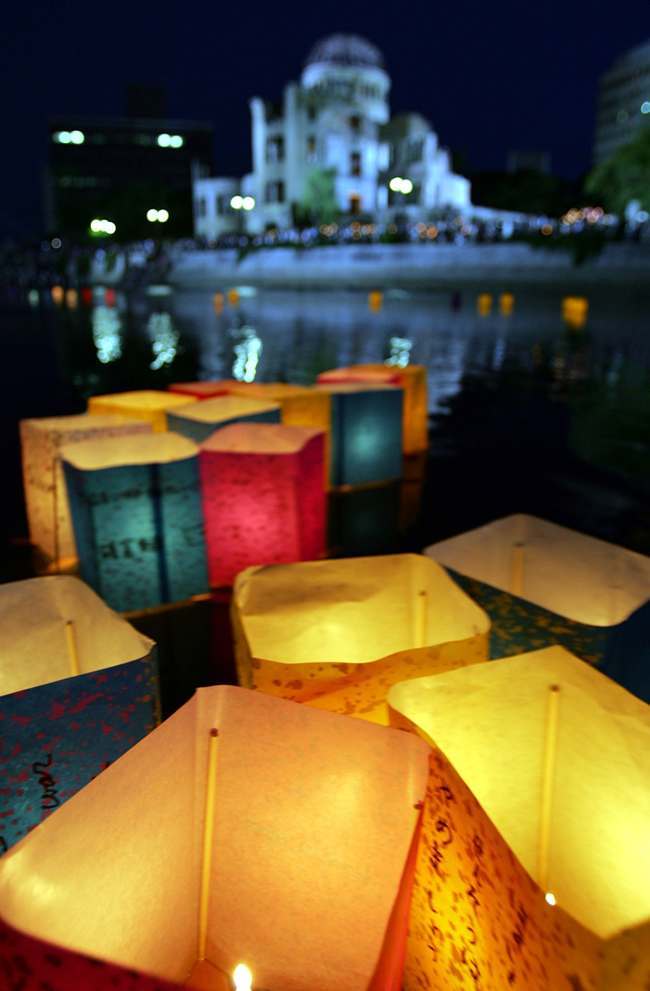 Lanterns are floating through the Motoyasu river with the backdrop of the gutted Atomic Bomb Dome at the 60th anniversary of the atomic bombing in Hiroshima, western Japan.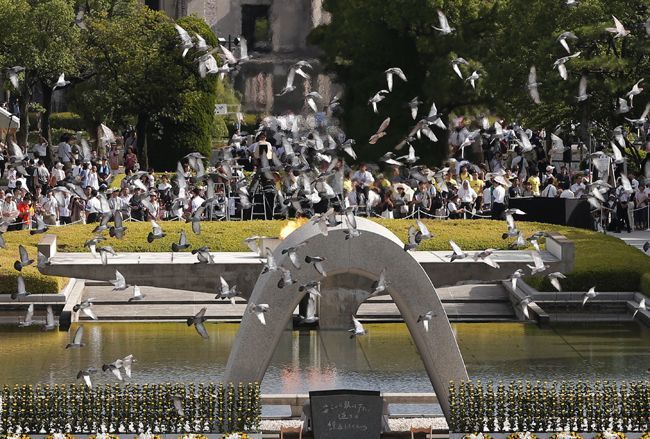 Doves fly over the cenotaph dedicated to the victims of the atomic bombing at the Hiroshima Peace Memorial Park during the ceremony of the 67th anniversary of the bombing, in Hiroshima, western Japan, Monday, Aug. 6, 2012.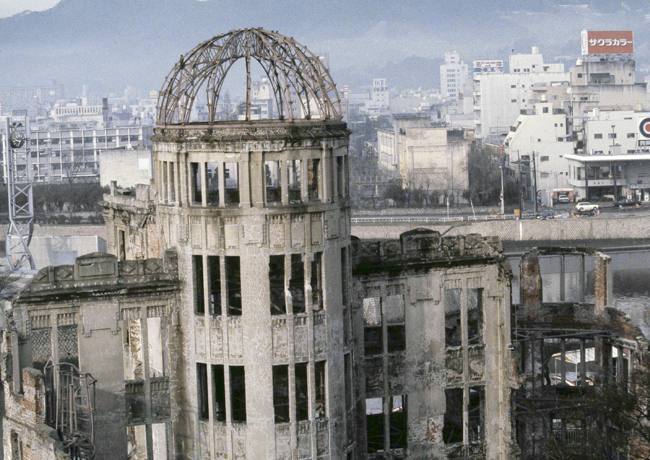 Shattered hulk of a domed office building marks the epicenter of the atomic blast that destroyed the city of Hiroshima in August, 1945. The port city was rebuilt completely after the war with the exception of this building, which was left standing as a memorial. Image was taken in December 1980.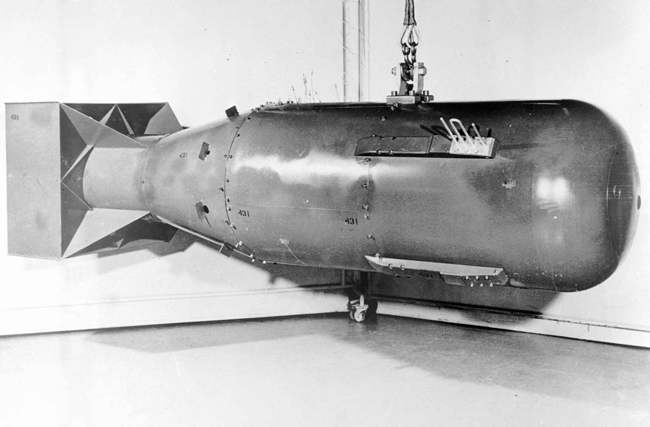 This is a photograph released by the U.S. government in 1960 that shows the Little Boy atom bomb, the type detonated over Hiroshima on Aug. 6, 1945. The bomb was 29 inches in diameter, 126 inches long and weighed 9,700 pounds with a yield equivalent to 20,000 tons of TNT explosive.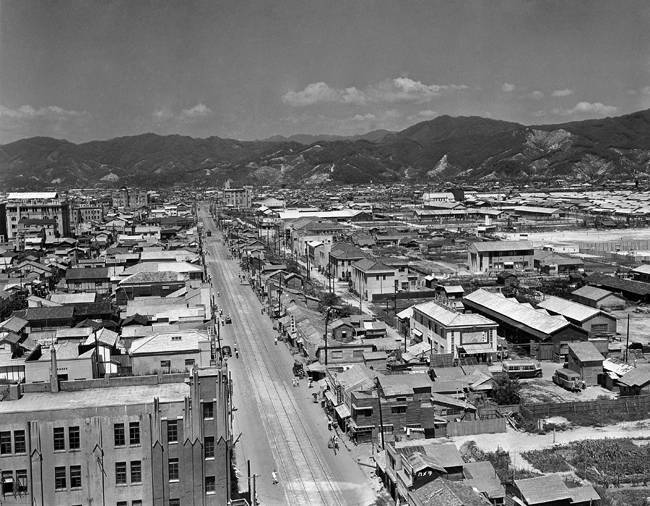 Scenes of bird-eye-view of the city looking toward to the center of the bomb drop in Hiroshima, Japan on August 5, 1949.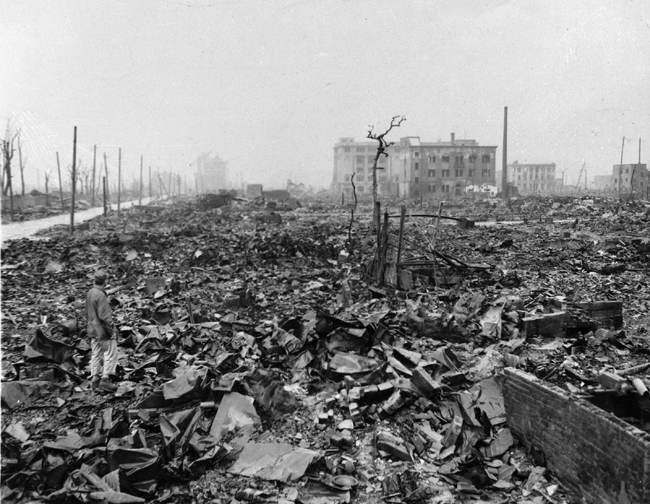 In this 1945 file photo, twisted metal and rubble marks what once was Hiroshima, Japan's most industrialized city, seen some time after the atom bomb was dropped here.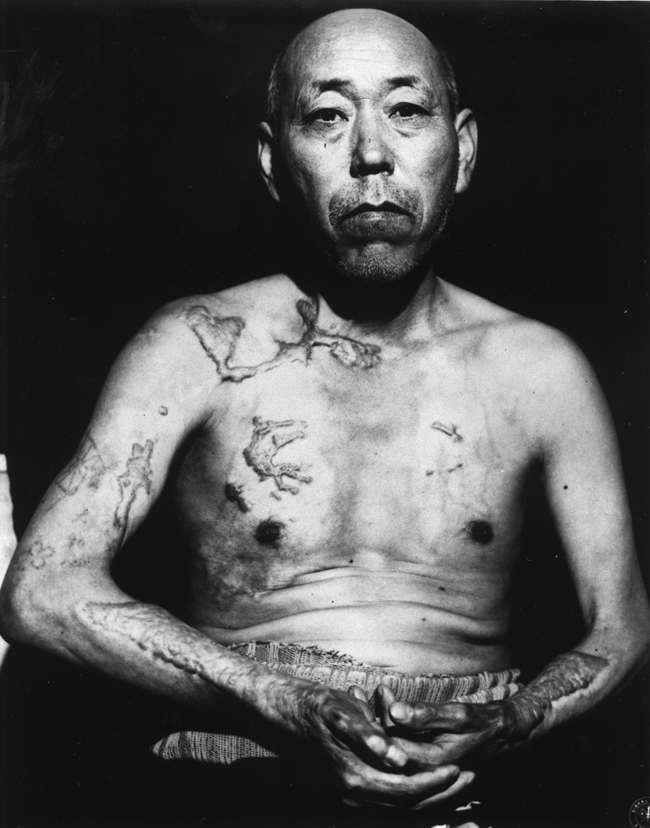 A survivor of the first atomic bomb ever used in warfare, Jinpe Teravama retains scars after healing of burns from the bomb explosion, Hiroshima, in June 1947.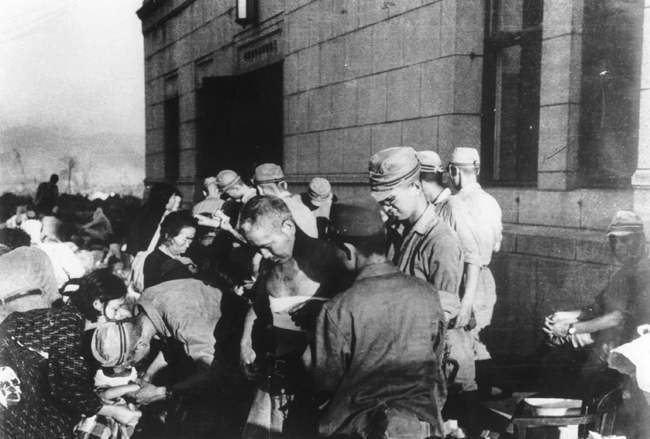 Shortly after the first atomic bomb ever used in warfare was dropped by the United States over the Japanese city of Hiroshima, survivors are seen as they receive emergency treatment by military medics, on Aug. 6, 1945. The explosion instantly killed more than 60,000 people, with ten of thousands others dying later from effects of the radioactive fallout.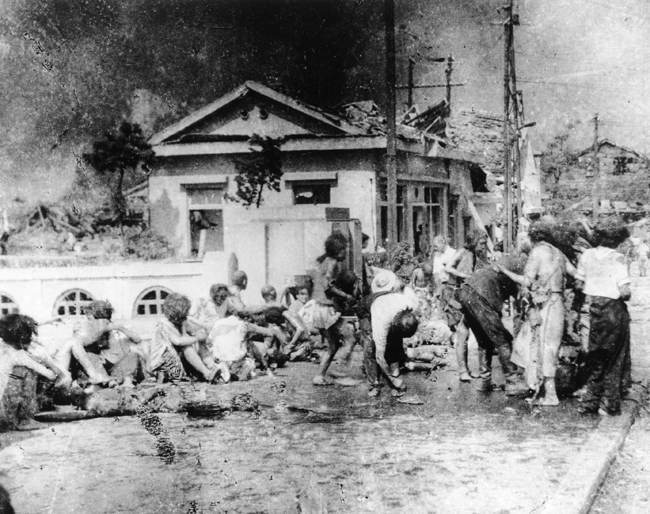 Survivors of the first atomic bomb ever used in warfare are seen as they await emergency medical treatment, on August 6, 1945,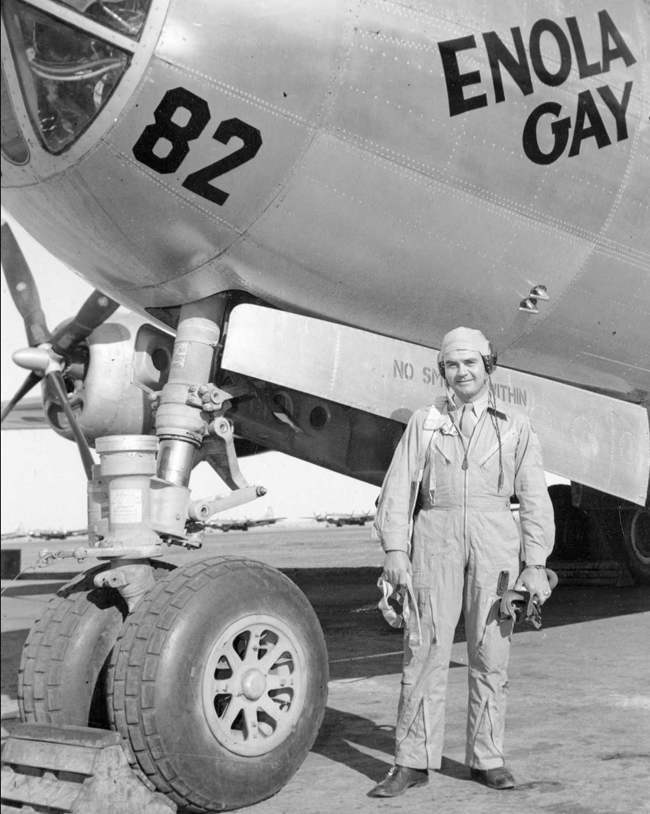 Col Paul W. Tibbets Jr. 31 of Orlando, Fla stands beside his famous B-29 superfortress "Enola Gay", which he named for his mother, and which he piloted over Hiroshima last August 6, 1945 to drop the historic atomic bomb, destroying most of the city. Col. Tibberts, with three others of the original crew, brings the "Enola Gay" to New York on a mission for the U.S. Army Recruiting Service. The plane will remain on public exhibition for several days, and the crew will participate in the Army Day parade down Fifth Avenue on Saturday, October 6, 1945.