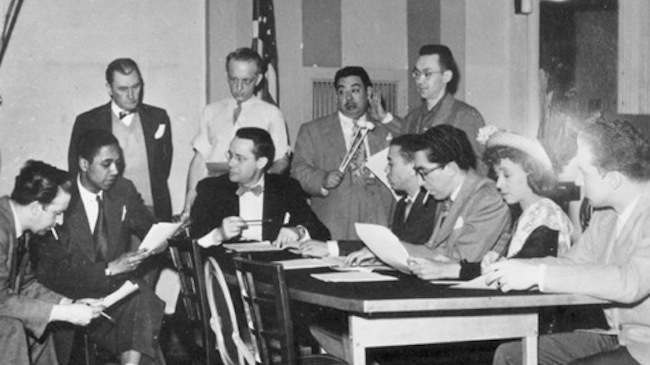 DESTINATION Freedom  was a politically driven half-hour radio drama that gave a voice to African Americans. The blacks were portrayed on TV and radio as one dimensional dullards, slackers, idiots, criminals and simpletons with no history. This radio series would show America's tens of millions of black people the blacks they recognised. Storytelling would do more than any number of lectures to show the real face of America's underclass.
Destination Freedom began in 1948, and ran for two years. African American dramatist Richard Durham wrote all 91 episodes. His characters were rounded. They were "rebellious, biting, scornful, angry, and cocky, as the occasion calls for".
Photo: The cast of Destination Freedom at a rehearsal, 1949.
Two episodes stand out are:
The Heart Of George Cotton (The story of Doctor Ulysses Grant Dailey)
Original Air Date: August 8, 1948
Episode Number: 7
The human heart has a voice. It speaks for all hearts. This is masterful writing:
And:
Destination Freedom – Little David (Joe Louis)
Tonight's Story "Little David" (The story of Joe Louis)
Original Air Date: October 10, 1948
Episode 16.
The hero told form the black man's viewpoint:
The writer: