The Ghost of Christmas Presents Past: Number one: The K-Tel Record Selector
BACK in the heyday of vinyl records, when chart-topping singles regularly sold a quarter of a million copies and sometimes considerably more, there was also a thriving cottage industry knocking out albums of cover versions.
The session musicians would assemble in the studio and, with no time for rehearsal, bang there way through a dozen or so hits from the current charts. (Famous names to have earned an honest crust in this way included Elton John and David Bowie, to name but two.) The most famous brand was the cheekily named Top of the Pops (cheeky because the records had no connection to the popular TV show of the same name).
The sleeves were as trashy and formulaic as the record inside, and always featured a scantily-dressed "dolly bird" in hot pants, mini skirt, or a T-shirt tugged down just far enough to preserve a modicum of decency. (One rival series bizarrely dressed their girls in football kits – it was a funny old game in them days).
Then everything changed. The people at K-Tel, a Canadian company that started out selling non-stick frying pans, decided to enter the pop music market, and began putting out pile'em-high-sell'em-cheap albums of hits by the original artists.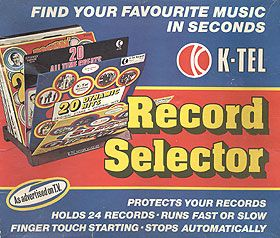 In 1972, the first of these appeared in Britain: 20 Dynamic Hits. It stretched the definition of the word "hits" (some tracks had barely troubled the UK charts) and was far from dynamic (the tracks were crammed in to fit on an LP, resulting in a weak, tinny sound). But it was value for money, and if there was one thing the British public loved in those cash-strapped days, it was a bargain.
Before long there was a "volume two" and "volume three" and other companies such as Arcade were getting onto the act, with albums full of genuine stars like Slade and T Rex. The discs began to stack up by the radiogram, and before long there was hardly room for the magazine rack, budgie cage, six free-standing ashtrays and imitation leather pouffe.
Fortunately the people at K-Tel were one step ahead, and had considered not only the question of space, but also the logistical nightmare of locating the desired disc. Solution: The K-Tel Record Selector. It held an impressive 24 albums, and its machinery (with "finger touch starting" that "runs fast and slow") allowed you to flick through them and stop "automatically" at the required chart-busting selection. "FIND YOUR FAVOURITE RECORD IN SECONDS," they promised, and they were right.
Three years later the record Selector was re-launched as Disc-O-Selector, with a more mellow selection of discs on the box, and the phrase "Holds 24 LPs" in four languages, each easily identifiable by its national flag. In the following year's Bond film, The Spy Who Loved Me, Roger Moore begins a seduction scene by casually flicking the controls of a Disc-O-Selector and plucking out a copy of "Trumpets-A-Go-Go" by James Last.
It's called style.