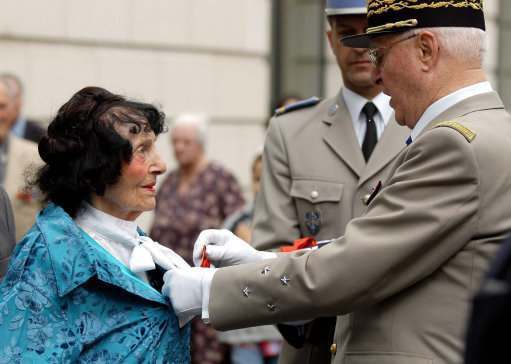 Andree Peel RIP. Andree Peel was the heroine of the French resistance who saved more than 100 lives.
She died at the age of 105.
Known as Agent Rose, Andree Peel helped British and US pilots escape from occupied Europe during the second world war.
She received the Legion d'Honneur from her brother, French General Maurice Virot.
Andree Peel died in Bristol. She had moved to England after meeting future husband John Peel.
Before that she was working in her beauty salon in Brest when the Germans invaded. She worked for the Resistance, guiding Allied planes to land and take off and helping fighters escape.
In 1944, Andree Peel was arrested in Paris. She was sent to the Ravensbrück concentration camp. Then to Buchenwald. Her life was saved by US soldiers arriving at Buchenwald. The Germans had lined her up in readiness to be murdered.
Mrs Andree Peel dies a true heroine. Read her story in Miracles Do Happen – Miracles Existent!