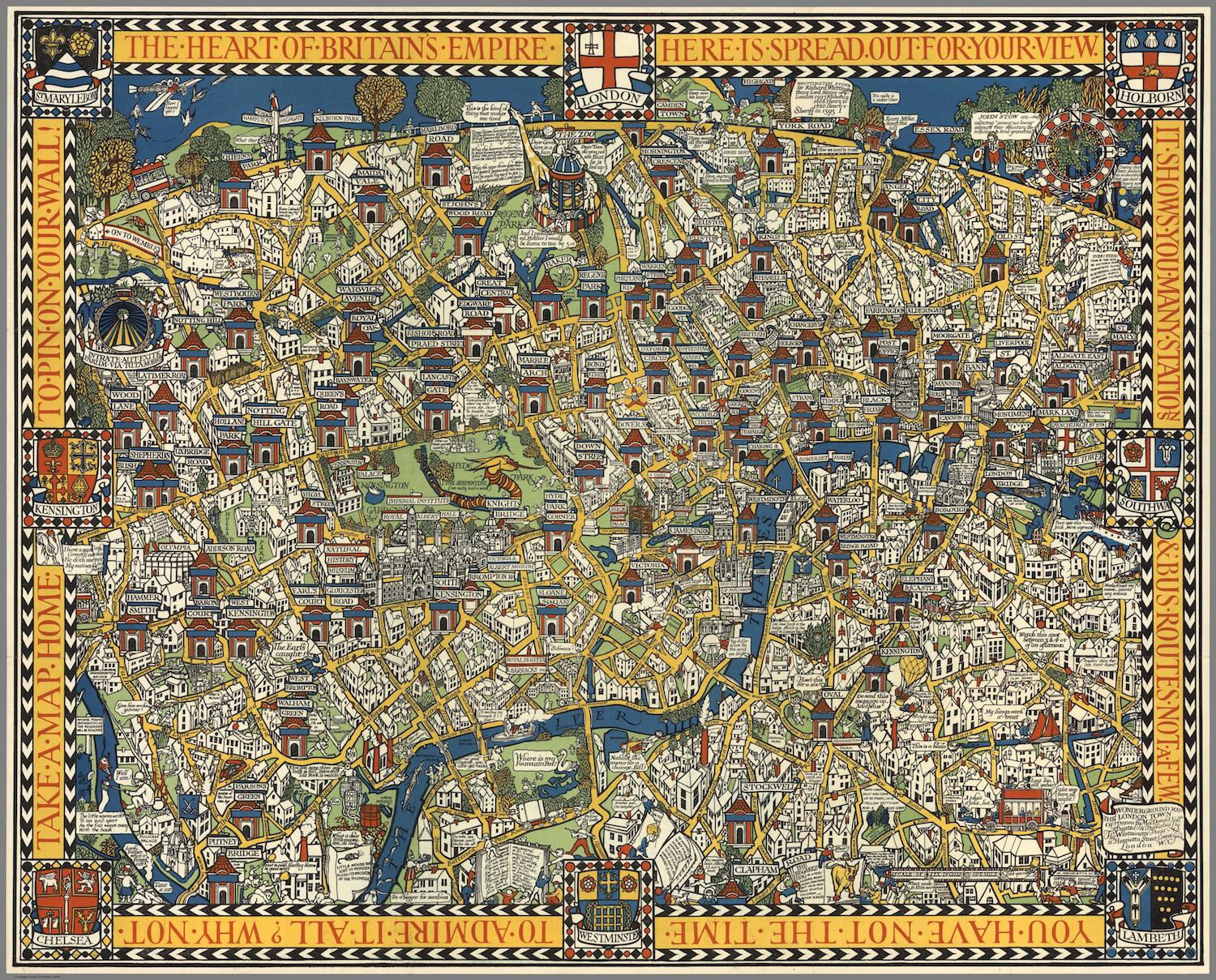 In 1863, the Metropolitan Railway, the world's first underground train line opened London. After other companies opened their own routes, operators "agreed on a joint marketing strategy in 1908 that featured the now familiar logo with a red disk and the word 'Underground.'"
Now a map was needed, one that would inform and entertain travellers. The map would encourage people to use the Underground not only to travel to and from work but to explore the city at weekends and the evening. Use the Tube and you could travel back and forwards in time.
Elisabeth Burdon writes:
In 1913 British architect and artist MacDonald Gill (1884-1947) was commissioned by the management of what is popularly referred to as "The Underground" to create a poster-sized map of central London featuring, prominently, the city's numerous "Tube" stations. Gill's cartoon-styled map was part of a finely tuned advertising campaign promoting the concept of easy access by public transport to all the marvels of the bourgeoning metropolis. The following year the map, having been widely displayed in Tube stations in poster format, was put on sale in a slightly reduced size.  The text on the map's pictorial envelope refers to the folded map within as "The Famous Wonderground Map of London Town", testifying to the poster's immediate success in capturing the popular imagination.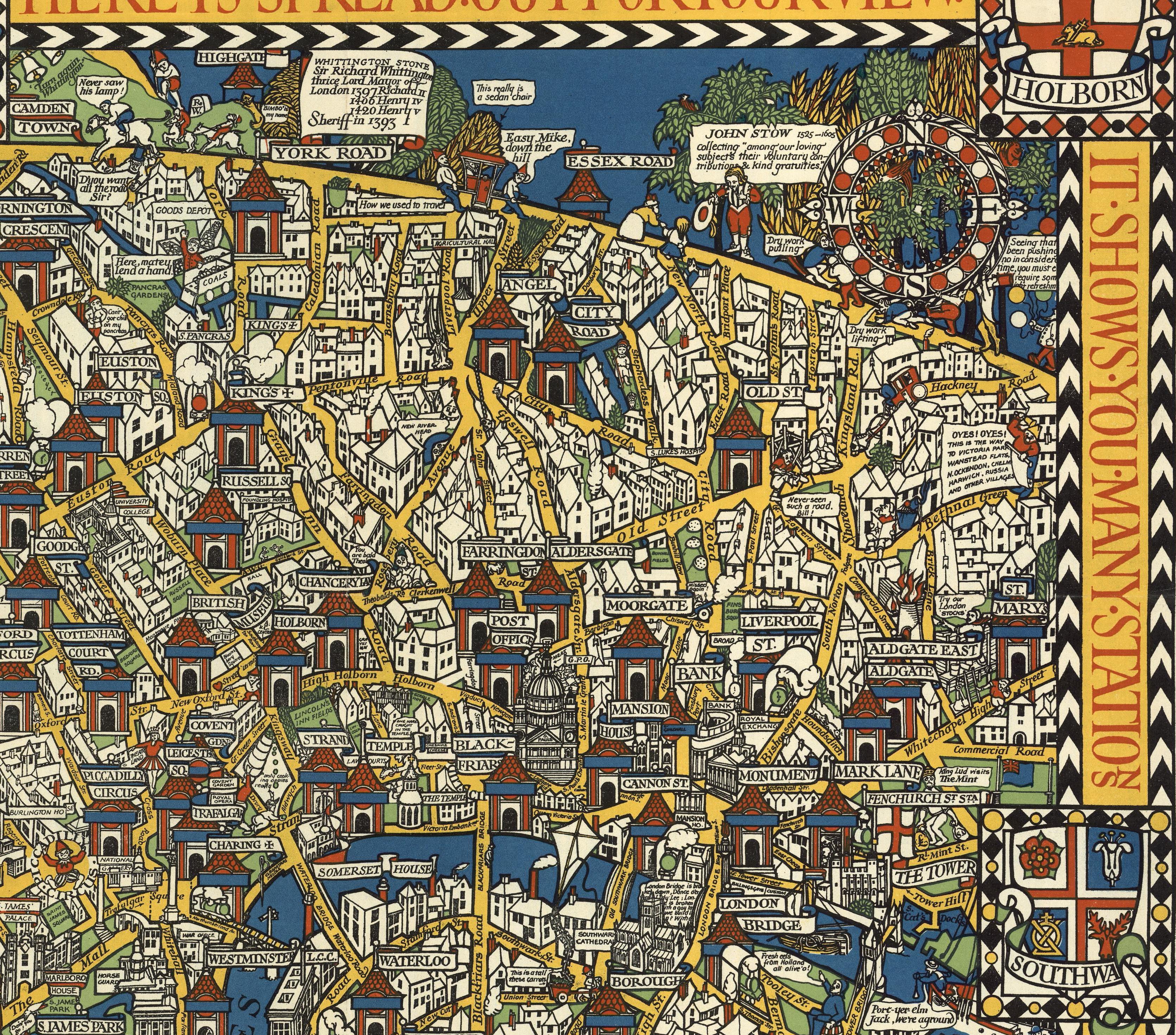 At the turn of the twentieth century the greater London network of bus, tram and underground railways was gradually being absorbed by large consortiums, one of which was the Underground Electric Railways Company of London, whose operations saw a rapid expansion between 1912 and 1913. At that time Frank Pick, a lawyer by training from the north of England, was the commercial manager and responsible for marketing. Pick saw the importance of turning the firm's loosely connected routes into an integrated transport system, making it, and by extension the city, a comprehensible entity, while simultaneously using the power of suggestion (new places to see…new things to do) to generate increased ridership in off-peak hours, holidays and weekends.
In 1913, MacDonald Gill, the younger brother of artist and sculptor Eric Gill, was embarking on what was to be a richly diverse career embracing architecture, mural painting, illustration, typography and design. His commission that year to design the Wonderground Map (the first of seven poster maps that Gill designed for the Underground Electric Railways Company between 1913 and 1932)(3) while propelled by commercial motives, reflects an overarching aesthetic Gill shared with Pick; specifically, a belief in the social importance of integrating superior design in the manufacture of commercial goods, a concept rooted in the philosophy of John Ruskin and expressed in the Arts and Crafts Movement.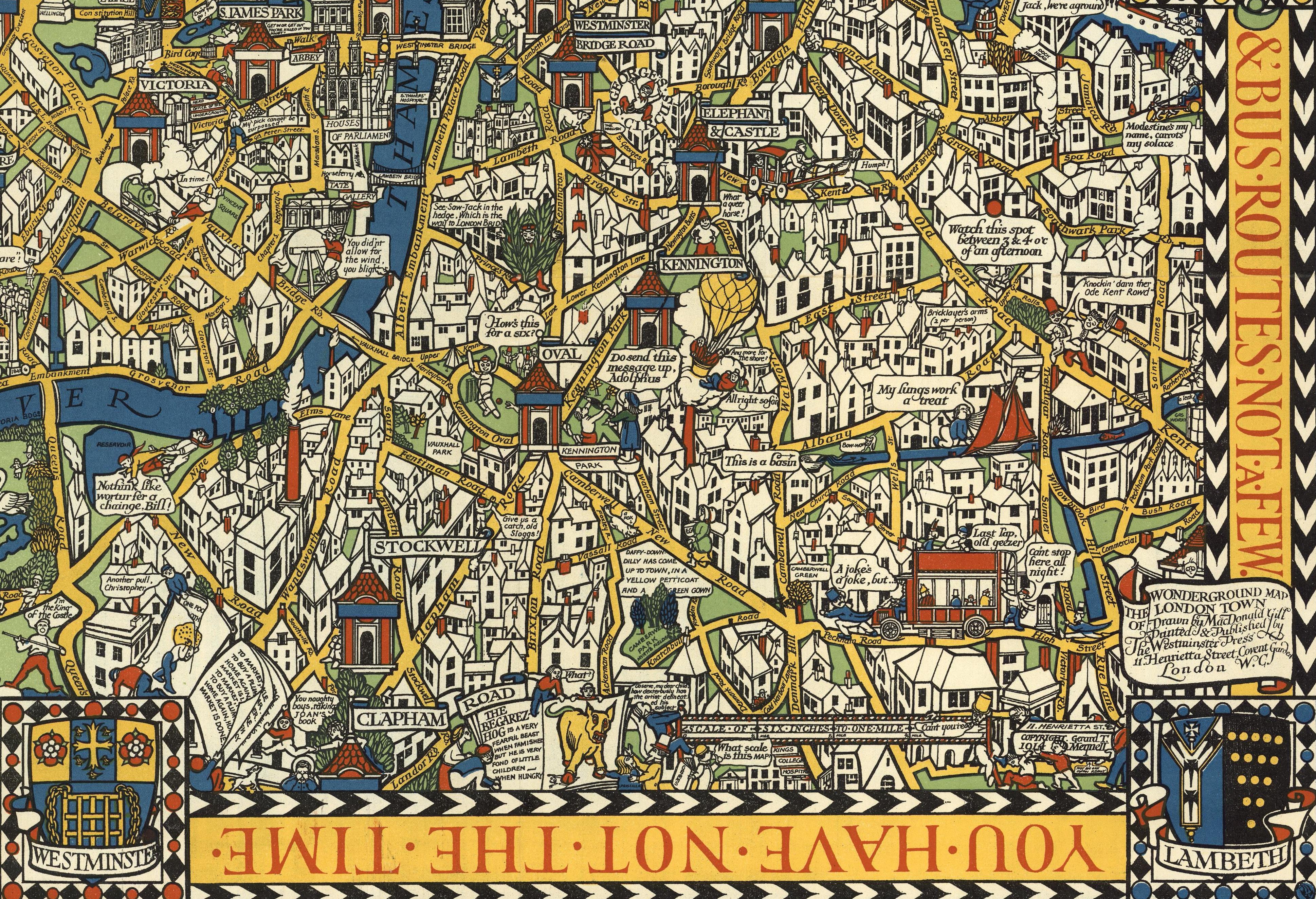 Via David Rumsey