I Cefalopodi! Neapolitan Cephalopods in both magnificent color and black and white by Comingio Merculiano (1845- 1915), a professional watercolor painter hired in 1885 by Anton Dohrn (29 December 1840 – 26 September 1909) as in-house illustrator for the Naples Zoological Station.
He has been one of the best scientific illustrators of all times and this book on cephalopods is probably his masterpiece.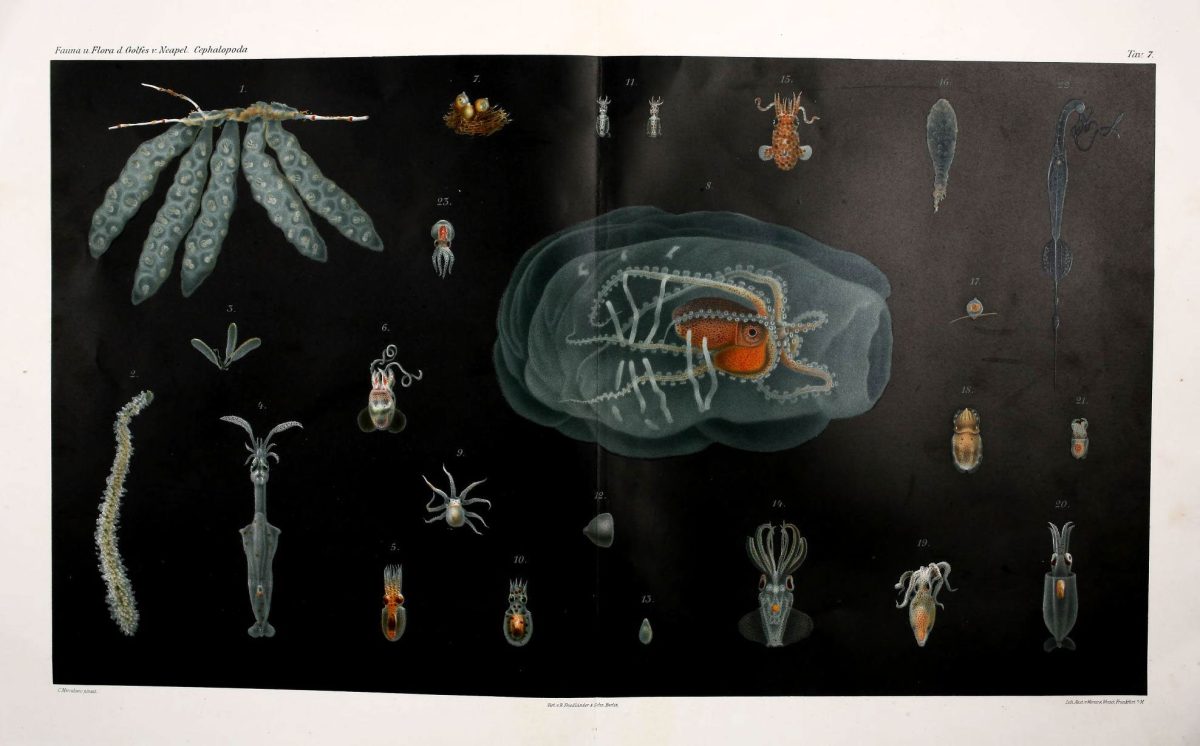 The entire volume of I Cefalopodi Viventi nel Golfo di Napoli (Sistematica) (1896). form the 23rd monograph in the series Fauna and Flora of the Gulf of Naples, published by the Stazione Zoologica. Written by Giuseppe Jatta, the ok features Cephalopods found in the Mediterranean Sea.
'The Fauna and Flora series was the brain child of Anton Dohrn, prominent German Darwinist and founder of the Stazione Zoologica in Naples.," writes Grace Costantino. 'In the winter of 1868, Dorhn and his colleague Nicholai Miklukho-Maklai conceived of the idea of a global network of zoological stations, in which scientists could visit various stations around the world, collect material, and conduct research in ready laboratories."
Starting with the Stazione Zoologica di Messina, the lack of a library forced Dohrn reo relocate to Naples in 1870, close to a large university. Inspired by the location, Dohrn begane work on the Fauna and Flora of the Gulf of Naples project, 'assigning groups of marine organisms to subject experts with instructions to write a monograph on each of the assigned groups. Each monograph was to deal with the morphology, development, systematics or ecology of the topic assigned. Disappointed by the quality of scientific illustrations accompanying many of the monographs, Dohrn also hired professional artists to create illustrations for the works.'
As Dohrn explained in v. 48 of Nature,
"I wished to lay great stress upon illustrations. In looking over the existing iconography of the lower marine animals, and comparing them with those of the terrestrial animals, the inferiority of existing illustrations of the former was apparent, and especially as regards the reproduction of the colouring of the living marine organisms. Colour in animals may have relatively little scientific interest compared with structure, nevertheless it has a meaning, and its good reproduction facilitates greatly the recognition of the species. Besides, practical reasons spoke very much in favor of good coloured illustrations as a means to facilitate the sale of the monographs, which were to be published on subscription, and as the safest way for covering the great expenses which were to be incurred."
In 1885, Comingio Merculiano started to work on the project.