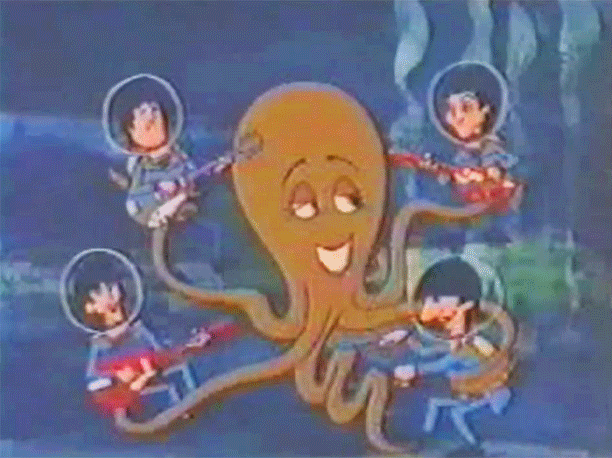 THE Beatles cartoon was produced from 1965 to 1969, airing on ABC in the US. The first of the 39 episodes debuted on the morning of Saturday September 25, 1965. Each episode has a name of a Beatles song, with the story based on its lyrics.
You can watch the entire series on YouTube. 
Josh Jones:
Before they escaped pop stardom and retreated to the studio to record their psychedelic masterpieces, the Beatles received every possible commercial treatment, from lunchboxes and cereal bowls to jigsaw puzzles, lampshades, and a Ringo Starr bubble bath. Perusing an online auction of Beatles merch is a bit like touring Graceland…
The band themselves had almost nothing to do with the show, other than appearing in an odd promotion. Trading entirely in broad slapstick comedy of the Scooby-Doo variety, the show saw the four mates tumble into one goofy situation after another, some supernatural, some musical, some theatrical. Although all natural performers themselves, no Beatle ever voiced his character on the show. Instead, American actor Paul Frees, as John and George, and British actor Lance Percival, as Paul and Ringo, imitated them, very badly. The Beatles cartoon show aired at a time when the kids TV landscape was just beginning to resemble the one we have today, with ABC competitor CBS running superhero shows like Space Ghost, Superman, and Mighty Mouse, but the surreal plots and musical numbers on The Beatles were an attempt to reach adults as well.
Miles Raymer:
The whole point of the show seems to have been to find a way for its producers to make use of a contract to use actual Beatles recordings, but there's a certain surreal charm in its disregard for quality. While Ringo has at least a tinge of Liverpudlian lilt in his speech, the other Beatles sound nothing like themselves: the cartoon Paul sounds more posh than the actual one and John sounds like Stewie from Family Guy, while George's accent doesn't resemble any actual real-world way of pronouncing things. (Both John and George were voiced by the same guy who did Boris Badenov on Rocky and Bullwinkle.)