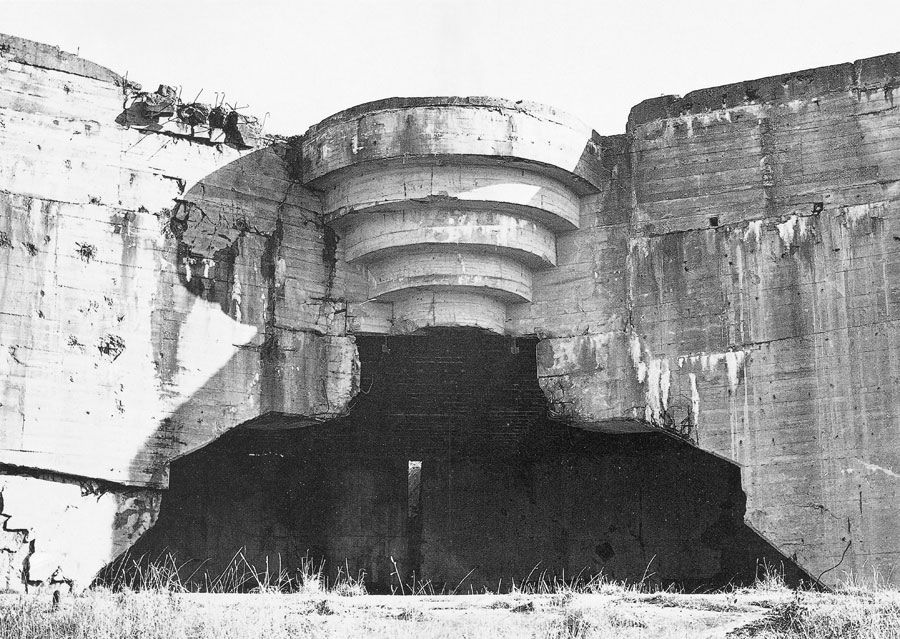 Between 1942 and 1945 the Germans defended the west coast of France, the Netherlands, Norway, Belgium, Denmark and the occupied Channel Islands, (particularly Alderney, Jersey and Guernsey) from the threat of Allied invasion with a string of concrete forts, barriers and gun emplacements. More than 1,500 of these hulking grey structures were built by slaves, PoWs and non-German volunteers. Together they were known as 'The Atlantic Wall' (Atlantikwall). The wall stretched along 2,685km (1,670 miles) of coastline. This was the Germans' Fortress Europe. This was the architecture of death. Paul Virilio photographed these relics of World War 2 for the 1975 book Bunker Archeology.
The strongest defences were around the French ports which Hitler viewed as the most likely targets of an Allied invasion. Dubbed the Iron Coast, these defences were circumvented by the D-Day invasion on the Normandy beaches where the defences were weaker. The Atlantic Wall was breached in a day. – BBC
Rene-Georges Lubat, 91, is one of the few Frenchmen who worked on the Wall who is still alive. In 1942 he was "volunteered" by his village mayor and sent to work on defences in the Arcachon sector.

"There was no choice about it. We had to go," he said. "Naturally we weren't enthusiastic, but it is not as if we had any choice.

"The conditions were not terrible. We weren't beaten or anything and we got a basic wage. At the start we could go home on Sundays, but after Stalingrad they put up barbed wire and we were stuck inside the work camp.

"Of course we knew we were building defences for the Germans, and it felt bad. I remember at the end of the war, my two brothers came home. One had been a prisoner, the other a deportee. I felt so bad I did not want to go to the party celebrating their return.

"But I do think the wall should be preserved now. It is important to remember what happened – the ignominy of it all, the cataclysm that we had to endure." – BBC
From the rooftop barbette I looked along Utah Beach towards an identical blockhouse 800 yards away, and beyond that to the faint silhouette of a third. The Atlantic wall was only part of a huge system of German fortifications that included the Siegfried line, submarine pens and huge flak towers that threatened the surrounding land like lines of Teutonic knights. Almost all had survived the war and seemed to be waiting for the next one, left behind by a race of warrior scientists obsessed with geometry and death.

Death was what the Atlantic wall and Siegfried line were all about.
– JG Ballard
Bunker Archaeology by Paul Virilio.