"This is what it looks like, my child, this world, that is what you have been born into, there are those born to shear and those born to be shorn. That, my child, is what it looks like in this world of ours and that of other countries, and if you, my child, do not like it, then you will just have to change it"

– Friedl Dicker-Brandeis, This Is What It Looks Like, My Child, This World, c. 1933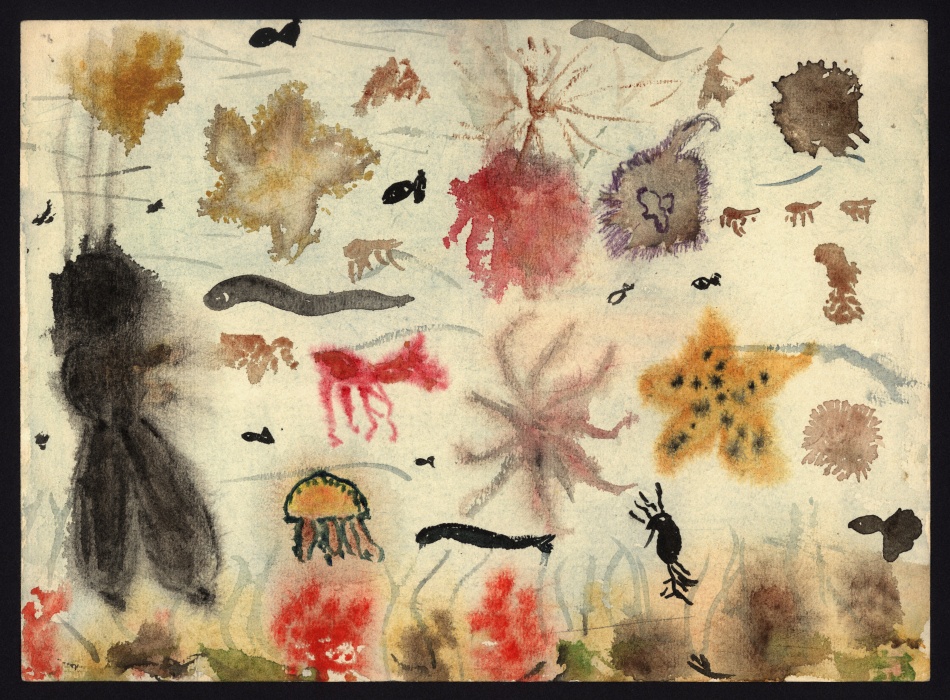 To make some sense of the millions murdered and robbed in the Holocaust, it can help to look at just one moment. The picture you see above was painted in watercolours by Ruth Gutmannová either in 1943 or 1944. She didn't paint it later than that because in 1944, Ruth (13 April 1930 – 6 October 1944) was transported from the Terezín ghetto in German-occupied Czechoslovakia to Auschwitz, where she was murdered.
The Czech fortress town of Terezin (aka Theresienstadt) was first a concentration camp for Czech Jews, and later held Jews from the Netherlands, Denmark, Austria and Germany. Created by the Germans in 1941, the camp also served as a way station to the Nazi extermination camps. From 1941-45, there were 150,000 prisoners there, of which 130,000 died, including 15,000 children
Ruth made her picture during the drawing classes given by her fellow prisoner, the painter and teacher Friedl Dicker-Brandeis (1898–1944). Dicker-Brandeis, a graduate of the Bauhaus school, held art classes to channel the children's creative energy and ease their trauma.
Those who survived the horror when the camp was liberated by the Red Army, called her "the mystery of beauty" and "the mystery of freedom". One of her former students, Erna Furman (June 14, 1926 – August 9, 2002), wrote in a letter to Elena Makarova in 1989:
"Friedl's teaching, the times spent drawing with her, are among the fondest memories of my life. Terezin made it more poignant but it would have been the same anywhere in the world… Friedl was the only one who taught without ever asking for anything in return. She just gave of herself."
In September 1944, Friedl's husband Pavel was transported to Auschwitz. Friedl asked to join him. Before leaving, she gave Raja Engläderova, the manager of the L 410 girls' home, two suitcases with 4,500 drawings made in her classes so that they could try to keep them safe.
Friedl Dicker-Brandeis was 46 when she was murdered at Birkenau on October 9, 1944.
After her death, the thousands of drawings made in her classes were found. Most of them are now in Prague's Jewish Museum. Of the approximately 660 child artists, 550 were murdered in the Holocaust