"How did they ever make a movie of Lolita?" asks a tagline to the 1962 film version of Vladimir Nabokov's book, directed by Stanley Kubrick.
Lolita was played by Sue Lyon (born 10 July 1946), an actress who'd caught Kubrick's eye whilst appearing on The Loretta Young Show. The great director asked her to audition for the role of Lolita. She looked the part, even if her feelings for the character were based more on pity than awe, as Sue opined: "I feel sorry for her. She's neurotic and pathetic and only interested in herself."
Well, as Nabokov the lepidopterist put it, his was a story "of the forbidden, of humiliation and compulsion".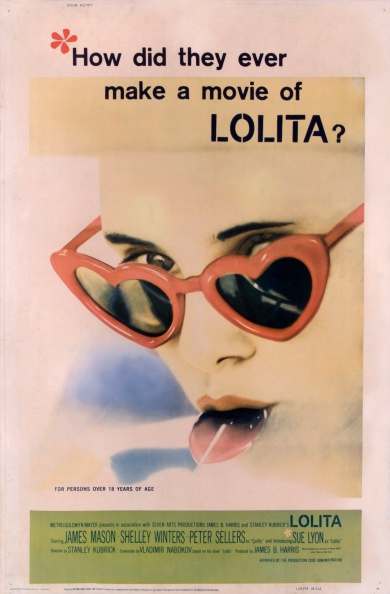 Kubrick explained his pick:
She was actually just the right age. Lolita was twelve and a half in the book; Sue Lyon was thirteen. I think some people had a mental picture of a nine-year-old. I would fault myself in one area of the film, however; because of all the pressure over the Production Code and the Catholic Legion of Decency at the time, I believe I didn't sufficiently dramatize the erotic aspect of Humbert's relationship with Lolita, and because his sexual obsession was only barely hinted at, many people guessed too quickly that Humbert was in love with Lolita. Whereas in the novel this comes as a discovery at the end, when she is no longer a nymphet but a dowdy, pregnant suburban housewife; and it's this encounter, and his sudden realization of his love, that is one of the most poignant elements of the story. If I could do the film over again, I would have stressed the erotic component of their relationship with the same weight Nabokov did. But that is the only major area where I believe the film is susceptible to valid criticism.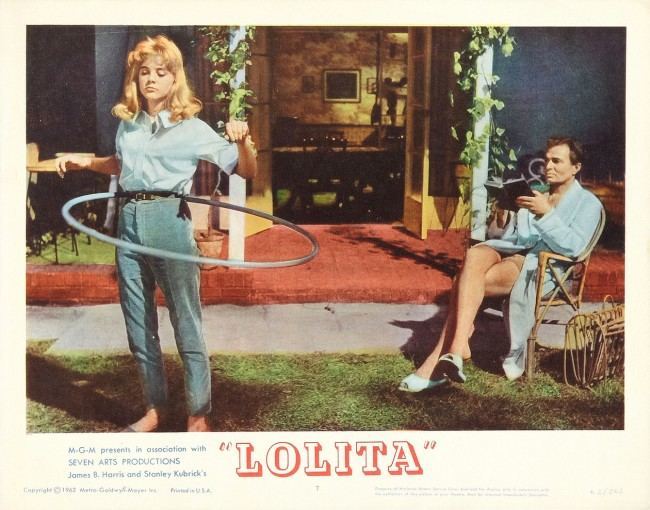 Lyon had to promote her work, as all good Hollywood stars must. The publicity photographs would sell the picture and pull the crowds. Surely they would come to watch the film version of the book Britain's Sunday Express newspaper had called "utterly disgusting… Sheer unrestrained pornography", before adding a final call-to-purchase for any avid reader still undecided, "It is published in France." Form an orderly queue. No fidgeting.
When the book went on sale in the USA,  6,777 copies were sold in four days. Over the next three weeks, 100,000 hardbacks were purchased. "I've put off reading Lolita for six years," reasoned Groucho Marx, "till she's 18."
So how do you promote the film of the book in the best possible taste? Not easy – as the illustrations used to illustrate the novel's various print runs show, the work is open to interpretation and the age's mainstream mores. The lobbycards could feature all the movie's stars. But the film's poster had to feature Lolita.
As Paige Sterling writes of the collection below, "Most of these promotional shots for the movie were deemed to risque for publicity purposes, although some shots were used in Look Magazine."