Jim Walrod, who has died aged 56, occupied a unique position in the world of international design.
A collector, curator, writer and sometime retailer, as well as an interior designer and locator of unusual and one-off furniture and lighting pieces for a diverse selection of celebrity and private clients, the rangy, sandy-haired Walrod cut a singular figure.
Enthusiastic, informed and slyly humorous, Walrod was founder with Jack Feldman and Fred Schneider of the B-52s of New York's important 90s/00s store Form & Function and described as "the ultimate design raconteur" by hotelier André Balazs.
To Mike D of the Beastie Boys he was "the furniture pimp", an accolade won in part for having sourced Memphis designs for David Bowie (Jim revealed to me just a few weeks ago that some of these Italian PoMo pieces came via Tommy Roberts, subject of my book Mr Freedom).
It was Walrod who contributed to the lovingly-realised 1970s interiors in Ang Lee's The Ice Storm. He also catered to the tastes of interior-design clients ranging from Silicon Valley moguls to super-stylist Mel Ottenberg and had latterly become a contributor to the "post-materialist" biannual apartamento; I recommend you read his interview with Richard Hell.
A keen Instagrammer, Walrod was one of the prime movers behind the creation of the Dear Ivanka action group, which has attempted to persuade President Trump's daughter to use what powers she may have to influence the wretched creature wreaking havoc from the White House.  And Walrod had ended every one of his own posts with #fucktrump since the election last year.
 
The auto-didact Walrod also possessed an apparently exhaustive knowledge of the minutiae of architecture, design, fashion, music and pop culture, particularly where those subjects pertained to his beloved New York. This was condensed into bite-sized chunks in the rightly acclaimed 2014 volume I Knew Jim Knew.
Walrod was born in Jersey City, New Jersey on August 25, 1961. "That date may be a shock to some," writes his sister Kathy, a lawyer and retired municipal court judge. "Jim truly used to tell our mom that he was born in 1968, because nothing interesting happened until that year. She claimed to be 'elsewhere on 8/25/68'."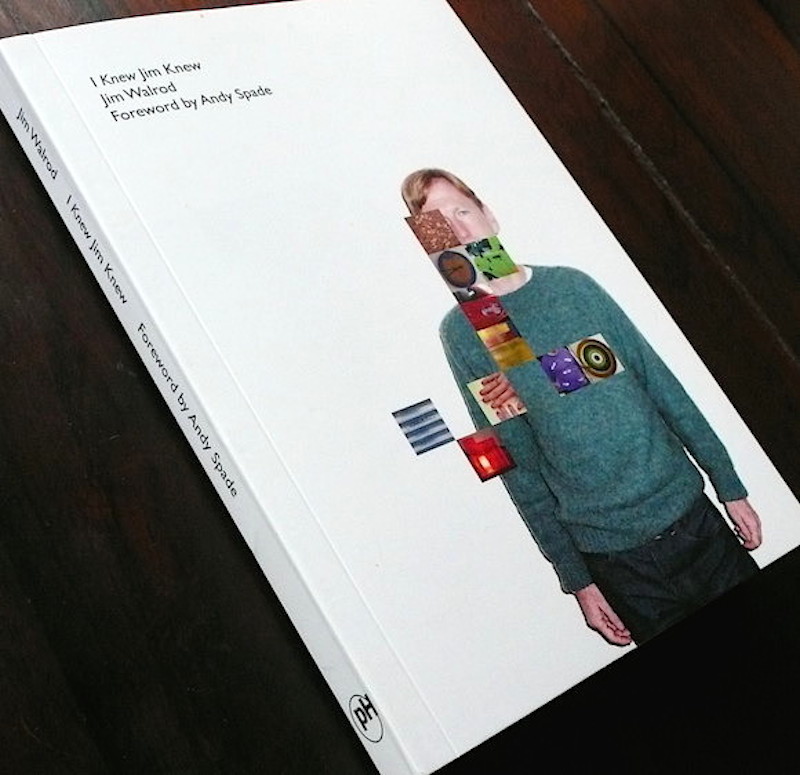 Father Donald was an engineer for Verizon and mother Joan worked in the Sheriff's Office in Hudson County, becoming the first woman to hold the assistant sheriff position in the state.
"My mother was a champion of Jim's work and passion in every way, going to every show, listening to the history of every piece of furniture and work of art," says Kathy Walrod. "No matter how many walls he hit early on, she encouraged him to continue to go for what he wanted."
 
 
Understanding her children had different interests and talents – "one bookish and one wildly creative" in Kathy Walrod's words – Joan Walrod insisted they attend separate schools "to prevent teachers from comparing us to each other and to allow him to be him. He struggled with 'normal' lessons and became self-taught, reading what interested him: design biographies, history, architecture, things not taught in Catholic grammar school. He wanted to create and see what he read and the only way to do that was to go to New York. So, at 13, 14, he visited museums and second-hand stores, talking to people he met on the street, and thrived".

Jim and client Hester Diamond discuss their collaboration on her apartment
After leaving school Walrod worked as a store clerk at Fiorucci's landmark outlet on East 59th Street (none less than Andy Warhol recommended him for the post).
He took up the position after a pivotal experience: when he was 18, Walrod was shot in the leg as a by-stander in a racial dispute between a dry cleaner's shop owner and a customer. "Jim, ever the stickler for fashion, was waiting for his pants to be cleaned and was hit by accident," says Kathy Walrod. "He suffered severe injuries and took almost a year to recover.
"This had two effects on him. He could not abide intolerance or racial prejudice. Seeing someone killed for the colour of their skin fundamentally shook him. We were raised in a diverse city with a wide range of friends and family and attended public high school. The second effect was he was unable to get to NY for almost a year. After that, he vowed never to leave."
And so it was to be. My thoughts are with Jim's family and huge circle of friends at this profoundly sad time.
 
James John Walrod is survived by his sister Kathleen Walrod and her husband Charles D'Amico.
Read Interior Design's interview with Jim about his 2015 exhibition Difficult here.
And Jim is remembered in a heartfelt piece by his friend Diego Hadis – who writes "New York feels less like itself without Jim Walrod in it" – for W magazine here.