You enjoyed our look at British record store bags. So we're bringing you more memories of afternoons flicking though racks of records in your local store. Thanks to Leon at The British Record Shop Archive, we've pulled together a gallery of record shop bags from Scotland.
Please do share your memories of shopping for records. As Leon says, "Record shops were an integral part of the social fabric in local areas. They launched pop stars, record labels, and were focal points for emerging music genres."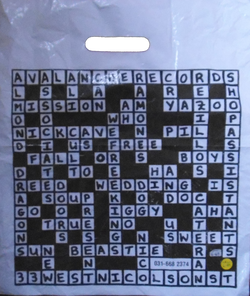 West Nicolson Street, Edinburgh. Essential port of call for the indie fan. It opened in 1983, just in time to stock records by the Shop Assistants, the Pastels and Jesse Garon & the Desperadoes. Used to sell off white labels and Mayking test pressings for pennies each. It moved along the road to bigger premises later, and in the '90s had several branches in Edinburgh and Glasgow. Still trading, its Edinburgh operation is now in the Grassmarket.

I was a regular visitor to the West Nicholson Street branch throughout the early to mid 90's before I moved back South of the border. A very friendly shop. The owner Kevin was always pleasant, I got on well with him , possibly helped by the fact we were both Englishmen living in Scotland. As others have said the shop was very Indie orientated in those days but they always had some decent Rock and Punk vinyl too. I found a lot of stuff there over the years. They were always reasonable on prices for the rare records too. They also had a shop at Dundas Street (where I once got a huge job lot of unused early 80's 7″ and 12″ singles at 50p each from an unsorted stockpile in the back room) as well as a tiny outlet in Lady Lawson Street where I remember finding a Led Zeppelin Four purple vinyl LP for 20 quid. Comment: Gerry.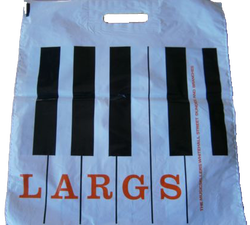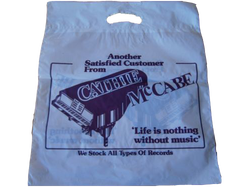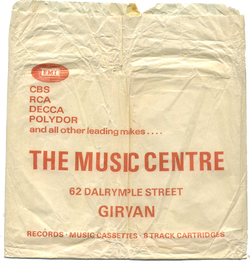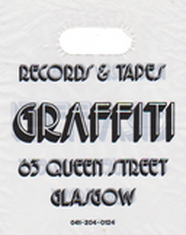 Short-lived and tiny store which few people remember. Was run by a guy from Kirkcaldy – or at least he was a Raith Rovers fan. Comment: Vladimir Lenin.

Yes I remember Graffiti well.It would probably have been the mid to late 70s.I even remember buying my Lps and them being put in the bag(pictured) Comment Gordon Mcreary
The shop was on the same side as Tam Sheppard's joke shoppe,(Still there an institution) they used to have a speaker near the door which blasted sounds into the street. One rainy Sunday in the late 70's I bought a copy of Aladdin Sane still have it, not gate-fold but has the song sheet. I remember the bags being red as well. Comment: Alistair D.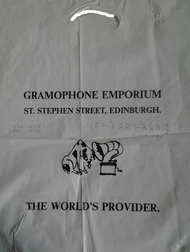 St Stephen Street, Edinburgh. In business since '77. Perhaps of limited interest to this site, as it specialises in 78rpm records and LP reissues of same, but a truly fascinating place to visit. The shop is tiny – it's crowded with three people in it – and packed floor to ceiling with stock. Neil, the guy who runs it, is one of the most helpful people I've encountered anywhere.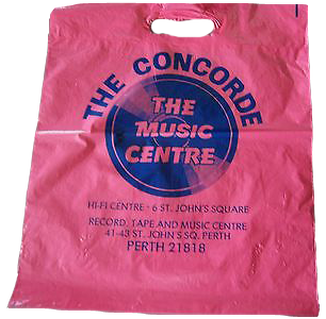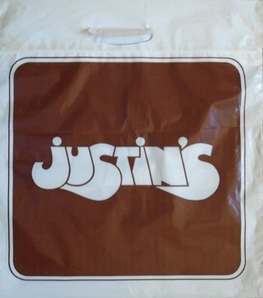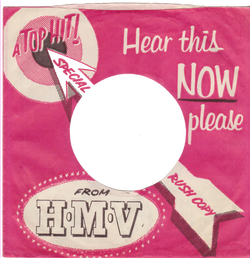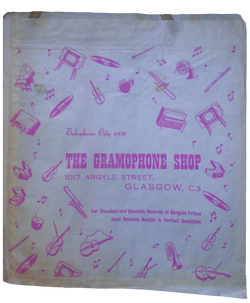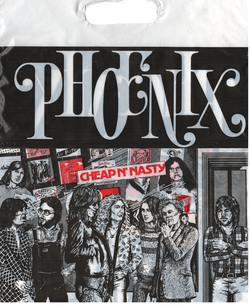 Royal Mile, Edinburgh. Don't remember much about this one, except it had a tiny shop on the Royal Mile (Lawnmarket?) and I think it issued a few 45s on its own label. Certainly gone by 1984. ——

Phoenix was set up by a former employee of Listen in Glasgow, hence the similarities in lettering, colours, even the motto: "Cheap n Nasty". This predated Listen's Edinburgh branch and you wouldn't have been the first to think that Phoenix and Listen were the same company. Tales are told of Listen customers trying to return faulty vinyl there. Comment: Vladimir Lenin

Where Phoenix was metal, Sound Centre / Ripping was punk. This was the place to get your Crass or Dead Kennedys singles, or just to get lost in the vast upstairs collection of thousands of records you'd never heard of. Phoenix was indeed tiny, but a bit further down the Royal Mile – on the corner of Fleshmarket Close, across from the Tron. It was the favoured hangout for metalheads like myself – I remember queuing up to meet Ian Gillan in there, when there was literally no room to move. It was also famous for the acerbic hand-drawn comments and captions attached to record sleeves in the window.Comment: Richard Watt.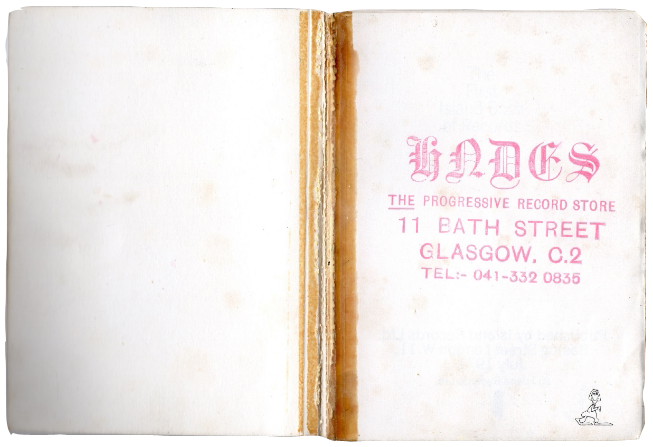 Here's an Island Records catalogue I picked up in Hades in the early seventies…

Downstairs it had these booth type listening areas where you asked them to play you an LP!! by Friedbreed

In Bath Street, in the next block along from McCormicks, was a "progressive"record shop called Hades (previously mentioned). The decor consisted of oranges and purples and the guy behind the counter looked like he could have played in a rock band. For Glasgow, this seemed very bold and It couldn't have been more different from the traditional McCormicks along the road. It had a ground level section and a basement and as you walked down the stairs, you were watched by an enormous poster of Rory Gallagher.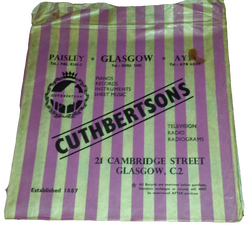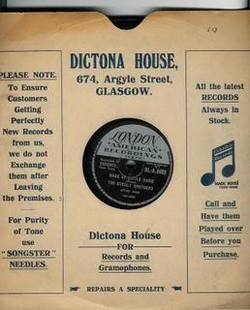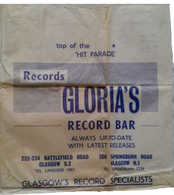 Anyone remember Glorias record bar on Battlefield Road close to Langside Bus garage?I think it might have been Tom Russel (late night rock show fame) who owned it? I also think it moved to Mount Florida early 70's. Comment: Cumbo.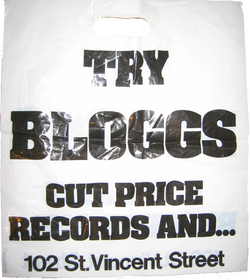 There were two Bloggs stores, both in Glasgow and both owned by Mike and Steve McNaughton of Listen (and latterly Echo) fame. The St Vincent Street branch (pictured, with Micky Rooney at the door) was a goldmine for new wave and indie releases while its ugly-sister shop just around the corner in Renfield Street dealt mainly in disco and easy listening. Comment: Vladimir Lenin.

A great wee shop and where i bought my punk singles! They used to do 6 punk singles in a sealed brown paper bag for £1. A sort of Punk Pot Luck. Comment: Neil Menzies

(June 26,2015) Aye I remeber bloggs well the 6 for a pound bag was great I was a punk back in 77 and loved that record shop and the record shop round the corner called listen I remember they banded punks from going into their shop for a while . Comment: Hammy Hammy.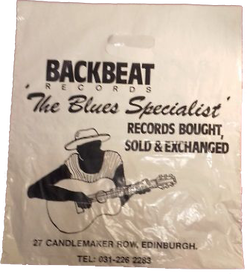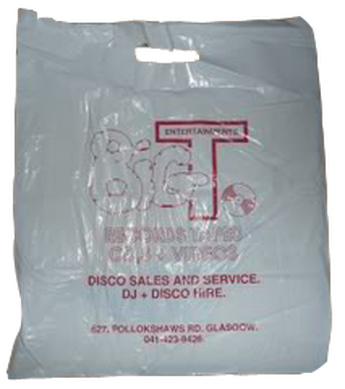 More at the The British Record Shop Archive.