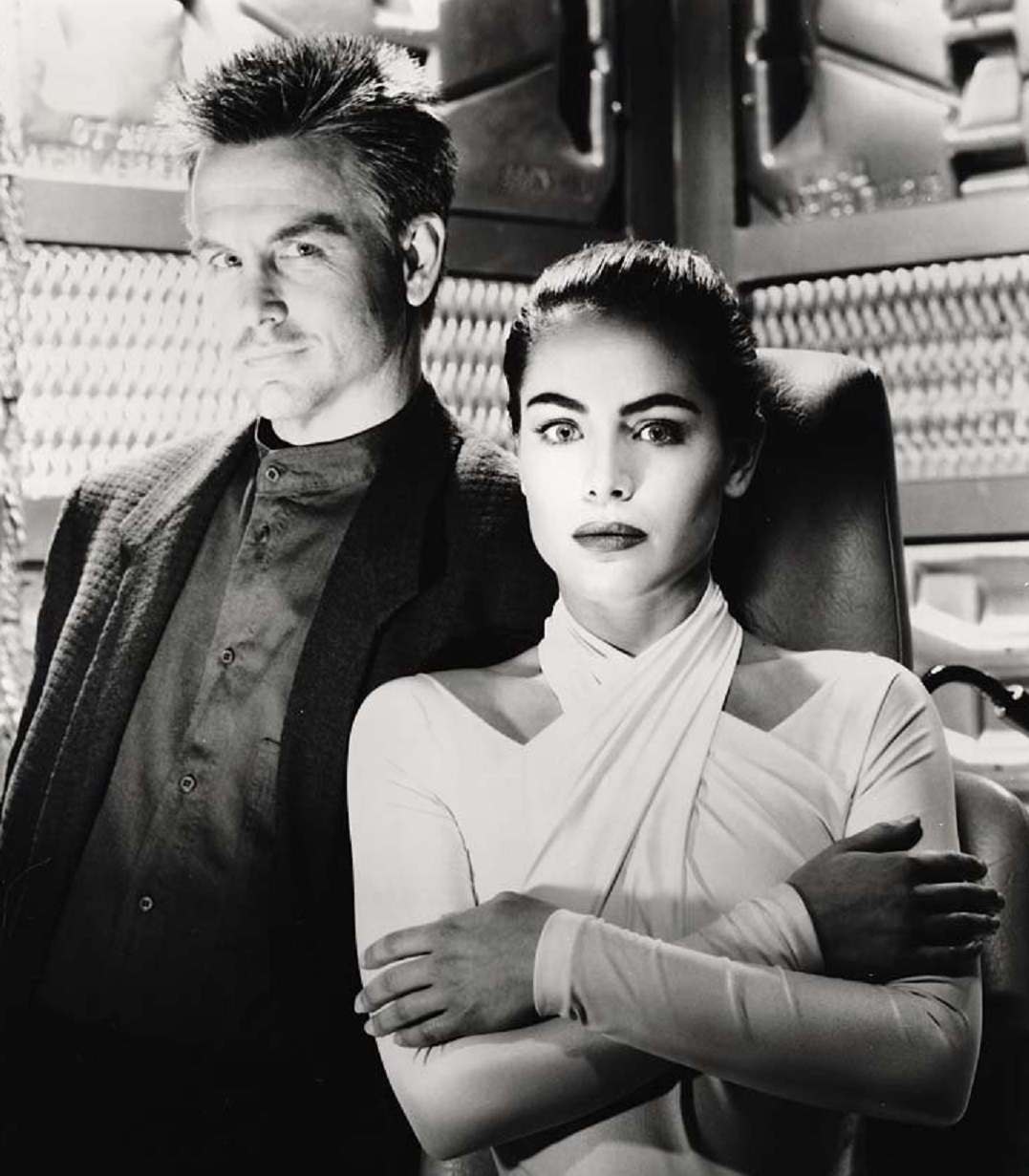 This installment of my blog series about forgotten or obscure sci-fi series remembers 1992 – the year of the Bush/Clinton electoral showdown (which we may get a rerun of in 2016).
In terms of sci-fi programming, the genre was in transition, and still, largely, floundering.  Star Trek: The Next Generation had not yet spawned its first official spin-off (Deep Space Nine), and The X-Files was still a season away.
High-concept programming was the order of the day, but none of it caught on with general audiences.
Mann & Machine
This NBC series from Law and Order creator Dick Wolf aired just four episodes on its original run, before low ratings caused the network to burn off the remaining five episodes in summertime.
Mann & Machine stars Yancy Butler (Witchblade!) as an android police officer, Eve Edison.  This gynoid machine — who is capable of learning and developing emotions — is partnered with a technophobe: hard-boiled detective Bobby Mann (David Andrew).
Working in the 21st century, these partners solve violent crimes in Los Angeles. But this duo also clashes in approach to law enforcement.  Eve is a by-the-book cop, but inexperienced in the nuances of human behavior. Mann, by contrast, bends the rules and is cynical/caustic in his understanding of the human animal.
So, in short, Mann & Machine is a cop buddy show.
This series format may seem familiar to students of sci-fi TV. The concept of a human police officer working with a machine partner has been featured on Holmes & Yoyo (1976), Future Cop (1976), and more recently, in J.J. Abrams' Almost Human (2013-2014).
Nightmare Café
Admittedly, this short-lived series from director Wes Craven straddles the line between genres; horror and science fiction, in particular.
In Nightmare Café, two lost souls: Ivy (Lindsay Frost) and Frank (Jack Coleman) become (eternal?) employees at a metaphysical diner that, like the TARDIS, can travel anywhere, at any time, even into the world of dreams. The café's owner seems to be mysterious Blackie (Robert Englund), who keeps his motives and agenda a dark secret.
The series is part anthology in a way, though with returning characters as hosts/players. Each week, Ivy, Frank and Blackie help out unfortunate people, diners who stumble into the café and seek redemption, justice or a second chance. Among the guest stars: Angela Bassett, Joan Chen, and the future Cigarette Smoking Man, William B. Davis.
The innovative series, which attempted comedy ("Aliens Ate My Lunch") too, ran for just six hour-long episodes before NBC gave it the axe.
Woops!
https://youtu.be/buTn4YO0GIM
A sci-fi sitcom about the end of the world? That's what the young Fox Network served up in 1992, from September 17 to December 6th.  Woops! is a half-hour comedy about the survivors of a worldwide nuclear holocaust which, viewers learn, is caused accidentally when a remote control toy activates the U.S. missile arsenal.
The series involves six survivors who create an ad-hoc community at an abandoned farmhouse in a green valley.  The survivors are a teacher, Mark (Evan Handler), Alice (Maegan Fey), a book store employee, and Fred (Cleavant Derricks), a scientist and the only surviving African-American. Other characters in the ensemble include: Jack (Fred Applegate), a homeless man, Curtis (Lane Davies), a businessman, and Suzanne (Marita Geraghty), a hair-dresser.
This mix of personalities must contend with giant spiders in the pilot episode, giant turkeys ("The Thanksgiving Show"), mutated fruits and vegetables ("The Days of Berries and Roses") and even a depressed St. Nick ("Say it Ain't So, Santa.")  Before the end of the series, radioactive fall-out causes the survivors to grow to giant size, experience impotence (d'oh!), and even age backwards.
Apparently, viewers didn't find the end of the world particularly funny, and Woops! was canceled after ten episodes, with three episodes left unaired.