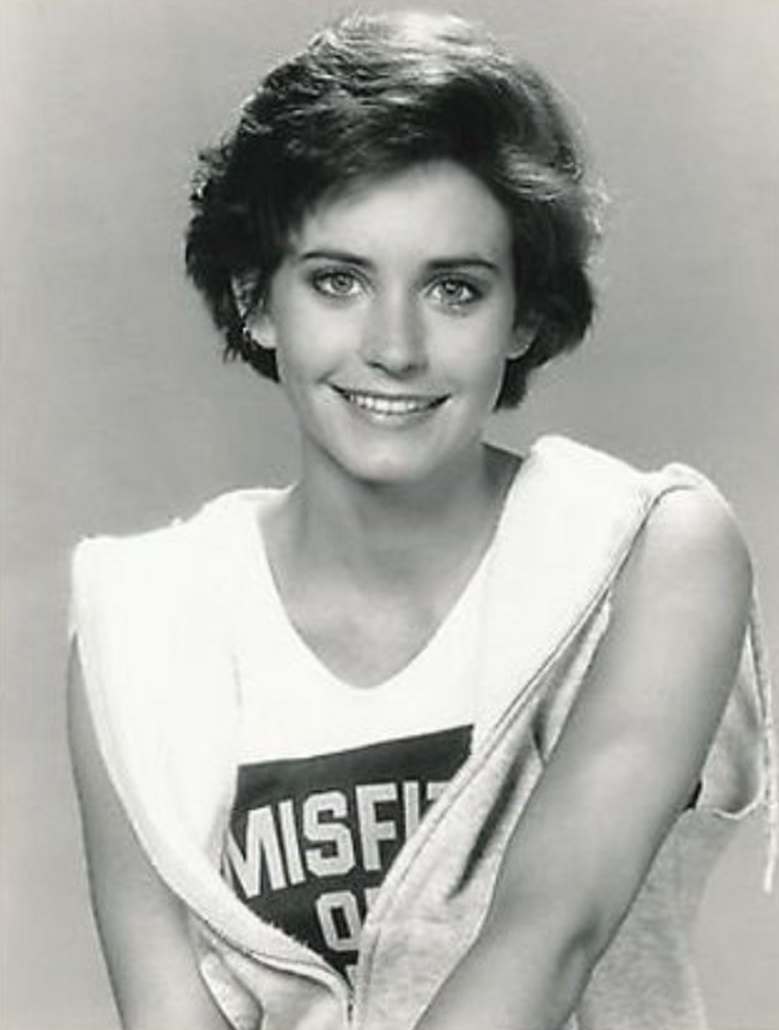 A tried-and-true TV format attempted to make a return in the year 1985.  The anthology — represented by Steven Spielberg's Amazing Stories (1985-1987), a remake of The Twilight Zone (1985-1988) on CBS, and a remake of Alfred Hitchcock Presents (1985-1986) on NBC — made a huge comeback on network schedules.
The anthologies were met with various levels of success, but the non-anthology science-fiction series struggled mightily to find a foothold on prime-time schedules. The expensive and high-profile V: The Series ended in 1985, after just one season and 19 episodes.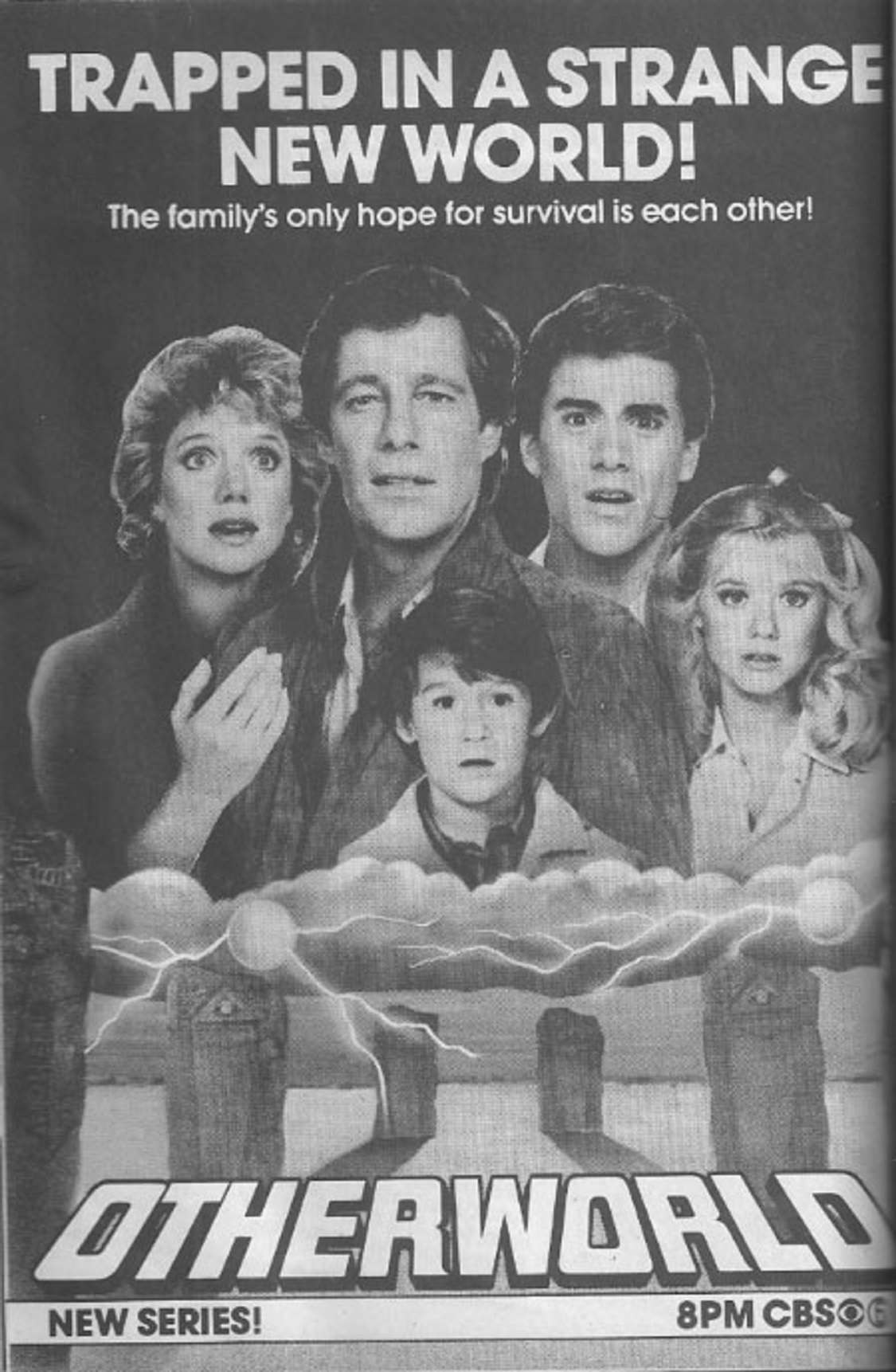 Three new series with continuing characters attempted to catch fire during the 1985-1986 season, but all failed.
Misfits of Science
An early team superhero show ushered to NBC by Brandon Tartikoff and James Parriott, Misfits of Science is rarely remembered today, although it was frequently rerun on The Sci Fi Channel as late as 1999.
The series involves mutants (think: X-Men) known instead as "misfits."  Courteney Cox plays Gloria, a misfit with telekinetic abilities. She works with Dr. Elvin Lincoln (Kevin Peter Hall), a colossus of a man who can shrink himself down to tiny size high thanks to a special serum. The third and final misfit featured is Johnny B. (Mark Thomas Miller), a rock-and-roller who can harness the power of electricity (like the Mulwray character on the more recent Mutant X syndicated series).
These three misfits all work with a mentor and non-misfit, Dr. Billy Hayes (Dean Paul Martin) at the organization called Humanidyne research. And during the course of the series 16 hour-long episodes, the misfits tangle with radioactive cows ("Steer Crazy"), encounter  dangerous cyborgs ("Fumble on the One") and learn that laboratory animals could be carrying a genetically-engineered plague that will annihilate the human race ("Grand Theft Bunny.")
TV critic Jeff Jarvis, writing for People Magazine, compared Misfits of Science to such classic stinkers as Manimal (1983) and Supertrain (1979), and a quick cancellation by NBC proved that audiences weren't inclined to disagree.  Still, no one can deny that Misfits of Science had a good sense of humor about itself and its world.
Otherworld
https://youtu.be/DsYHQnInnXM
I'll be blunt: this is my favorite series on this list. In January of 1985, CBS introduced a new science-fiction TVvision from creator Roderick Taylor titled Otherworld.
On the surface, Otherworld looked like The Cosby Show or Family Ties meets Lost in Space or The Fantastic Journey. However, underneath the superficial "family" veneer of the series, Otherworld was often something else entirely: a satire and pointed social commentary on American life in the Gipper's 1980s. It was Gulliver's Travels all over again, made modern, or rather, made futuristic.
The premiere episode, "Rules of Attraction," sets up the series premise. Hal Sterling (Sam Groom) and his wife June (Gretchen Corbett) are typical American middle-class parents with 2.5 kids: teenagers Trace (Tony O'Dell) and Gina (Jonna Lee), plus pre-adolescent Smith (Brandon Clark in the pilot; Chris Hebert thereafter). On a vacation in Egypt, the family visits the Great Pyramids on a very special day; a day in which six planets in the solar system would align in a manner that "hadn't happened in over 10,000 years."
Suddenly, they are hurled, via this planetary alignment, to another world, a strange planet that is both like Earth and quite unlike it.  The first denizen whom the Sterlings encounter is a fascist Zone Trooper, Kroll (Jonathan Banks), who pursues them province to province in all future episodes because the family steals his key crystal, a device allowing him access to important information.
Now, the Sterlings must explore the 77 independent provinces of this world to find a way home, which exists, purportedly in the city of Emar.  And 77 is an important number to consider.  That's how many Star Trek episodes follow the first; and that's clearly what Otherworld was aiming for too. A nice, long, three year run with many "alien" civilizations encountered.
Otherworld's first episode finds the Sterlings encountering a city of androids.  But these androids possess souls.  The second episode aired, "The Zone Troopers Build Men" by Coleman Luck, sees the Sterling family (living a new life as the "Hardins" in the Tarka Province…) horrified to learn that for flunking out of high school, Trace has been drafted into the Zone Troopers. His superior at boot camp is none other than Star Trek's Mark Lenard.
The best episode, however, is "Rock and Roll Suicide," wherein Trace and Gina introduce rock music to one well-populated province, and become teenage celebrities and superstars, even having with Mego-style action figures named after them and mass-produced.
Alas, even such inventive stories could not save Otherworld, and the series disappeared quickly from the network schedule.
Shadow Chasers
https://youtu.be/i3RSk8xqh_c
This short-lived series (which includes just nine episodes) is legendary for being the lowest-rated show of 1985.
In part, this ignominious position in the Nielsen ratings (106 out of 106) is a result of competition, not general quality.  Shadow Chasers aired against the killer combo of The Cosby Show/Family Ties on NBC, and Magnum P.I. on CBS.  Talk about a time-slot-of-death.
Not that Shadow Chasers – from Kenneth Johnson and Brian Grazer – is a great show, either.  In concept, it's much like the 1984 blockbuster, Ghostbusters.  It involves a team of paranormal investigators, including Professor Jonathan MacKensie (Trevor Eve), tabloid journalist Benny Benedek (Dennis Dugan), and Dr. Julianna Moorhouse (Nina Foch).
The series finds these "shadow chasers" (not – repeat – not ghostbusters) investigating a werewolf ("Curse of the Full Moon,") contending with a time traveler from the year 2016 ("Ahead of Time") and battling "The Phantom of the Galleria."
The series mixes horror chills and goofy laughs, but no one watched…ever, and Shadow Chasers disappeared quickly from the air-waves.