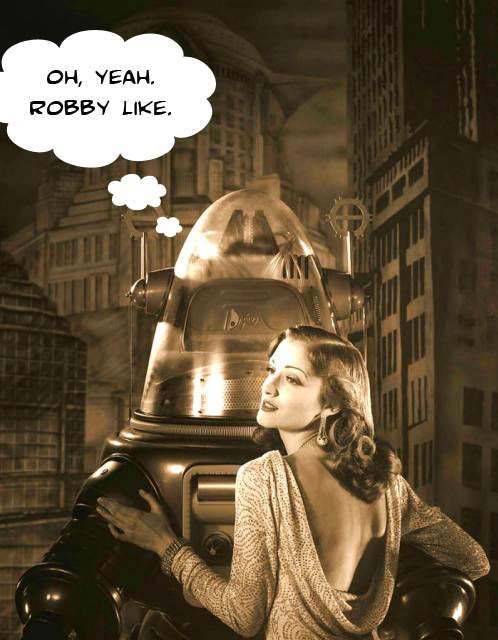 If you're wondering when the robot takeover will begin, it already has – and his name is Robby the Robot.  However, this takeover didn't come in the form of worldwide domination and subjugation of the human species.  It came in the form of relentless TV cameos and camera whoring.  Indeed, Robby's insatiable lust for the limelight in the 60s and 70s got to be so overbearing, humans almost wished for the subjugation option instead!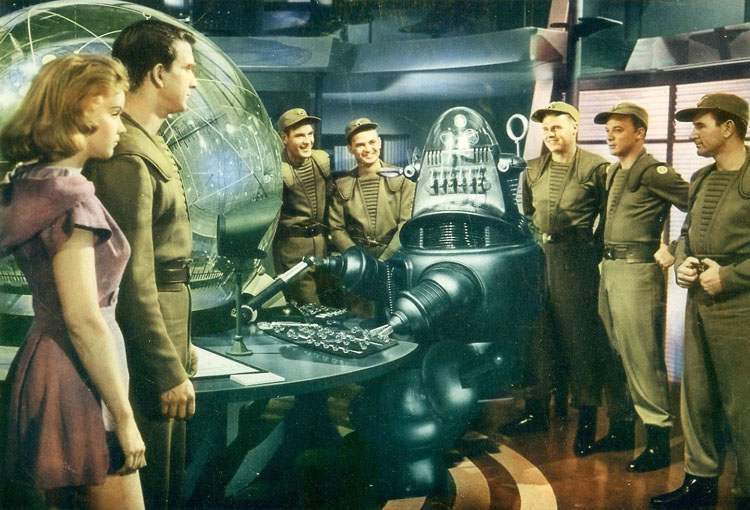 It all started with Forbidden Planet (1956).  Robby was created for this film only (although, they envisioned a sequel).  Little did the creators know, that Robby had his circuits programmed for "attention whoring", and it was off to the races.  The next couple decades saw more of Robby than was tolerable.  With robotic precision Robby would make the media of the 60s and 70s his bitch. His next stop was the Perry Como Show where Robby got his first taste for cameo appearances on the small screen.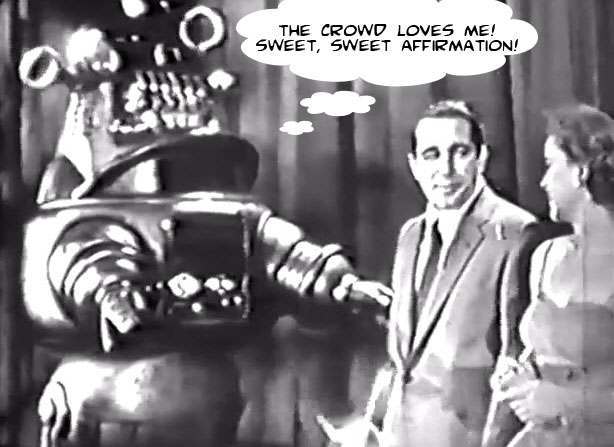 Like a pre-teen girl on Instagram, Robby got a rise out of seeing his reflection broadcast to the world.  Let the robot invasion begin.         That same year he starred in The Invisible Boy.  Then, in 1961, Robby appeared in Invasion of the Neptune Men (1961), covered here on Flashbak in our rundown of the IMDb's worst movies of the 1960s.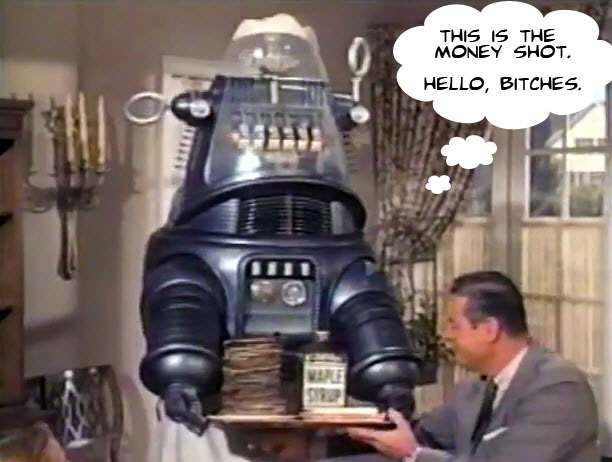 On an episode of Hazel (Episode 37, 1962), things took a dark turn.  Hazel has a nightmare of being replaced by a robot.  Robby is only too happy to step in.   Audiences laughed, despite the fact that their innermost fears had been visualized.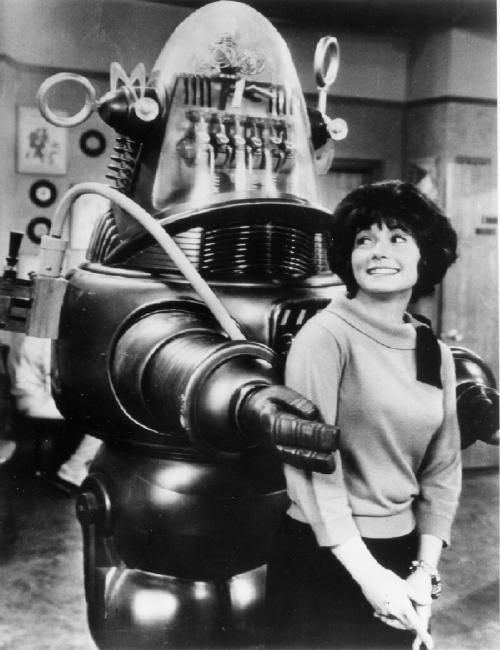 On The Many Loves of Dobie Gillis (Season 4, Episode 24, 1963) Robby makes things awkward.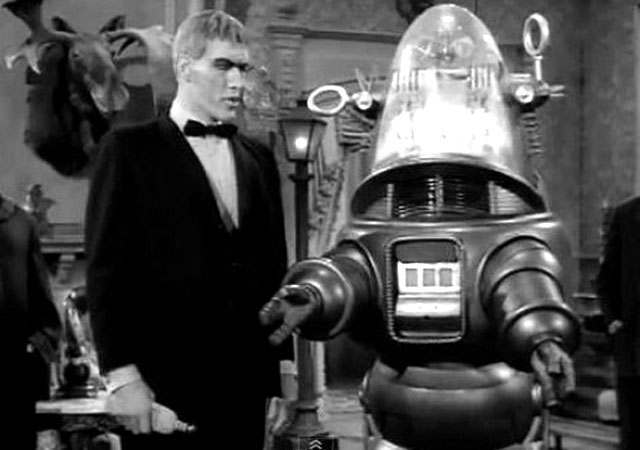 OnThe Many Loves of Dobie Gillis(Season 2, Episode 27, 1966) the same uncomfortable theme from Hazel is repeated.  Robby upstages Lurch and audiences laugh whilst feeling nervous about the imminent robot takeover.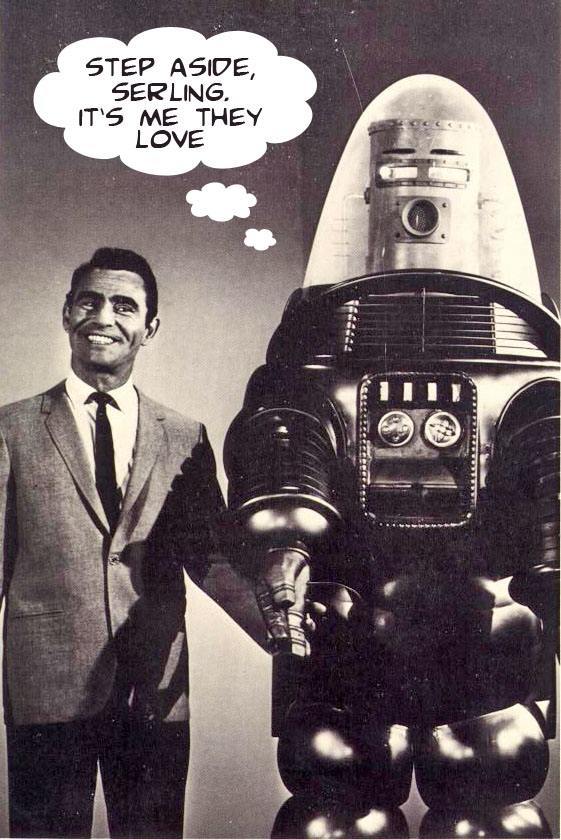 Robby would wear out his welcome on The Twilight Zone by appearing twice on the show.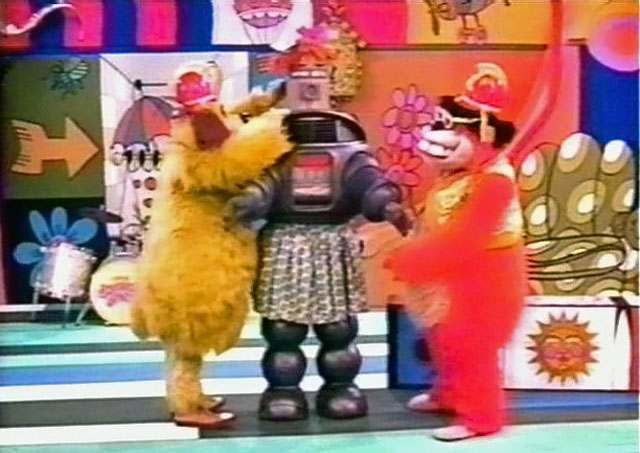 In 1968, Robby appeared on the Saturday morning kids show The Banana Splits.  You can almost feel Robby's humiliation.  But such is the price for accepting everything and anything that comes your way.  Just ask Michael Caine.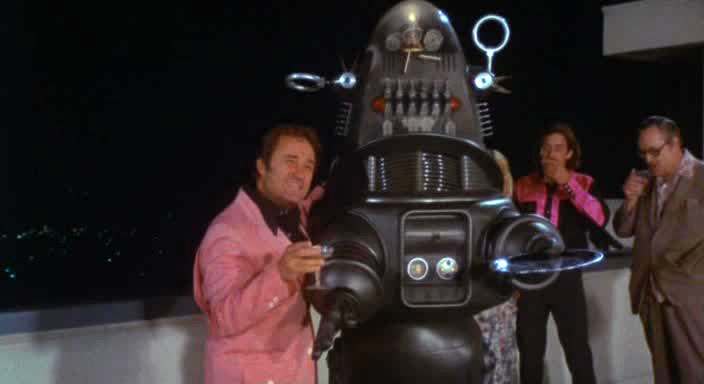 In the film Hollywood Boulevard (1976) Robby shares the stage with Dick Miller in a great scene:
Dick:"Do you do pictures?" Robby: "Not recently. I don't do nudity."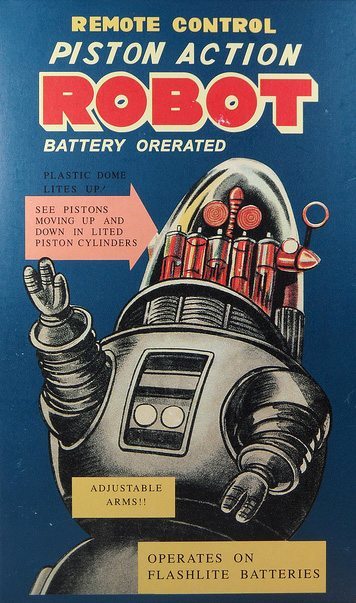 No pop culture takeover would be complete without a product line.  I don't what profits Robby received from his merch; but, whatever the percentage, Robby was doing well for himself.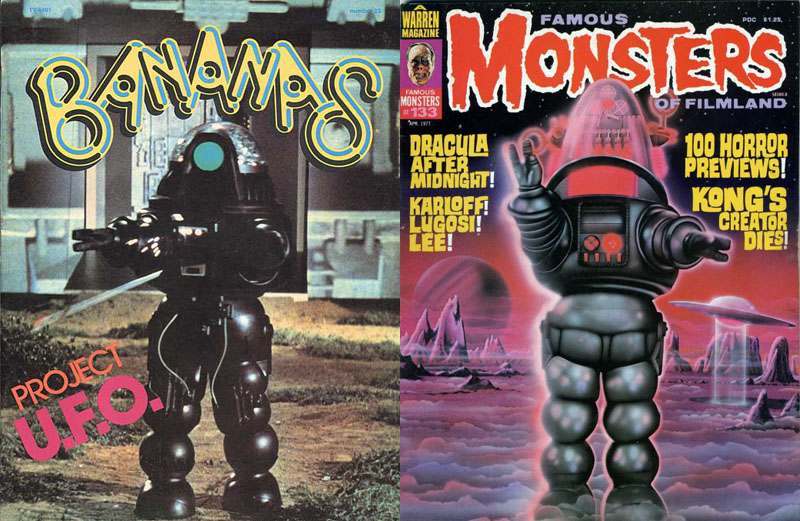 Cindy Crawford in the 90s didn't appear on as many magazine covers as Robby in the 60s and 70s.  Movies, television, toys, magazines… what next, music?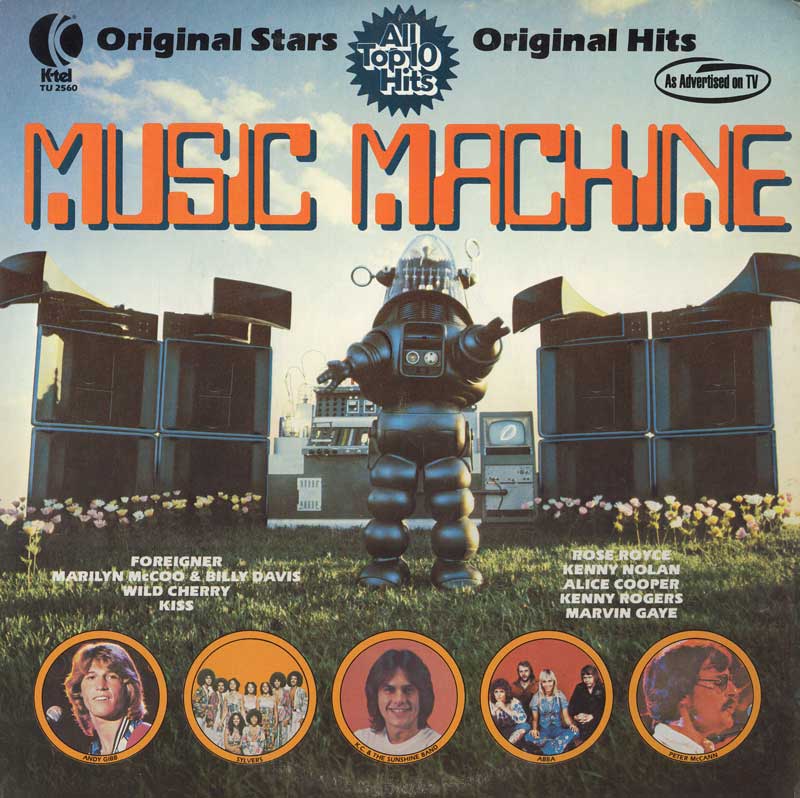 In 1977, Robby shared the spotlight with Andy Gibb, ABBA, and KC & the Sunshine Band.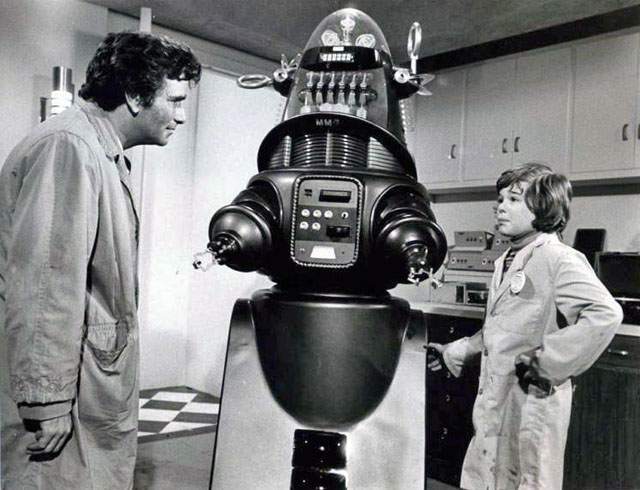 Back to television, in an episode of Columbo (Season 3, Episode 6, 1974), Robby makes audiences nervous about robots starting wars.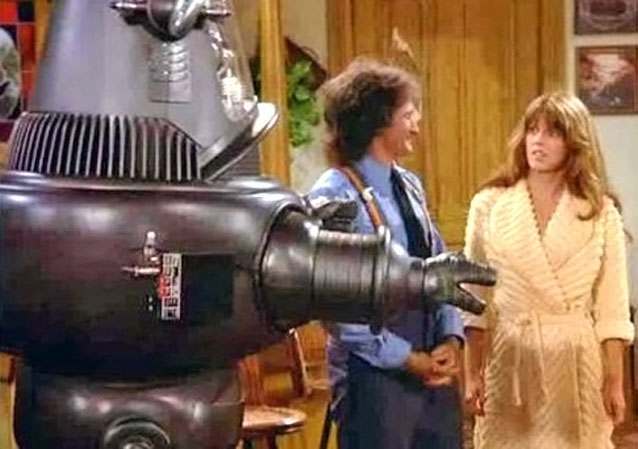 On Mork & Mindy (Season 2, Episode 5), Robby is voiced by the legendary Roddy McDowell.  It would seem things couldn't get much better.  Move over Robert DeNiro, here comes Robert the Robot.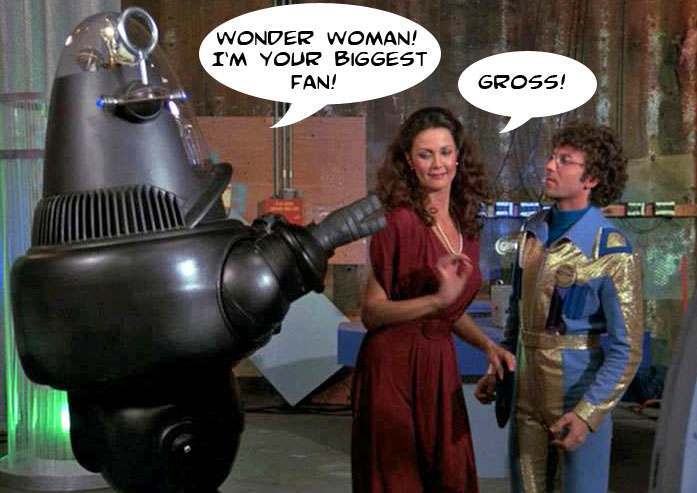 His guest appearance on Wonder Woman ("Spaced Out " Season 3) was less than triumphant. Oh, the humiliation. It would be hard to cover all of Robby's TV hopping.   Robby also appeared in a couple episodes of The Man from U.N.C.L.E. in 1966, Ark II in 1976, three episodes of Lost in Space in 66-67, Space Academy in '77, Project UFO in '78…  there simply was no end to his vainglory. But Robby had a dark side…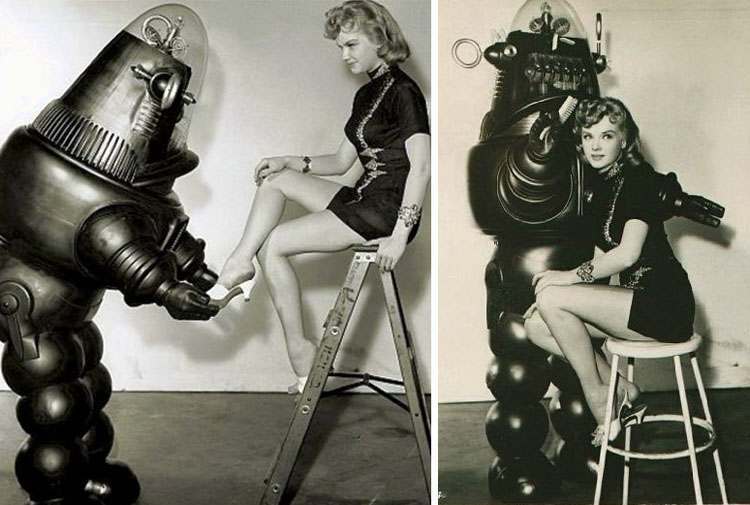 "Robby the Robo-Perv" places shoes on Anne Francis and combs her hair.  Sure, it looks like domestic servitude, but he's not fooling anyone. Robby's fetishes would crop up again on a 1981 Charmin commercial.

It wasn't hard to find the sexual undertones in these unholy toilet paper commercials.  Not only was the repressed homemaker doing something naughty by squeezing the Charmin (oh, so forbidden and illicit), but they also appeared to be at the point of climax before Mr. Whipple interrupted the ecstasy. Robby, of course, couldn't leave well enough alone and had to get in on this kinky horseplay.  Mr. Whipple was not amused.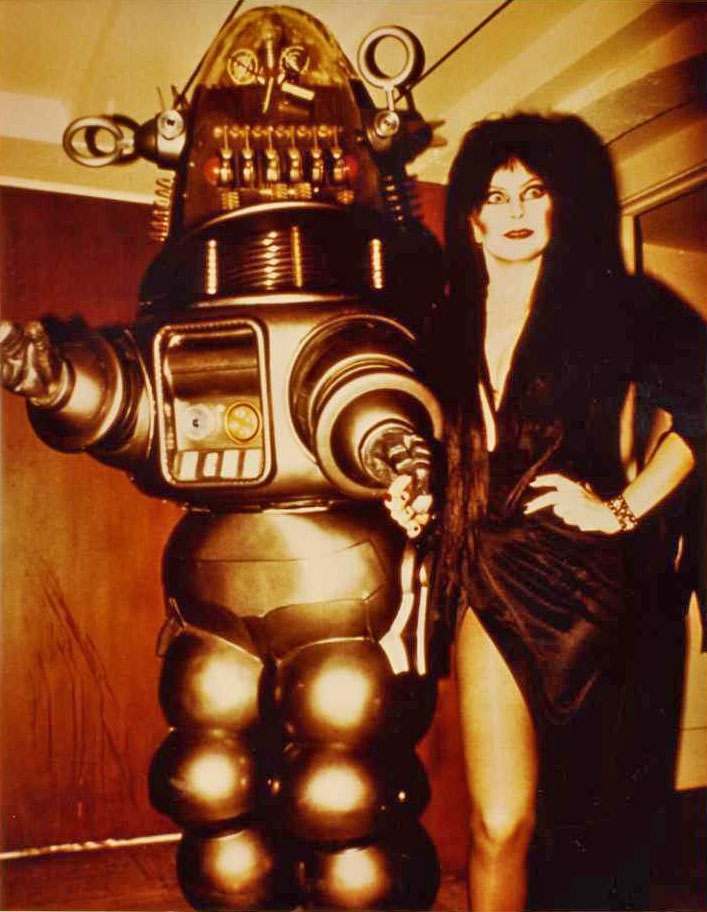 Here's Robby with Elvira, Mistress of the Dark.  Were they an item?  Surely, this was a line even he wouldn't cross.  Robby hadn't gone this far…. or had he?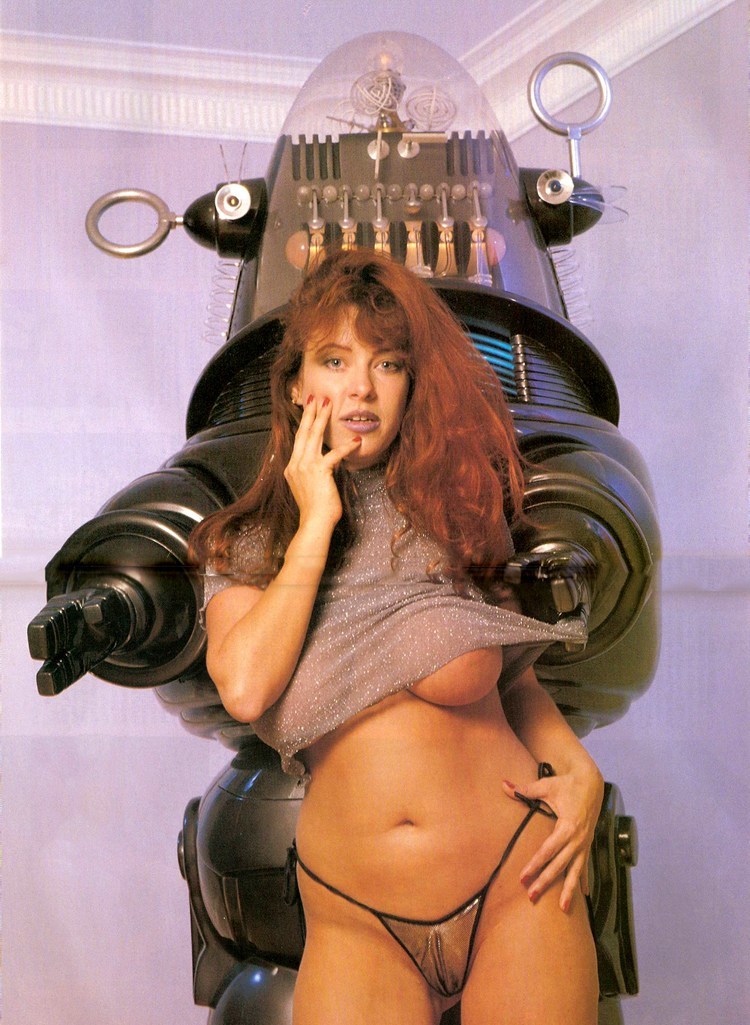 Clearly, something very troubling was brewing within Robby's motherboard.  Then, 1982, Robby made a fatal mistake…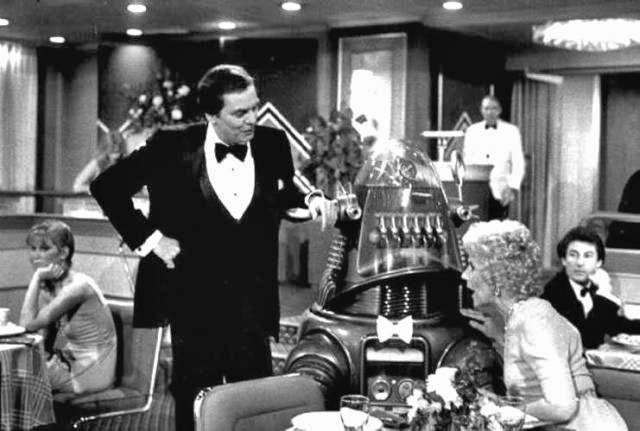 Robby appeared on an episode of The Love Boat (Season 6, Episode 12).  You would think a robot would have the logical sense not to accept work on a show that spells doom for any actor or actress who appears on it.  The Love Boat was a veritable graveyard of acting careers gone to shit. Could it be that Robby's error in judgment owes itself to (dare I say it?) emotions overriding logic?  In his mad lust to get his mug on television screens, Robby made a lethal miscalculation.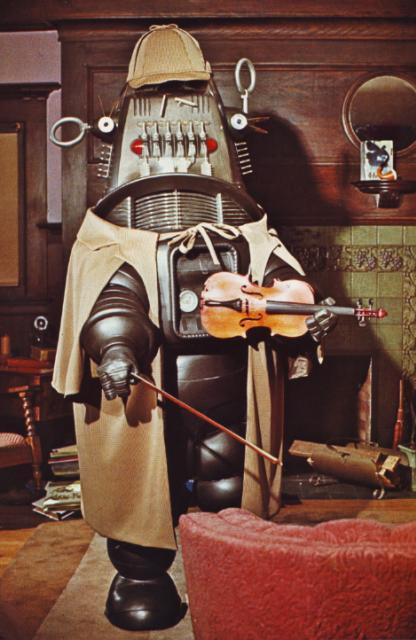 When ABC passed on "Robot Holmes, Watson and Me" (Yes, this was going to be a real show),  Robby's career was officially out of gas.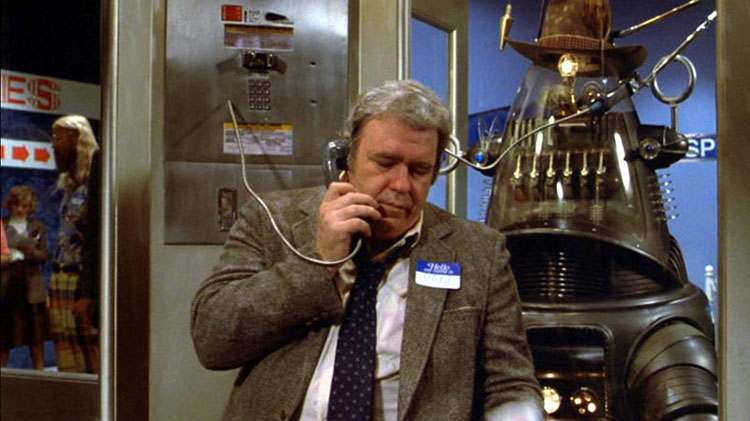 In Gremlins (1984) was reduced to wearing silly hats and just standing quietly in the background.   And that's the way it's been ever since.  Robby will pop up here and there on occasion.  He was in a 2012 General Electric commercial, for instance, but the magic is gone. Where is Robby today? I don't think anyone knows for sure, but it was a wild ride while it lasted.  Robbie the Robot: 1957 – ?