"In each picture is a whole lifetime imprisoned, a whole lifetime of fears, doubts, hopes, and joys. Whither is this lifetime tending? What is the message of the competent artist? … To harmonize the whole is the task of art"

– Wassily Kandinsky, Concerning the Spiritual in Art

In his spare time, Polish architect, engineer, musician and artist. Wacław Szpakowski (9 October 1883 – 7 February 1973) drew taught, elaborate lines that never intersected themselves. He began his hobby, or what can now be called outsider art, when he was 17 and continued to draw his continuous, rhythmic lines throughout his life. He cherished his "linear ideas", made by ink on tracing paper, keeping them in notebooks that he kept safe through two World Wars.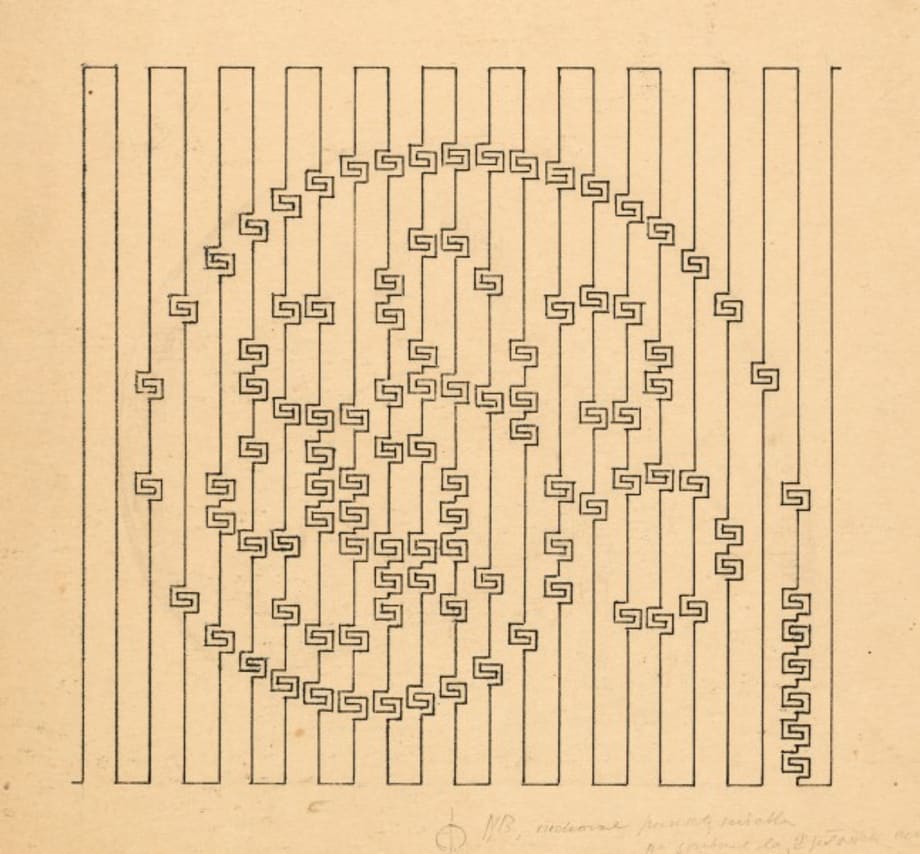 Szpakowski worked on his infinite lines in solitude, sharing them only with his family. They were first exhibited after his death at the Art Museum in Łódź's Rhythmic Lines exhibition in 1978.
The drawings were Szpakowski's attempts to know life's patterns and structures. Dutch writer WF Hermans discovered in his work "the primal passion of researchers of infinity, explorers of the structure of the world".
His visuals seem to vibrate and hum in a mix of sound and vision that the artist said might be played like musical notations. Szpakowski mused that "linear ideas come closer to musical creativity, and in particular to its kind – melody, because they have rhythm."
They're reminiscent of the patterns of the sort you can see on Islamic tiles and in Pavel Tchelitchew's psychedelic skulls. Szpakowski's stuff is busy and constrained, given added meaning and purpose by the number of his designs and the understanding that he was striving to reach something universal and essential.
As his daughter, Anna Szpakowska-Kujawska, says:
"The linear regularity of his worlds, which he reached, he wanted to prove with mathematics and geometry. The order of the world, the order of nature, the structure of leaves, trees, forms found in nature, instinctively found in primitive peoples in construction, folk patterns, all this confirmed this path. they were geometric lines."
In 1969, Szpakowski wrote of his work:
"The drawings presented here in the amount of 120 tables are a collection of the author's ideas, whose aim is to achieve visual harmony using only the simplest factors, which is the element of a straight line. a figure drawn with a pencil on a linear grid with square meshes…

"These were, in a way, straight-line experiments, which were not carried out in science laboratories, but conveniently, at different places and times, as a piece of paper and a pencil were sufficient for that matter."