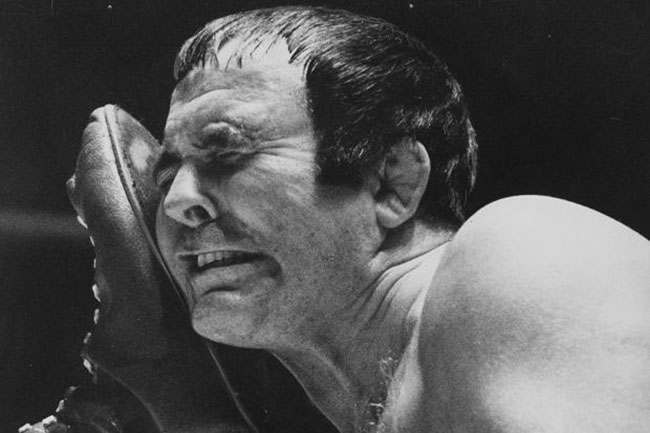 ONCE upon a time, 4pm on Saturday afternoond meant wrestling on the telly.
You could back the corporate patriot Big Daddy (formerly The Blonde Adonis, Mr. Universe and The Battling Guardsman), the walking famryard Giant Haystacks, Les "Laughing Boy" Kellett, Jackie ("Mr. T.V.") Pallo, the mysterious Kendo Nagasaki or the villainous – boo! – Mick McManus. You'd tune in to ITV's World of Sport to see the Greco-Roman tradition enlivened by men in cotton knickers being slapped about the body and head by umbrella and handbag-wielding grannies.
McManus died this year, and we can still heat him crying out in agony – was it real? – "Not the ears, not the ears!" How he hated his ears rubbed.
Was it fixed? Did Big Daddy really put down the gargantuan Haystacks? All real, said McManus:
"It's ridiculous to say the bouts were fixed. You should have seen the injuries. Sometimes it was impossible to get out of bed the next day because you were battered so badly."
In 1988, wrestling was taken off the telly. All we're left with is memories and these wonderful posters:
[imagebrowser id=5796 template=fancy]