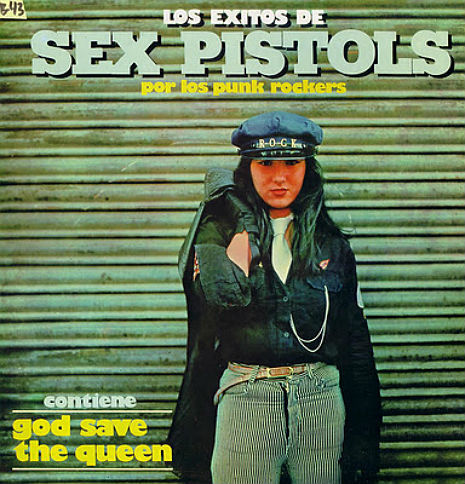 There was punk. And there was bad punk. In 1978, Spanish record label Dial Discos wanted to cash in on The Sex Pistols' success. They created "Los Punk Rockers", a paella punk horror who would record an authentic cheapo version of Never Mind the Bollocks, Here's the Sex Pistols. Slack-jawed Spanish music fans would not be able to tell the difference between the fake and the originals.
The Shit-Fi blog explains more:
Los Exitos de Sex Pistols was obviously recorded in a flash, before the next trend could take hold. The musicians more-or-less learned the songs from Never Mind the Bollocks, but the singer must not have spoken much English, because his approximations of Johnny Rotten are complete nonsense. (Here are "Holidays in the Sun" and "Pretty Vacant".) Even when singing the song title, as in the chorus of Seventeen, he seems to be making words up: "I'm a lazy seven."
So long as it's in English, who cares if it makes any sense, right? The benchmark for this marketing balls is the 1972 hit  Prisencolinensinainciusol, a song composed and sung by Italian pop sensation Adriano Celentano. The words were gibberish, an approximation of what English sounds like to an Italian. When asked if his often ad-libbed lyrics were the real sound of British youth, Celentano replied, "Yes. Exactly like that." The song reached Number 1 on the Italian hit parade.
Ker-ching!
So without further ado, Take it away Juan Rotter. Ayiii vanzedooo beeeahhh anraciiiiii!
Via Vampire Blues, DM and WFMU