Peter Sellers, the comic actor who gave flesh and 'berms' to Inspector Clouseau in the Pink Panther films covered The Beatles' A Hard Day's Night, She Loves You and Help!.
Sellers worked with George Martin in the 1950s, recording two albums – The Best Of Sellers and Songs for Swinging Sellers (a spoof on Frank Sinatra's LP Songs for Swingin' Lovers!). The actor had a long career in music, singing with The Goons, Sophia Loren as well as playing drums in a number of jazz bands, including those of Oscar Rabin, Henry Hall and Waldini
When Martin began to work with The Beatles in 1962, Sellers and the Fab Four met and got on well.
Sellers would appear on the 1964 Granada TV special The Music of Lennon and McCartney. His reading of A Hard Day's Night in a style that parodied Sir Laurence Olivier's 1955 performance as William Shakespeare's Richard III immediately followed a skit by six members of the Liverpool Philharmonic Orchestra appearing as Fritz Spiegl's Barock And Roll Ensemble playing She Loves You in the style of Mozart.
(Sellers presented the Beatles with their Grammy Award at Twickenham Studios on Wednesday 28 April 1965. The band's A Hard Days' Night was considered the Best Performance of a Vocal Group for the year 1964. The recorded conversation between Sellers and the Beatles appears at the end of a bootleg version of the White Album.)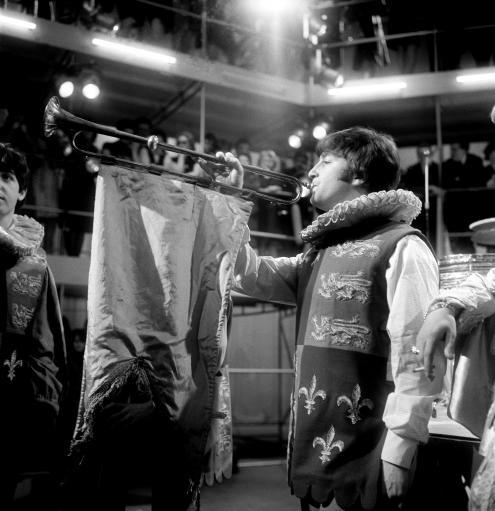 For those of you not familiar with Olivier's bombastic version of the regal nutter – he'd be more menacing as the NHS professor of dentistry in Marathon Man – here is the late knight of the realm delivering the fabled 'Winter of discontent' soliloquy:
The Beatles and The Bard would collaborate once more in 1964 for another TV special recorded during a break in filming A Hard Day's Night. Called Around the Beatles – the title a reference to Shakespeare's Globe Theatre – the show opens with Paul McCartney playing Pyramus opposite John Lennon's Thisbe, two characters from Ovid's Metamorphose lampooned by a troupe of hammy actors in the Bard of Avon's A Midsummer Night's Dream.
(Around the Beatles was directed by producer and manager Jack Good, a "Shakespeare fan", who convinced rockabilly star Gene Vincent to dress up like Richard III.)
Sellars would not stop there. He recorded one other Beatles hit in his own fashion: She Loves You in the style of Dr. Strangelove, a cockney, a toff and an Irishman. All versions are hereunder:
And for a finale, Sellers narrates Help! in the manner of a parish vicar:
Via Rock On Vinyl, Open Culture