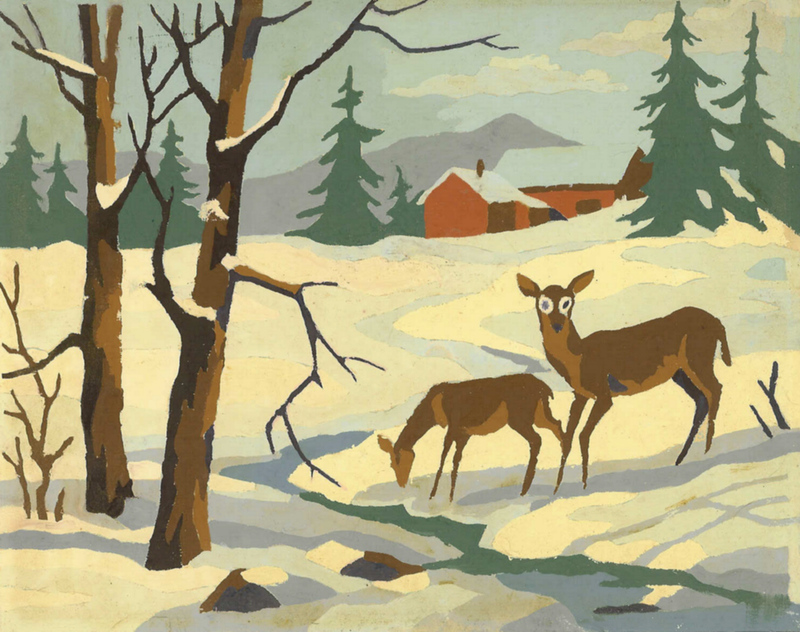 Dan Robbins turned you and yours into artists. By following his guide that matched numbers on a printed canvas to the corresponding colours supplied in small paint pots, you blossomed. America was getting rich, and with "the art of leisure" you could put your free time to good use.
Dan Robbins became "the most exhibited artist in the world".
"I don't know what America is coming to," one writer complained to American Artist magazine, "when thousands of people, many of them adults, are willing to be regimented into brushing paint on a jig-saw miscellany of dictated shapes and all by rote. Can't you rescue some of these souls-or should I say 'morons'?" But with Dan's color-by-numbers you could sit awhile and paint something recognizable. This was mindfulness and coloring books for adults before they existed. "I know I'm not much of an artist and never will be," another reader wrote to American Artist. "I've tried in vain repeatedly to draw or paint something recognizable… Why oh why didn't you or someone else tell me before this how much fun it is to use these wonderful 'paint by number' sets? I am on my fifth set and just can't leave them alone."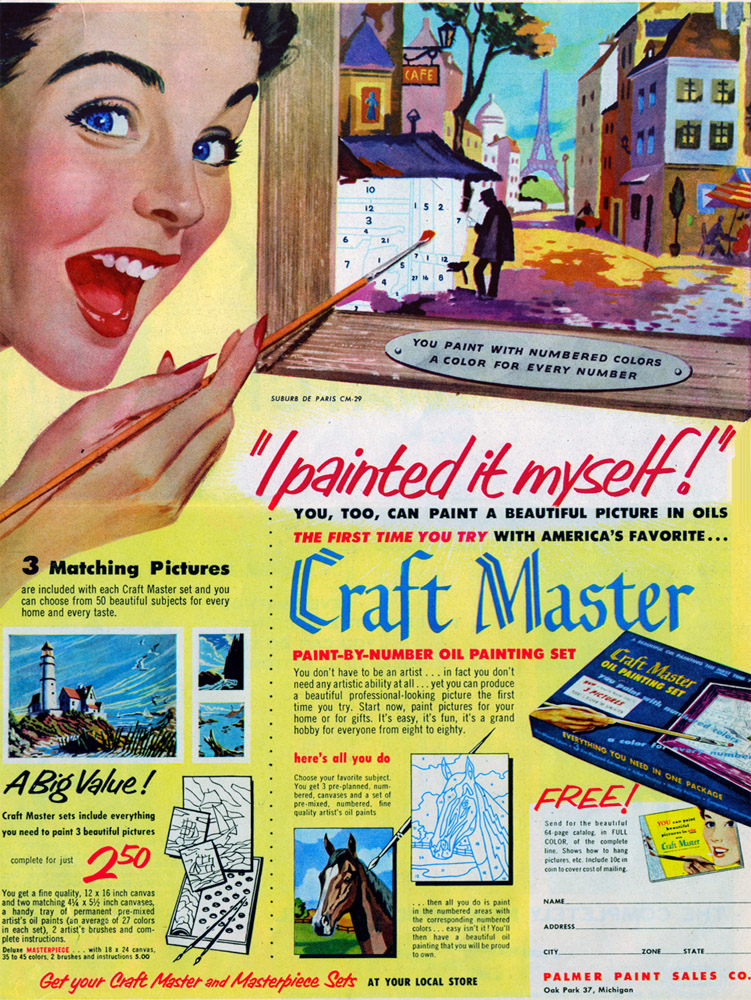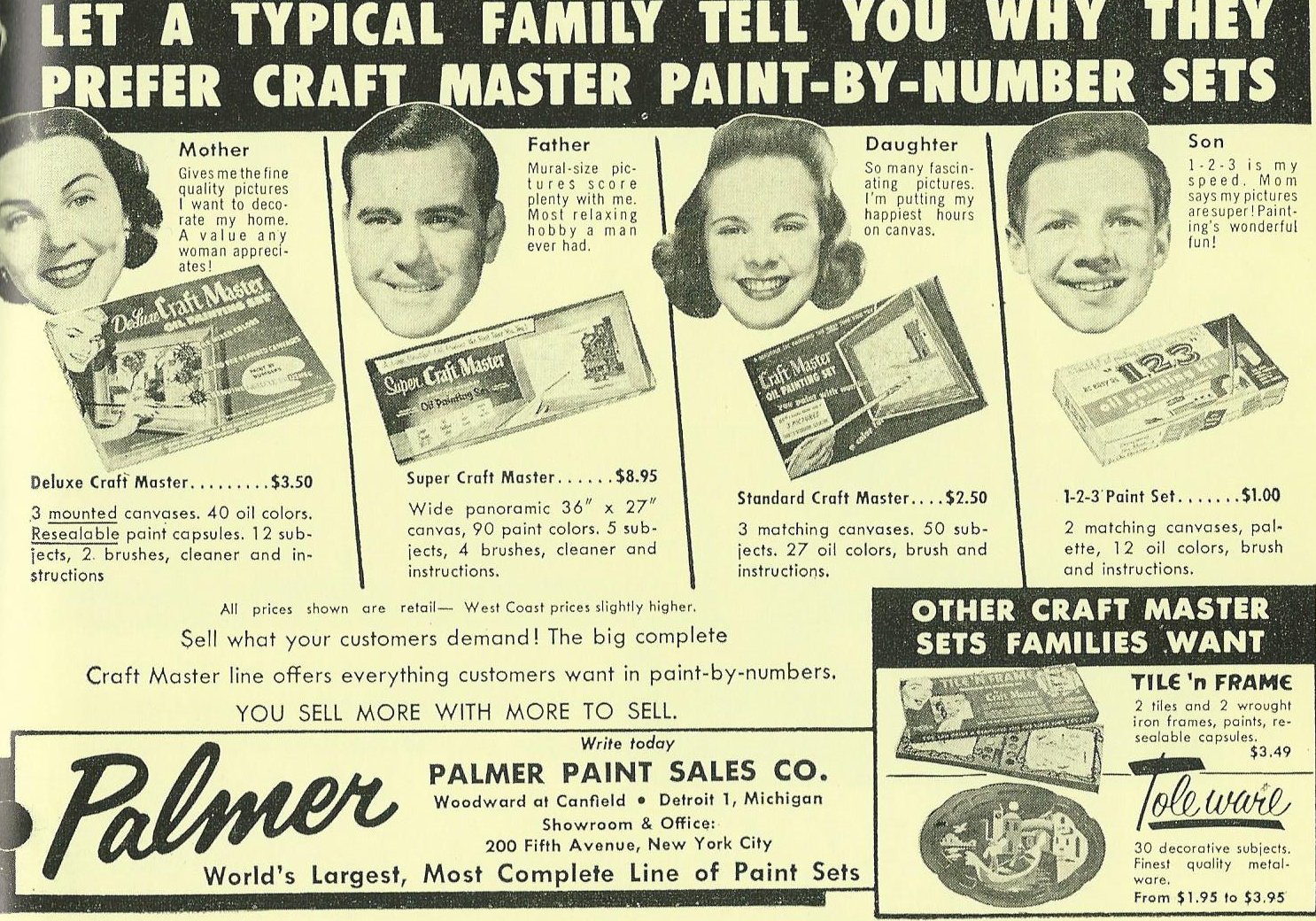 In 1949, Mr Robbins, a former student at Cass Technical High School in Detroit, was hired by Max Klein, President of the Palmer Paint Company in Detroit, to create products, like washable paint sets for kids. Dan wondered if Leonardo da Vinci's technique of giving his apprentices number patterns to follow could be translated to the masses. "Why not do the same for anyone who wants to paint but does not have the talent to draw or mix colors?" he reasoned. "All I have to do is create a numbered outline and provide the corresponding numbered colors." In 1950, he took his idea to Klein. 'Don't tell me," said Klein. "Show me. You're the artist". He came back with Abstract No. 1. The Craft Master paint kits were born.
In March 1951, Robbins' new Craft Master toy for children and adults was showcased at Macy's department store in New York City. The marketing worked:
Desperate to get its product back on shelves, Palmer Paint knew it had to act fast. Max Klein, the company's founder, had an idea. Klein and Robbins started by asking the Macy's toy buyer to let them demonstrate their kits in-store, promising that any unsold merchandise could be returned free of charge. Macy's had nothing to lose by signing on. Then, Klein hired two reps to grease a few palms. In his 1998 memoir, Whatever Happened to Paint-By-Numbers?, Robbins recalls, "Max gave each of the reps $250, telling them to hand it out to friends, relatives, neighbors, anyone that would be willing to go to Macy's and buy one of our Craft Master sets for $2.50." That was $500—more than enough money to buy all the kits in the store.

Sure enough, the trick worked and "customers" flooded in. But Klein and Robbins forgot one detail: They didn't keep track of who'd been given cash. In fact, they had no idea how many of the sets had been sold to their own plants and how many went to real customers caught up in the hysteria. Regardless, news of the sellout spread to buyers at the fair, and orders skyrocketed. Fake sales begat real ones, and paint-by-numbers turned into a full-blown fad.
By 1954, 12 million kits had been sold. Each paint-by-number kit included two brushes and up to ninety premixed, numbered paints. The paint-kit box tops declared, "Every man a Rembrandt!"
Dennis Simanaitis has a great story:
Paint by Number reached a high point in 1956 when Thomas Edwin Stephens, Eisenhower appointment secretary, arranged a White House exhibition that came to be known as the Stephens Collection.

The Stephens Collection, in a West Wing corridor of the White House, just outside the Cabinet Room, 1956.

Stephens distributed twenty Paint by Number kits to Eisenhower cabinet members and Oval Office visitors. Among those returning completed oils were FBI chief J. Edgar Hoover, special assistant to the president Nelson A. Rockefeller, former president Herbert Hoover and U.S. ambassador to the United Nations Henry Cabot Lodge.

 
In 2001, The Smithsonian exhibited the painting kits and Dan's work in the show Paint by Number: Accounting for Taste in the 1950s. This was art to keep and display:
Kit pamphlets provided gentle guidance for first-time framers. A painting of a lake or forest might be grouped with "barometers, lake charts, guns, rods, or samples of flies and lures." Every room in the house deserved paintings, the pamphlets said, and even a child's room might be turned into a private "gallery." Diagrams offered lessons in "picture grouping," "focal spots," "mass and importance," and "proper size balance."
In 2012, American Profile interviewed Dan:
"I was lucky enough to be the right guy at the right time in the right place. I remembered that Leonardo da Vinci would give his apprentices numbered patterns," says Robbins. "The word numbered stuck in my mind.'"

To illustrate his idea, Robbins created Abstract No. 1, a still life painting of a water pitcher and a platter of fruit, carefully mixing and numbering each color. After the paint dried, he traced the image on clear film and outlined and numbered each area to be painted.

Robbins recalls his boss's reaction. "He said, 'I hate it. Abstracts are for people who pretend to be artists,'" Robbins says. "Then he looked at me with a twinkle in his eye and said, 'If you can create subjects people want to paint, then go for it."'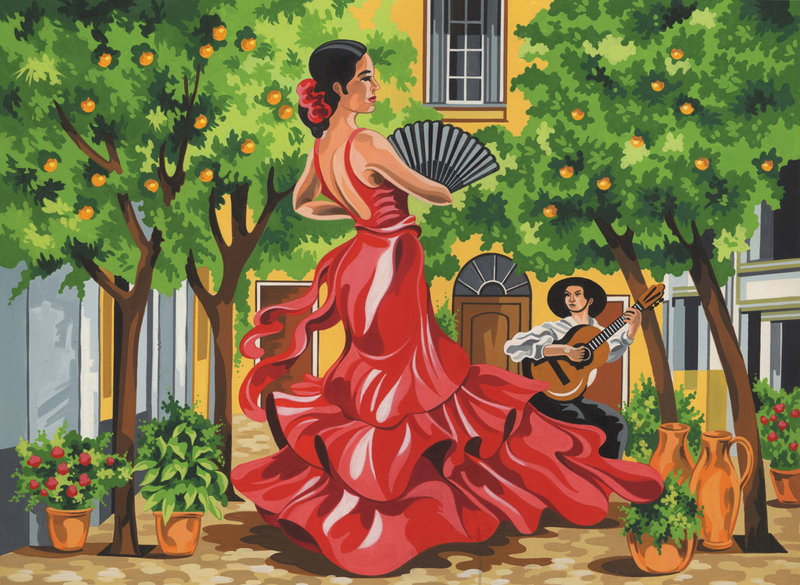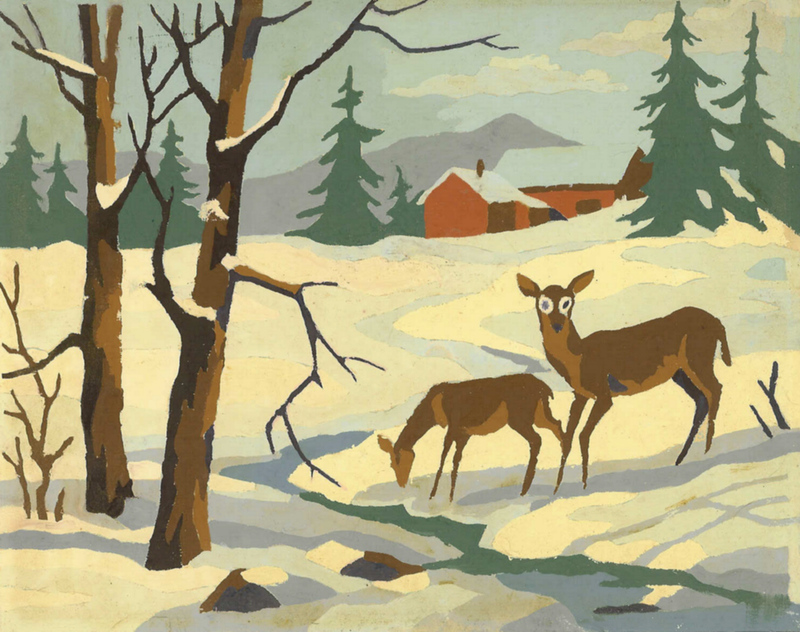 By 1953, Robbins was supervising 75 artists as they sketched and painted thousands of subjects, including ballerinas, the Beatles, clipper ships, frisky kittens, Mona Lisa and tropical birds. Robbins' wife, Estelle, test-painted each image and wasn't surprised by the demand for more…

"Year in and year out, the most popular paint-by-number was The Last Supper," says Robbins, whose favorite among the 36 paintings he created is a rustic water mill scene.

As millions of paint-by-number artists hung their masterpieces above their sofas, critics groused that they weren't real artists, even though in 1952 a reproduction of Abstract No. 1 won third place in a San Francisco art contest.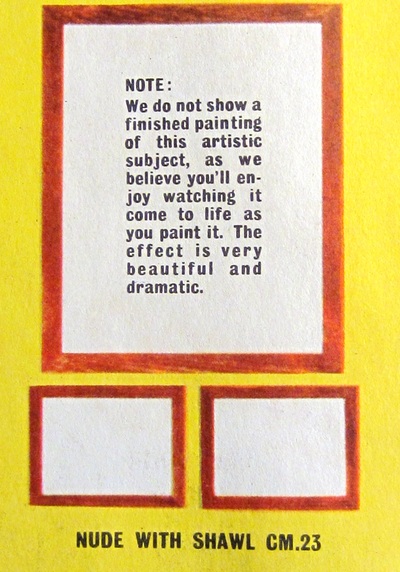 Was it universally loved?
"Paint-by-numbers touched so many people," says graphics artist Skip Davis, 63, who devotes one room of his Southfield, Mich., home to his gallery of more than 800 paint-by-numbers, including most of Robbins' work. He paid $301 on eBay for Journey through Space, a rocket painting, but was outbid on a rare Queen Elizabeth portrait that fetched $2,850.

"The paintings allowed people to do some-thing creative that they didn't think they were able to do," Davis says. "They were considered something pretty wonderful and serious décor."

 
The Smithsonian recalls the decline:
By the end of the 1950s, paint by number was taking on a new life as a metaphor. It became a symbol of mechanical performance and mass culture. It was invoked to describe the kind of politics and merchandising ruled by opinion polls and market surveys. Pop art adopted paint by number in the early 1960s as part of its commentary on popular culture. By the early 1990s the paint-by-number phenomenon had come full circle, as the paintings themselves again became collectible. Today, paint by number continues to be decorative, ironic-and even artistic.
Earlier this year, Dan Robbins appeared at 20 North Gallery in Toledo, Ohio: