Literally thousands of people lined the streets of Paris to mourn the death of Gerda Taro. It was 1 August 1937 and it would have been her 27th birthday. Chopin's Funeral March was played through tinny public loudspeakers and behind the coffin was her father, who had just arrived from Yugoslavia, but also a dark handsome 23 year old man who was so overcome he almost needed help just to walk.  The grand funeral was on behalf of the Communist newspaper Le Soir and they also commissioned Alberto Giacometti to create a monument for her in the Père Lachaise cemetery.
The Soviet newspaper Pravda wrote: "Millions and millions of women, when they decide to take a stand against fascism, will remember brave little Gerda." There was even a bubble-gum card produced that featured "pretty Gerda Taro" dying underneath a Republican Tank. On the reverse in capital letters it said 'To know the HORRORS OF WAR is to want PEACE.'
She had died in Spain covering the Battle of Brunete during the second year of the Spanish Civil War – a war eventually won by the Nationalists some eighteen months later. But despite the grand funeral and being fêted as a brave and brilliant war photographer, as the years went by Taro slipped into obscurity – a fate not granted to her lover and partner Robert Capa who would also die tragically in 1954 after he stepped on a landmine photographing for Life magazine in Thai-Binh, Indochina. Ironically not only did Gerda Taro help construct "Robert Capa" for a brief while she was Robert Capa or at least half of Robert Capa.
Buy prints of Gerda Taro's great photographs in the shop.
Taro was born Gerta Pohorylle into a middle-class Jewish family in 1910 and grew up in the industrial city of Stuttgart in southern Germany. Not long after  Hitler came to power in 1933 Taro was arrested and detained for distributing anti-Nazi leaflets around Leipzig. Soon the entire Pohorylle household was forced to leave Germany. Taro, age 23, headed for Paris, while her parents attempted to reach mandatory Palestine (also known as Eretz Yisrael at that time by Jews seeking to reestablish a safe homeland). Her brothers went to England. She would never  see her family again.
It was in Paris where she met a scruffy albeit handsome Endre Friedmann, who had arrived in France in the spring of 1933. Friedmann had been commissioned to take publicity pictures for a Swiss life insurance company's  publicity brochure and he needed a model. He approached a young Swiss refugee, Ruth Cerf, in a café and despite her initial doubts she agreed to pose for him in a Montparnasse park. Not looking entirely to be trusted she took her best friend Gerta along. Friedmann and Pohorylle immediately hit it off and soon started working together. At some point in 1936, not long after they had met, Friedman and Pohorylle changed their names  and for a short while both were taking photographs under the name Robert Capa. Capa was derived from Friedmann's Budapest street nickname "Cápa" which means "Shark" in Hungarian. After a while Gerta Pohorylle adopted the professional name of "Gerda Taro" after the Japanese artist Tarō Okamoto. Initially Taro and Capa shared the name  "Robert Capa". A significant amount of what is credited as Robert Capa's early work was almost certainly photographed  by Taro.
As friends and lovers they started covering the Spanish Civil War when it broke out in 1936.  By the following year  Taro was confident enough in her photography to break out on her own and refused Capa's marriage proposal. In the last five months of her life she worked on her own with a separate contract with the French communist newspaper Ce Soir. Reporting on the bombing in Valencia by herself, Taro took her most famous photos. By July 1937, Taro's photographs were were used internationally as she was alone in covering the Brunete region near Madrid for Ce Soir. Although the Nationalists were claiming that the region was under its command, in actual fact the situation was far more complicated with the Republican forces taking back control forcing a Nationalist retreat. Taro's photographs were the only proof this was happening.
In July 1937 at the age of just 26, Gerda Taro was crushed by a tank while covering the Republican offensive in Brunete. Hopping  onto the running-board of General Walter's car that was carrying wounded soldiers an out-of-control Republican tank suddenly crashed into its side. Taro suffered critical wounds, dying the following day
Although Gerda Taro had almost been forgotten, unlike her friend and lover Robert Capa, in 2017 the City Council of Madrid decided to name a street in the city Calle Gerda Taro (Gerda Taro Street), a street running from Avenida de la Victoria to Calle Durango; it is located northwest from the city center along the route A6.The city of Paris did the same in 2019 with the new Rue Gerda Taro, in the 13th arrondissement, by unanimous vote of the political groups of the Council of Paris. In 2018, the city of Leipzig named a new gymnasium for 1,200 students after Taro; it is near the display of her photographs on permanent exhibition.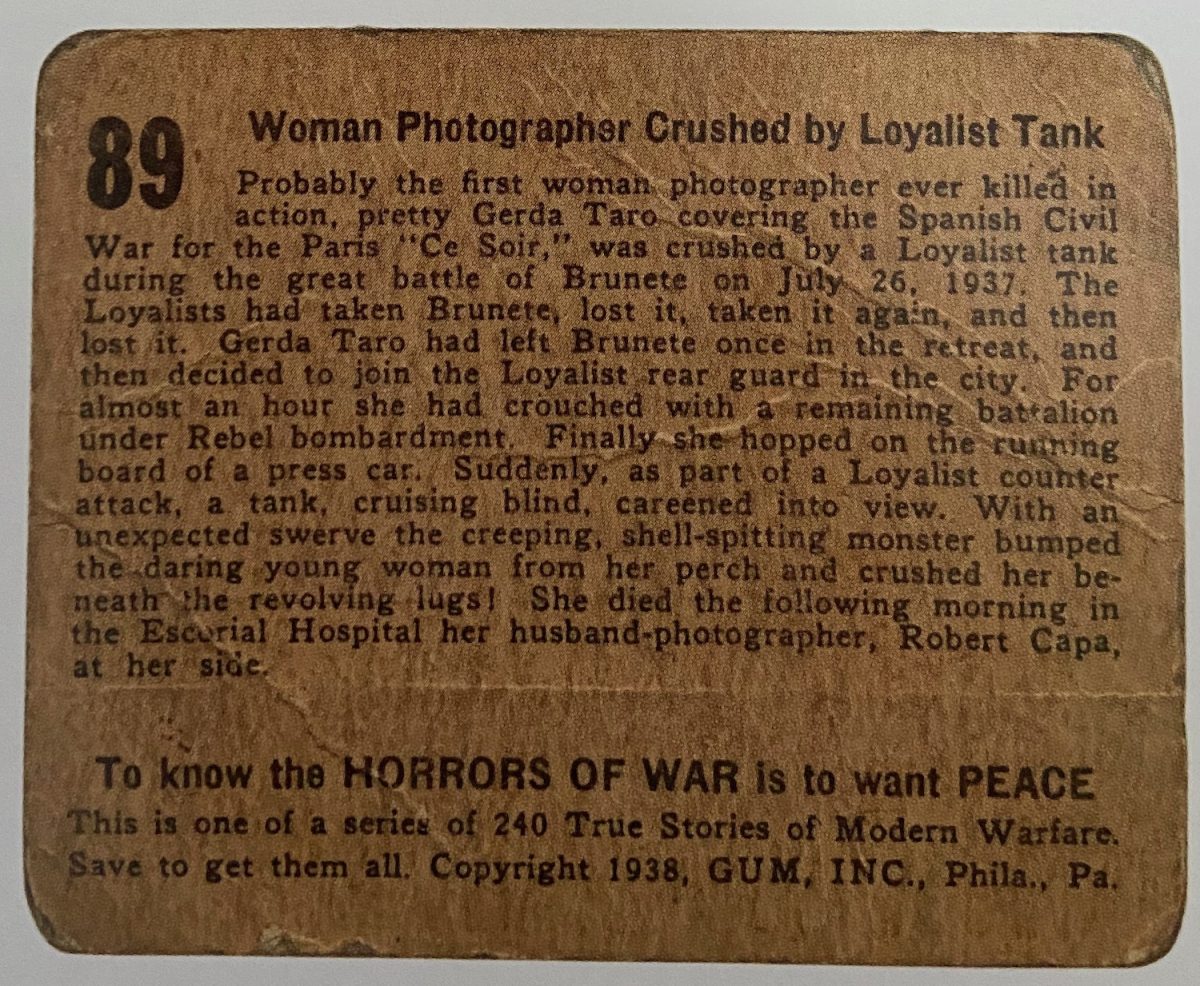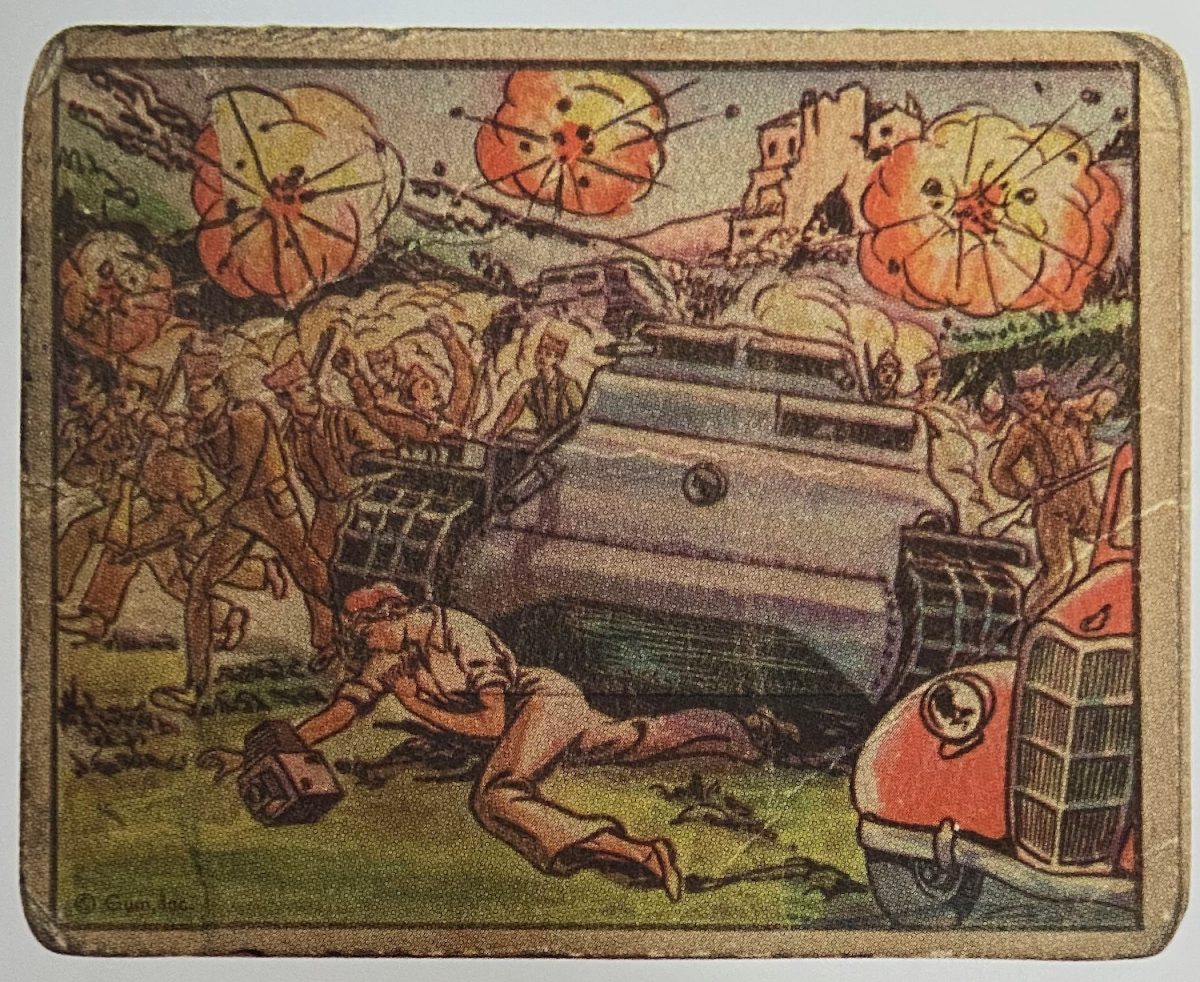 Buy prints of Gerda Taro's great photographs in the Shop.