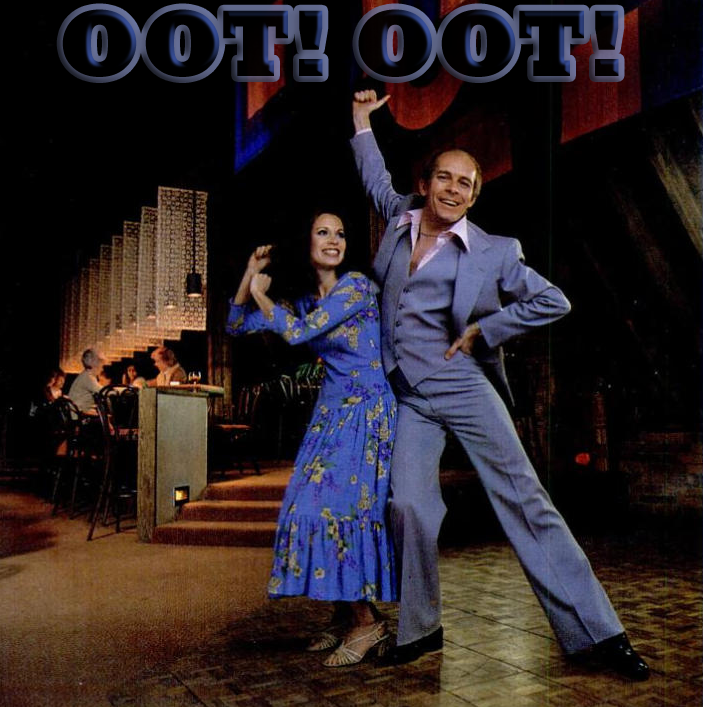 You'll recognize it when you hear it. It's inexplicably in countless disco songs. It's the clarion call to the dance floor – it's the mighty OOT! OOT!
"Heat of the Beat" by Roy Ayers and Wayne Henderson

It first arrives at 1:28. The OOT! OOT! is sounded, commanding everyone to take a break from sniffing coke and hit the dance floor.
"Disco Ruby" by Oscar Perry

Oscar wastes no time in bringing us the OOT! OOT! The disco war cry is there within 15 seconds.
"The Dip Drop" by Evan's Pyramid

At a 1:26 the OOT! OOT! is dropped… but there's still almost 7 minutes of funk left – I hope your platform shoes have plenty of cushion!
"Hustle Bus Stop" by Mastermind

Mastermind makes us wait 2 minutes for the OOT! OOT!, but, at long last, there it is.
"Be My Lady" by Rick James

18 seconds in, and this track from '78 is already bringing us the OOT! OOT! But that's okay…. because he's Rick James, bitch!  (Sorry.  It couldn't be helped.)
"The Breaks" by Kurtis Blow

The early days of hip-hop overlapped with disco, so naturally there was cross-pollination. The Soul Train OOT! OOT! comes around 2:45.
"Party" by Leon Haywood

"Ain't nuthin' but a party, baby. We gonna get knee deep in funk, and have a groovalicious good time." Leon hits you with the OOT! OOT! at 1:05.
"Step by Step" by KOXO

The French version of the OOT! OOT! has a distinctively French pronunciation of the disco chant. (Starts at 0:20)
"It's Serious" by Cameo

Before he proclaimed "Word Up" to the world, this funk master, famous for his enormous codpiece, was proclaiming OOT! OOT! to the discothèques. (Starts at 2:20).
"Saturday Night" by T-Connection

A single solitary OOT! at 4:01. You frantically wonder where the remaining OOT! went to, and just when you can take the suspense no longer, the remaining OOT! arrives at 4:10.
And finally, a variation on the OOT! OOT!…
"Oo Oop Oo Oop" by Esther Phillips

Esther breaks from tradition by dropping the "T" in favor of the "P", transforming it from "OOT" to "OOP". Some may call her a rebel; I call her a visionary.