On June 5, 1974, Kathy Silva (born November 25, 1948), mother of Sly Stone Jnr., married singer Sly Stone (born Sylvester Stewart, March 15, 1943) at New York City's Madison Square Garden. The marriage at the intimate and bijou venue was covered in a nine-page New Yorker spread by George W.S. Trow (September 28, 1943 – November 24, 2006) entitled "The Biggest Event This Year".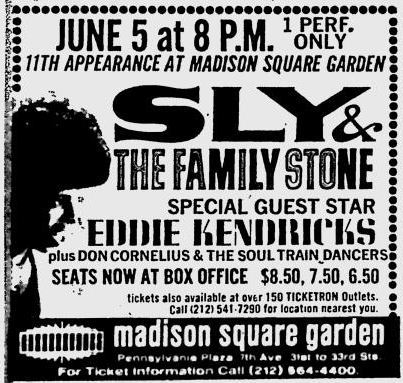 Before the do, Sly and Kathy spoke with Melody Maker's Chris Charlesworth.
It was six o'clock when the man arrived, preceded by a white personal assistant. He breezed through the office and disappeared almost immediately, allowing just a glimpse of a white leather suit with red trimmings and a bare, black chest.

Another 10 minutes and he re-appeared, taking us through to an apartment adjoining his management offices. This was where he lived, and it was tiny by rock-star standards.

I offered him a copy of Melody Maker, pointing put that it contained an article on him (the recent rock giant story by colleague Steve Lake) and he retired to his toilet to read the story. He was gone for another 10 minutes.

While waiting, I caught sight of Sly's beautiful fiancée, Kathy Silva. She's the mother of Sly Stone Jnr. and she will marry her beau on stage at Madison Square Garden during a Sly concert next month. That's the way REAL stars ought to get married.
The New Yorker's story in its August 16 1974 issue began:
On Friday, May 3rd, in the late afternoon, Sly Stone, the sleek black singer, called the office of Epic Records, his record company, and talked with Stephen Paley, his main man there. During the conversation, Sly announced to Paley that he planned to marry Kathy Silva, a striking young Hawaiian girl, who has been an actress in California, and who is the mother of his eleven-month-old son. Sly said he planned to marry Kathy almost immediately. "I might do it in Hawaii," he told Paley. "Or I might do it when I come to New York."

"Why don't you do it in Madison Square Garden?" Paley asked facetiously. "Before your concert."

"Yeah," Sly said. "I could be my own opening act."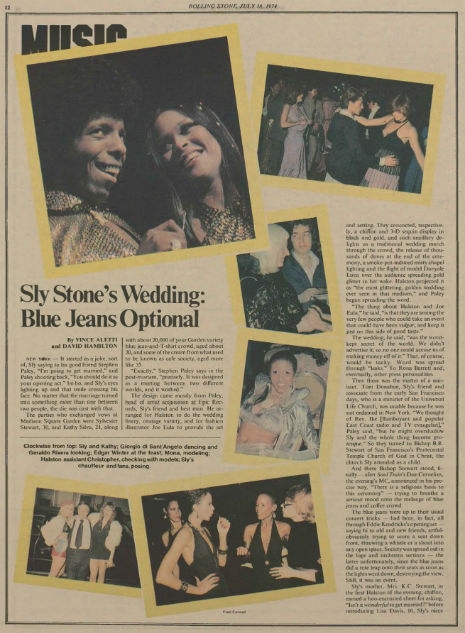 …

Several complicated sets of expectations began to be felt. There was Sly's expectation that his wedding would be an event—perhaps, indeed, the event of the year. There was the expectation among some people in the fashionable world that it would be a perverse event—perhaps the perverse event of the year. There were commercial expectations of a grand sort—that the wedding and the publicity generated would give Sly's career new energy and a new direction. And there were commercial expectations of a petty sort—that news of the wedding would help fill the house. From the start, the meaning of what has happened seemed to be tangled—except that two rules seemed to hold true: When fantastic black expectations intersect fantastic white expectations there is fantasy and energy but no real event, and when, in America, commercial expectations enter any equation they determine the result…
The date was set. The invitation went thus (via):
You are invited to a golden affair,
the wedding of
Kathy Silva
and
Sly Stone
at Madison Square Garden
on Wednesday night the fifth of June,
followed by the concert of
Sly and the Family Stone.
And to the reception immediately following at
the Starlight Roof of the Waldorf Astoria,
49th Street at Park Avenue.

Kindly respond by Friday, May 31, 1974.
Wear something gold.
Sly turned up. But nothing was certain. As Paley told his hairdresser:
"The bad news is that Sly didn't rehearse on Saturday and he didn't rehearse on Sunday. The good news is that he did show up for his 8:00 rehearsal on Monday. The bad news is that he came to his 8:00 rehearsal at 11:45 and stayed only fifteen minutes. The good news is that he said he wanted to rehearse and record the wedding march at noon today. The bad news is that he didn't show up …"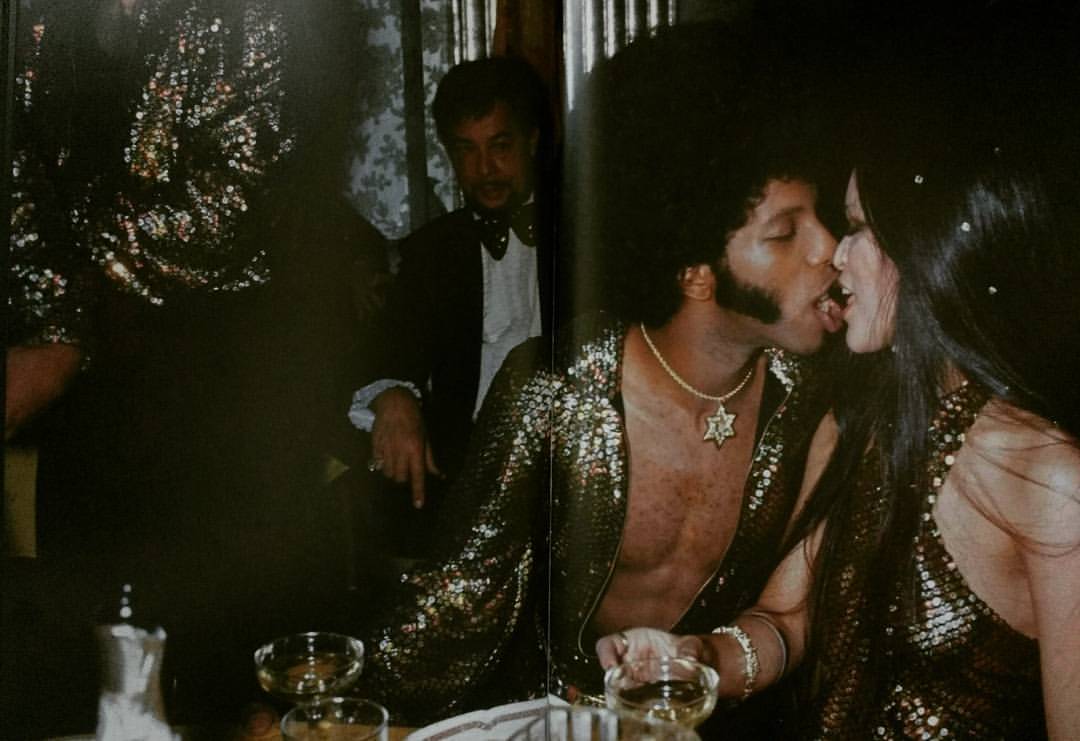 Something more than a tad desperate about being the act at your dream wedding. For one thing, who get to dance with the bride?
The Boom Box has more:
Nevertheless, the big event did take place on the planned day — albeit in not quite as ornate a manner as originally conceived. The threat of an ASPCA lawsuit kept the doves from flying, and the Garden wouldn't let the human "angel" fly unless Stone and company posted a $125,000 security bond. They declined to pick up that fee, and also opted not to pay for the 200 extra security guards the venue demanded in order to allow the wedding party to stage a processional right through the audience.
Trow punctuates his essay with details of the actual knot tying (via):
At nine-fifty-one, Kathy Silva came onstage with her father. At nine-fifty-three, Sly came onstage. Eula gave him a hug and sent him out to the front. At nine-fifty-five, Bishop B.R. Stewart, of the Church of God in Christ, in San Francisco, began the ceremony, first demanding quiet. By ten-two, the ceremony was over (Sly and Kathy had exchanged the rings that Mrs. Ryan had bought at Lamston's), and Sly turned to the crowd, ready to begin his concert.
Sly and Kathy divorced in 1976. In 1996, People spoke with her:
"He beat me, held me captive and wanted me to be in ménages à trois," Silva says. "I didn't want that world of drugs and weirdness." Still, she remembers, "He'd write me a song or promise to change, and I'd try again. We were always fighting, then getting back together." After Sly's dog mauled their son in 1976, however, Silva left.