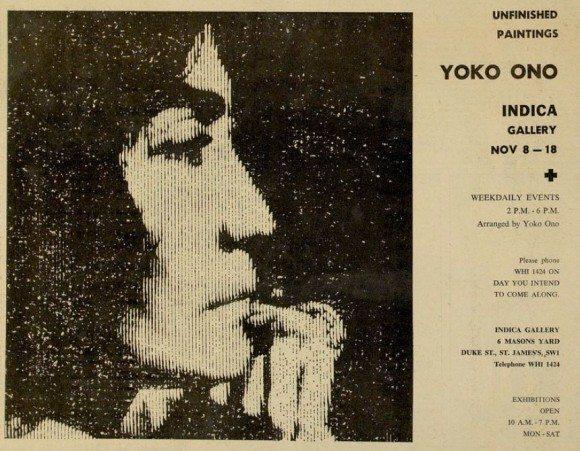 ON This Day In Photos: November 7, 1966 – John Lennon met Yoko Ono for the first time at an Indica Gallery in London's West End.
He recalled:
"Yoko was having an art show in London at Indica Gallery. In those days most art put everybody down, got people upset. I walked up the stepladder and picked up the spyglass. In teeny little writing it just said 'Yes'. And I made my decision to go see the rest of the show."
"That old gang of mine. That's all over. When I met Yoko is when you meet your first woman and you leave the guys at the bar and you don't go play football anymore and you don't go play snooker and billiards. Maybe some guys like to do it every Friday night or something and continue that relationship with the boys, but once I found the woman, the boys became of no interest whatsoever, other than they were like old friends. You know: 'Hi, how are you? How's your wife?' That kind of thing. You know the song: 'Those wedding bells are breaking up that old gang of mine.' Well, it didn't hit me till whatever age I was when I met Yoko, which was twenty-six. Nineteen sixty-six we met, but the full impact didn't… we didn't get married till '68, was it? It all blends into one bleeding movie!

But whatever, that was it. The old gang of mine was over the moment I met her. I didn't consciously know it at the time, but that's what was going on. As soon as I met her, that was the end of the boys, but it so happened that the boys were well known and weren't just the local guys at the bar."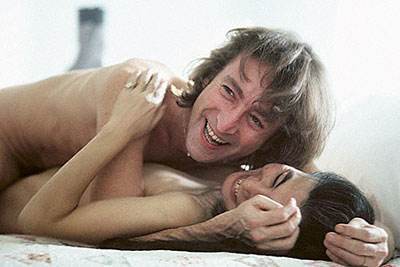 There was a Painting To Hammer A Nail In, a hammer attached to a block, into which people were invited to hammer nails.
"Then I went up to this thing that said, 'Hammer a nail in.' I said, 'Can I hammer a nail in?' and she said no, because the gallery was actually opening the next day. So the owner, Dunbar, says, 'Let him hammer a nail in.' It was, 'He's a millionaire. He might buy it,' you know. She's more interested in it looking nice and pretty and white for the opening. That's why she never made any money on the stuff; she's always too busy protecting it!
So there was this little conference and she finally said, 'OK, you can hammer a nail in for five shillings.' So smart-ass here says, 'Well, I'll give you an imaginary five shillings and hammer an imaginary nail in.' And that's when we really met. That's when we locked eyes and she got it and I got it and that was it."
Ono was an artist if no little talent.
Lennon would have more to say on meeting Ono:
"There was a sort of underground clique in London; John Dunbar, who was married to Marianne Faithfull, had an art gallery in London called Indica, and I'd been going around to galleries a bit on me off days in between records, also to a few exhibitions in different galleries that showed sort of unknown artists or underground artists.

I got the word that this amazing woman was putting on a show the next week, something about people in bags, in black bags, and it was going to be a bit of a happening and all that. So I went to a preview the night before it opened. I went in – she didn't know who I was or anything – and I was wandering around. There were a couple of artsy-type students who had been helping, lying around there in the gallery, and I was looking at it and was astounded. There was an apple on sale there for two hundred quid; I thought it was fantastic – I got the humor in her work immediately. I didn't have to have much knowledge about avant-garde or underground art, the humor got me straightaway. There was a fresh apple on a stand – this was before Apple – and it was two hundred quid to watch the apple decompose. But there was another piece that really decided me for-or-against the artist: a ladder which led to a painting which was hung on the ceiling. It looked like a black canvas with a chain with a spyglass hanging on the end of it. This was near the door when you went in. I climbed the ladder, you look through the spyglass and in tiny little letters it says 'yes'. So it was positive. I felt relieved. It's a great relief when you get up the ladder and you look through the spyglass and it doesn't say 'no' or 'fuck you' or something, it said 'yes'.

I was very impressed and John Dunbar introduced us – neither of us knew who the hell we were, she didn't know who I was, she'd only heard of Ringo, I think, it means apple in Japanese. And Dunbar had sort of been hustling her, saying, 'That's a good patron, you must go and talk to him or do something.' John Dunbar insisted she say hello to the millionaire. And she came up and handed me a card which said 'breathe' on it, one of her instructions, so I just went [pant]. This was our meeting."
They married in March 1969. He became John Ono Lennon. He was Ono's third husband.
People wanted to hate her:
Of course, she has spent more than half a lifetime being pilloried for her relationship with Lennon, whom she first met in 1966 and married in 1969. She is routinely blamed for the Beatles' split in 1970, having been painted as the evil temptress who took Lennon's focus off the band while hanging on the coattails of his celebrity. In 1974, she hit back at the misogyny and racism levelled at her – the two most grimly converging in a 1970 Esquire feature entitled "John Rennon's Excrusive Gloupie" – with the song "Yes, I'm a Witch" ("I'm a witch, I'm a bitch, I don't care what you say. My voice is real, my voice speaks truth, I don't fit in your ways").
1968: Beatle John Lennon poses with his son Julian, sitting on his lap, and his lover Yoko Ono.
Beatle John Lennon and Yoko Ono are shown in London. Date: 01/07/1968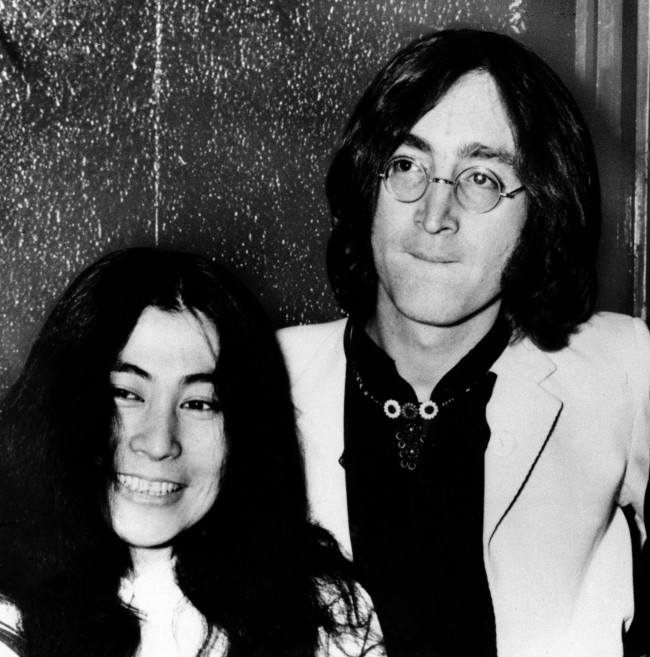 Beatle John Lennon, right, and companion Yoko Ono are arrested for possesion of marijuana after their flat was raided in London, England, on Oct. 18, 1968
John Lennon of the Beatles, and his Japanese girlfriend Yoko Ono, leave a car to enter Marylebone Court in London, Oct. 19, 1968, to answer charges of possession of marijuana.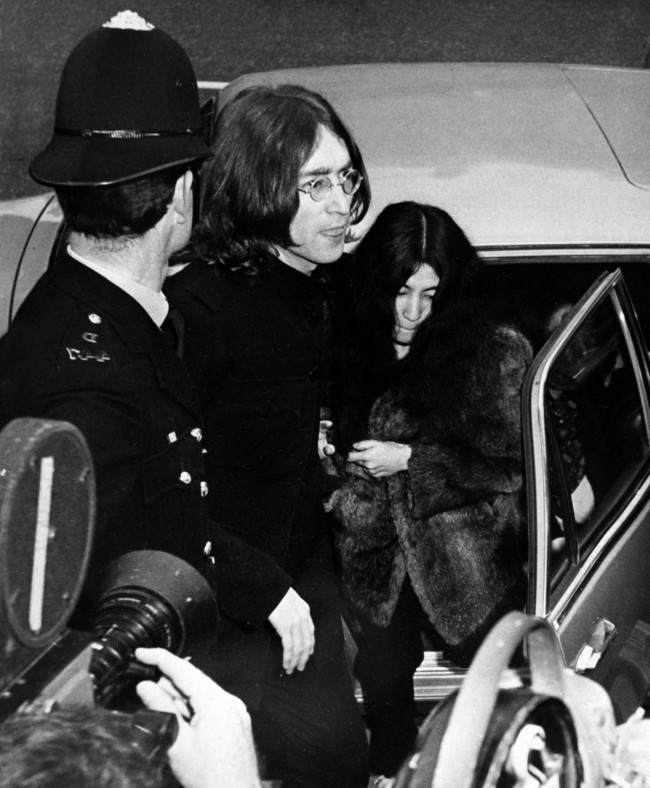 Cynthia Lennon, wife of Beatle John Lennon in London on Nov. 8, 1968 where she was granted a divorce because of Lennon?s Adultery with Japanese Artist Yoko Ono. Divorce was granted While Lennon, pictured with Ono in July, was camping on a London hospital floor to be near Miss Ono who is threatened with a miscarriage of their baby. Date: 08/11/1968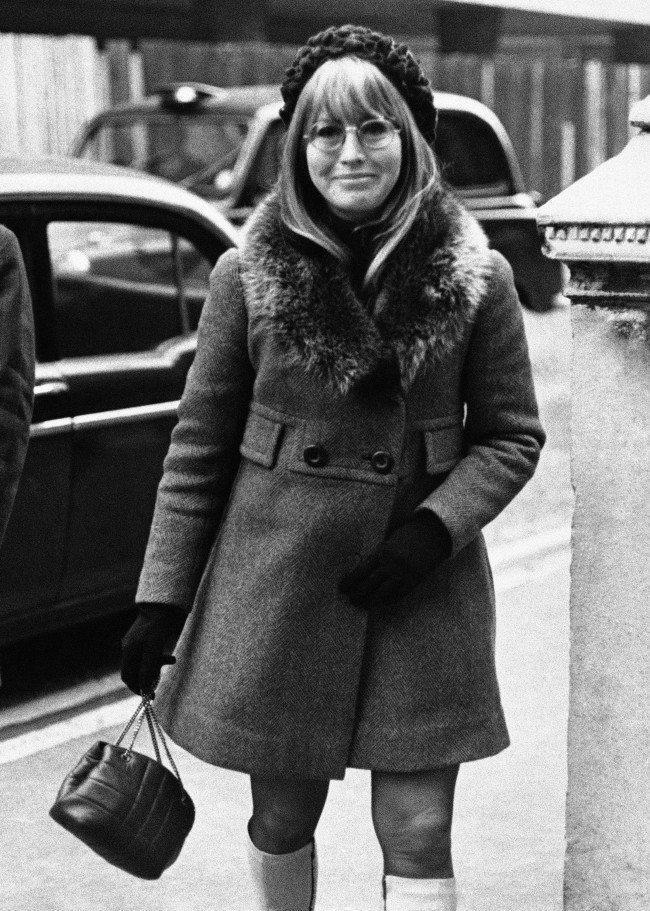 BeatlesBible tells the story of their first date at Kenwood, Lennon's house in Weybridge, Surrey. Lennon was nervous about inviting Ono, so made sure his childhood friend Pete Shotton was also present as she arrived.
At the time, Lennon's wife Cynthia Lennon was on a two-week holiday in Greece, at Lennon's suggestion, with 'Magic' Alex, Jenny Boyd, Donovan and his friend Gypsy Dave.

The lengthy recordings were made in the attic of the house, which Lennon used as a music room. The sounds included birdsong, vocal improvisations, sound effects, feedback and distorted musical instruments, and contained nursery rhymes, music hall songs and novelty piano tunes amid the less orthodox moments. One outtake segment from the recordings, known as Holding A Note, can also be heard as a bootleg.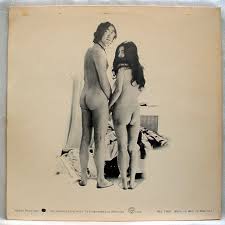 Said Lennon:
"When we got back from 

India

, we were talking to each other on the phone. I called her over, it was the middle of the night and Cyn was away, and I thought, 'Well, now's the time if I'm going to get to know her any more.' She came to the house and I didn't know what to do; so we went upstairs to my studio and I played her all the tapes that I'd made, all this far-out stuff, some comedy stuff, and some electronic music. There were very few people I could play those tapes to. She was suitably impressed, and then she said, 'Well, let's make one ourselves,' so we made Two Virgins. It was midnight when we finished, and then we made love at dawn. It was very beautiful."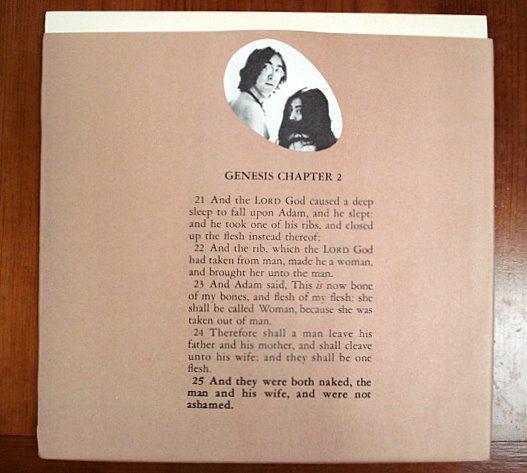 The avant-garde recordings were released as Unfinished Music No 1: Two Virgins on 11 November 1968 in the United States, and on 29 November in the United Kingdom.
More controversial than the musical content was the cover artwork, which featured a nude photograph of Lennon and Ono. The rear sleeve, fittingly, sported a similarly naked picture of the couple with their backs to the camera, looking over their shoulders.

The photograph was taken not on this day, but later in the year, at Ringo Starr's basement apartment at Montagu Square, London, where Lennon and Ono were temporarily living.

"Even before we made this record [Two Virgins], I envisioned producing an album of hers and I could see this album cover of her being naked because her work was so pure. I couldn't think of any other way of presenting her. It wasn't a sensational idea or anything."After Yoko and I met, I didn't realise I was in love with her. I was still thinking it was an artistic collaboration, as it were – producer and artist, right? We'd known each other for a couple of years. My ex-wife was away in Italy, and Yoko came to visit me and we took some acid. I was always shy with her, and she was shy, so instead of making love, we went upstairs and made tapes. I had this room full of different tapes where I would write and make strange loops and things like that for the Beatles' stuff. So we make a tape all night. She was doing her funny voices and I was pushing all different buttons on my tape recorder and getting sound effects. And then as the sun rose we made love and that was Two Virgins. That was the first time."
Those pictures:
"We were both a bit embarrassed when we peeled off for the picture, so I took it myself with a delayed-action shutter. The picture was to prove that we are not a couple of demented freaks, that we are not deformed in any way and that our minds are healthy. If we can make society accept these kind of things without offence, without sniggering, then we shall be achieving our purpose.What we did purposely is not have a pretty photograph; not have it lighted so as we looked sexy or good. There were a couple of other takes from that session where we looked rather nice, hid the little bits that aren't that beautiful; we looked good. We used the straightest, most unflattering picture just to show that we were human."
 John Lennon, Julian Lennon, Kyoko Cox and Yoko Ono in Scotland, June 1969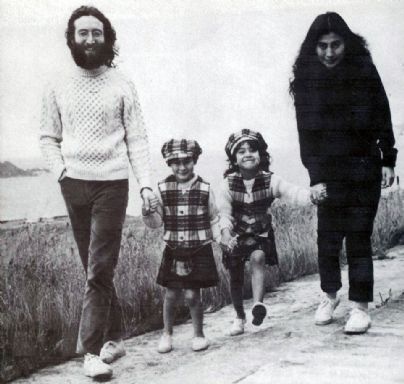 This 1969 black and white photograph of Yoko Ono and John Lennon entitled "Bed-In for Peace" taken at the Hilton Hotel in Amsterdam was released in New York.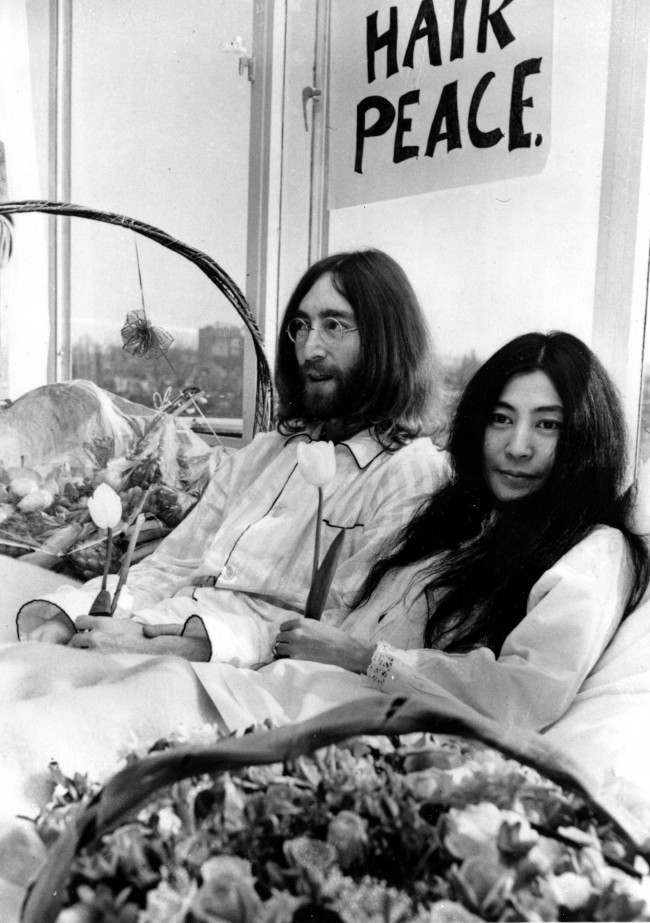 Beatle John Lennon, left, and his friend Japanese actress Yoko Ono go through the editing of the film "Rape" together with an editor, partly obscured by the viewer Reel, in London, England, on Feb. 5, 1969.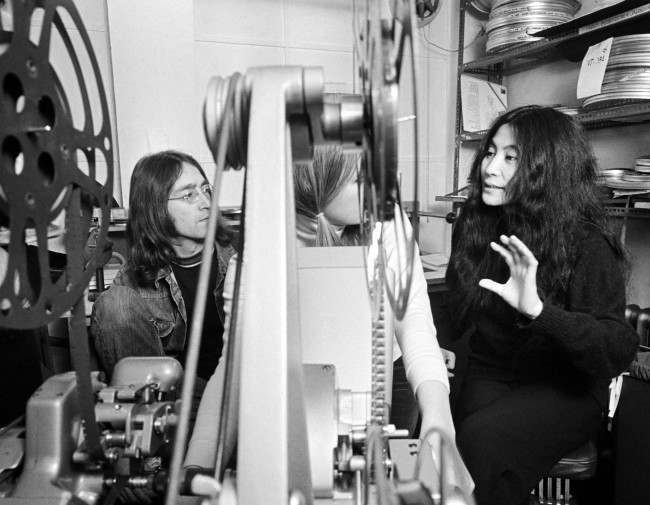 1969's Rape is arguably her most famous work, a disturbing first-person perspective from the eyes of the film crew, who chase, harass, and assault a German woman as she flees through the streets of London.
Beatle John Lennon and his wife, Yoko Ono, hold a bed-in for peace in room 902, the presidential suite at the Hilton Hotel in Amsterdam on March 25, 1969. The newlyweds, holding solitary tulips, begin a seven-day Love-In to protest against war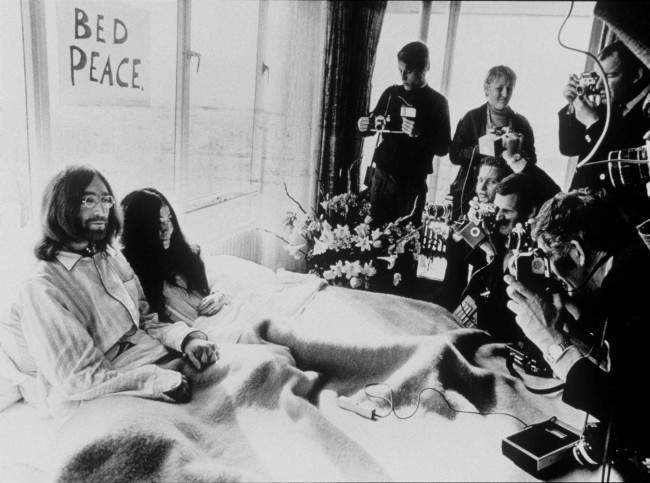 John Lennon, holds Kyoko Cox, the 6 year old daughter of his Japanese wife, Yoko Ono, on the child's arrival at Heathrow airport, where she had flown in from New York. Kyoko has spoken for the first time about the pressures in her early life. which led her to choose a life with her father Tony Cox. Ono, the widow of John Lennon, lost contact with Kyoko for a quarter of a century after Kyoko decided to live with her father. Date: 18/05/1969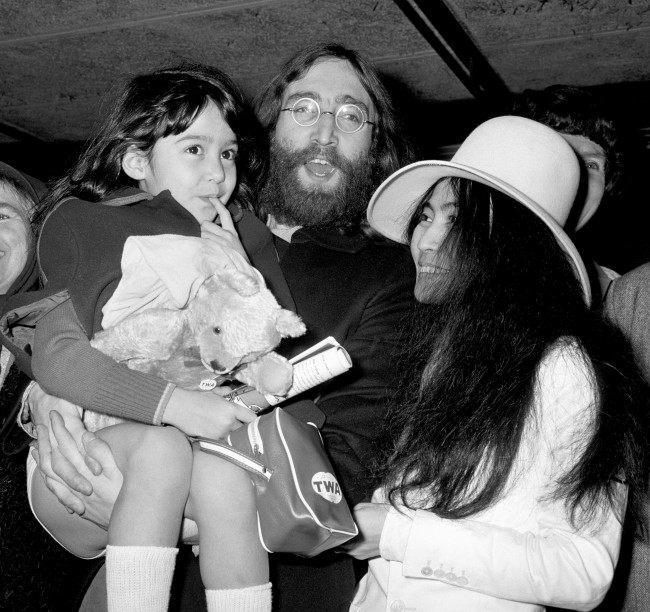 They were stars.
The first iteration of the Plastic Ono Band was comprised of whoever happened to bepresent (including Tommy Smothers!) singing along and clapping their hands at Ono and Lennon's Montreal "Bed Peace" performance in July of 1969, while the single "Give Peace A Chance" was recorded. The first properly band-like version was assembled in September 1969 for the Toronto Rock And Roll Revival festival, and featured, in addition to Ono and Lennon, future Yes drummer Alan White, noteworthy visual artist and onetime Manfred Mann bassist Klaus Voormann, and one Eric Clapton, who did some other fairly well known stuff himself.
In front of a poster that reads "Britian Murdered Hanratty", John Lennon and Yoko Ono talk with Mr and Mrs James Hanratty. parents of the dead man, at a press conference in London to discuss the film it is planned to make concerning the A6 murder case. James Hanratty was executed at Bedford Prison on April 4th 1962 after he had been found guilty of the murder of physicist Michael Gregsten and the rape and attempted murder of Gregsten's lover, Valerie Storey, on the lonely A6 road near Bedford. Date: 10/12/1969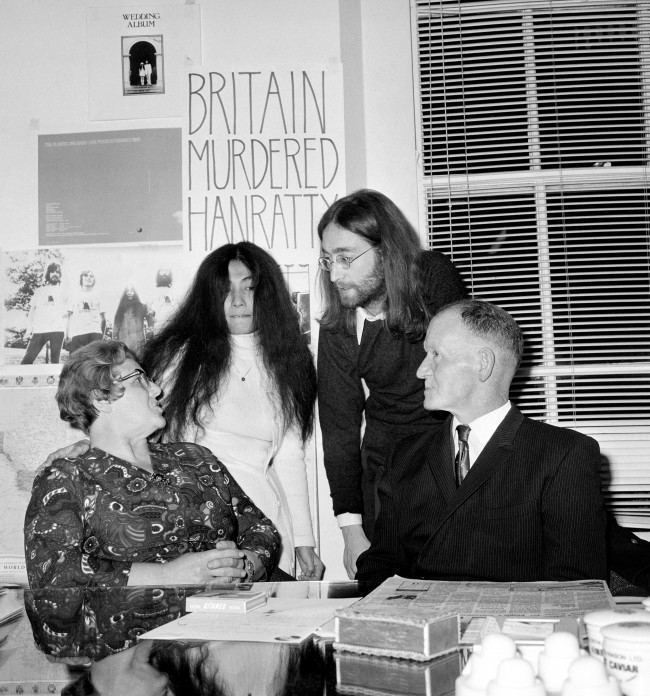 Workmen put finishing touches on a billboard bearing a Christmas peace message from musicians and activists John Lennon and Yoko Ono in New York's Times Square, Dec. 15, 1969. The billboard, located near the U.S. Armed Forces recruiting station, reads: Date: 15/12/1969
1970.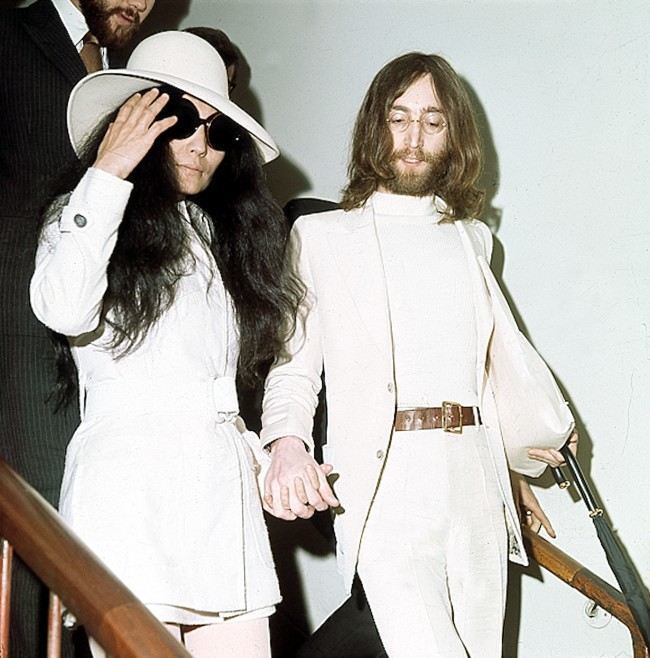 John Lennon and his wife Yoko Ono give some of their shorn hair to Abdul Malik, British Black Muslim leader, in London, Feb. 4, 1970. In exchange, Malik presents the Lennons with a pair of boxer's shorts he said were given to him by former world heavyweight boxing champion Muhammad Ali. Malik said the hair would be auctioned to the highest bidder.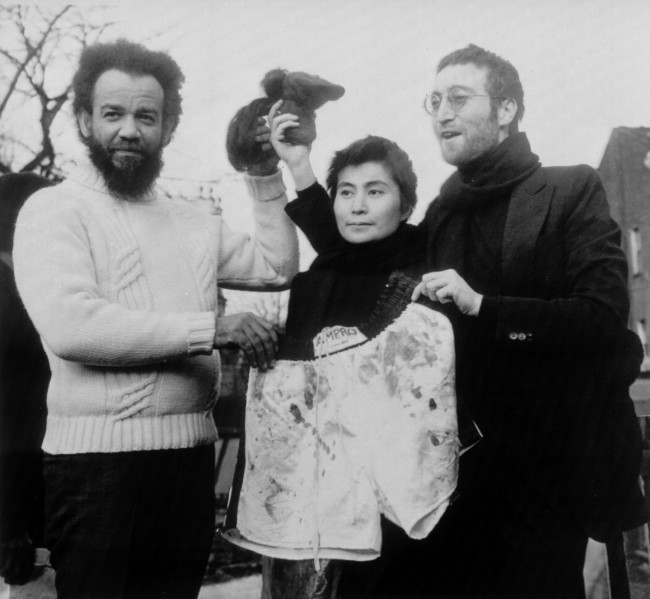 March 1970.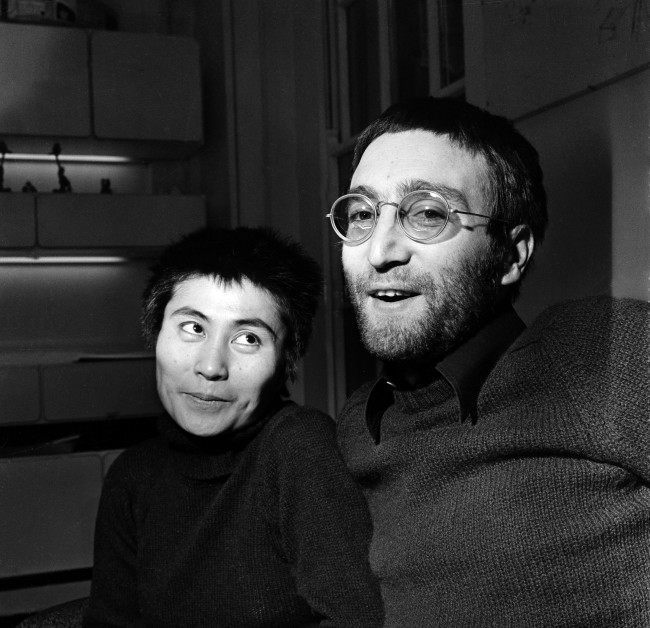 London Arts Gallery's American owner, Eugene Schuster. The gallery was prosecuted for showing drawings of John Lennon with his wife Yoko Ono having sex, because police feared the singer's,"great influence on young people", according to official files made public Thursday January 25, 2001. The charges against the gallery and Mr Schuster, for exhibiting "indecent prints" were thrown out by magistrates in April 1970 on a legal technicality.  According to official files made public John Lennon's graphic drawings of himself having sex may have escaped conviction for obscenity because of fears art collections throughout the country could have fallen foul of the law if the case succeeded. Date: 01/04/1970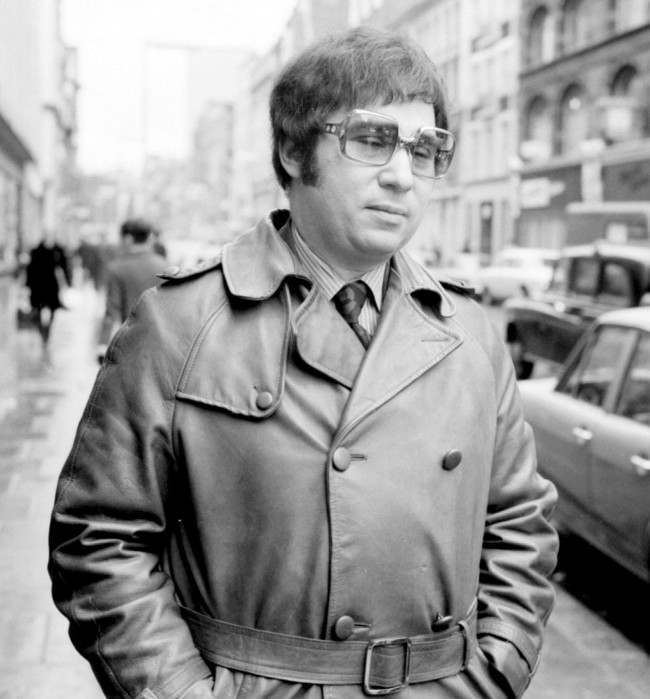 French film director Louis Malle, left, with John Lennon of the Beatles, his wife Yoko Ono and French actress Jeanne Moreau, right, in Cannes, France, for the film festival, on May 15, 1971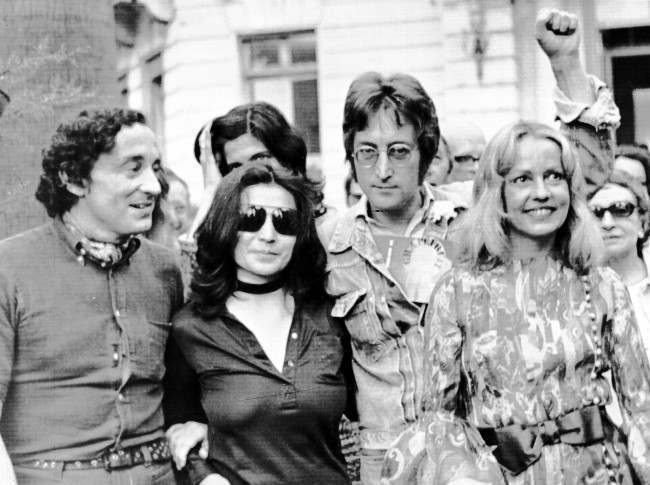 Musician John Lennon and his wife Yoko Ono walk on the Croisette in Cannes. They are presenting their films "Apothesis" and " The Fly" at the 25th Cannes International Film Festival.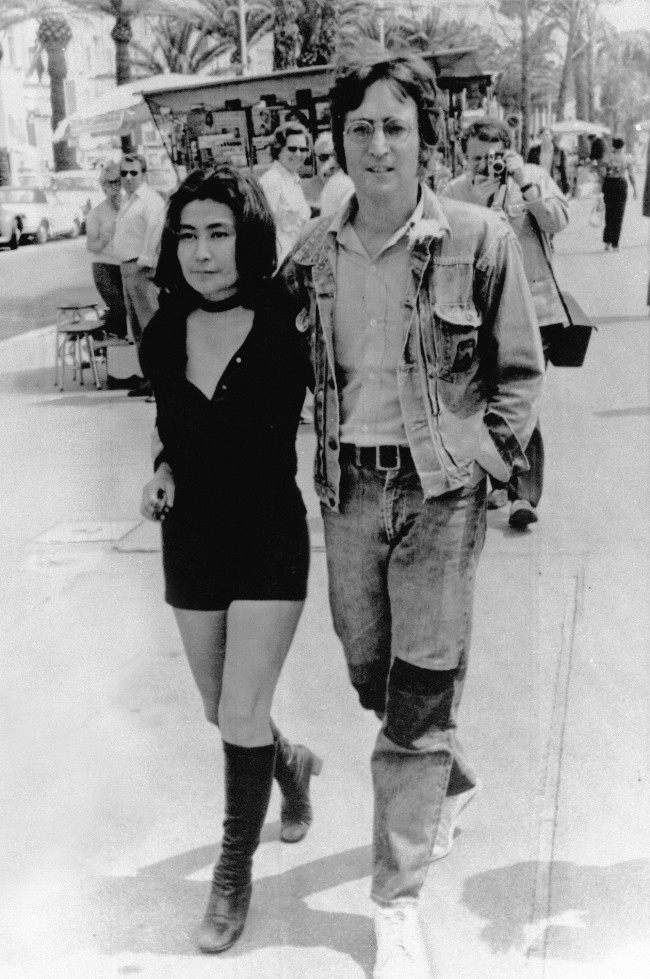 John and Yoko onstage with Frank Zappa and the Mothers of Invention at the Fillmore East in NYC, June 5, 1971.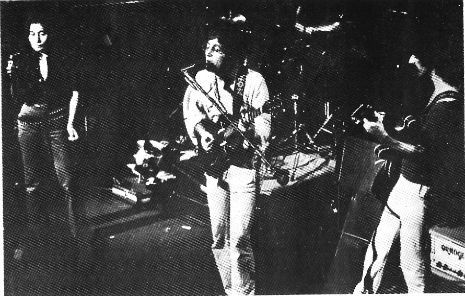 Ono had recorded music before she met Lennon.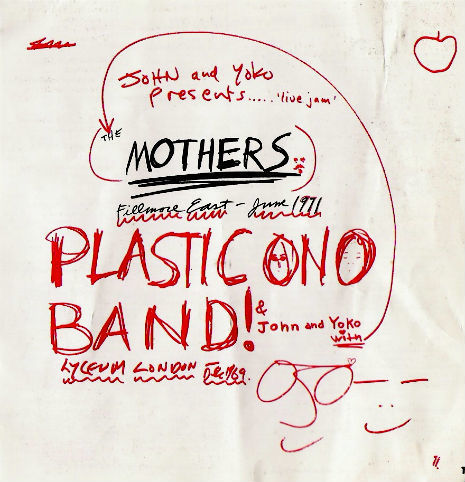 She was prolific.  Yoko Ono – Movie – Freedom (1971):
Even if Ono hadn't married a superstar, she'd be worth knowing about. An early mover in the Dada-like Fluxus art movement, she distanced herself from the group almost as soon as it became a movement with a name:

"I thought avant-garde world in New York was still very exciting but that it was starting to become an institution in itself, and there were rules and regulations in an invisible way, and I just wanted to get out of it. I never considered myself a member of any group. I was just doing my own thing, and I'm sure that most artists I knew in those days felt the same."
John Lennon and his wife Yoko Ono raise their fists as they join a protest, Feb. 5, 1972, by about 500 persons in front of British Overseas Airways Corp. offices in New York on Fifth Avenue. The demonstrators called for the withdrawal of British troops from Northern Ireland. "The U.S. VS. John Lennon," is a documentary on the life of John Lennon, with a focus on the time in his life when he transformed from a musician into an antiwar activist. Date: 05/02/1972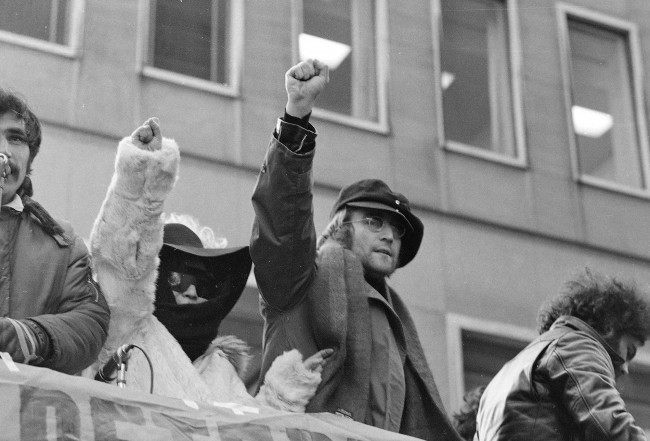 Former Beatle John Lennon, right, gestures as he speaks at a peace rally in New York's Bryant Park on April 22, 1972. Standing beside him is his wife, Yoko Ono. The rally and march of some 30,000 persons in New York City is part of a nationwide day of protests and demonstrations against U.S. involvement in the Vietnam War.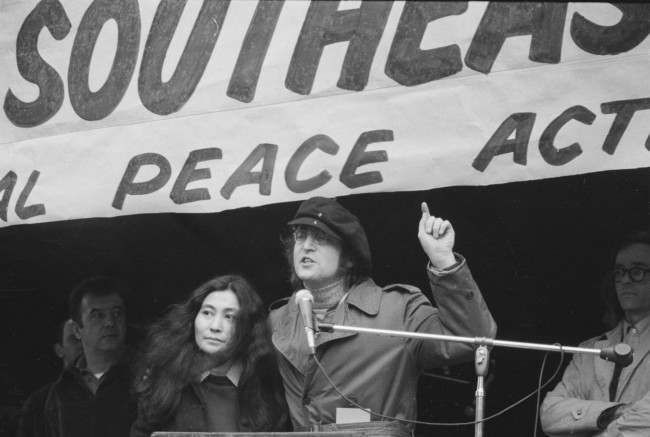 Former Beatle John Lennon, giving the peace sign, and his wife, Yoko Ono, arrive for a hearing on their deportation case at U.S. Immigration and Naturalization Service office in lower Manhattan, May 12, 1972.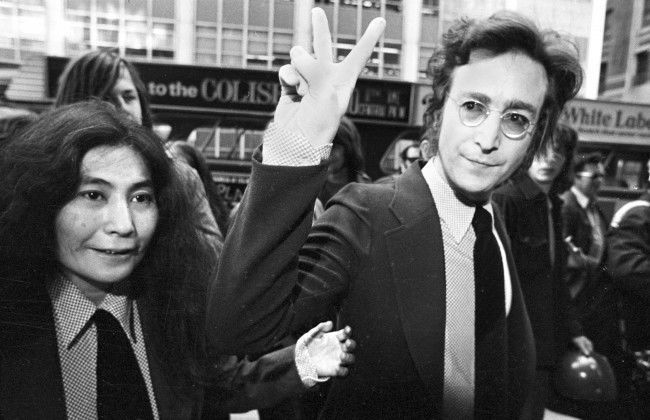 Former Beatle John Lennon and his wife Yoko Ono are shown talking to newsmen outside the U.S. Immigration offices in New York on Wednesday in March, 1972. At the hearing on his deportation, the defense submitted a petition containing 16,000 signatures, including that of New York Mayor John Lindsay, on behalf of Lennon.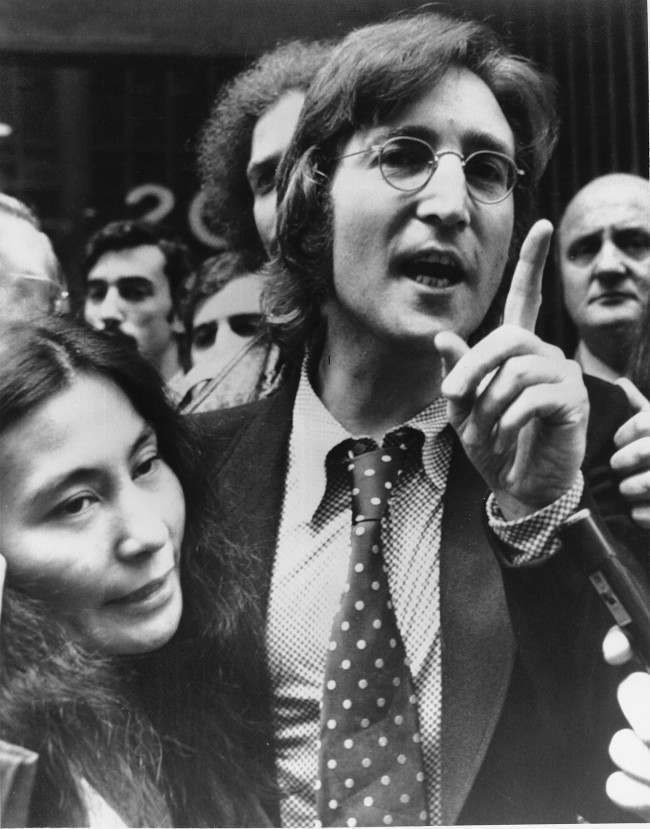 1973.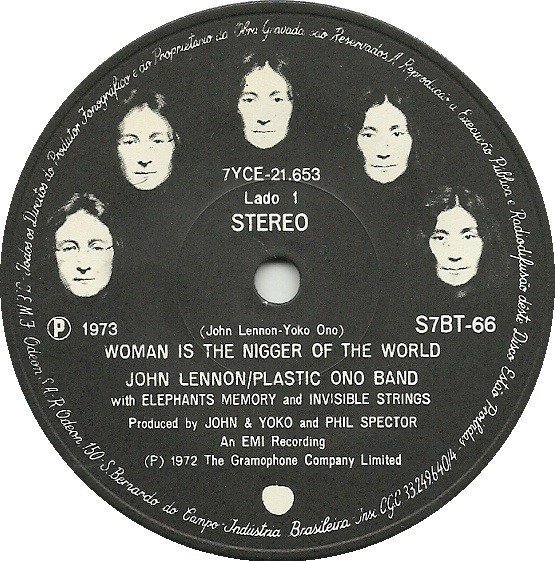 In 1975, they spoke with Playboy magazine.
PLAYBOY: The word is out: John Lennon and Yoko Ono are back in the studio, recording again for the first time since 1975, when they vanished from public view. Let's start with you, John. What have you been doing?

LENNON: I've been baking bread and looking after the baby.

PLAYBOY: With what secret projects going on in the basement?

LENNON: That's like what everyone else who has asked me that question over the last few years says. "But what else have you been doing?" To which I say, "Are you kidding?" Because bread and babies, as every housewife knows, is a full-time job. After I made the loaves, I felt like I had conquered something. But as I watched the bread being eaten, I thought, Well, Jesus, don't I get a gold record or knighted or nothing?

PLAYBOY: Why did you become a househusband?

LENNON: There were many reasons. I had been under obligation or contract from the time I was 22 until well into my 30s. After all those years, it was all I knew. I wasn't free. I was boxed in. My contract was the physical manifestation of being in prison. It was more important to face myself and face that reality than to continue a life of rock 'n' roll — and to go up and down with the whims of either your own performance or the public's opinion of you. Rock 'n' roll was not fun anymore. I chose not to take the standard options in my business — going to Vegas and singing your great hits, if you're lucky, or going to hell, which is where Elvis went.

ONO: John was like an artist who is very good at drawing circles. He sticks to that and it becomes his label. He has a gallery to promote that. And the next year, he will do triangles or something. It doesn't reflect his life at all. When you continue doing the same thing for ten years, you get a prize for having done it.

LENNON: You get the big prize when you get cancer and you have been drawing circles and triangles for ten years. I had become a craftsman and I could have continued being a craftsman. I respect craftsmen, but I am not interested in becoming one.

ONO: Just to prove that you can go on dishing out things.

PLAYBOY: You're talking about records, of course.

LENNON: Yeah, to churn them out because I was expected to, like so many people who put out an album every six months because they're supposed to.

PLAYBOY: Would you be referring to Paul McCartney?

LENNON: Not only Paul. But I had lost the initial freedom of the artist by becoming enslaved to the image of what the artist is supposed to do. A lot of artists kill themselves because of it, whether it is through drink, like Dylan Thomas, or through insanity, like Van Gogh, or through V.D., like Gauguin.

PLAYBOY: Most people would have continued to churn out the product. How were you able to see a way out?

LENNON: Most people don't live with Yoko Ono.

PLAYBOY: Which means?

LENNON: Most people don't have a companion who will tell the truth and refuse to live with a bullshit artist, which I am pretty good at. I can bullshit myself and everybody around. Yoko: That's my answer.

PLAYBOY: What did she do for you?

LENNON: She showed me the possibility of the alternative. "You don't have to do this." "I don't? Really? But–but–but–but–but…." Of course, it wasn't that simple and it didn't sink in overnight. It took constant reinforcement. Walking away is much harder than carrying on. I've done both. On demand and on schedule, I had turned out records from 1962 to 1975. Walking away seemed like what the guys go through at 65, when suddenly they're supposed to not exist anymore and they're sent out of the office [knocks on the desk three times]: "Your life is over. Time for golf."
On music: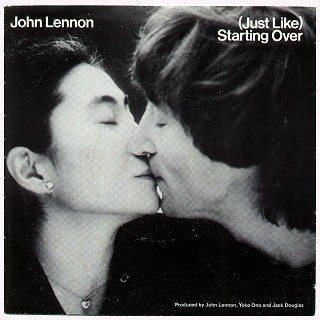 PLAYBOY: Yoko, the single you and John released from your album seems to be looking toward the future.

ONO: Yes, "Starting Over" is a song that makes me feel like crying. John has talked about the Sixties and how it gave us a taste for freedom — sexual and otherwise. It was like an orgy. Then, after that big come that we had together, men and women somehow lost track of each other and a lot of families and relationships split apart. I really think that what happened in the Seventies can be compared to what happened under Nazism with Jewish families. Only the force that split them came from the inside, not from the outside. We tried to rationalize it as the price we were paying for our freedom. And John is saying in his song, OK, we had the energy in the Sixties, in the Seventies we separated, but let's start over in the Eighties. He's reaching out to me, the woman. Reaching out after all that's happened, over the battlefield of dead families, is more difficult this time around. On the other side of the record is my song, "Kiss Kiss Kiss," which is the other side of the same question. There is the sound of a woman coming to a climax on it, and she is crying out to be held, to be touched. It will be controversial, because people still feel it's less natural to hear the sounds of a woman's lovemaking than, say, the sound of a Concorde, killing the atmosphere and polluting nature. Altogether, both sides are a prayer to change the Eighties.
John Lennon and his wife, Yoko Ono, arrive at The Hit Factory, a recording studio in New York in this Aug. 22, 1980 photo.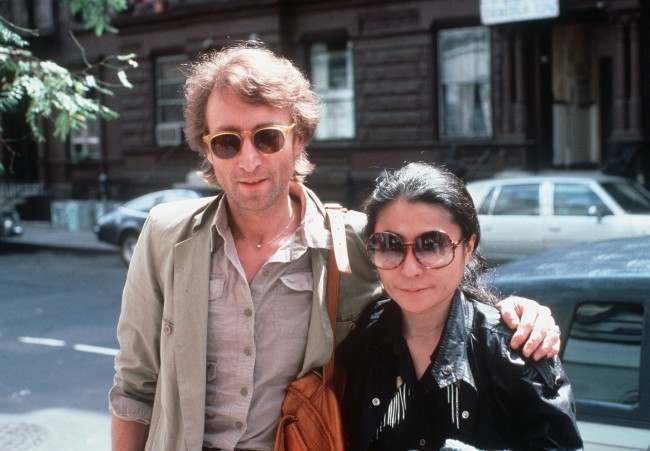 Lennon was shot fatally on Dec. 8, 1980 outside his apartment building in New York.
Record producer David Geffen comforts Yoko Ono as they leave Roosevelt Hospital in New York, Dec. 9, 1980, after the shooting and death of Ono's husband John Lennon. Lennon was shot and killed as he returned to his apartment after going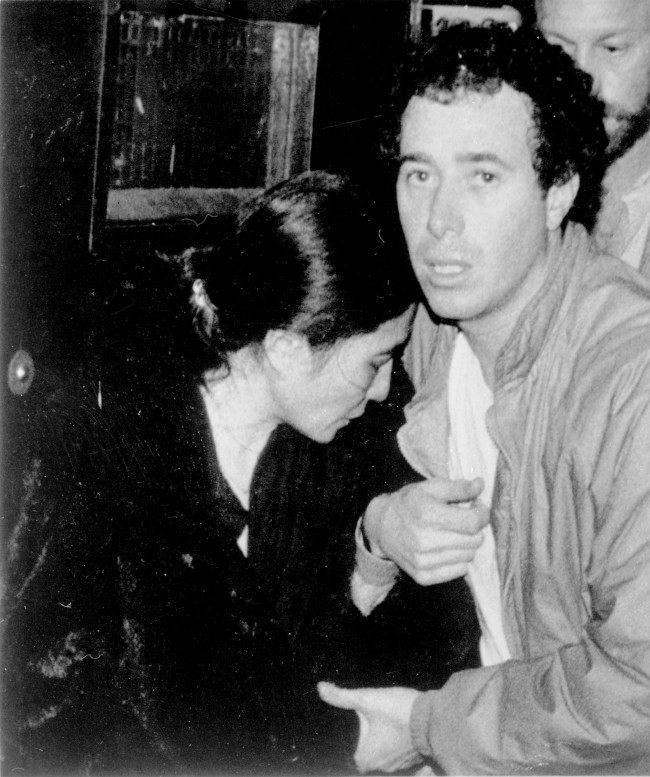 In this 1975 file photo, Mark David Chapman is seen at Fort Chaffee near Fort Smith, Ark.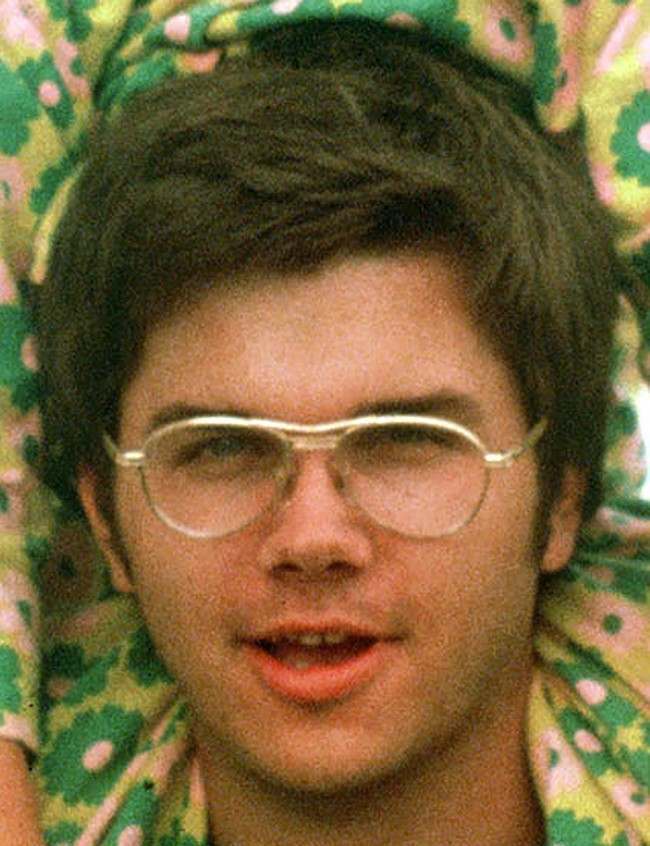 Sean, eight-year old son of the late John Lennon, stands close to his mother Yoko Ono at the Strawberry Fields Gates on Jan. 24, 1984 in England that Lennon made world famous in a recording with the Beatles. Sean and his mother were making an emotional visit to the Beatles' hometown of Liverpool. From left are: Salvation Army Officer Brig. Bramwell-Darbyshire, Yoko Ono, Sean and Salvation Army Captain Botting. Date: 24/01/1984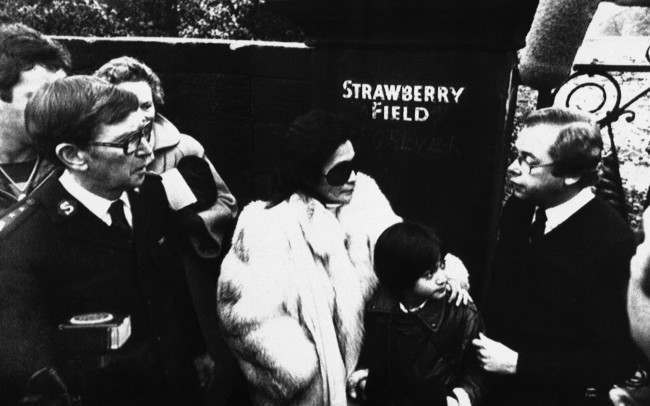 Yoko Ono reacts during ceremonies in New Yorks Central Park, dedicating a portion of the park as Strawberry Fields after the title of one of the ex-Beatles songs, Wednesday, March 21, 1984, New York.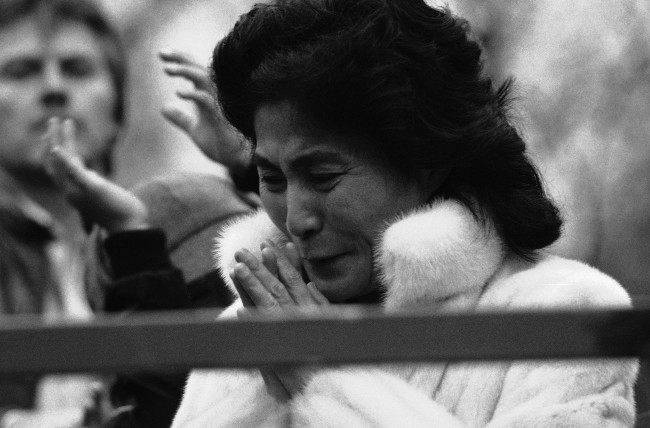 Yoko Ono prepares to drive a nail into a wooden cross, resurrecting one of the interactive art works she displayed at the London show were she met John Lennon in 1966, at the Judson Memorial Church in New York on Friday, Jan. 19, 1990. The art piece, entitled "Painting to Hammer a Nail in 1961-1990," allows visitors to pound a nail into a cross-shaped piece of wood. Date: 19/01/1990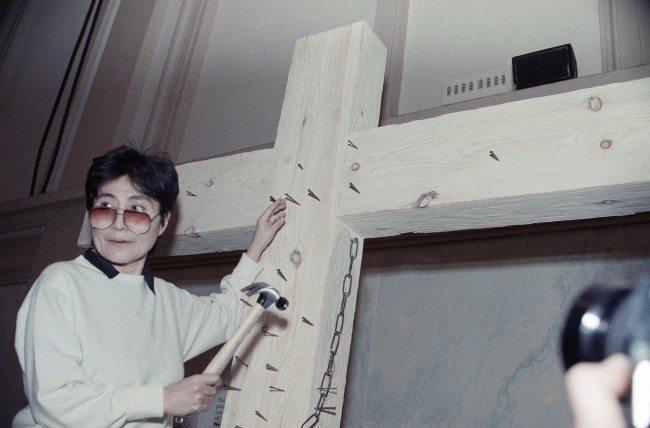 October 10 – Lennon Day:
In 2000, Ono opened a museum dedicated to Lennon. The museum launch in Yono, north of Tokyo, was among a number of events around the world, including a huge ice sculpture of Lennon in Sydney and the words "remember love" written in the sky above New York.

Ono has also supervised the remixing of a reissued version of Lennon's final album, Double Fantasy, which has a previously unheard song completed shortly before his death. Help Me To Help Myself includes the lyric: "I tried so hard to stay alive, but the angel of destruction keeps on hounding me, all around". Lennon's killer Mark Chapman — who has been turned down for parole — asked the star to sign a sleeve of the original Double Fantasy shortly before shooting him on December 8, 1980.

The reissued album also includes the last track Lennon completed on the night he died. He and his wife were working on Walking On Thin Ice shortly before they left their New York apartment. It was a minor hit for Yoko Ono when it was released in 1981.
Yoko Ono, the widow of former Beatle John Lennon, unveils a statue of her late husband on the upper concourse of Liverpool's John Lennon Airport. She was joined at the unveiling with Cherie Booth. The statue is the work of sculptor Tom Murphy. Date: 15/03/2002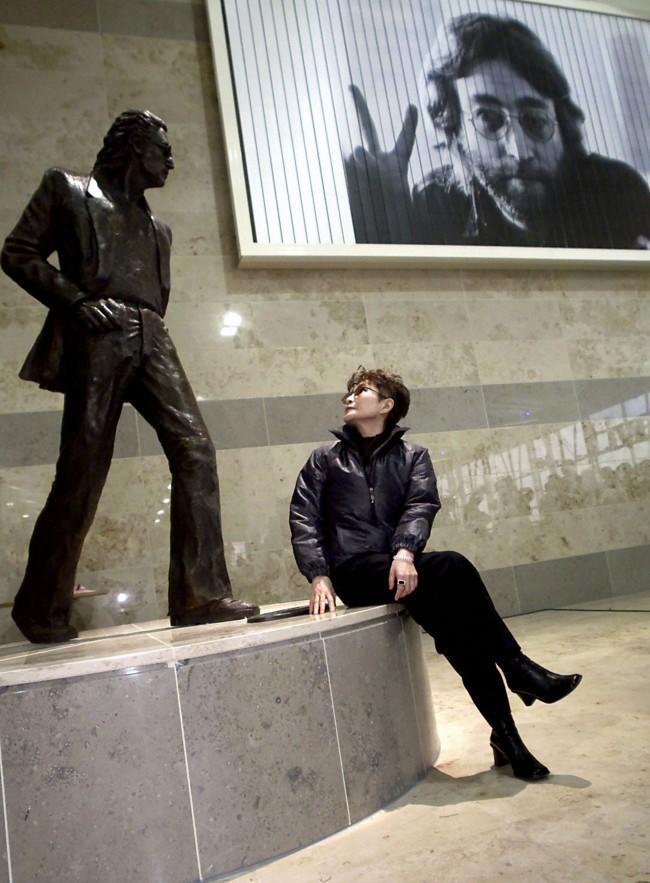 On the 44th anniversary (March 20) of her marriage to John Lennon, Yoko Ono tweeted this powerful photo of her late husband's blood-splattered glasses, the ones he wore the night he was murdered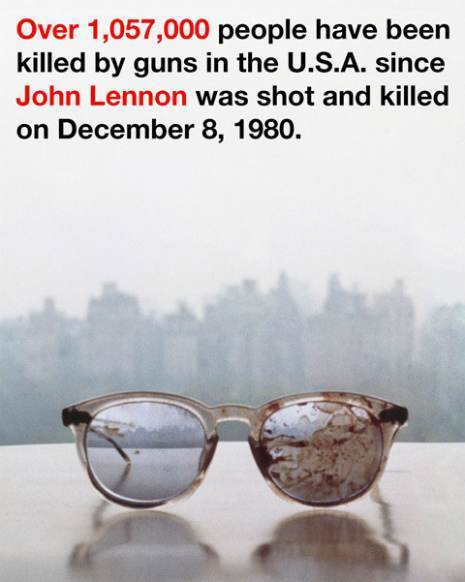 31,537 people are killed by guns in the USA every year. We are turning this beautiful country into a war zone.

Together, let's bring back America, the green land of peace.

The death of a loved one is a hollowing experience. After 33 years our son Sean and I still miss him." Yoko Ono Lennon
Now that was an enduring love story.