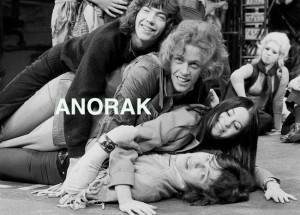 ON This Day in Photos: September 27 1968: Hair Opens in London.
The American hippy musical Hair: The American Tribal Love-Rock Musical opened at the Shaftesbury Theatre in London's West End – one day after the abolition of theatre censorship.
Gerome Ragni and James Rado's sgtory of hippies living and loving in the Age of Aquarius stared Sonja Kristina, Paul Nicholas, Melba Moore, Elaine Paige, Paul Korda, Marsha Hunt, Floella Benjamin, Alex Harvey, Oliver Tobias, Richard O'Brien and Tim Curry. There would be nudity on stage. Not women in nude tableaux vivants at the Windmill Teater, but nudes in motion talking about taking illegal drugs, blasphemy and war being bad, man.
The Theatres Act which ended the Lord Chamberlain's powers of censorship dating back to 1737. It would be wild. And overhyped? Said the show's director Tom O'Horgan:
"I think that the famed nude scene has been greatly over-emphasised. It has very little importance in the show itself and much of the publicity has obscured the important aspects of the play, which are also perhaps shocking to people because they deal with things as they are. We tell it the way it is."
You dig, daddy-o. The words seem stilted in our Brave New World. And nudes and drugs – well, you can watch and get those anywhere.
The Times' drama critic Irving Wardle told his readers:
"Nothing else remotely like it has yet struck the West End.Its honesty and passion give it the quality of a true theatrical celebration – the joyous sound of a group of people telling the world exactly what they feel."
Michael Billingdon says of it:
Hair is more than just a musical: it is a social and cultural phenomenon, a jubilant assertion of life and freedom and a cry of protest against politicians who, in the late 1960s, sent a generation of young Americans to war.
Charles Spencer told us:
The flower-power tribe at the heart of the show are desperate and angry as well as idealistic, capable of cruelty to each other even as they preach their fuzzy message of love and peace. As the mood darkens in the second half, with a scary bad trip sequence and the likeable Claude being sent to Vietnam, the show suddenly seems less like a celebration of youthful optimism than a heartfelt lament for man's fallen state and the impossibility of constructing a heaven on earth.
All very deep. All very steeped in meaning. But for many it will always be about the nudity. To many, the show became the embodiment of its lead character Berger, who was always more interested in sex and drugs than in being part of a cause…
[imagebrowser id=3485]