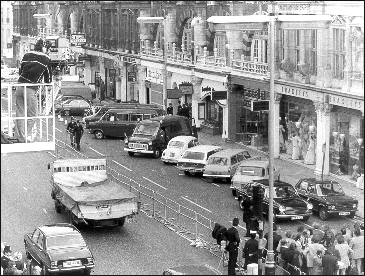 ON This Day In Photos: September 28, 1975 – the Spaghetti House Siege.
At the Spaghetti House in Knightsbridge, London, three men were holding six Italians hostage in the basement.
For five days the group were stuck in the basement. They were observed by police who pushed a fibre optic tiny camera through a hole. The news media chipped in by brocasting messages stating that the gunmen had no chance of getting what they wanted.
Radio reporters demoralised the robbers with the insistence their demands would never be met, and the Daily Mail nobly suppressed a hard won scoop at Sir Robert's personal request, concealing the fact that the police had arrested a man they believed to be a confederate of Davies. The police ensured Davies received a false message to the effect that his alleged confederate was being paid for selling information to the newspapers, and this completed his demoralisation.
It was not man to be like this. The three gunmen had meant to steal the week's taking – £13,000 – and flee. The gunmen burst in. They shooed nine men, all Italians, into the restaurant's basement. But one escaped. He alerted the police, who secured the area.
Two hostages fell ill. The gunmen let them go in exchange for cigarettes and coffee.
The men claimed to be part of the Black Liberation Army, a Black Panther splinter group working for socialism and a better lot for blacks. They demanded a plane to Jamaica.
But on October 3, 1975, it was over. At 0340 GMT today, the gang's leader, a Nigerian student named Franklin Davies, shouted: "The hostages are coming out." Mario Roscelli, Enrico Mainini, Gino Barni, his brother Bruno, Renato Nasta and Giovanni Scrano emerged.
One of them contracted Stockholm Syndrome (or empahy, as it was once called), befriending Davies. He was duly barred from testifying against him.
Then Davies, Wesley Dick, 24, and Anthony Gordon Munroe, 22, were seized. Davies was found in the basement bleeding from a gunshot wound. Behind him lay a .22 pistol.
In 1976, Davies was jailed for 22 years, Dick for 18 years and Munroe for 17 years for attempted robbery, having firearms with intent to rob and imprisoning eight hostages.
In 1979, the BBC Play For Today A Hole In Babylon told the villains' story:
[imagebrowser id=3492]