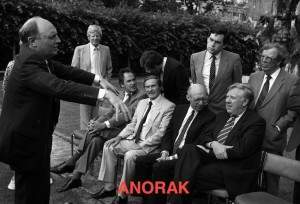 ON this Day in History: October 2, 1991 – Neil Kinnock becomes Leader of the Labour Party. At the Labour party conference in Brighton, the "dream ticket" of Kinnock and Roy Hattersley take the plaudits.
Up until then, Kinnock had been Labour's spokesman on education. On Question Time in 1983, he had told the audience debating the job market that Mrs Thatcher was "the most loathed prime minister in modern history."
Someone in the crowd had yelled that Mrs Thatcher had "showed guts."  Kinnock's reply was awful: "It's a pity others had to leave theirs on the ground at Goose Green to prove it."
His second most famous quote was that he was the "first Kinnock in a thousand generations" to go to university. Joe Biden, the current US Vice President, liked it so much he nicked it and never credited Kinnock.
Now with Roy Hattersley as deputy, Labour could not fail to unseat Maggie Thatcher. Kinnock would take Labour to the Promised Lands after the years under Michael Foot. Kinnnock has secured 71% of the Labour Party's vote, seeing off Michael Meacher's challenge. The force was behind him.
Said Kinnock in Brighton:
"We can enjoy fraternity between socialists and we must enjoy fidelity to socialism."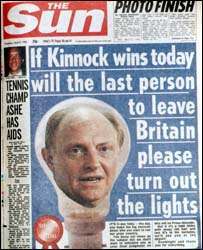 As the delegates picked their way through that, Kinnock went on:
"Mrs Thatcher is presiding over and will continue with policies which will bring industrial tragedy to this country … the people will make the Conservatives pay for that … they lack substance or conviction and they will be rejected."
And so it was that in 1987 and in 1992, the Tories tonked Labour at the ballot box. Kinnock resigned.
Neil Kinnock's legacy is less about the politics and more on the style. Highlights of his tenure are: an appearance in a 1984 Tracey Ullman video My Guy; a nutzoid 1992 rally in Sheffield; falling on his arse in 1993, and the Sun's turning his head into a light bulb that should be turned off should he become Prime Minister.

(Video: at 1:36 Kinnock overcooks the pudding.)
Kinnock resigned and became a member of the European Commission in 1995 and its vice-president in 1999. In 2004, he left the European Commission in 2004. In January 2005 he became a life peer.
[imagebrowser id=3511]