ON This Day In Photo: George Dubya Bush wins a second term as US President:
Daughters Jenna, left, and Barbara smile.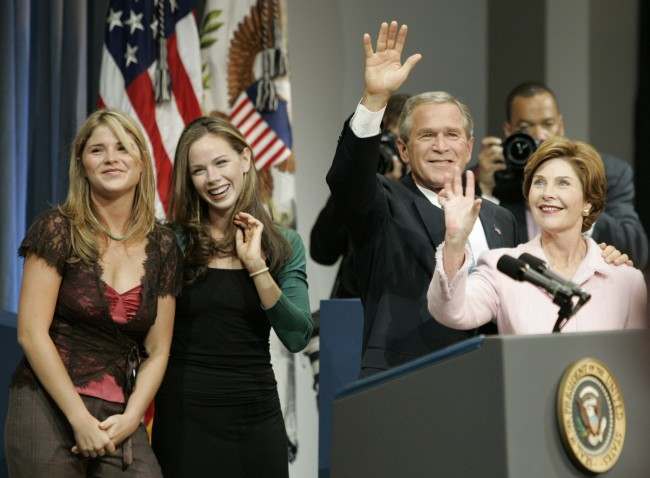 The Times:
Surprising words from a Republican. Frank Luntz, the Bush campaign's pollster, has told BBC's Newsnight programme in Washington that: "It seems like there has been a tilt for the Kerry campaign."
Mr Luntz had seen some exit poll figures, and said that they suggest that John Kerry "is in slightly better shape than he has been in recent days".

We can't rule out Mr Luntz crying wolf in order to make it look better for Bush when he scrapes through. But he isn't the only person saying this. Maureen Dowd, the veteran New York Times columnist, told Newsnight that she'd also seen some exit polls and: "It's looking exceptionally good for Kerry….it's just a personal rejection of Bush."
President George W. Bush and first lady Laura Bush salute and wave during an election victory rally at the Ronald Reagan Building and International Trade Center in Washington.
One other man wins:
America has just elected only its third black senator in history – Barack Obama, the son of a Kenyan father and an American mother, has won a seat in Illinois. The Democrat will replace a Republican senator. Mr Obama is picturesquely described as having grown up on the beaches of Hawaii and the streets of Indonesia, rising in a classic American rags-to-riches tale. He is seen as a new star in the Democratic party, and will now be praying even harder that Mr Kerry wins the race to the White House.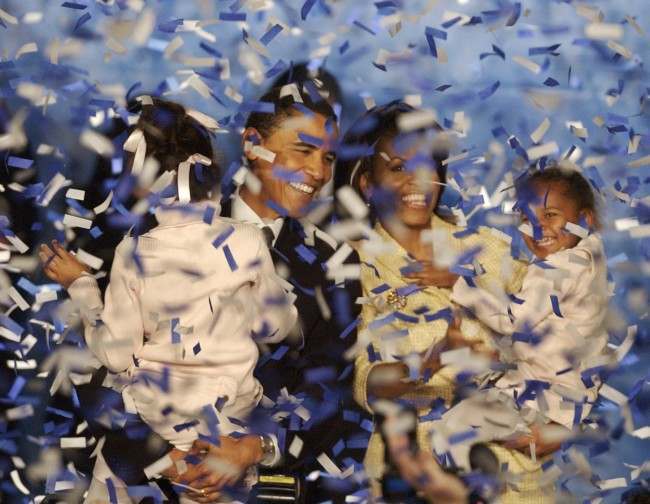 John Kerry was the night's loser:
Kerry has made a powerful, and gracious, concession speech in Boston. He told the Democratic faithful that he had 'phoned Bush, congratulated him on his victory and talked about the "desperate need for unity" after this divisive campaign.  "Today, I hope that we can begin the healing," he said.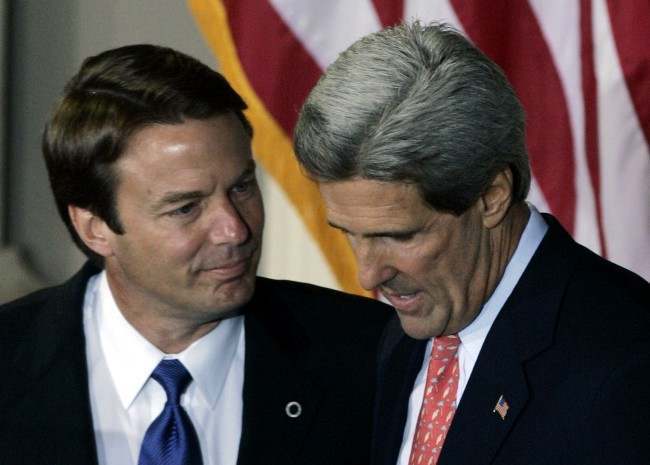 Photo: Sen. John Edwards, D-N.C., left talks with his running mate Sen. John Kerry, D-Mass., before their concession speeches in Boston's Faneuil Hall, Nov. 3, 2004.
Edwards was living a lie. See more on him here.
The final result was 286 electoral college votes to President Bush, while John Kerry won 252.
Said Bush: "We will help the emerging democracies of Iraq and Afghanistan so they can grow in strength and defend their freedom, and then our servicemen and women will come home with the honour they have earned,"
President Bush waves as he comes onto stage as first lady Laura Bush and Vice President Dick Cheney join them on stage at a victory rally