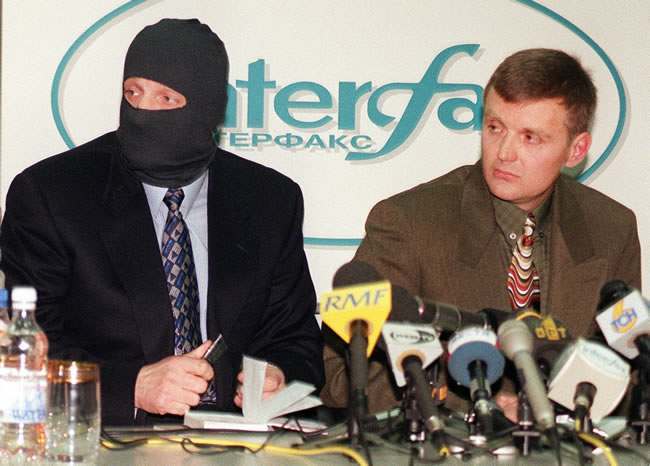 ON This Day In Photos – November 23, 2006: Alexander Litvinenko died.He had been poisoned. His death was slow agonising. Who killed the former KGB spy? We may never know.
In 2000, Litvinenko his wife and son fled Putin's Russia. He would work for Boris Berezovsky, the billionaire Russian exile.
In 2006, Litvinenko had tea at Mayfair's Millennium hotel with Andrei Lugovoy and Dmitry Kovtun. Three weeks later, he was dead. He had been poisoned with radioactive polonium-210.
Lugovoy is the prime suspect. But Russia will not send him to Britain. Lugovoy had been at Berezovsky's 60th birthday party in London. He was once the security chief for Mr Berezovsky's television station in Moscow. He had access. Says he: "I do not know how or why Mr Litvinenko died."
Litvinenko accused the FSB of ordering assassination attempts against Boris Berezovsky.
Lugovoy is now a Russian MP.
Rusian State television says Boris Berezovsky masterminded the murder. He sued All-Russian State Television and Radio Broadcasting. He won 50,000 pounds damages.
You want more?
How is the alleged poisoning of Yegor Gaidar, the former Russian PM, tied in to the Litvinenko case?

Police say they are "interested" in developments. There may well be no link. One of the men that Litvinenko met on November 1 used to be the personal bodyguard of the Prime Minister during his days in the Kremlin.
Dmitry Kovtun cannot be charged with any crime because he lives in Russia.
Earlier this month, he said:
"If the British authorities suddenly bring charges against me after so long it only goes to prove that this is a politically motivated case. If they have evidence against me why didn't they bring charges five years ago? I have nothing to do with Litvinenko's death."
Kovtun says he had himself been contaminated because he had been with Litvinenko. He was treated for radiation poisoning in a Moscow clinic but released when his condition stabilised.
Lord Macdonald of River Glaven, who was the director of public prosecutions (DPP) when Litvinenko was killed, has gone on the record:
"This was a particularly disgusting and outrageous crime: the deliberate infliction in full world view, of a lingering radioactive death upon a man who the Russians knew was under the protection of the British state. When I was DPP, we took the unprecedented step of announcing our intention to seek the extradition of Andrei Lugovoi because this case and its implications were so serious.

"In particular I had the gravest suspicion that Russian state actors were involved in the planning of this murder. It had all the hallmarks of a state directed execution, committed on the streets of London by a foreign government. The inquest into Litvinenko's death should take every feasible step to uncover the truth."
Says the dead man's wife Marina Litvinenko:
"All the investigations point to Lugovoy… Police had no political reason to name him. The last five years have been incredibly hard but I now believe we are getting close to the truth."
In 2008, she wrote in The Times:
There must be a full inquest for my husband to get justice. Lugovoy will never be extradited.

I have asked my lawyers to petition HM Coroner to hold a full inquest into the murder of my husband, Alexander Litvinenko. Only a review of the evidence in an open, independent court in Britain will get to the truth about who poisoned his tea with radioactive polonium-210 on November 1, 2006, as well as how and why.

I do this against the wishes of the Scotland Yard and David Miliband, the Foreign Secretary, who both told me that making the evidence public would prejudice a criminal trial of the chief suspect, Andrei Lugovoy, whom the UK is trying to extradite from Russia. But after waiting for 15 months I have come to the conclusion that Mr Lugovoy, a former KGB agent, will never be extradited. So I respectfully reject their argument. I cannot wait for another ten years for a slim chance that their approach would bear fruit…

While the British authorities are constrained by due process and could do nothing more than repeat futile extradition pleas, the Kremlin has embarked on a propaganda campaign designed to divert the blame from itself. It wants to destroy the reputation of Alexander, a former member-turned-critic of the FSB, Russia's security service, and to discredit the allegations he made that the Kremlin was behind the assassination of the journalist Anna Politkovskaya and a series of apartment bombings in 1999 that was blamed on Chechen separatists…

Mr Lugovoy professes his innocence, and none other than President Putin has cast him as a victim of "British colonialism" on national TV. Millions of Russians believed these claims, and now Mr Lugovoy has been elected to the Russian Parliament for an ultra-nationalist party that slavishly supports the Putin line. In the meantime, the evidence against him remains sealed in London. I cannot afford for it to remain there for ever. I need a full inquest to show both men for what they are: a murderer and his patron…

Experts say that the Avangard nuclear plant in Russia is the only place where they make polonium-210, and that security there is so tight that it could not have been taken away without an official order. They also say that "nuclear forensic analysis" must have established the origin and the production date of the batch that killed my husband. I want the polonium report to be read in the coroner's court. Then perhaps Russia would have to explain how the material produced in its most secure facility ended up in Mr Lugovoy's suitcase in a London hotel room…

He repeated it on his deathbed in London. He wanted me to go out and alert the people to the evil that rules in the Kremlin. I am doing this for him.
She will get her inquest.
You can click her to donate to the www.litvinenko.org.uk website.
[imagebrowser id=3826]