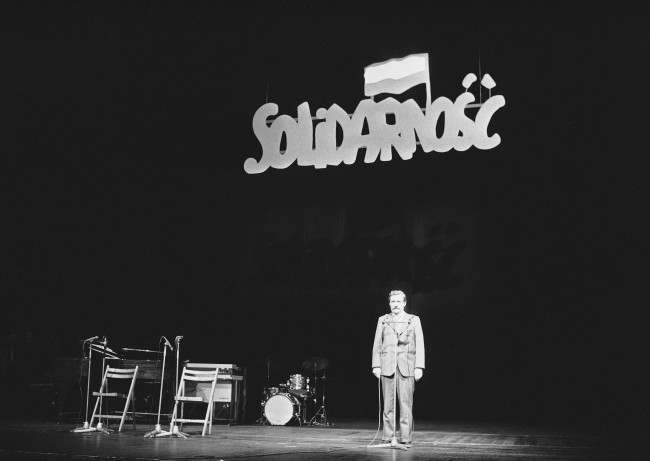 ON This Day: October 30:  Jerzy Popieluszko was found. He'd been murdered.
Photo above: Solidarity union leader Lech Walesa appears on the stage of a Warsaw theater in 1980 under a large solidarity banner. Date: 01/01/1980.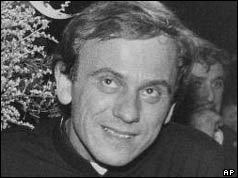 Popieluszko, a charismatic priest, was tortured and killed in 1984 by communist Poland's secret police for supporting Lech Walesa's Solidarity movement.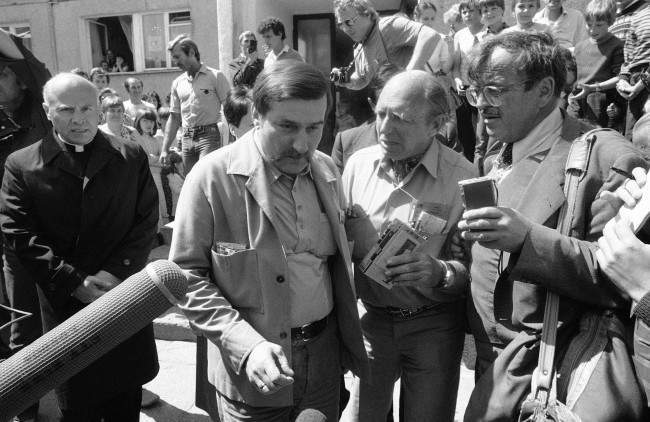 * During Solidarity's early success in 1980 and 1981 and the crackdown by General Jaruzelski's military regime from 1981 to 1983, Fr. Popieluszko held monthly "Masses for the Fatherland" in which he decried the Communist government's human rights abuses and defended workers' rights, urging above all nonviolent resistance. He frequently quoted St. Paul, urging his faithful to "defeat evil with good."
Solidarity leader Lech Walesa issued a statement saying:
"The worst has happened. Someone wanted to kill and he killed not only a man, not a Pole, not only a priest. Someone wanted to kill the hope that it is possible to avoid violence in Polish political life."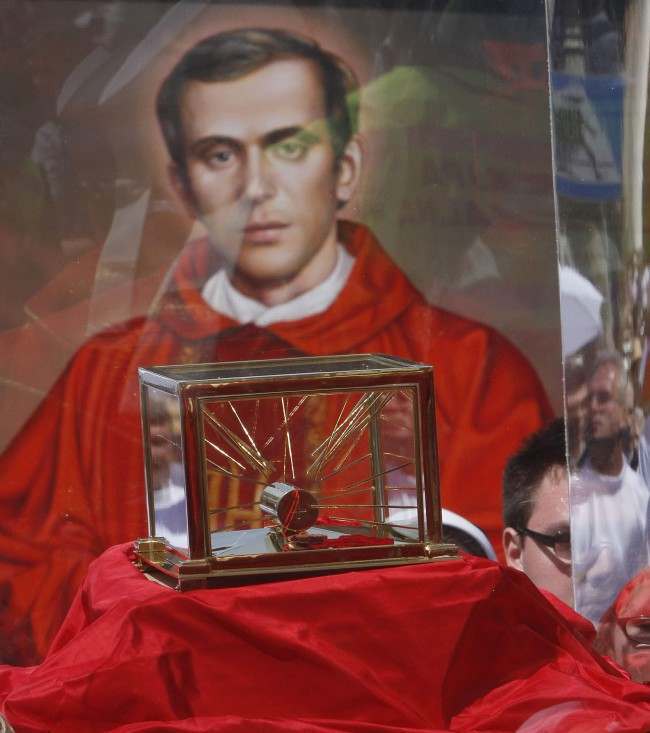 Photo above: Priests carry the relics of beatified Jerzy Popieluszko during a procession following the beatification mass for him in Warsaw, Poland, Sunday, June 6, 2010. 
The Pope said that the martyrdom was a "sign of the victory of good over evil".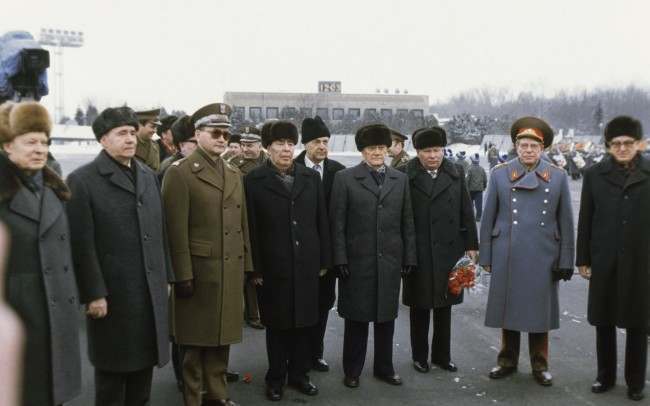 Poland's leader General Jaruzelski issued a warning:
"The people's authority … is capable in the name of social peace of carrying out lawful and determined counterblows to the actions of troublemakers."
Social peace was a euphemism for murder.
Photo: Left to right: Communist Party Central Committee Secretary Konstantine Rusakov; Foreign Minister Andrei A. Gromyko; Polish Premier Wojciech Jaruzelski; Soviet President Leonid Brezhnev; Premier Nikolai A. Tikhonov; Politburo member Konstantine U. Ustinov; KGB Chief Yuri V. Andropov as they greeted Jaruzelski upon his airport arrival in Moscow on March 1, 1982.