From the poverty of New York's Lower East Side, throughout most of the 20th century at least, has come wave upon wave of invention, driven by waves of immigration. "Each group of newcomers left their mark on the neighborhood," writes the Lower East Side Tenement Museum, and "helped shape the cultural heritage of New York City and America. Historically, it has been known as 'Little Germany' in the mid-1800s and as 'the world's largest Jewish city' in the early 1900s. The Lower East Side was also home to the largest Puerto Rican community in the mainland United States, and is currently one of the country's largest Chinatowns."
The garment and food industries that grew out of this global confluence of are world renowned, and so too is a more recent culture that put down roots in the Lower East Side. This time the newcomers arrived from far off New Jersey, the Upper West Side, and the Outer Boroughs; from London, Chicago, D.C., L.A., Cleveland, Detroit, and small towns the world over. They came in the seventies and eighties to find the neighborhood "decimated by the ravages of drugs, 'benign neglect' and landlord sponsored arson," writes Miss Rosen at Huck.
As squatters took over abandoned buildings, living side by side with black and Latinx residents, they immersed themselves in the sound of hardcore, punk, and hip hop exemplified by bands like The Clash, Beastie Boys, Bad Brains, Black Flag, the Misfits, and Minor Threat.
Just as punk's first CBGBs wave had its dedicated documentarians, so too did its early 80s evolution into a hybrid evolution of genres. Native New Yorker Karen O'Sullivan saw it all. She was "the woman in the crowd: a true fan," who captured Iggy Pop, Joe Strummer, Mick Jones, Allen Ginsberg, Cheetah Chrome, Beki Bondage, the Misfits, Run-DMC, and legendary hardcore bands like Murphy's Law, Agnostic Front, and Washington, D.C.'s Bad Brains (top), who made New York home after they were infamously banned in their hometown, then proceeded to reinvent punk with their manic energy and speed.
Sullivan freelanced for local magazines and her work gives a ground-level, fan's-eye-view of the scenes in which she immersed herself. She was "an early member of the hardcore scene," but true love was hip hop, though she confesses that a certain amount of reserve kept her from getting the shots she wanted. "I missed some great pictures because I wasn't really a paparazzi," she says.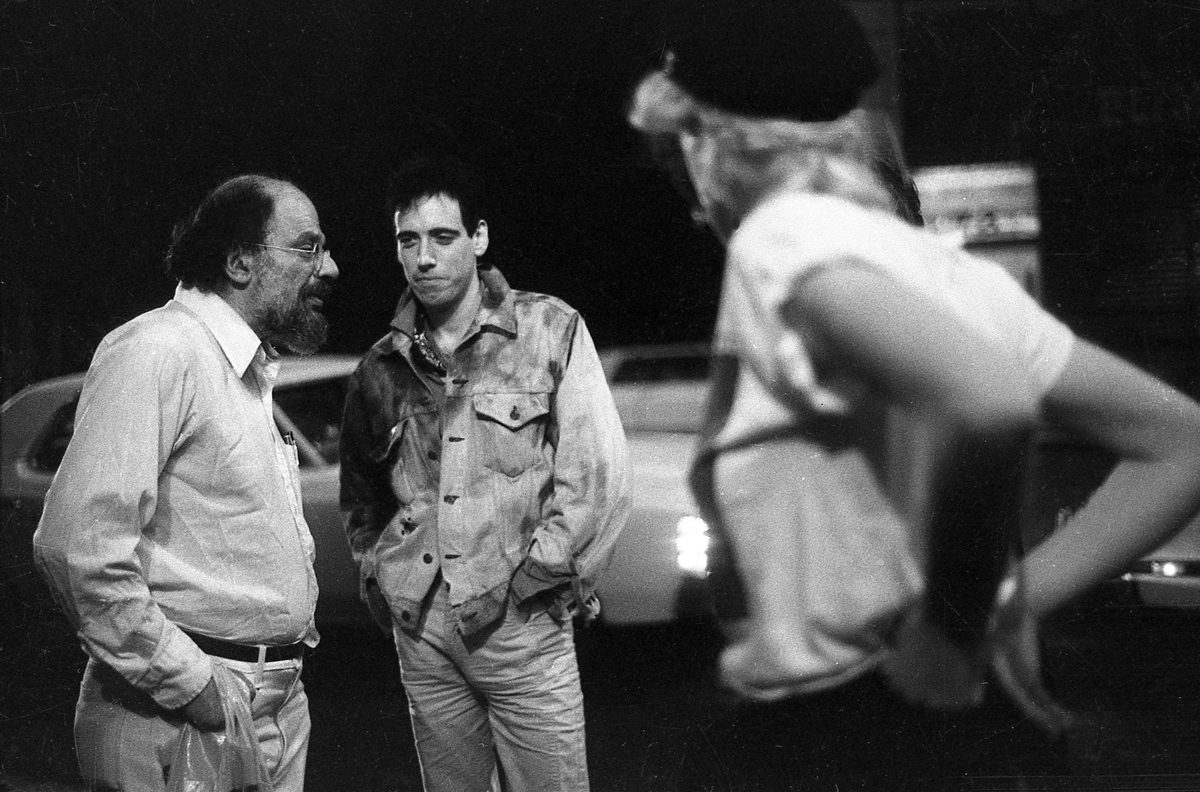 Like many of the downtown denizens she photographed, Sullivan has struggled since the neighborhood's slow but steady gentrification. Diagnosed with Multiple Sclerosis in the 90s, she still lives in the same Lower East Side building she moved into in 1984. You can see more of her work at Huck and in the new book Somewhere Below 14th & East: The Lost Photography of Karen O'Sullivan.