The worn-out old maxim goes: 'If you can remember the Sixties you weren't really there' – Marianne Faithfull, who ingested more drugs and drink than most at the time, disagrees:
I know everybody who wasn't there is jealous – well, tough! It's not overrated. It was great. I can remember it, and I really was there.
During the latter part of the 1960s Marianne Faithful, together with boyfriend Mick Jagger were possibly the coolest and most fabulous couple on the planet.  Not long after Jagger's erstwhile band-member Brian Jones died in 1969, however, she ended up in a six day coma in a Sydney hospital. Jagger waited at her bedside until she woke when she said, 'Wild Horses wouldn't drag me away'. It was the beginning of the end of their relationship and addiction took over. It wasn't long before she was living on the streets in Soho addicted to heroin and relying on handouts of methadone from the NHS. She later said,
I abandoned Mick and then I abandoned me. I left me lying in the road, anorexic and shooting up heroin. Heroin does make you lose interest in food but it was more than that. I wanted to disappear completely, get smaller and smaller and go down the plughole.
Marianne Evelyn Gabriel Faithfull was born 29 December 1946 in Hampstead, London. Her father, Major Robert Glynn Faithfull left the family home when she was five and she was raised by her mother. Although she spent some of her early life at the commune at Braziers Park, Oxfordshire, formed by Dr John Norman Glaister, where her father also lived and participated. Her mother was a Viennese Baroness and a descendent of Leopold von Sacher-Masoch whose erotic novel, Venus in Furs, spawned the word 'Masochism'. Marianne later wrote that her mother raised her 'like one of her cats'. Her paternal grandfather had been a sexologist and inventor of a device called the 'frigidity machine' designed to give women orgasms which he tried out on his son's wife, Marianne's mother. There wasn't a chance in hell that Marianne would turn out ordinary and conventional. And she didn't.
Marianne began her singing career in 1964, after attending a Rolling Stones launch party with artist John Dunbar where she met Andrew 'Loog' Oldham, the Rolling Stones' manager and who who famously gasped: "I have seen an angel – an angel with big tits." Her first major release, As Tears Go By was written and composed by Jagger, Keith Richards, and Oldham, and became a hit on both sides of the Atlantic.
The song was actually one of the first written by Jagger and Richards. It is said that Rolling Stones manager Oldham locked Jagger and Richards in a kitchen in order to force them to write a song together, even suggesting what type of song he wanted: "I want a song with brick walls all around it, high windows and no sex." Originally entitled "As Time Goes By". It was Oldham who replaced "Time" with "Tears". Keith Richards in his autobiography wrote,
We thought, what a terrible piece of tripe. We came out and played it to Andrew [Oldham], and he said 'It's a hit.' We actually sold this stuff, and it actually made money. Mick and I were thinking, this is money for old rope!
Marianne subsequently released a series of successful singles, including This Little Bird, Summer Nights, and Come and Stay With Me. After marrying John Dunbar on 6 May 1965 the couple lived in a flat at 29 Lennox Gardens in Belgravia. On 10 November 1965, she gave birth to their son, Nicholas. She left her Dunbar shortly after to live with Mick Jagger. Marianne later said about marriage:
For some people, marriage may be very groovy," she says. "For me, it really isn't. I don't think it really is for most people anyway. Most people are not very happy.
During the 1970s, most of it drug-addled, Marianne brought out two albums, including a country album called Dreamin' My Dreams. However in 1979 she released Broken English to huge success. Her voice, roughened up by cigarettes, drink and drugs, was now a completely different instrument – evocative and captivating.
Marianne celebrated the 50th anniversary of her musical career with the 2014 release of Give My Love to London, which included more collaborations with Brian Eno and Roger Waters. In 2006, Faithfull learned that she had breast cancer. The disease was caught during the early stages and she made a full recovery. The following year, she revealed that she had previously battled hepatitis C over the previous decade.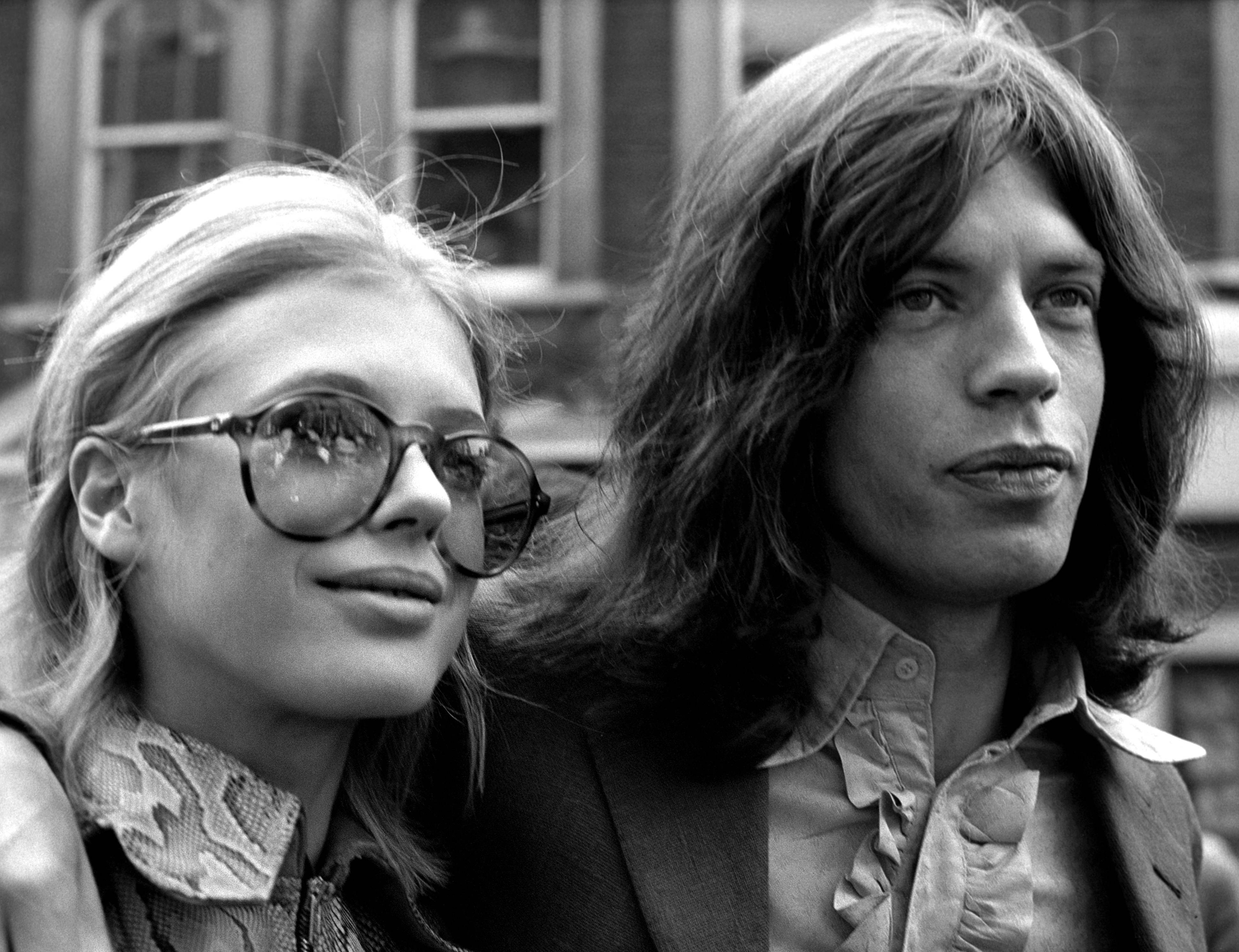 Mick Jagger, lead singer of the Rolling Stones, and actress Marianne Faithfull, on their way to Marlborough Street Court on a charge of possessing cannabis. Date: 29/05/1969[/caption]